Rock Rewards: The Cheat Meals Dwayne Eats After All That Working Out
By Ruby M January 4, 2022
---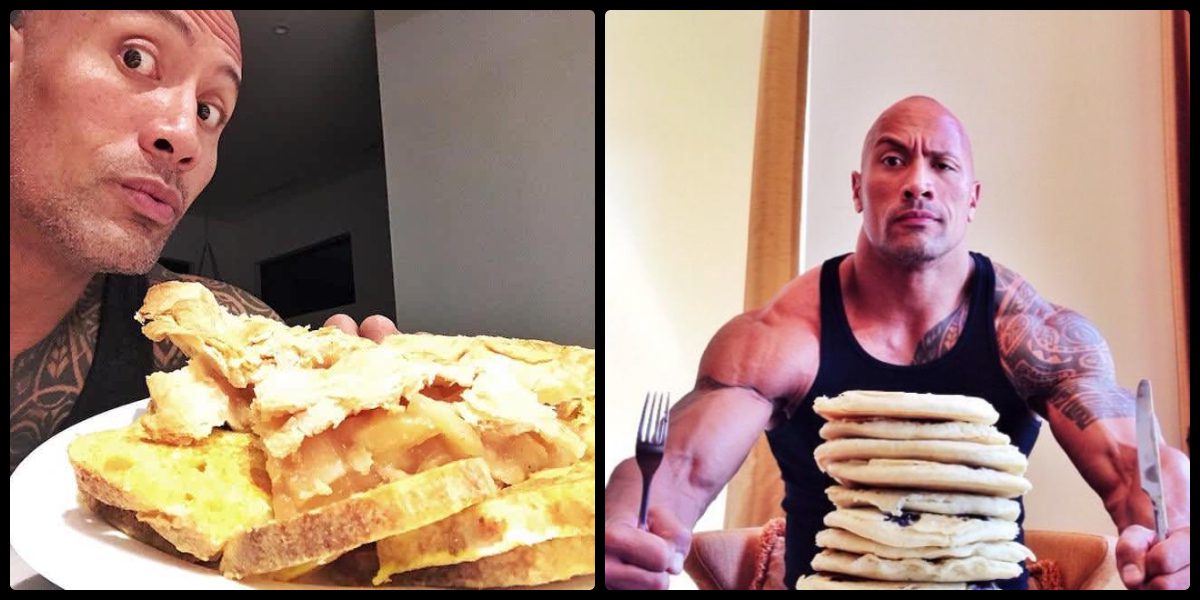 Anyone into fitness, The Fast and the Furious, or the hashtag #cheatday or #cheatmeal has undoubtedly heard of Dwayne "the Rock" Johnson's famously gluttonous, epic Sunday cheat meals. They often consist of endless piles of pancakes, giant cookies or brownies, pizza far beyond average human consumption, turkey subs, pasta, and almost always sushi paired with at least one can of his favorite energy drink. With an exercise and eating regime as strict as the Rock, he has to be able to let loose at least once a week, in between extensive workouts, of course. No pain, no gain after all – even on cheat day. So for those of you looking for all the best reasons to start training as much as the Rock, here's some inspo and motivation for your first hard-earned cheat day (if you can stomach it!).
Pasta, Please
Many of you will agree that there always seems to be far too much left over when you make pasta. Well, that's no problem for The Rock when it's a cheat day. He enjoys an extra-large helping of pasta and meatballs on those glorious days.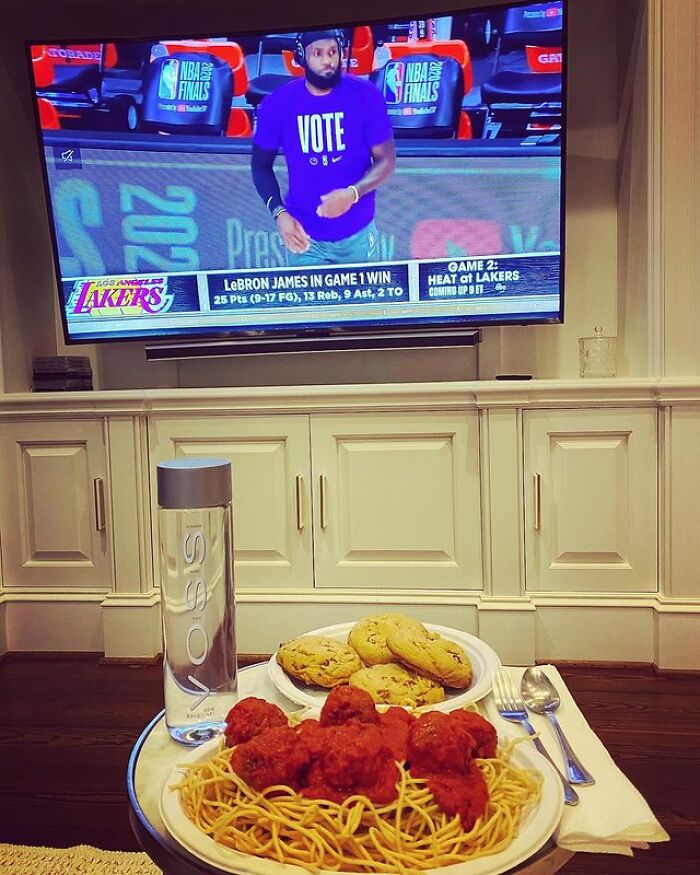 Cook yourself a meal fit for a king and settle down for a game of basketball like your number one, Mr. Johnson himself, who enjoyed his pasta and side of cookies while watching his hometown teams, the Lakers and Miami Heat.
All Aboard the Sushi Train
A widely known fact amongst Dwayne Johnson fans is that The Rock's ultimate favorite cheat meal is the traditional Japanese dish that's popular worldwide, sushi. And he has been known to tuck into over 100 rolls on a "cheat day."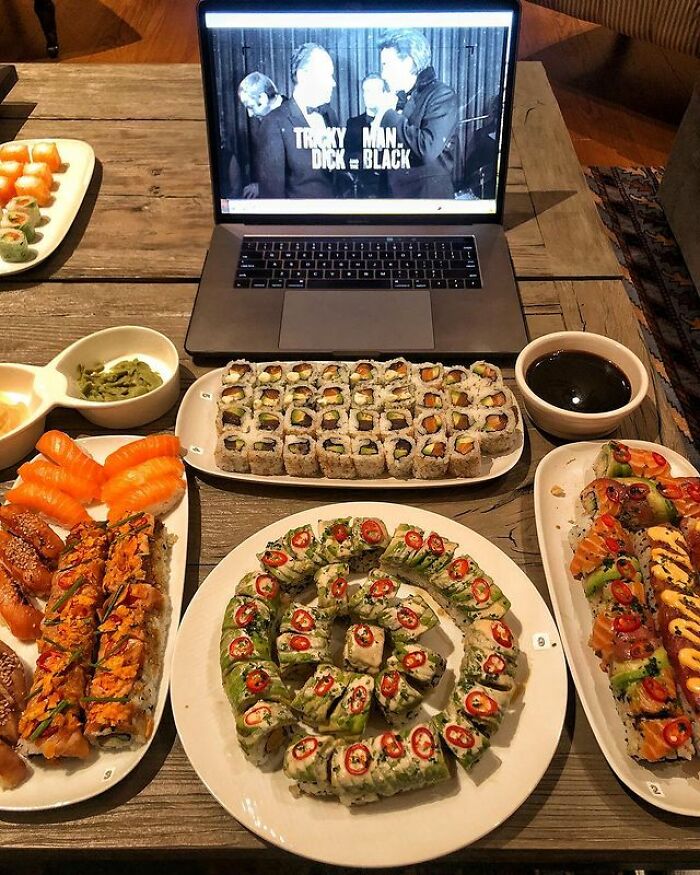 He posted a picture of his extravagant feast and spoke about digging into his cheat meal while watching a "Great new doc on Netflix about one of my fav country artists, the icon himself, Johnny Cash." Now, that is classy.
Sweet-Tooth
This one is for all you sweet-toothed foodies looking for cheat meal inspo. Look no further because we've found you a plate full of delectably huge cookies filled with milk chocolate and salted caramel chips, with a peanut butter center.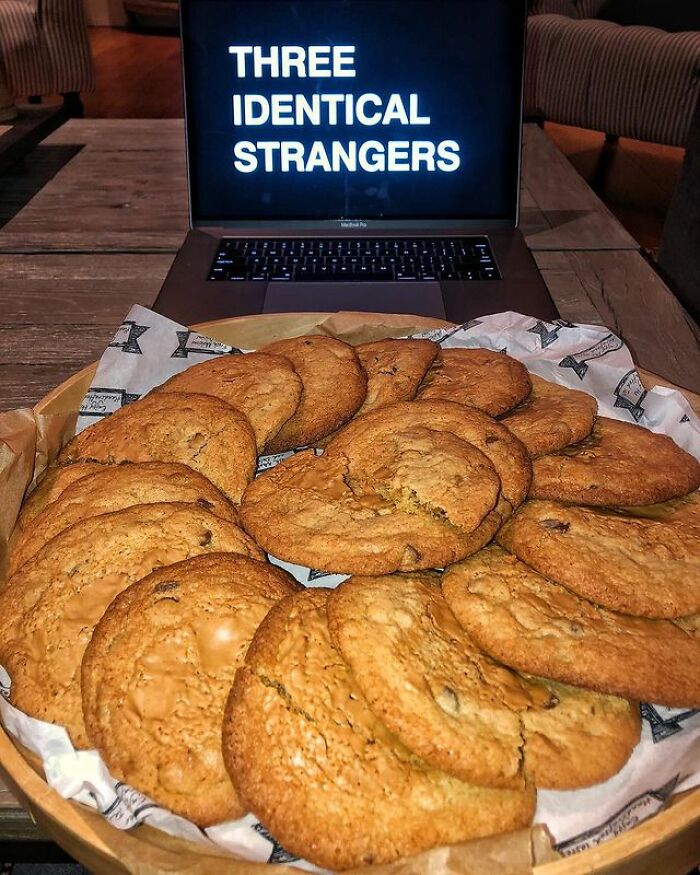 Doesn't the thought of that for dinner just sound fantastic? If you want to really take your sugar levels to the limit, add a few large helpings of vanilla bean ice cream and chocolate or caramel sauce to the mix.
Perfect Pizza and Delicious Donuts
Someone as huge as The Rock needs to eat more than one pizza on cheat day. He needs at least three, with a dozen doughnuts on the side for dessert. We don't know how he can manage that much deep-fried goodness.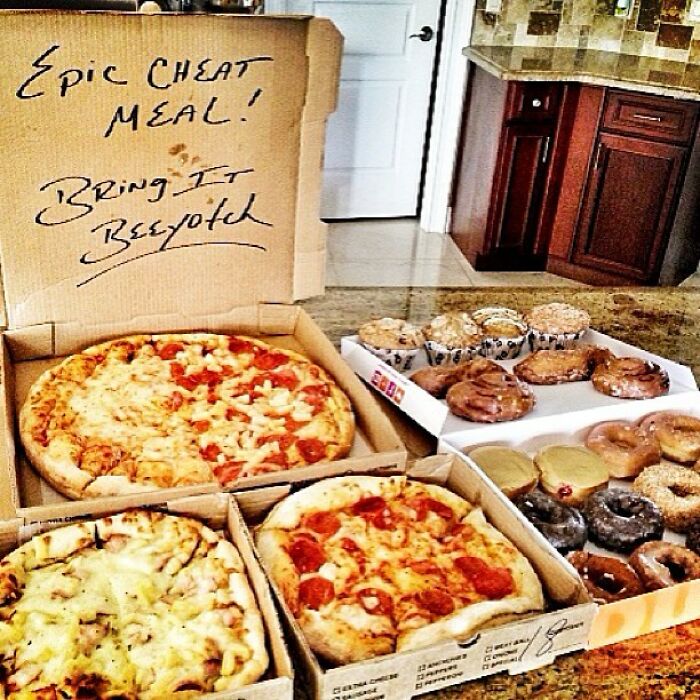 Plus, he's also got himself four delectable looking muffins, so he really had a massive dessert. We wonder if he had his pizza first or really treated himself and had dessert before dinner – or perhaps he likes to mix and match.
Big Batch of Burgers
There's nothing like a good old fashioned burger and fries. And if you're Dwayne Johnson, there is nothing like a good old-fashioned delectable dozen burgers and fries with a tasty side of what is his favorite brand of energy drink.
Usually, people would get full after one or two burgers – three, if they're pushing it. Except Mr. Johnson is far from ordinary – his cheat meals consist of at least 3,000 calories because, as The Rock always says, "treat yourself, don't cheat yourself."
The Epic Pizza Day
For this legendary cheat day, the Rock faced off with not one, not two, but four double-dough pizzas packed to the brim with cheese and toppings. If you know Dwayne well enough, then you know the pizzas didn't stand a chance!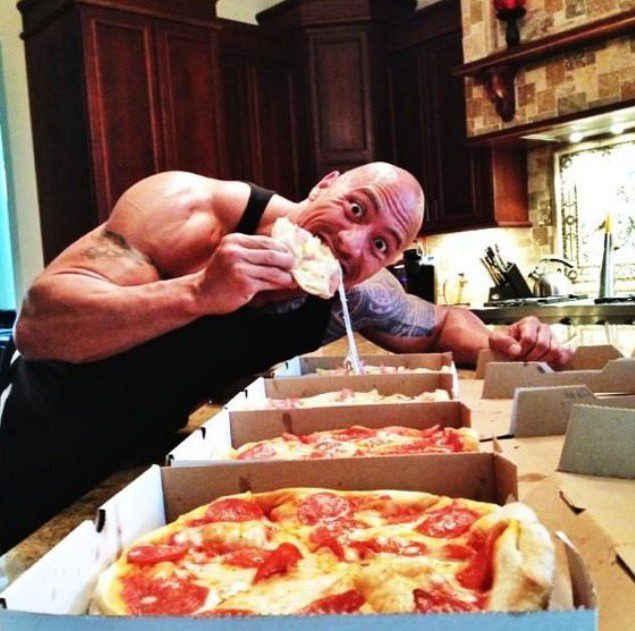 The retired wrestler and world-renowned workout enthusiast posted this picture on his Instagram and Twitter feeds, informing his fans and followers that he had managed to wolf down all four pizzas in a single sitting. Talk about determination and stamina!
Just "Some" Pancakes
Even ultra-famous people like the simple things in life. Sometimes even our Hollywood celebrities don't feel like eating anything fancy. Sometimes they just want some cereal or a slice of toast with peanut butter and jelly – or four pancakes as an appetizer if we're talking about The Rock.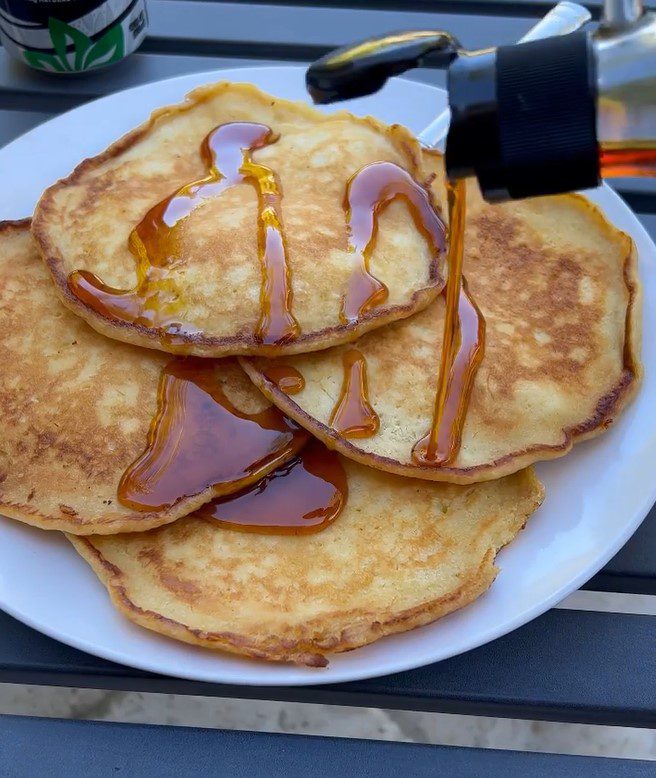 Of course, his meal doesn't end there. Oh, no – he had three times this many pancakes, and that was just breakfast. Honestly, with the usual size of his cheat day meals, this one is pretty small – we're surprised he stopped at pancakes.
The Sushi Express
Another Sunday, another massive plate of sushi for our rigorous trainer. Once again, the Rock was rolling on the sushi train while re-watching one of his fave documentaries, The Defiant Ones, and working on Project Rock. He never stops working!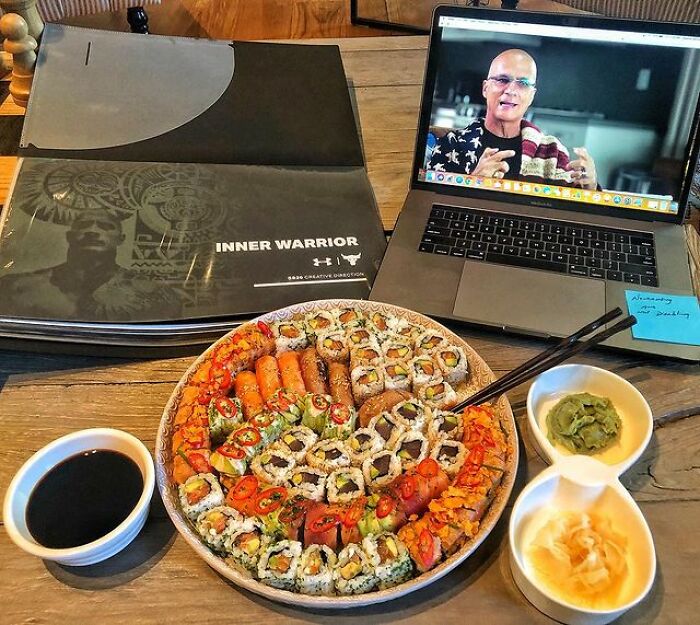 Project Rock – which Johnson stated in his post, "has become @underarmour's #1 global seller" – is The Rock's range of athleisure from the clothing and apparel brand Under Armour and has become quite popular globally. Good for you, you loveable, athletic glutton.
Cookie Monster
This time, The Rock had a massive sugar overdose coming his way, and the entire internet was told about it. Turns out Santa Claus and the Cookie Monster aren't the only icons out there who enjoy cookies. They need to move aside.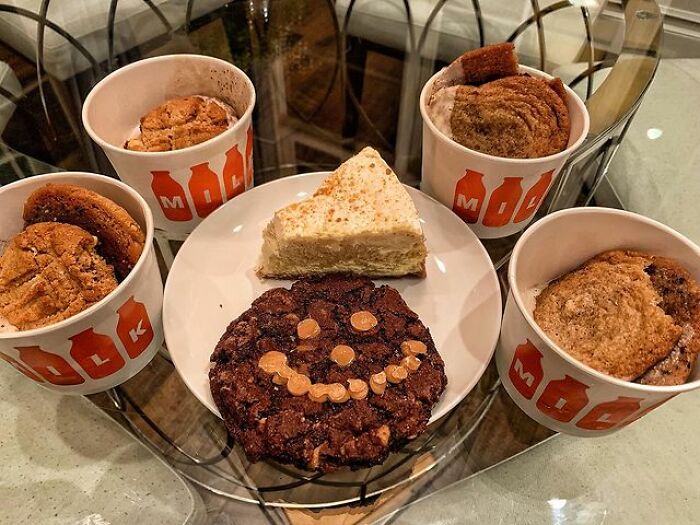 At least Mr. Johnson works the sugar off during his daily rigorous training program, but we aren't so sure Santa has the same routine. We are not at all worried about The Rock ever sharing Santa's larger physique. He seems too disciplined.
Carb Overload
We know this carb overload looks like two slices of bread that look like door stoppers with some sort of odd concoction, but not even The Rock is that nutty with food. Although, nutty is precisely how we would describe this meal.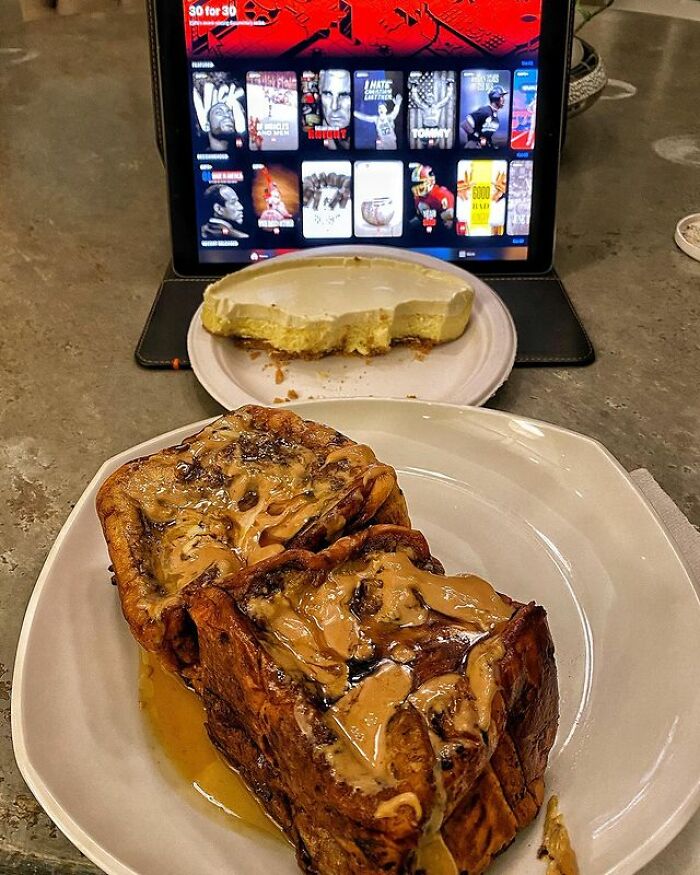 Johnson treated himself to a Brioche French Toast smothered in peanut butter and maple syrup with his favorite dessert, cheesecake, on the side. He enjoyed his massive cheat meal while watching some TV. Just so you can get some perspective, the cheesecake "slice" was half a cheesecake – so you can imagine how huge the slices of toast were.
Ice-Cream Overdose
Don't try this one at home – unless you want to go into a complete sugar coma! This glorious meal of peanut butter pancakes with three pints of ice cream makes us want to ask, "would you like some pancakes with that ice cream?"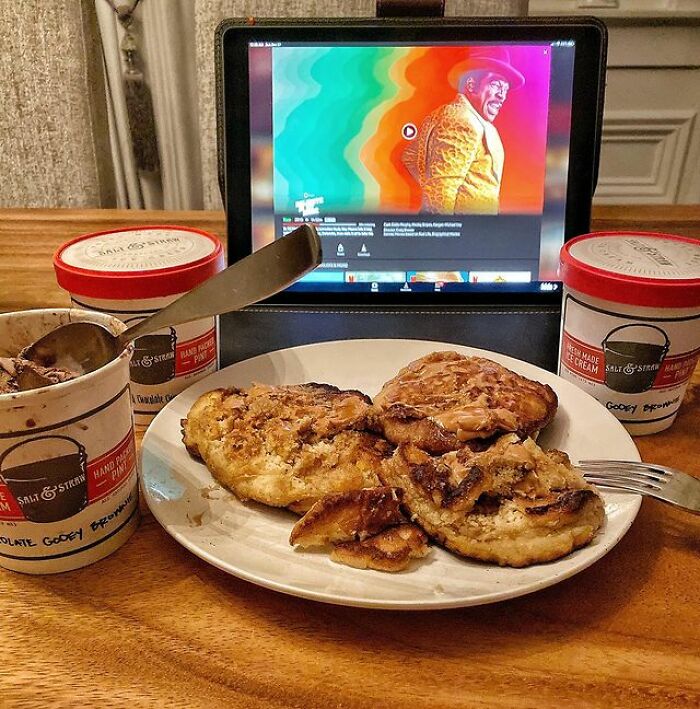 Or perhaps some insulin. Talk about a cheat meal – this is more of a cheat mountain of dessert! If Johnson were a kid, we'd joke with him by saying that he's eating so much ice cream, he's going to turn into a sundae!
Waffle Sundays
If it isn't peanut butter pancakes, it's Belgian waffles coated in what appears to be the entire jar of peanut butter. But what is a cheat day without a giant helping of sugary goodness, anyway? Besides, he's going to work all those calories off with his leg workout.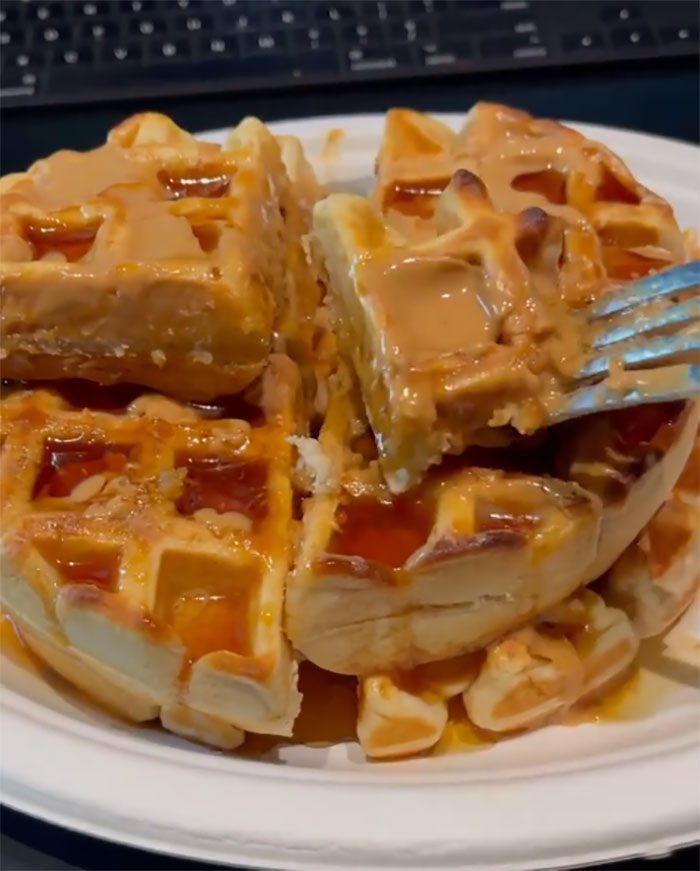 The Rock enjoyed this Sunday cheat meal the day before the first Monday of 2021, and we are expecting an even more extravagant cheat meal from Mr. Johnson soon. We wonder if he will have more waffles in the coming year or stick with his usual pancakes.
Won't You Be My Sushi?
Another extravagant sushi night for everybody's favorite bodybuilder and actor, enjoying what he refers to as "the sushi train." Dwayne posted on the 'Gram about devouring his most beloved meal, sushi, while watching a documentary on the iconic Mr. Rogers.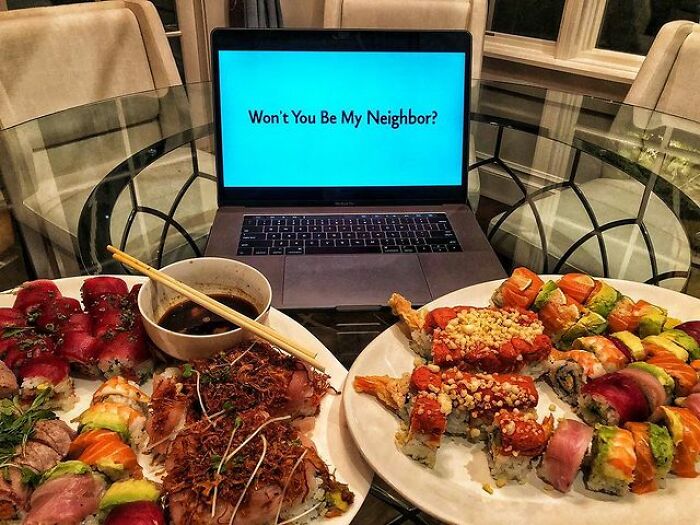 The Rock also mentioned that after he had crammed down every last piece of his meal, he had passed out on the couch "like a wounded buffalo." He highly recommended the documentary Won't You Be My Neighbor, though.
Sushi & Peanut Butter
Some more sushi was enjoyed on this cheat meal Sunday, and this time, there was also a side of freshly baked chocolate and peanut butter cookies which The Rock was very excited to announce had real peanut butter in the center.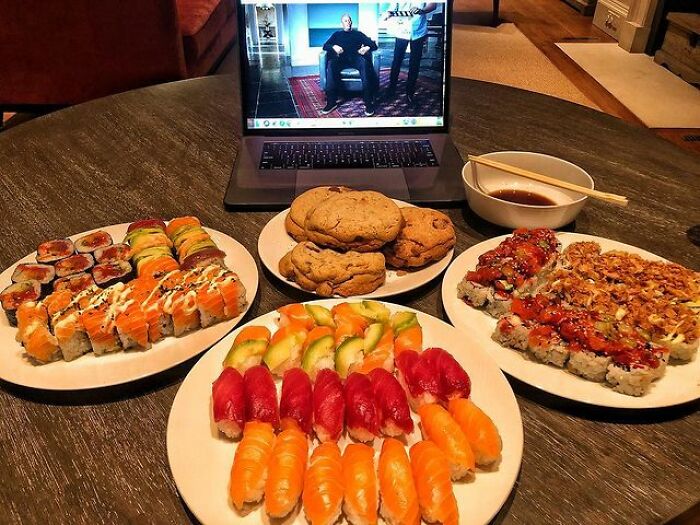 He also stated on his Instagram post showing off that his Sunday sushi train was still rolling on even though he was in London at the time and watching one of his favorite documentaries, The Defiant Ones, while chilling in the hotel room.
Cinnamony Goodness
The Rock kicked back with more of his signature food: pancakes. But this he threw some more French toast and energy drink in the mix. We just want to know who makes all this food. Is The Rock also an amazing chef?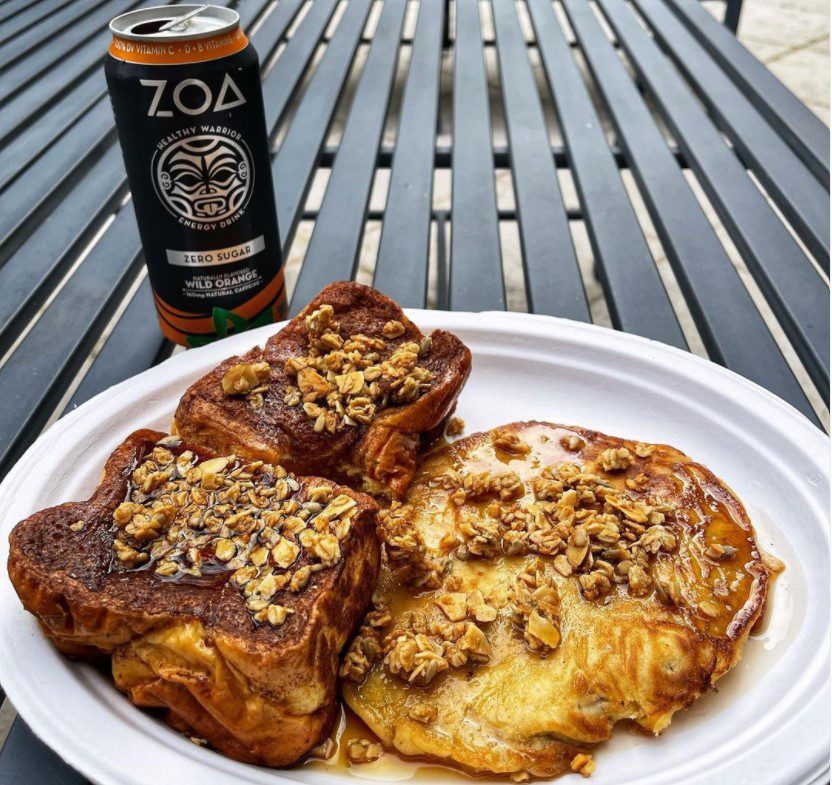 That scrumptious-looking food must have been homemade. It looks like he sprinkled some granola on top and drenched the whole thing in maple syrup. This reminds us of his catchphrase back in his wrestling days: "can you smell what The Rock is cooking?"
Sugar Overload!
Sometimes, all you feel like is a delicious slice of cake or freshly baked muffin or maybe a big, crunchy on the outside and soft on the inside cookie. Very rarely can a person who doesn't eat like the Rock stomach all of it at once.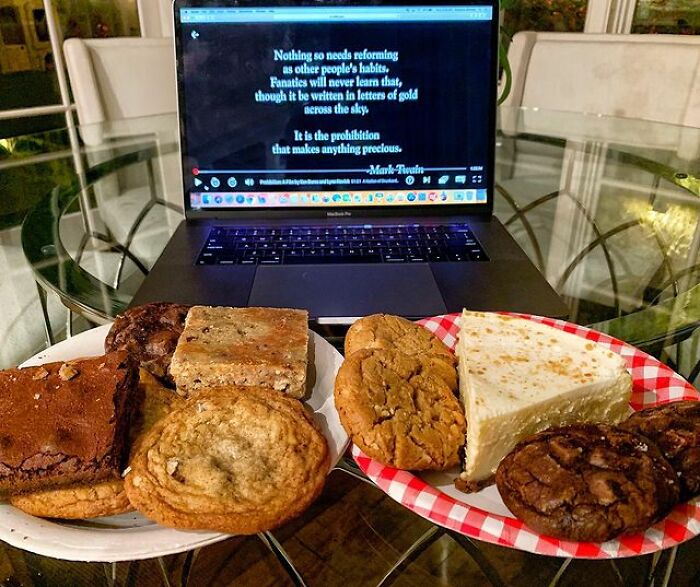 We've said it before – nothing about The Rock's life is normal. His intense training and equally extreme cheat meals are world-famous for a reason, and that reason isn't that any old human being can eat all that at once!
Dwayne's Burgers
The more burgers on cheat day, the merrier, and as Mr. Johnson has notoriously said on his cheat day, "you earned em." After a week of intense training and healthy eating, he certainly should not deprive himself of anything tasty.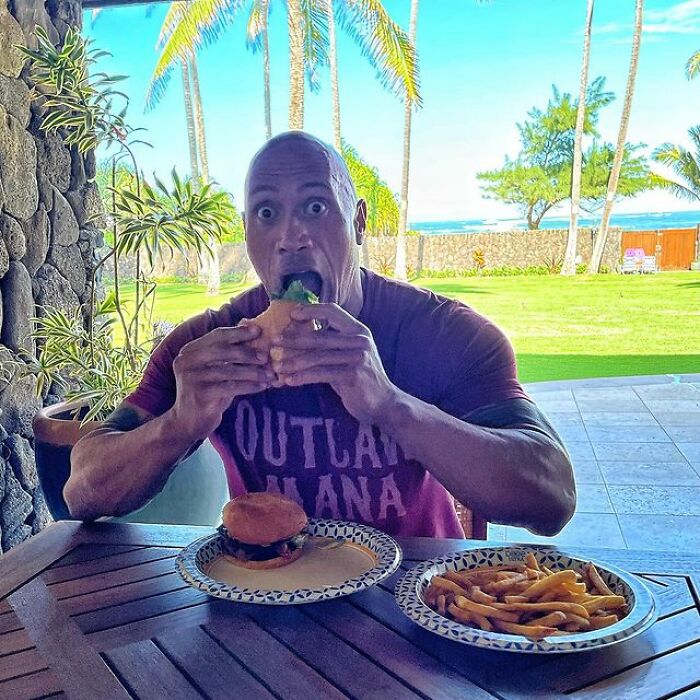 After a week like his, we can't really be surprised at the amount of food he fills his hungry belly with – we'd probably do the same if we stuck to the same rigorous training and eating regime that he does every week.
All Aboard The Dessert Express!
Aside from his passion for eating all things sushi, we've seen that Dwayne also enjoys a hearty dessert. Like his famous apple cobbler, for instance. Of course, knowing how far The Rock takes his cheat meals, he likely ate the entire thing!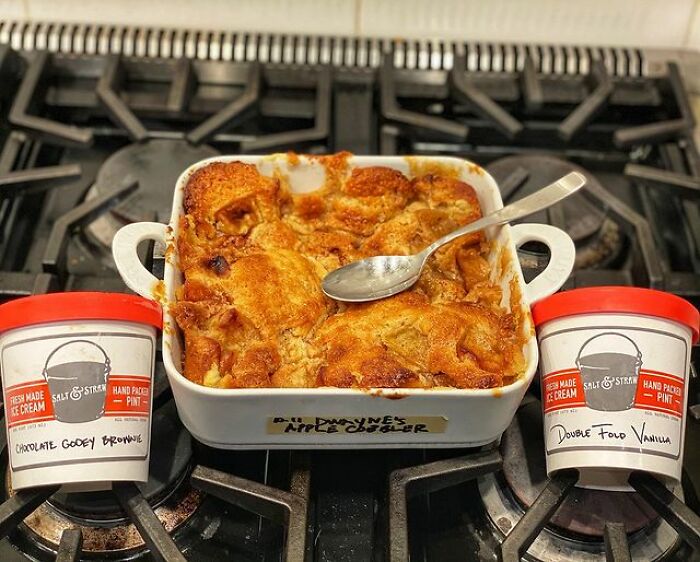 You can't have dessert without ice cream, so naturally, our fitness guru enjoyed two pints of it, one being double fold vanilla. It sounds double as delicious. The other flavor was chocolate gooey brownie which makes our mouths water just from reading the name.
TV Sundays
Someone call the party police because the Rock sure did have himself a party with this cheat meal. His two pieces of steak and epic rice side dish are making our stomachs rumble. And we know we could only finish half of that!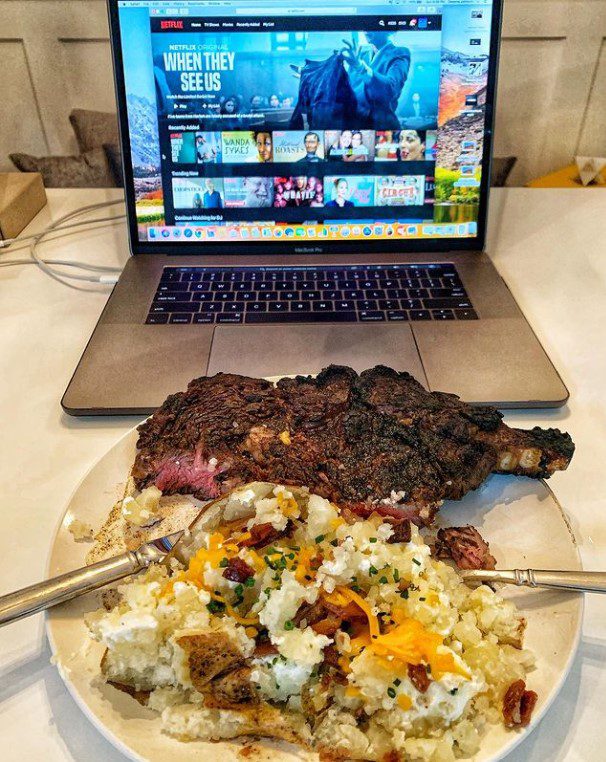 Nothing says cheat meal more than steak. We aren't sure what the dessert element of this epic cheat meal is, but we are guessing it's not the helping of rice. We imagine he enjoyed more cookies straight out of the oven.
There's Nothing Like Bacon and Burgers
Sunday cheat meals are even better for the Rock when he gets to lay back and watch his favorite thing aside from documentaries – sports. On this particular Sunday, the Rock enjoyed some fantastic burgers with bacon on top, and of course, French fries.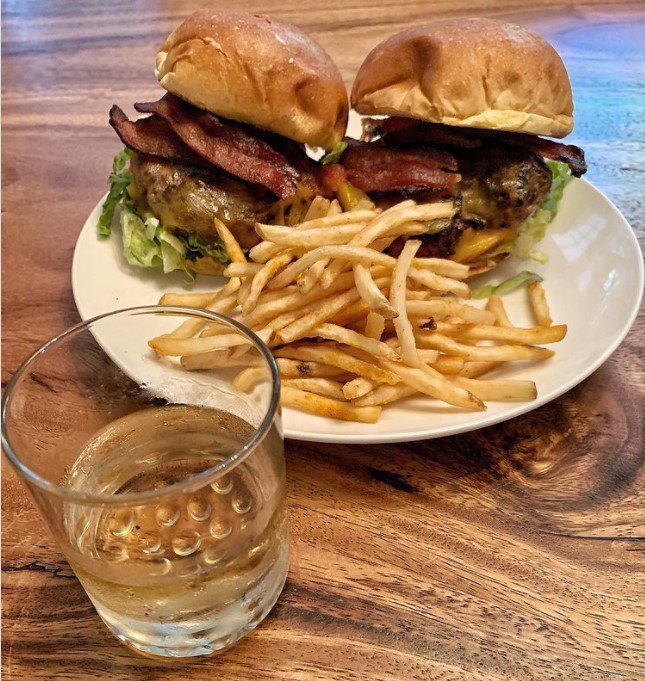 Bacon cheeseburgers, fries, and a frosty drink – what could be better? This looks a little smaller than some of Dwayne's other meals, so we assume this was just the appetizer. And wow, what an appetizer! These burgers are picture-perfect.
Pile It On
This time, some more delicious sushi partnered with an epic stack of pancakes that could likely feed a family of four on their own. If you weren't craving sushi before this article, we bet you sure are craving it now!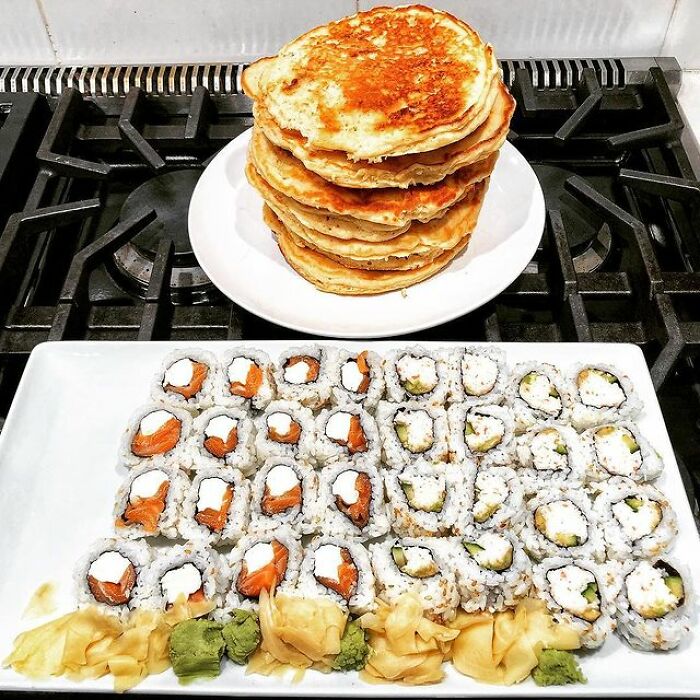 We wonder if the Rock partnered his giant pile of pancakes with anything else like his several pints of ice cream, or perhaps he enjoyed them with some delicious syrup. Based on what we've seen so far, he might have done both!
Mouth-Watering Meal
Just one Turkey sub for Dwayne, the Rock Johnson? Never. Two at a minimum needs to be on his plate for him to be able to even call it one of his cheat meals, and those subs need to be packed to the brim with veggies and meat.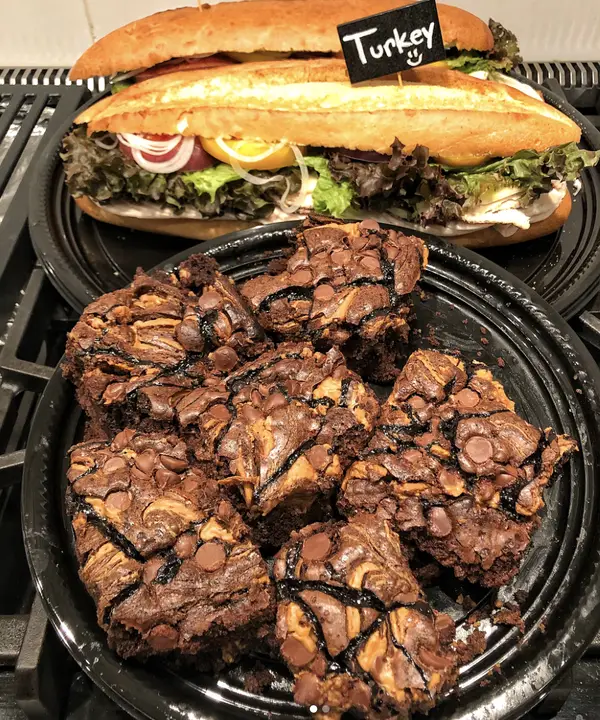 Of course, the meal only starts with subs. It ends with a dozen melt-in-your-mouth brownies that are stuffed with chocolate chips and are no doubt full of freshly baked goodness. Is your mouth watering yet? Ours have been since the first image!
Just Add Pasta!
Another week, another weekly Sunday cheat day. And this time, our favorite fit celebrity enjoyed wolfing down an epic plateful of cheesy beef pasta with a side of two freshly baked bagels that look utterly delicious. All those carbs in one meal? Yes, please!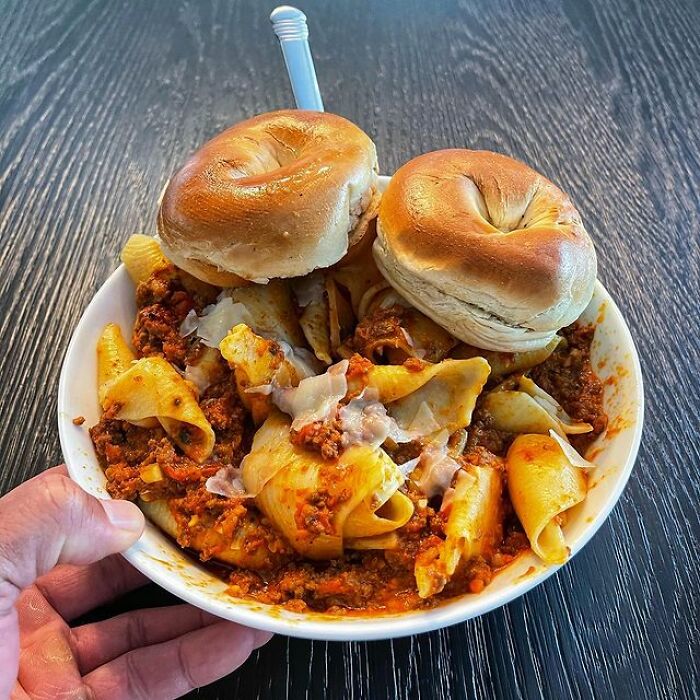 To no surprise, the cheesy mince was vodka Bolognese that the Rock posted a picture of, writing about his training for the upcoming Marvel movie, Black Adam, which is set for release this July. That's one year after its original premiere date.
The Rock's Gambit
This week, the Rock enjoyed a ride on his famous sushi train, this time from a place in London. According to his caption on the 'Gram, he highly recommends the place. So Londoners, get yourselves down to Sushi Shop if you want to eat like The Rock.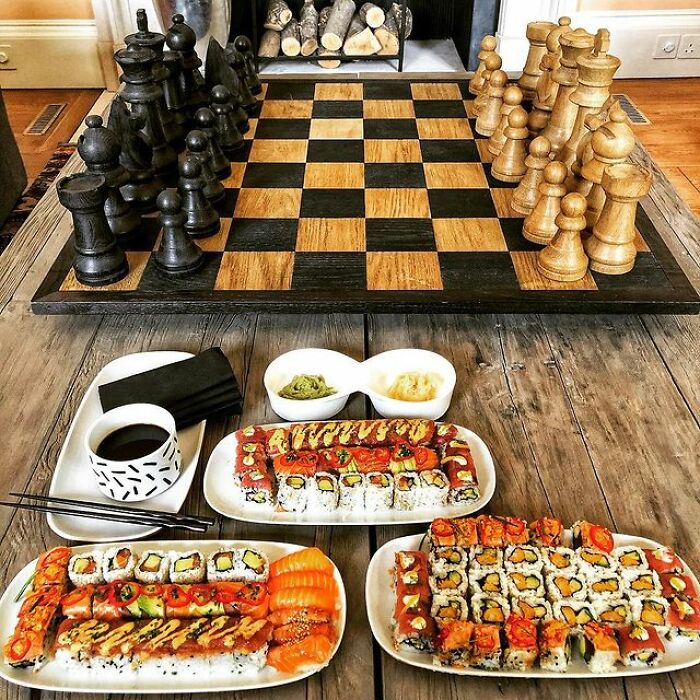 He also spoke of enjoying his sushi while brushing up on his chess game techniques and proudly stated that there were only winners on cheat day – of course, the biggest winner of all was his "greedy, glutinous belly" – his words, not ours!
More Sushi, More Rogers
Another week, another ride with the one and only Dwayne Johnson, this time while he re-watched what he described as one of his favorite documentaries, Won't You Be My Neighbor, about the legendary Fred Rogers. We love seeing the softer side of Dwayne!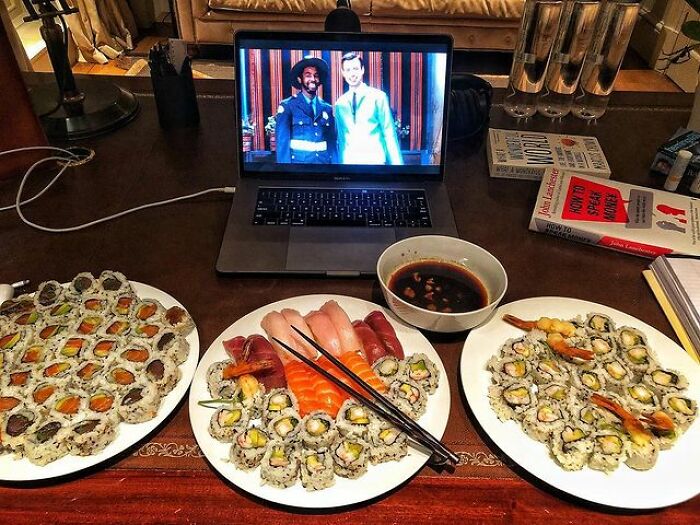 Rogers, described by The Rock, was "one of the most kind, compassionate, caring and steadfast human beings to ever walk God's green ear." It sounds to us like he looks up to and admires Rogers. Lucky for us all, he also had a reputation for being a nice guy.
Just a "Snack"
This might look like a meal to some but can only be defined as a snack for The Rock on one of his famous cheat days. Yes, the entire plate of cookies was likely part of the snack, too. Would you expect anything less?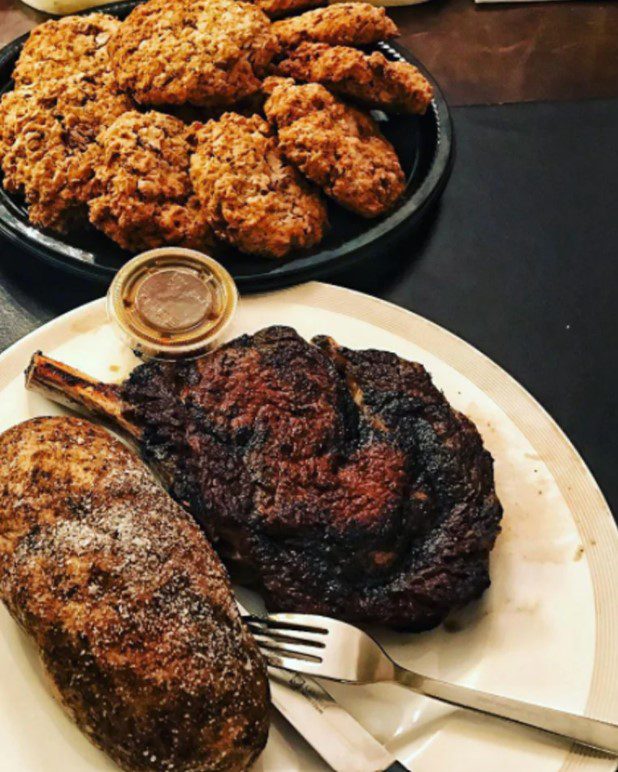 We can make fun of his eating habits all we like, but not many of us are as fit or as dedicated as the Rock when he gets on a workout binge – and none of us are as deservingly gluttonous as the Rock when he goes on a beef binge!
Probably Another "Snack"
This photo was taken by the Rock last January and shows what must have been a snack on one of his epic cheat days. Sushi, a recurring theme on the workout maniac's cheat days, paired with one of his favorite desserts, giant cookies.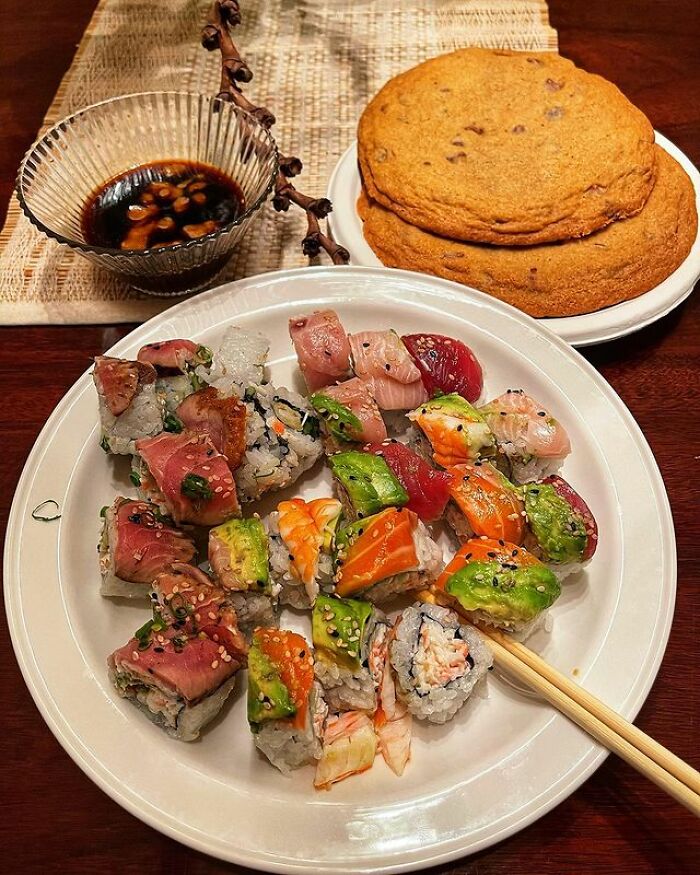 The Rock enjoyed the two colossal chocolate chip cookies that are no doubt far bigger than we could handle – and he probably had an entire dozen or two waiting for him when he became a little peckish. We don't doubt he had triple this amount of food that Sunday!
Wasabi Madness
The cheat meal Sunday Sushi Train started rolling on once again, and our self-proclaimed sadist didn't hesitate at all when it came to stuffing a huge amount of wasabi into his bowl of soy sauce. He's not only physically strong, but his tastebuds are equally tough!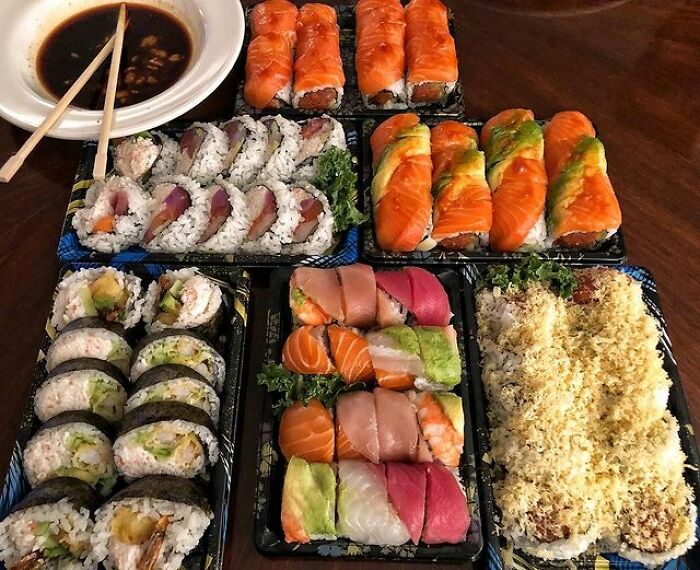 After this trip, the Rock told the world in his Instagram post that he had a plate of cookies, piled high, no doubt, waiting for him on the deck for him to wolf down, too. We wouldn't be surprised if they were as big as his head!
Piled High to the Sky
The cheat days of Dwayne Johnson have been going on for far longer than just a couple of years and have rapidly grown in popularity over the years. The Rock has always been known for his rock-hard body – hence the nickname.
Our fitness superstar posted this Instagram post from September 2012. He was proudly enjoying one of his famous stacks of fluffy chocolate-chip pancakes, which would make any normal-sized person far too full. To no surprise, this was probably only the start of his breakfast.
Under the Influence… of Food
The sushi train rolled on, but this time made a pitstop for some of the Rock's other favorite foods – a good old sub. Two, in fact – because every meal for the Rock is double or even triple the size of a typical portion on cheat day.

He posted this picture of his cheat meal while watching Under the Influence about who he describes as "one of the greatest guitarists of all time, Keith Richards." He finished off his post by reminding his fans, "if you ain't eatin', you ain't cheatin'."
Just Some Breakfast
In a post of what must have been just the beginning of one of the Rock's famous cheat days, he posted this pic of some fluffy looking pancakes with a side of maple syrup. We're pretty sure there's another pile or two somewhere out of shot.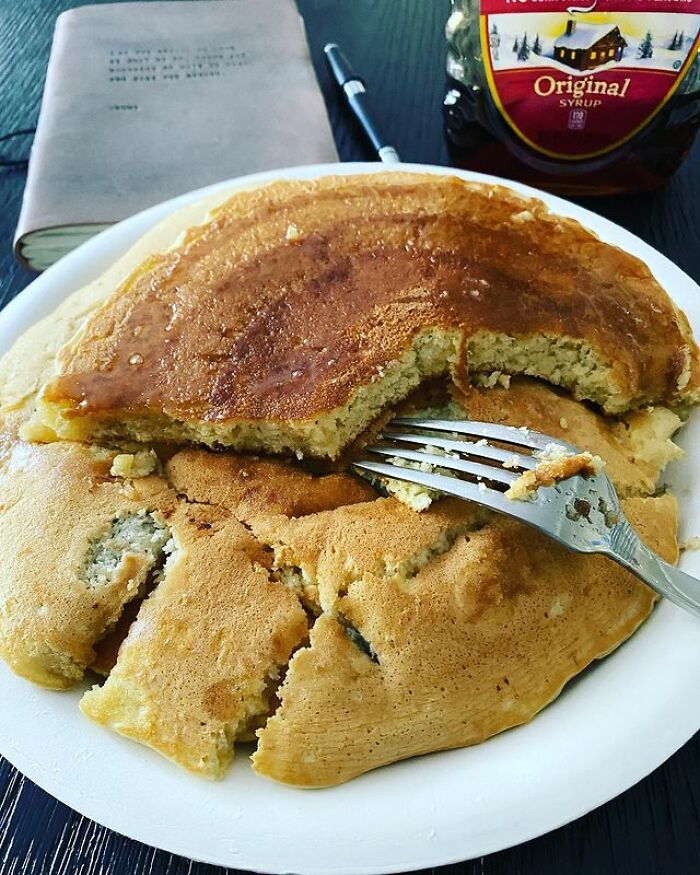 In the photo, the Rock has a journal and a pen as well – he was probably listing all of the delicious goodies he planned to eat on his Sunday cheat day to get him ready and motivated for another week of grueling workouts and healthy meals.
Double Dose of Burgers
"Feast" your eyes upon the Rock's double showdown in this cheat meal. Two plates of sushi, and probably even more hidden from view. Nothing but the best and the most for Dwayne Johnson on cheat day. We wonder if he picked brownies or cookies for his dessert.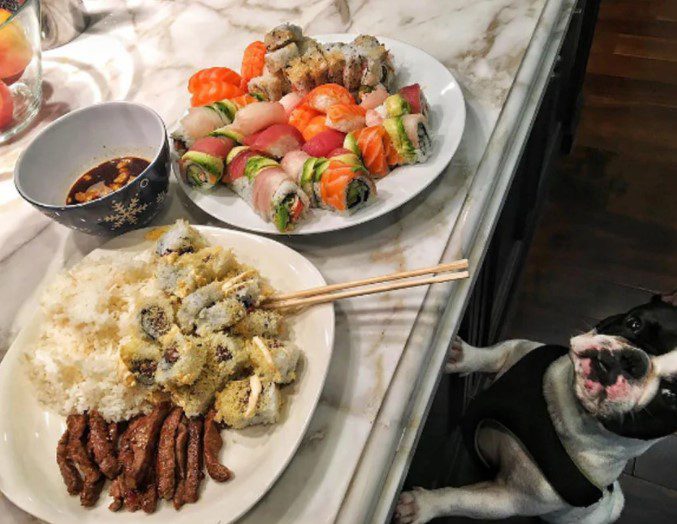 To no one's surprise, Dwayne has someone who wants to get in on this meal with him – his adorable puppy. Can anyone blame the little pupper? We'd also love to score a bite or two! Maybe he got a nice treat on cheat day.
All the Pancakes
Pancakes, pancakes, and more pancakes were definitely the dessert to some gigantic meal that we didn't see in the photo. The Rock partnered them with some good old-fashioned maple syrup and crunchy peanut butter. This is a meal of champions for sure!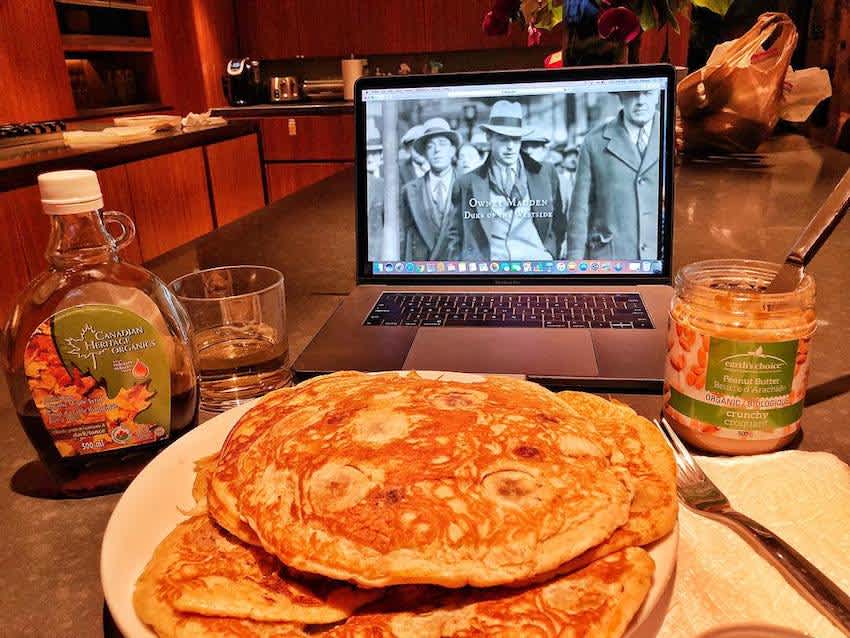 He enjoyed his goodies while watching a documentary about the Irish American Mob. He finished off his post by stating, "who needs a Hollywood party when you have this." The introverts who love food more than their social life will agree.
Jubba the Rock
The Rock decided to sneak in one last cheat meal before his Motivation Monday began – at 11:45 PM the night before, he packed down eight slices of sourdough French toast topped off with a ton of warm apple pie.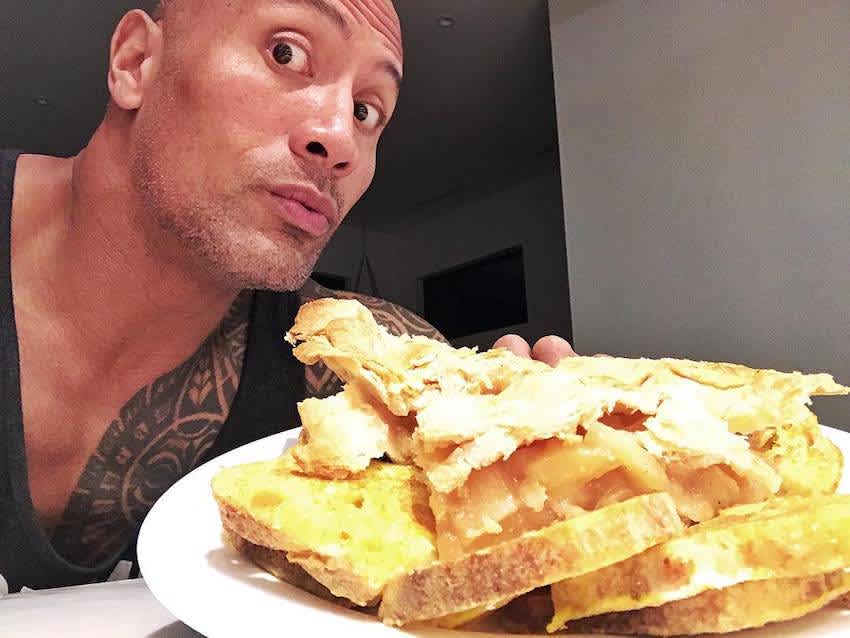 As he enjoyed his nearly midnight snack, the Rock indulged himself with a re-watch of The Force Awakens and even compared himself to a "big, brown, bald, tattooed glutinous version of Jabba The Hutt" as he munched on his toast.
Carb Time
Another Sunday means another load of carbs and sugar for Fast and the Furious star Dwayne Johnson. On this particular Sunday, the Rock started his cheat day with another epic stack of pancakes. We love pancakes too, but his love is on another level.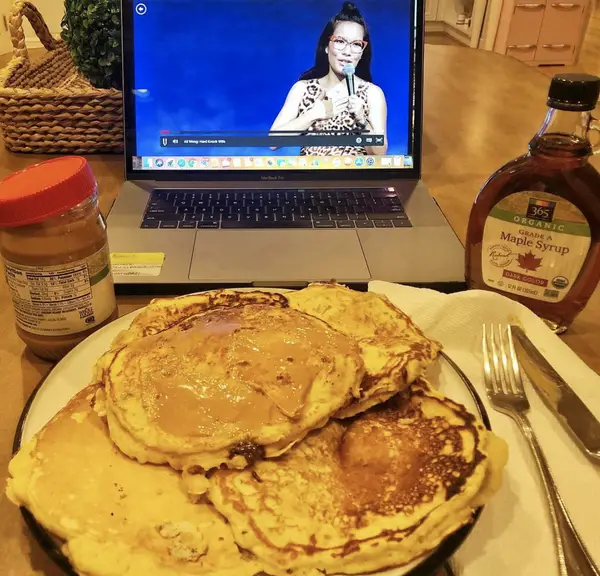 Of course, The Rock can't just have pancakes on their own. They were smothered in peanut butter, now all they needed was to be drowned in an insane amount of syrup, and they were good to go – right into his belly.
Cheat Meal Heaven
Johnson enjoyed what he referred to as "cheat meal heaven" back in 2017 when his epic meal consisted of a double turkey sub – a consistent favorite of his – as well as two different types of scrumptious and heavenly brownies.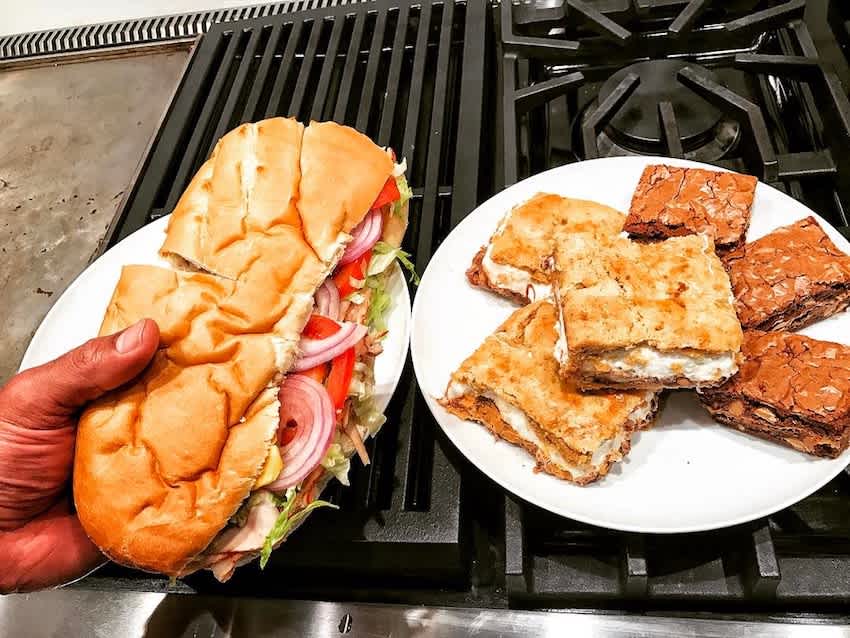 In his post, he stated that he has very big hands – something we all know by now – so the picture did not do the size of the double turkey sub justice. He finished off by saying, "That absurdity on the right is mini iPad-sized peanut butter S'mores and peanut butter brownies."
Memorial Day Celebrations in Style
The Rock enjoyed a cheat meal that consisted of a huge plate-size chocolate cookie as well as a fudge ice-cream sandwich to kick off his Memorial Day celebrations in style as he sat down to enjoy a show on Netflix.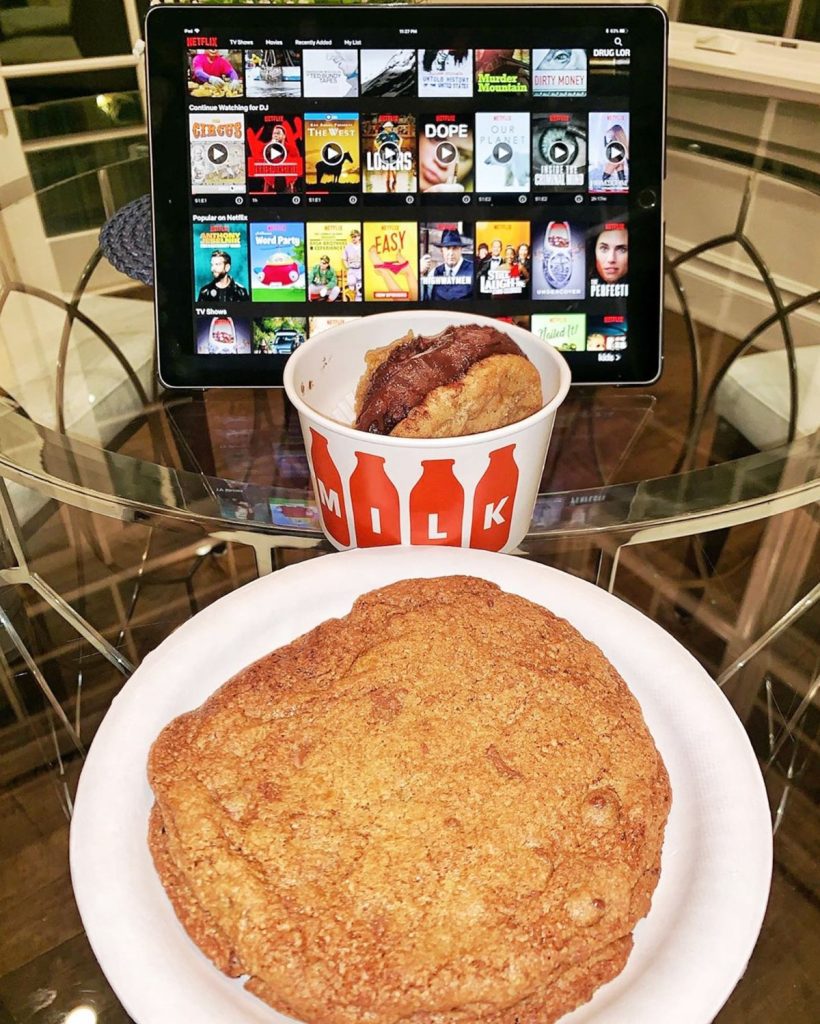 According to the action movie star and well-known fitness junkie, he also wolfed down a second ice-cream sandwich as well as an extremely large slice of New York cheesecake – and we are pretty sure he did not stop there!
French Toast or French Bricks?
We know this looks like yogurt on bread as a substitute for a bowl. But it's not. Here we have more of the thick slices of French toast that The Rock loves so much. And what is on top, you ask?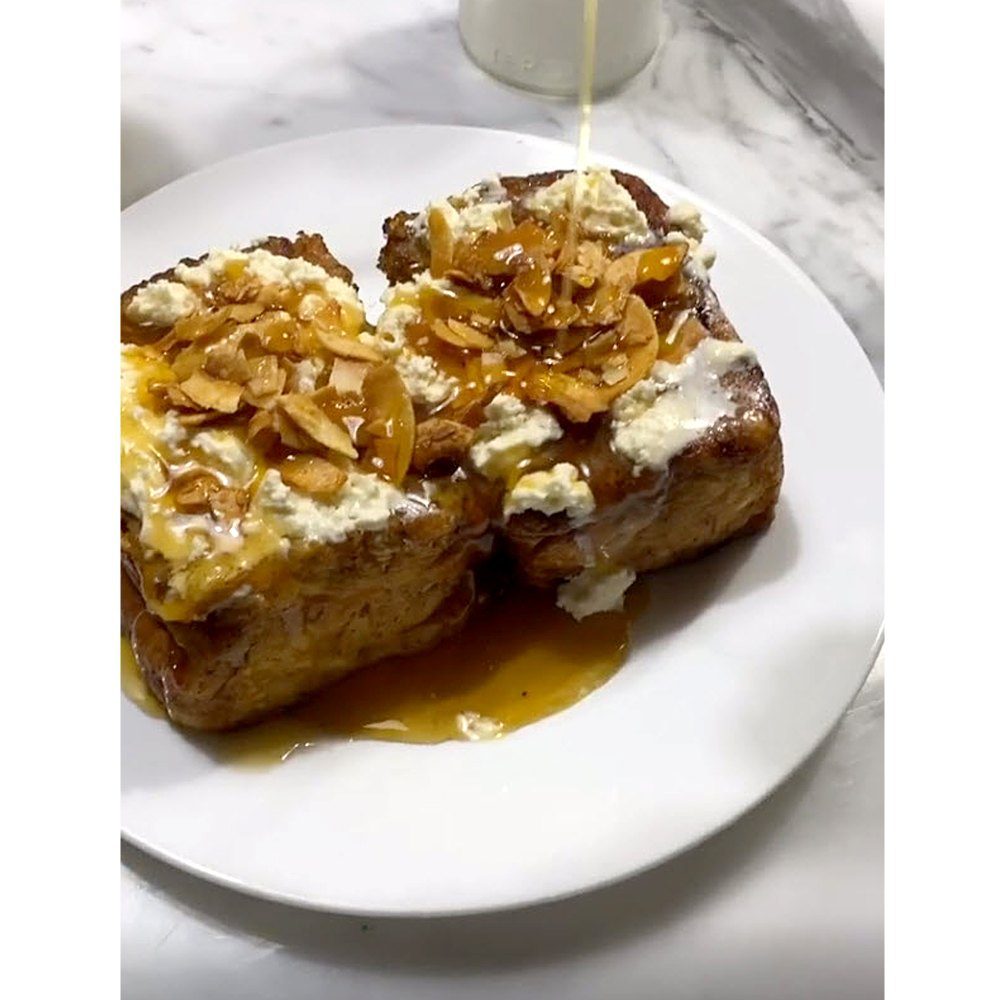 It's brioche French toast, of course, about the size of a brick. As for the toppings, you wouldn't be surprised to know that his Termana Tequila brand was added for flavor. Next, he added whipped cream and maple-toasted coconut chips. Delish!
Dwanta's Christmas Meal
There's nothing like ice cream on Christmas, especially when it's Cheat Day for the Rock – or as he likes to refer to himself during the festive season, Dwanta. He even had a hat made for himself, so everyone knew his Christmas name.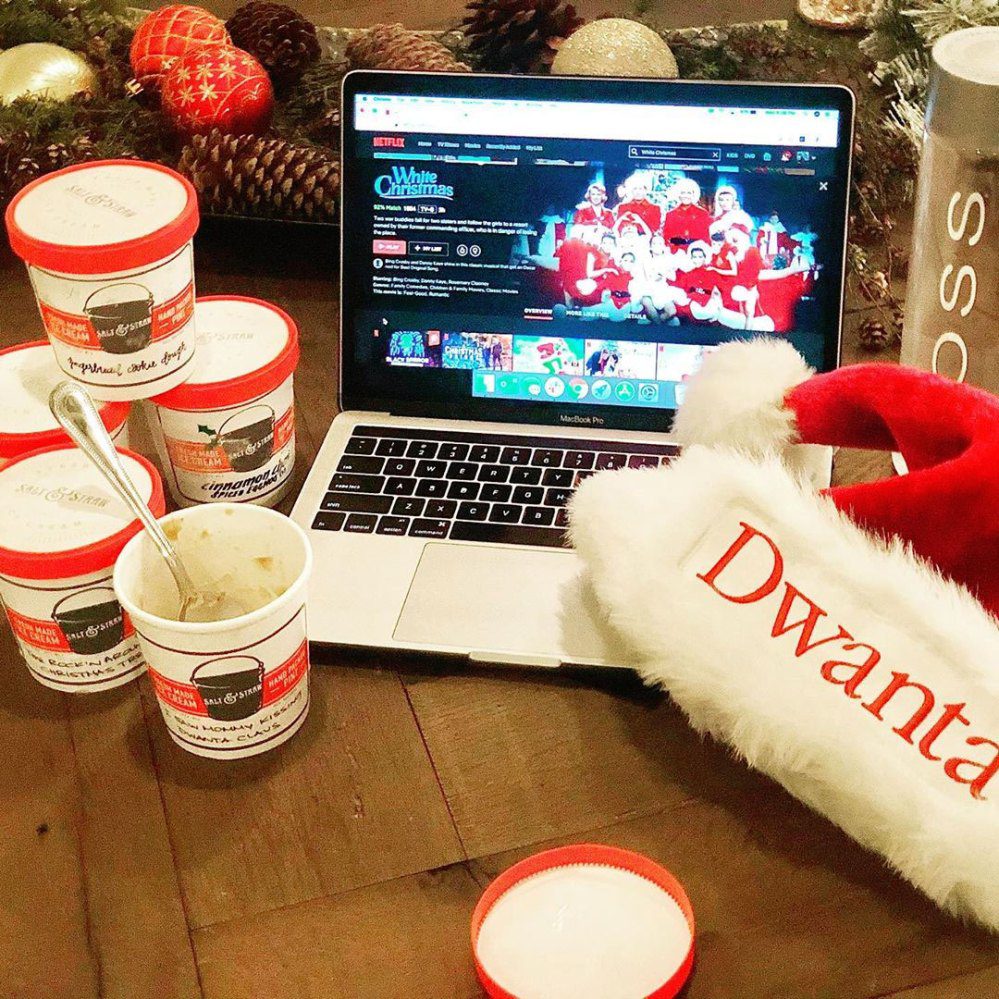 Dwanta enjoyed devouring several pints of ice cream and probably the same amount of tequila while nestling in for the night, watching Christmas movies – in the spirit of the holidays, of course – like White Christmas directed by Michael Curtiz.
The Last Snack
We know this is likely just leftovers from an earlier carb-overloaded helping of several slices – sorry, not slices – several whole pizzas. The Rock likely ate the rest of it already and decided to save a few pieces for bedtime.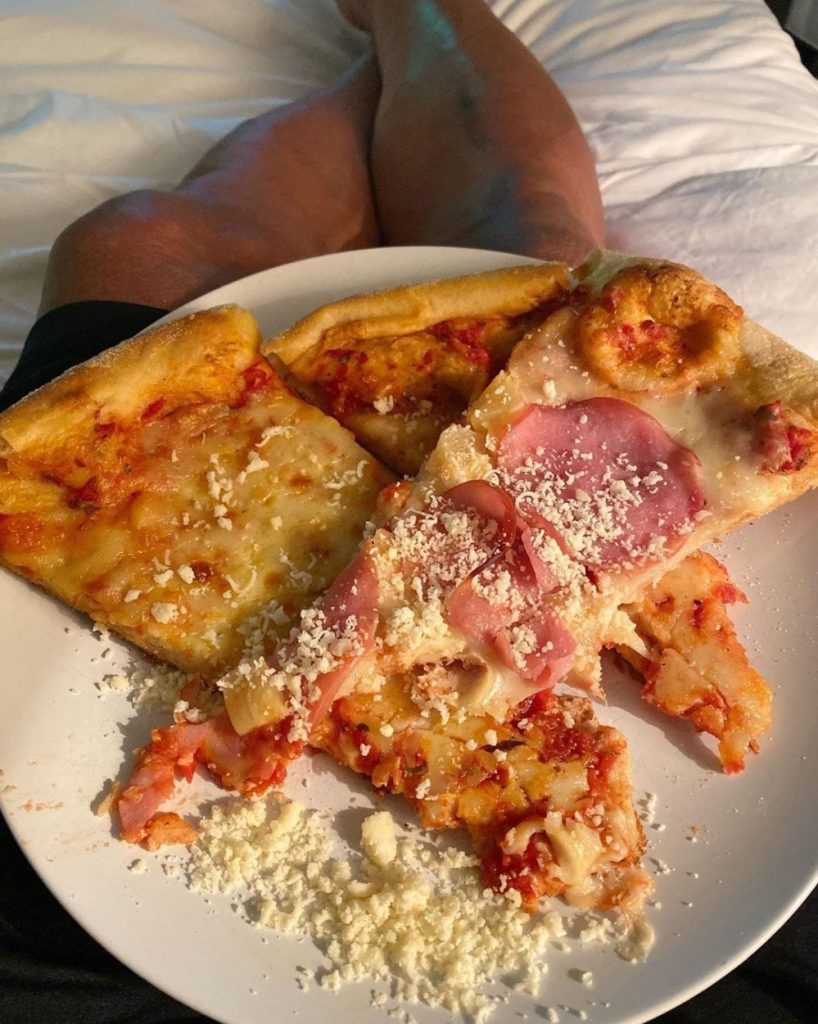 Judging by the fact that the toppings on the top slice don't match the ones on the bottom, it's safe to say we're right about there being numerous pizzas involved. This snack was likely the Rock's final cheat before Motivation Monday hit.