If They Build It, We Will Come: 40 Bizarre And Beautiful Architectural Feats We Want To Visit
By Sachin P August 2, 2022
---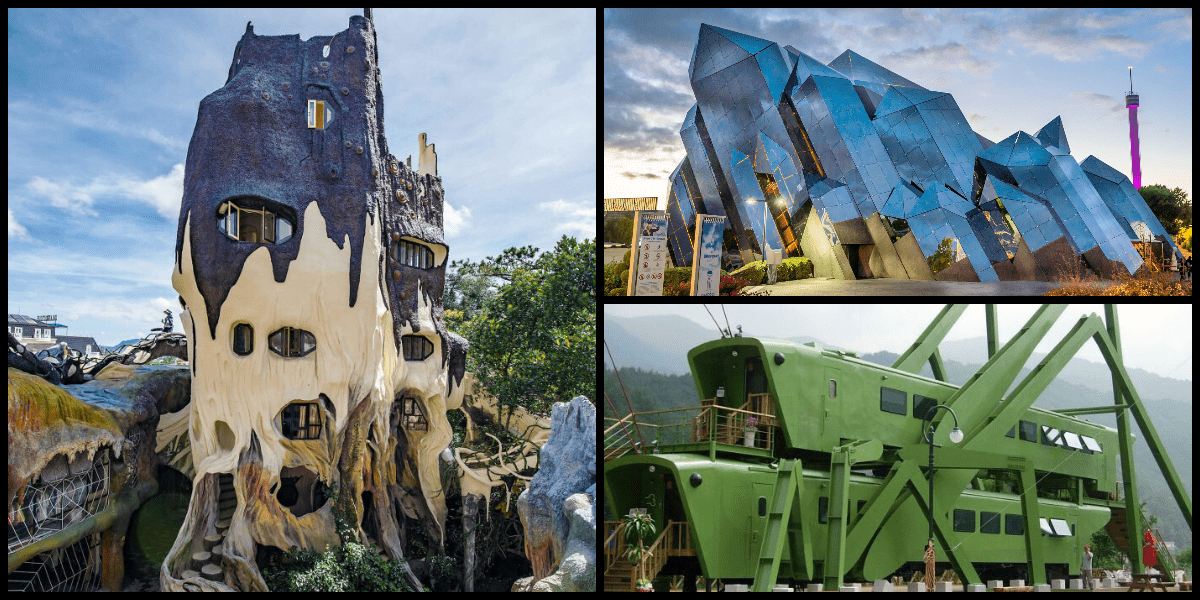 No matter what our profession or hobbies, many of us try to grab people's attention and make ourselves distinct. We show who we are by what we do, how we arrange our hairstyle, as well as what we communicate. However, selecting where and how to work and live is likely the far more significant statement we could offer about our personality. Would we adore working in an enormous panda-shaped structure? Absolutely.
Would yours truly enjoy residing in a brooding Victorian chateau in the heart of an enigmatic, off-the-map misty mountainous wooded area? Unless it had a ghostly conservatory and a lot of rain, you better believe it. The world is full of outstanding architectural feats, done by men and women whose creativity knows no bounds. Let this be a tribute to them.
Houses in Sanaa — Yemen
Sanaa has been occupied for more than 2,500 years and is located in a mountainous area at 2,200 meters high. In the seventh and eighth centuries, Sanaa developed into a significant hub for the introduction of Islam. These are multi-story homes in the town.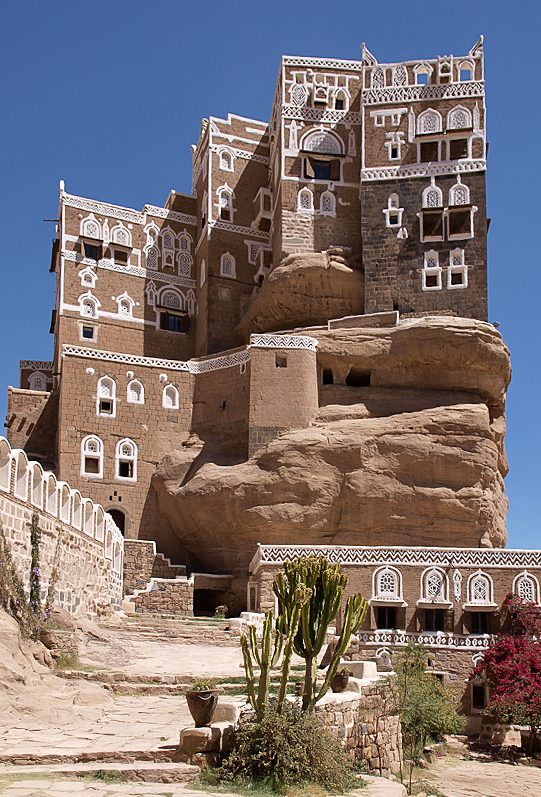 They were constructed using burnt brickwork and gypsum, a sulfate that is used in various types of plaster. There are typically six floors in each house. Typically, the first level is made entirely of stone. In the event of an invasion, the second story is employed as a defense.
The Lutheran Church "Hallgrímskirkja" — Iceland
This building serves both as a church as well as a state shrine — a tribute to modernism and a memory of the Icelandic environment, particularly its stepped concrete facade. Hymns of the Passion creator Hallgrmur Pétursson, the namesake, was a cleric from the 17th century.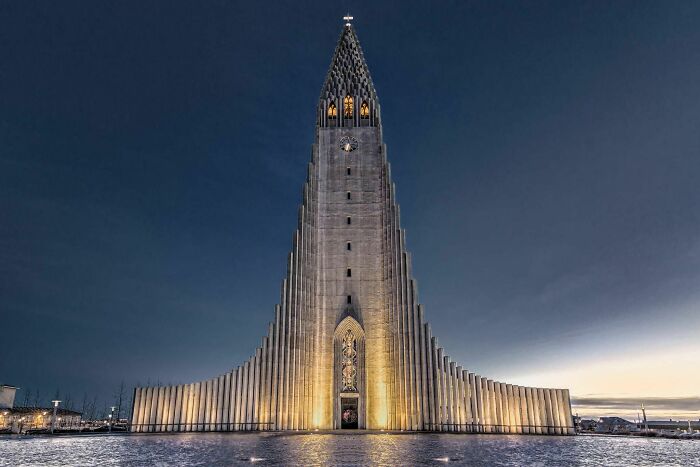 Evangelical Lutheran Hallgrmskirkja is a congregation of the Icelandic Evangelical-Lutheran Church. Iceland's Hallgrmskirkja is among the tourist attractions that receive the most visitors. Truly, this is a monumentally beautiful creation in all aspects. Is it just us, or does it look like a gargantuan pipe organ?
King Alfred's Tower — England
King Alfred's Tower is still a wonder to see. It required well over a million red bricks to build and has a long heritage in its foundation. It was designed by a rich property holder at the peak of British colonial rule ten years before its construction.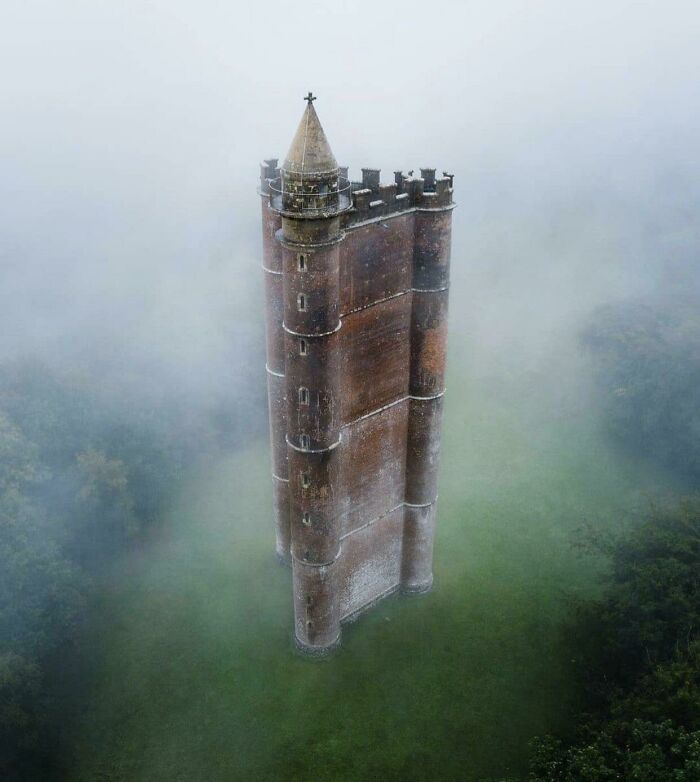 After its construction in the English countryside in 1772, it was intended to commemorate the cessation of the French and Indian War. Nevertheless, contrary to what its name might imply, King Alfred, who rallied the local population to repel Danish invaders in 878 A.D., served as the main inspiration.
The Milanese unzipped building — Italy
During the Milan design week, this enormous unzipped façade was observed. It was created by British sculptor and artist Alex Chinneck, who frequently constructs surreal real-life settings. By zipping it open, you may see a meta-narrative within this typical Milanese structure.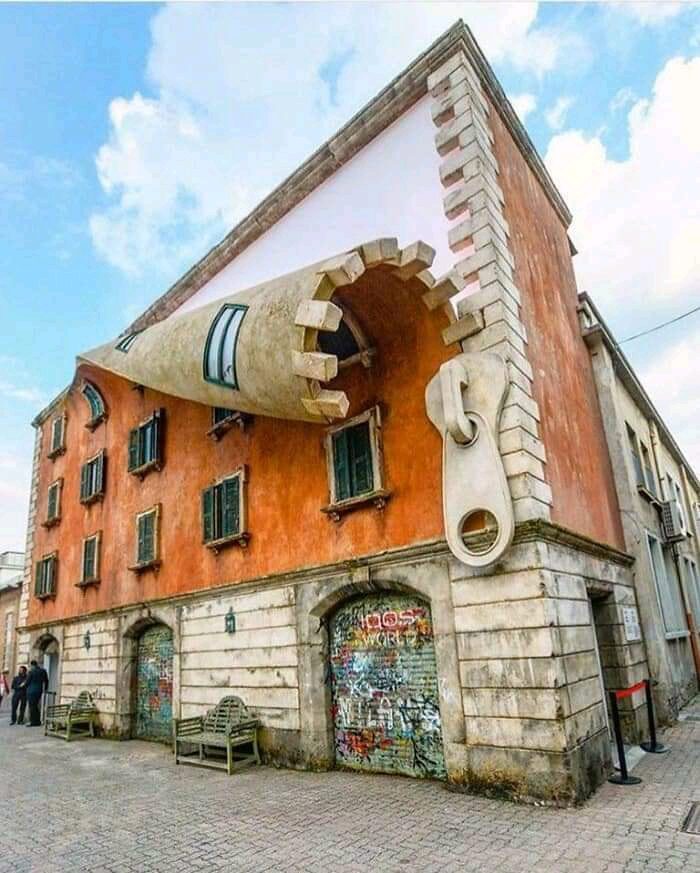 Chinneck used some optical gimmicks to construct the work, which again was ordered by the vape brand IQOS. He changed the structure's facade and repoured the concrete floor to make a luminous hole. Salvador Dali would go nuts over this façade; we're sure of it.
World War 1 Alpine Refuge — Mount Cristallo, Italy
A little alpine refuge that was built more than 2,700 meters above sea level in Italy's Dolomite mountains is among the most dramatic reminders of World War I. The little house was used by Italian soldiers as cover. To ascend, the Italian soldiers fashioned a Via Ferrata…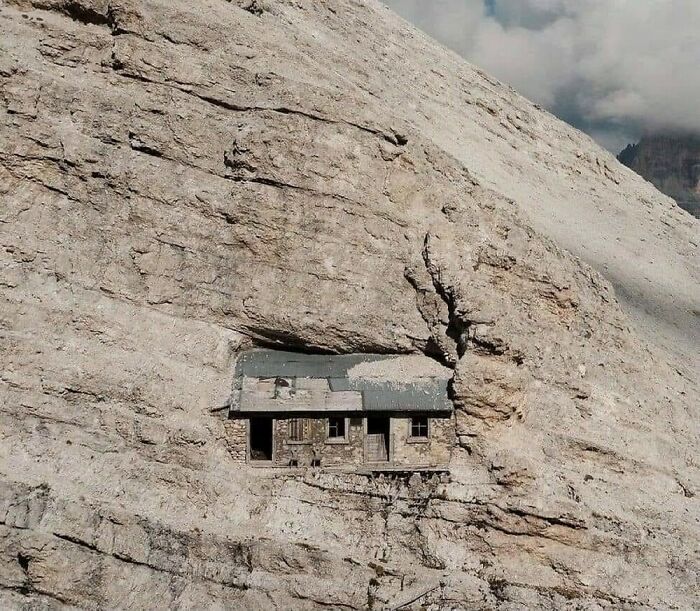 …which is like a protected ascending route. A Via Ferrata is a network of paths and ladders that let hikers attach themselves to cables with harnesses and other specialized climbing gear so that they can reduce the chance of major injuries.
The Eschif — Périgueux, France
This one has spent every one of its nearly 700 years balancing on a slender corbelled structure. The Eschif was a watchtower guarding a toll booth in Périgueux, France. It was constructed in 1347 as an oak wood structural frame with wattle and daub infill.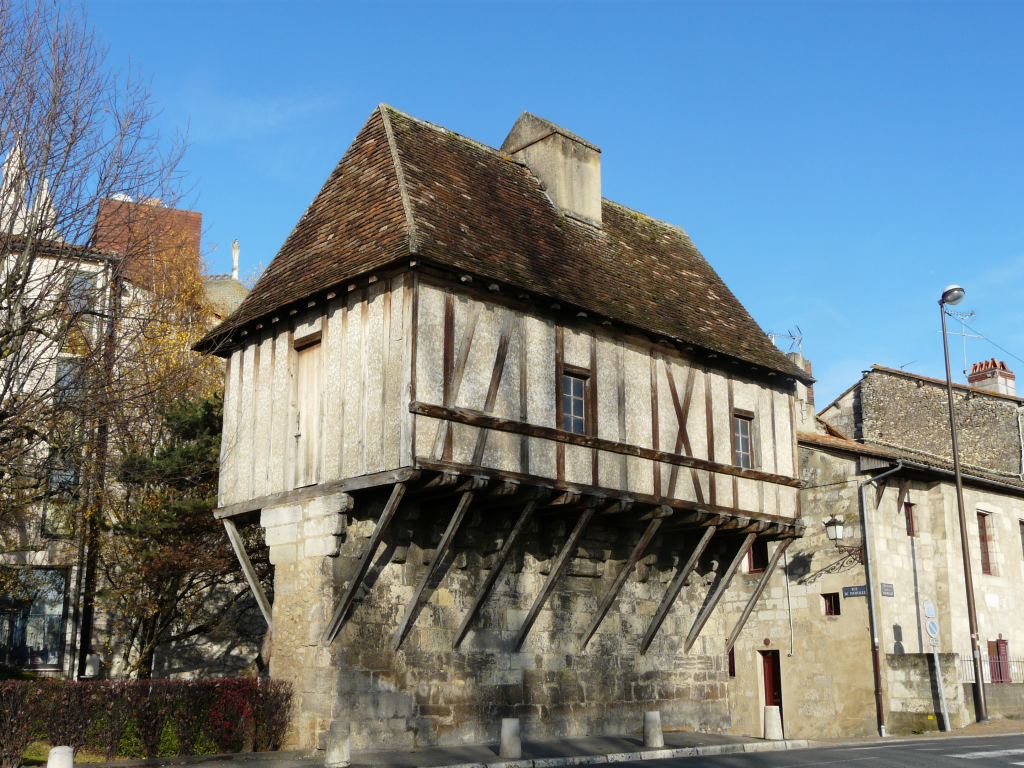 The structure is sustained along its course by oak struts and supported on the slender fortifications of Puy-Saint-Front, Périgueux's medieval center. It really puts into question how advanced the architectural knowledge of our ancestors was. A structure like this surviving for seven centuries? Amazing!
Villa Vals — Switzerland
The 200-square meter can house up to ten people. It's fully buried in a slope and a sizable lawn surrounds it, providing plenty of seclusion and privacy. The patio is accessible through a huge glass window that offers stunning views of the surrounding greenery.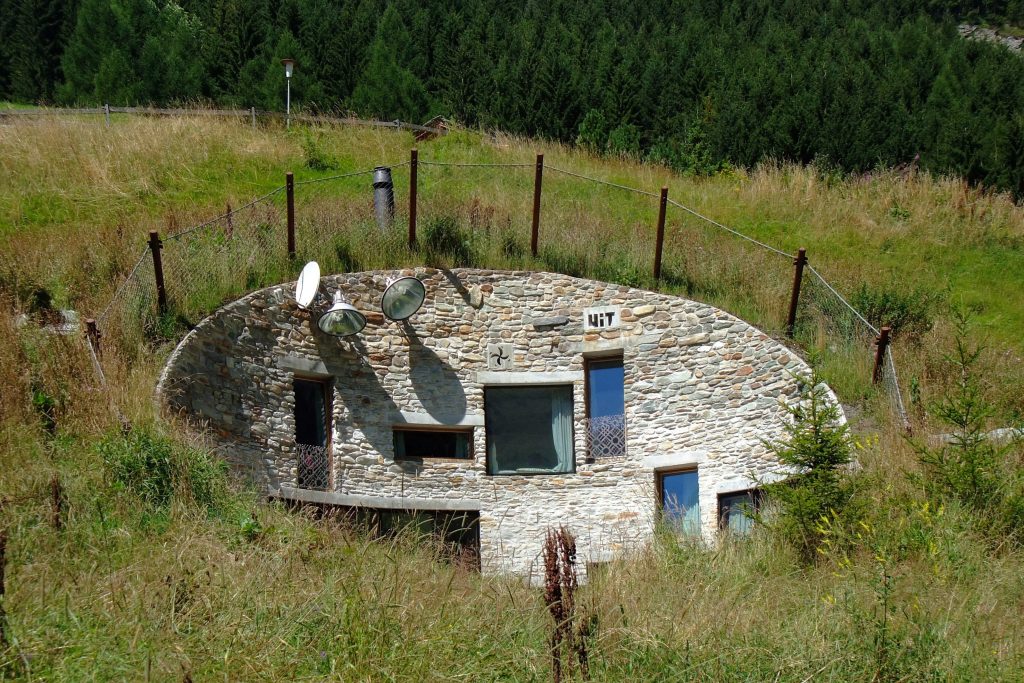 There are snow-covered alpine peaks in the wintertime and verdant pastures in the spring. Villa Vals rose to recognition around the world after appearing in the Netflix show The World's Most Extraordinary Homes. It looks like a futuristic take on a hobbit home, as if they built it in the 2050s.
Inntel Hotels — Zaandam, Netherlands
This structure will be, without a doubt, the greatest attention-grabber in the renovated town center and it has caused quite a stir in the Netherlands. The venue's architect Wilfried van Winden of WAM architecten, Delft, borrowed heavily from the distinctive green timber cottages of the Zaan region.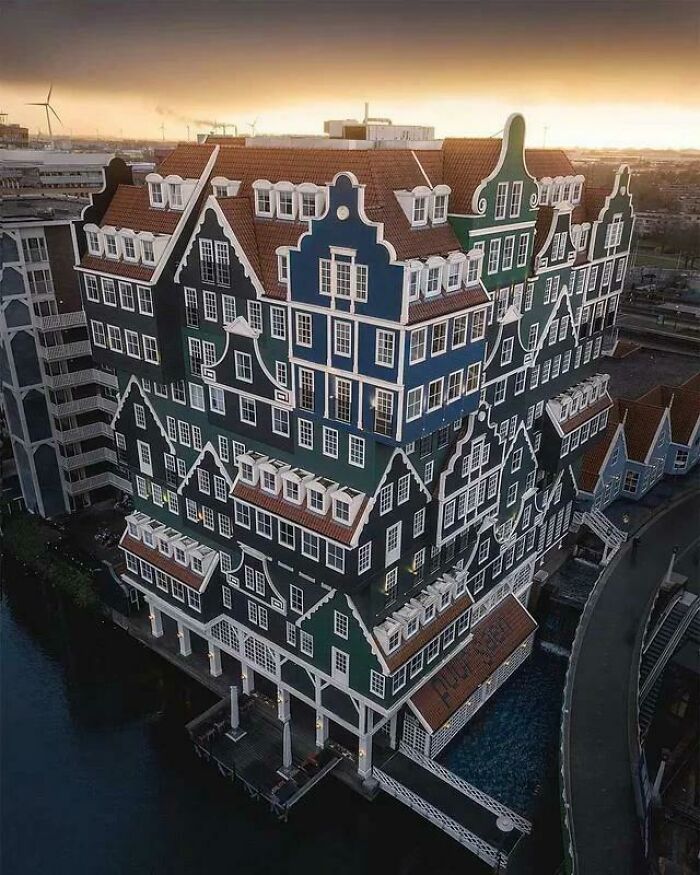 A notary's home and a worker's cottage are just a few of the classic houses that make up the construction. The entire town was considered a bit drab before this uplift, and this really adds so much flare to the whole place.
Shenzen Natural History Museum — China
The Shenzhen Natural History Museum plays a crucial role in explaining how the Guangdong Province region's urban and natural environments have changed ecologically over time. The idea is based on how the river delta carved out rock formations, enabling each distinctive habitat to have its own narrative.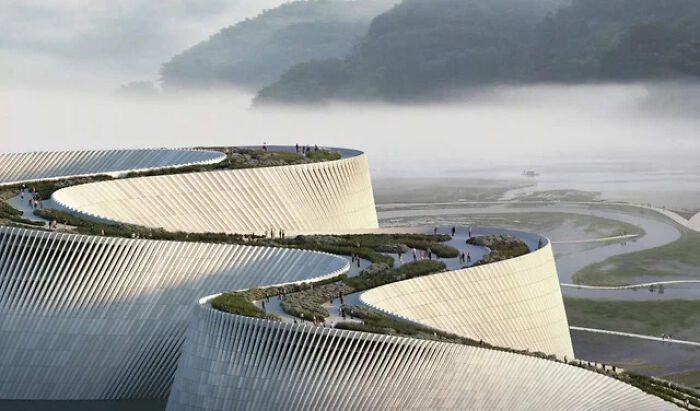 The proposal is nodally organized, with a core spinal flow running from east to west and connecting all gallery spaces with the main lobby. The wonders architects can come up with, when they put their minds to it, seemingly defies belief.
Temppeliaukio Church — Helsinki, Finland
The Temppeliaukio church is located in the center of Helsinki, near the end of Fredrikinkatu. The church, which was completely carved out of hard rock, was finished in 1969. It has a unique architectural style, and is among Helsinki's top tourist destinations.
The church hall is braced upon those stone walls using reinforced concrete beams, in addition to a copper interior and domed covering. Rugged stone and debris were used to build the inside walls. The chapel is a popular location for musical shows because of its superb acoustics.
Grasshopper's Dream Café — Jeongseon, South Korea
This insect-themed cafe called the Grasshopper's Dream is found close to Jeongseon, South Korea, alongside the well-traveled Auraji rail cycle route. The green railcars have been modified and thus are piled nearby the Gujeol-ri train station. We can't stop laughing at the fact that the cafe is constructed as though the grasshoppers are mating.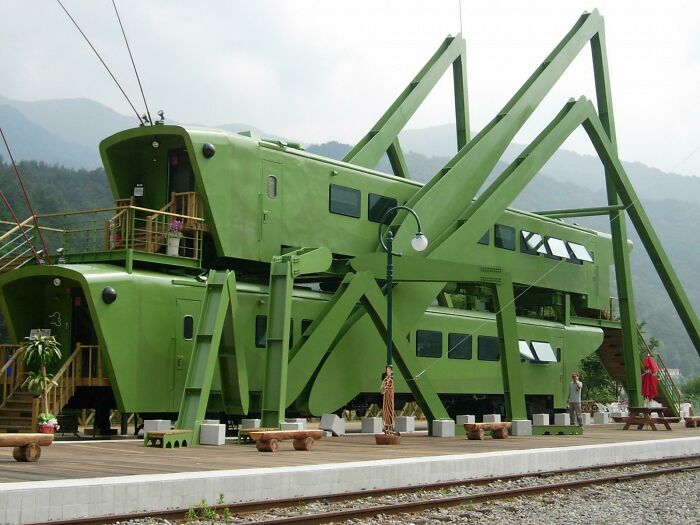 Each carriage has thin antennae, and large metal limbs protrude from the rear half of the cars. Outside the cafe are two more attractions for tourists: a couple of equally large fish, as well as another pair of even more comical-looking grasshoppers. The insect-themed eatery is lit up from underneath at night.
The Crooked House — Kent, England
The Sir John Boys House, which is commonly referred to as The Crooked House, is exactly what it sounds like. The slanted, partially timbered structure from the 17th century is situated at the very extremity of Palace Street in Canterbury, Kent, England.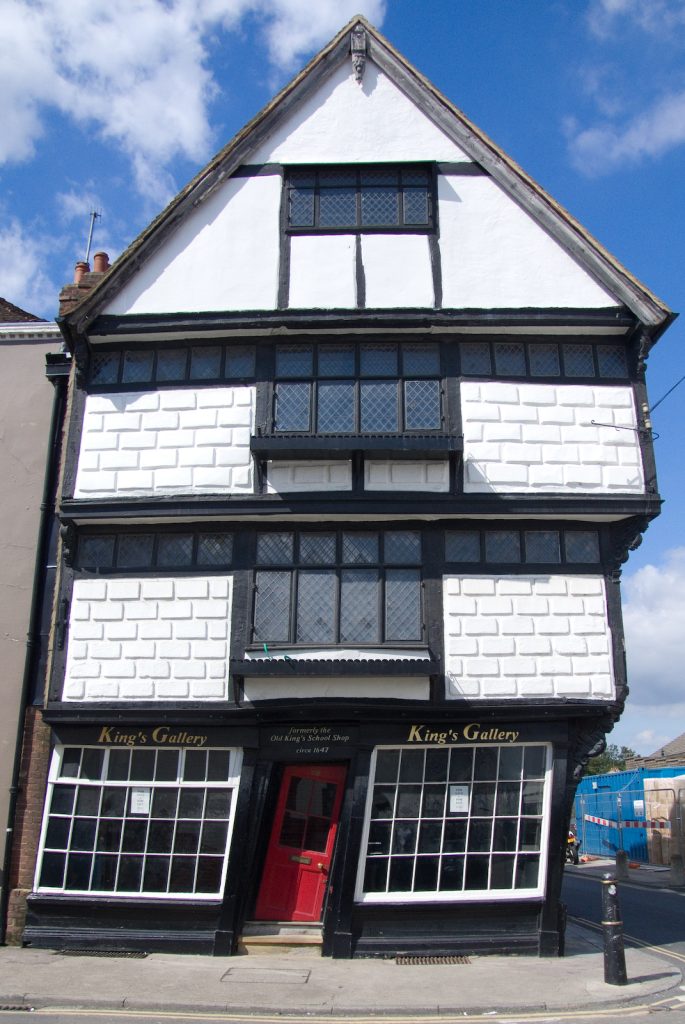 Its front entrance stands out even more since it was created with extremely crooked corners to suit the door frame and therefore slopes at an excessive inclination. For a long time, it was assumed that Sir John Boys, former MP and first recorder of Canterbury, resided there.
Muebles Casa Quinta — Bogotá, Colombia
You might wonder what on Earth Paul Bunyan's chest of drawers is doing here. Actually, where is "here"? We better find that out first. This giant chest drawer is located in Bogota, Colombia. And it's not some quirky office or apartment complex; it's actually a shop.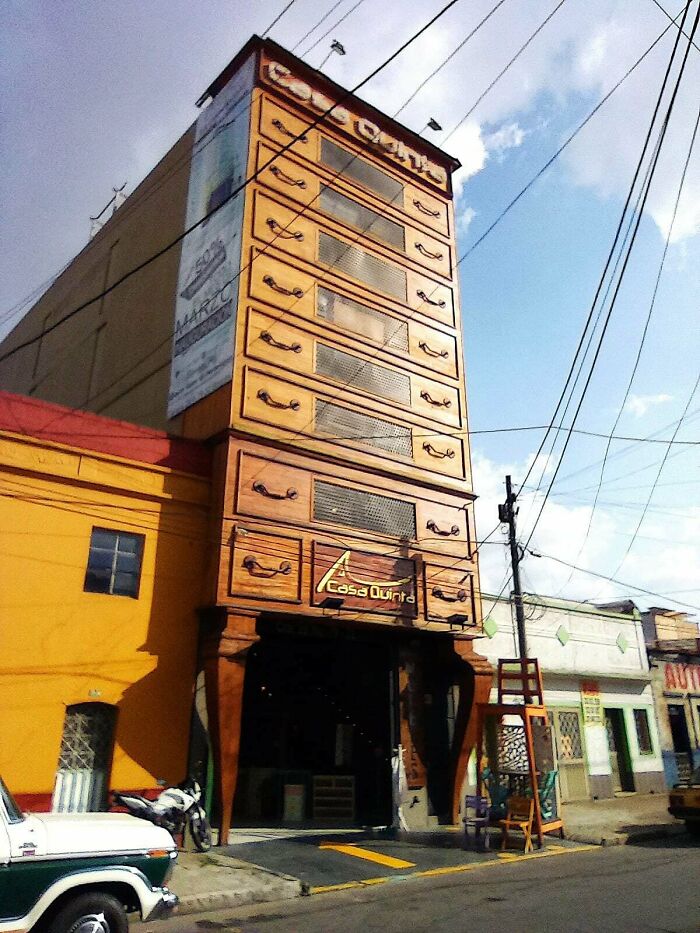 A furniture shop, that is. Now considering all the façades they could have used for a furniture store, this is by far one of the best. It would add some more flair if they managed to say, hang a large sock from one of the drawers.
The Robert Bruno House aka Steel House — Texas, USA
This would be the "Steel House" by the departed sculptor Robert Bruno. The building, which is a combination of art, residence, and a time machine from the 1970s, is situated in Ransom Canyon, approximately 15 miles to the east of Lubbock.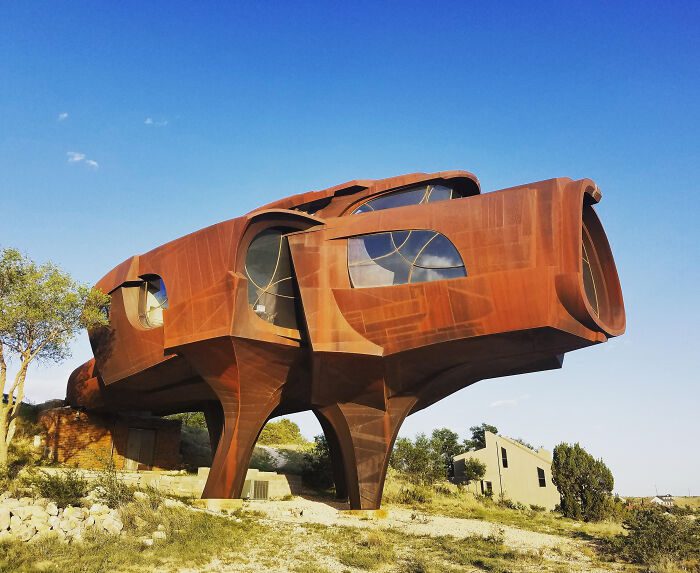 The striking sculpture, which weighs 150 tons and stands on short legs to resemble a floating spaceship, is composed of 150 tons of steel. The 2,200 square foot, three-level home is perched on a rough hillside with a view of a local lake.
Hotel Belvédère du Rayon Vert — Cerbère, France
The Hotel du Belvédère was constructed in the quiet town of Cerbère, designed by the architect Léon Baille. It opened in 1932. Then, in 1987, this accomplishment was included in the excess inventory of historic sites, and in 2002, it was designated as a historical landmark.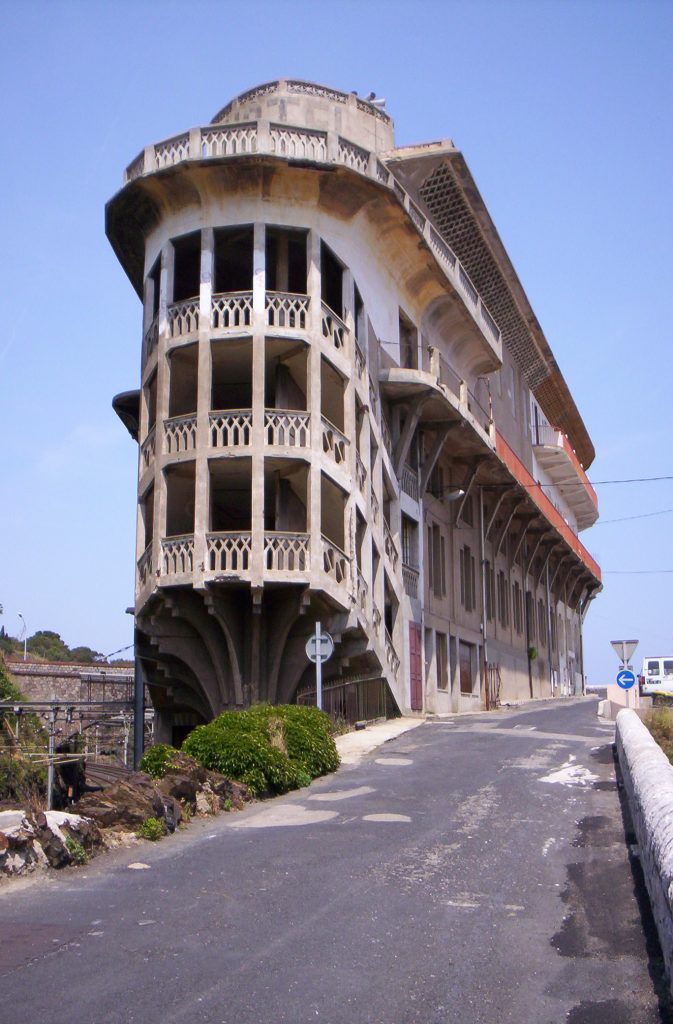 It is the world's first reinforced concrete building, whose distinctive design was influenced by the liners of the day. Today, it hosts cultural events and even residents, as its chambers have been converted into apartments. It is among the most striking structures that dot the Vermeille coast's scenery.
Fallen Star Art Installation — California, USA
You can't always place your trust in a cantilever unless it's by an engineer. Or, by an artist with a dream. Do Ho Suh, a Korean-born artist with training from the Rhode Island School of Design, has contributed his unique eccentric perspective…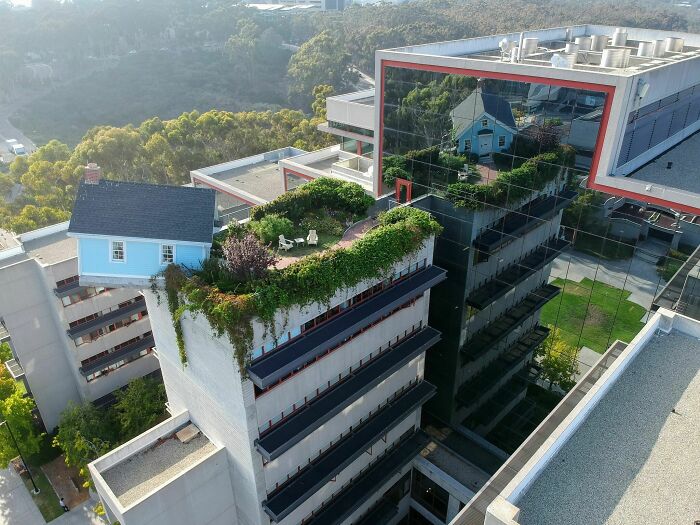 …to the University of California, San Diego institution. It dangles well over the edge of the seven-story Engineering building. The Stuart Collection at UCSD has a number of continued public art projects, with Fallen Star being the 18th item in the collection.
Joshua Tree Residence — California, USA
The Joshua Tree Residence, a 2,100-square-foot, three-bedroom house, is composed of white cargo containers that protrude out of a focal place. Its design is quite otherworldly and gives off the air of a giant nest. As you can guess by the name, it's located in Joshua Tree National Park.
The desert landscape in California is the perfect backdrop for the building. It was requested by an unidentified — and probably affluent — film producer, which says a lot about the overall design. Construction started in 2018 on a separate site just under three hours from Los Angeles.
The Exchange — Sydney, Australia
The internationally renowned design firm Kengo Kuma Architects created the six-story building known as the Exchange. The structure is as complex on the inside as it is on its exterior. It contains eateries, a rooftop terrace, a childcare center, a public promenade, a new library spread across two levels, and other amenities.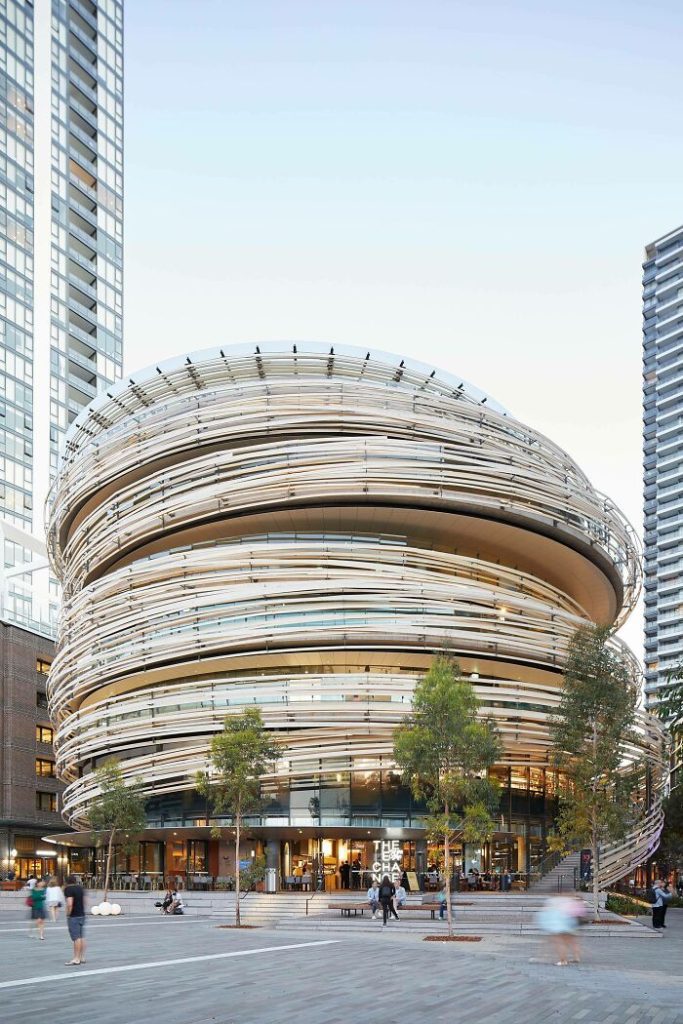 The design, a spiral bird's nest-shaped structure, used 23 kilometers of timber paneling from responsibly managed forests used for its unique façade. Given the unique design of the building and provided that it's in Australia, we can imagine the Tasmanian Devil from Looney Tunes being in the middle of this building.
Collage House — Mumbai, India
The "corner of windows" on its front façade, which reuses ancient doors and windows from city-demolished homes, sets the standard for what is hiding inside. This serves as a striking setting for the living area, with a polished white marble flooring with exquisite brass inlay.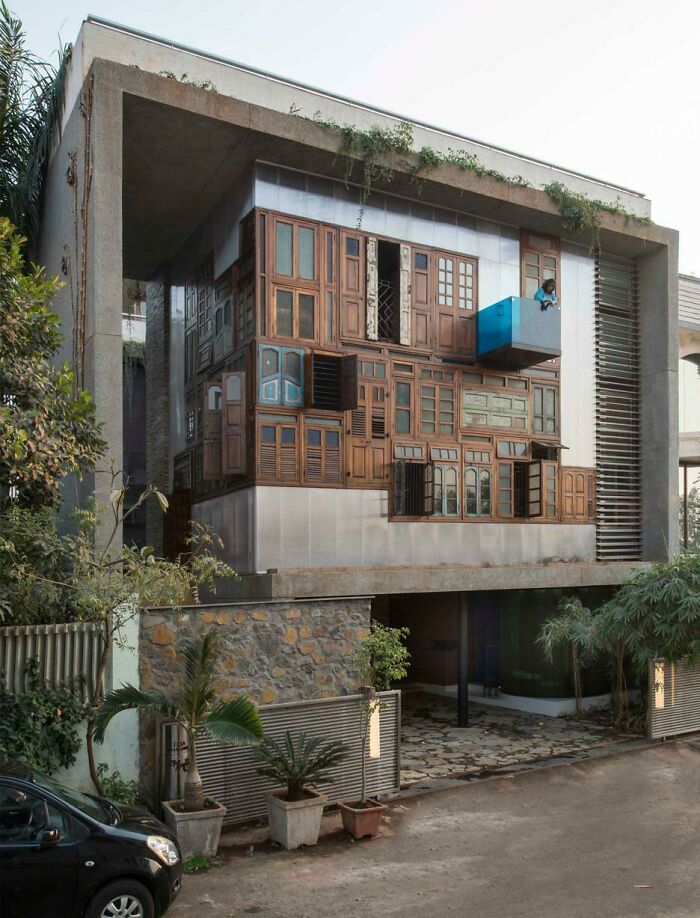 This contrasts with the polished concrete ceiling overhead. The "pipe wall" has structural pillars, rainwater flows down pipelines, and a design of spouts that, during the monsoon season, are a treat to the sensations. It is made of surplus metal pipe that has been put together just like bamboo.
L'île Flottante Resort — Abidjan, Côte d'Ivoire
Eric Becker, a French national, first relocated to Abidjan, Côte d'Ivoire, or The Ivory Coast, in 2012 to launch a boating company. Upon moving, he noticed the extent of the plastic waste and decided to start gathering everything and anything that floated…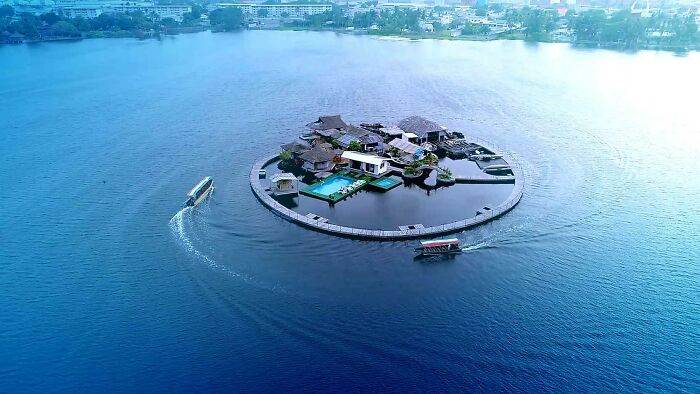 As a result, he managed to gather an astounding 700,000 plastic bottles, which he then examined for durability and feasibility before packing them into crates. On Abidjan's Ébrié Lagoon, he spent six years building his floating island, the L'île Flottante resort.
The Iron Fountain — Gyumri, Armenia
Caused by the 1988 earthquake in Armenia, the community of Gyumri also had terrible effects, with most of the surrounding region being leveled. One distinctive building, an iron fountain mostly on the town's borders, was able to endure the impact. All other academic structures were demolished.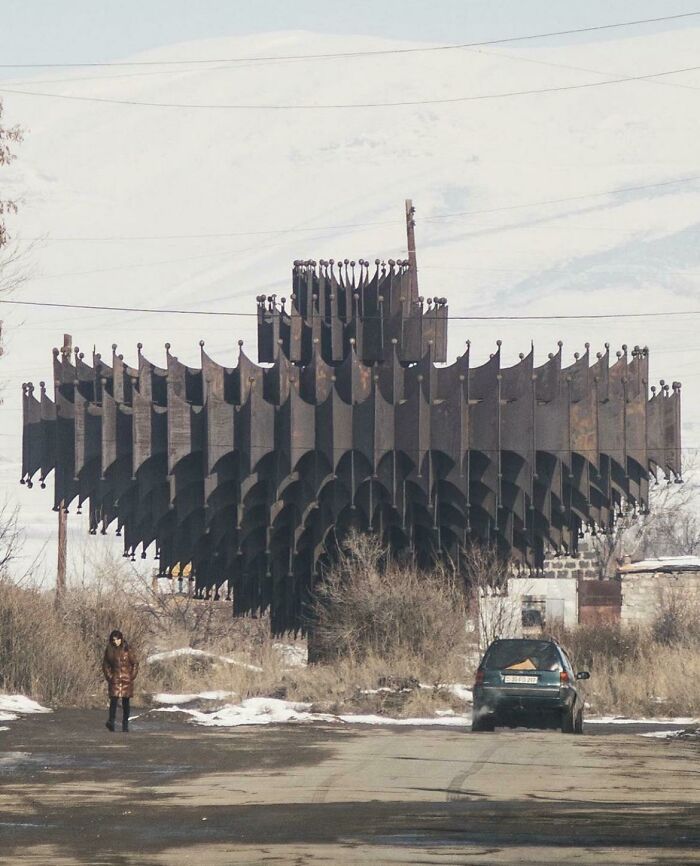 But the fountain served as a marker for the Polytechnic University of Gyumri's campus center. The fountain miraculously survived the collapse of everything everywhere. Around the remaining metal fountain, earthquake survivors built makeshift dwellings, several of which later became permanent.
Hotel Marques de Riscal — Elciego, Spain
The Hotel Marques de Riscal's striking design was created by Frank O. Gehry, whom Vanity Fair dubbed "the most influential architect of our age." With a building like this, we can understand where the praise comes from. Just for a moment, try to imagine reserving a room in this magnificent structure.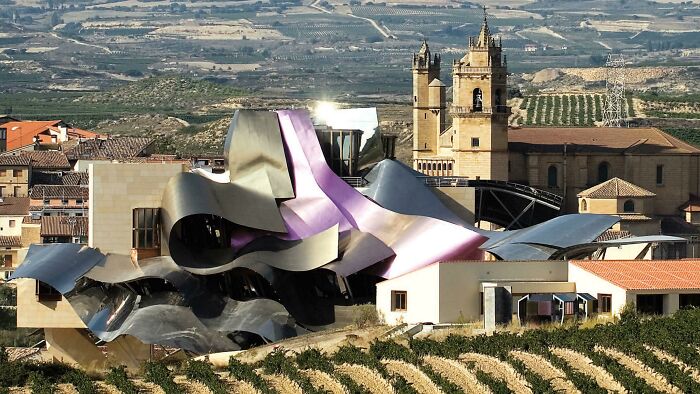 It is located in the heart of the ancient Basque region. Glass-walled suites provide views of Elciego, a historic village wherein culture and history are as abundant as that of the grapes growing in its Rioja vineyards. It's truly an astounding piece of architecture.
Seminole Hard Rock Hotel — Florida, USA
The 450-foot-tall, guitar-shaped hotel, billed as The Guitar Hotel, is the brainchild of famous architect Steve Peck of the Klai Juba Wald Architecture firm in Las Vegas. The current recreational complex's $1.5 billion extension has already been hailed as an instant marvel of architecture.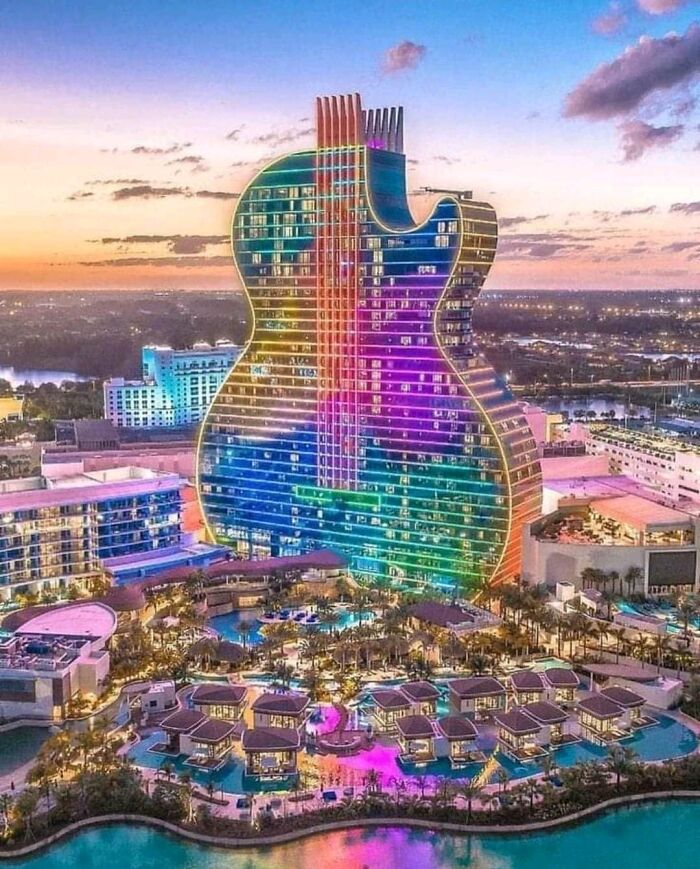 Also, it is a well-known tourist hotspot. The dynamic structure, which can be seen for miles, incorporates a digital content façade, including a rooftop light launcher to create the loud and energized environment for which Hard Rock is renowned. Truly, it's a sensational place.
"Crazy House" by Hang Nga — Dalat, Vietnam
The construction of Architect Nga's home began in 1990 as a result of her desire to develop someplace entirely on her own. The "crazy house" mimics a tree because the architect wanted to create a fairy tale home. The oddly shaped openings and stairways contribute to the "crazy" vibe.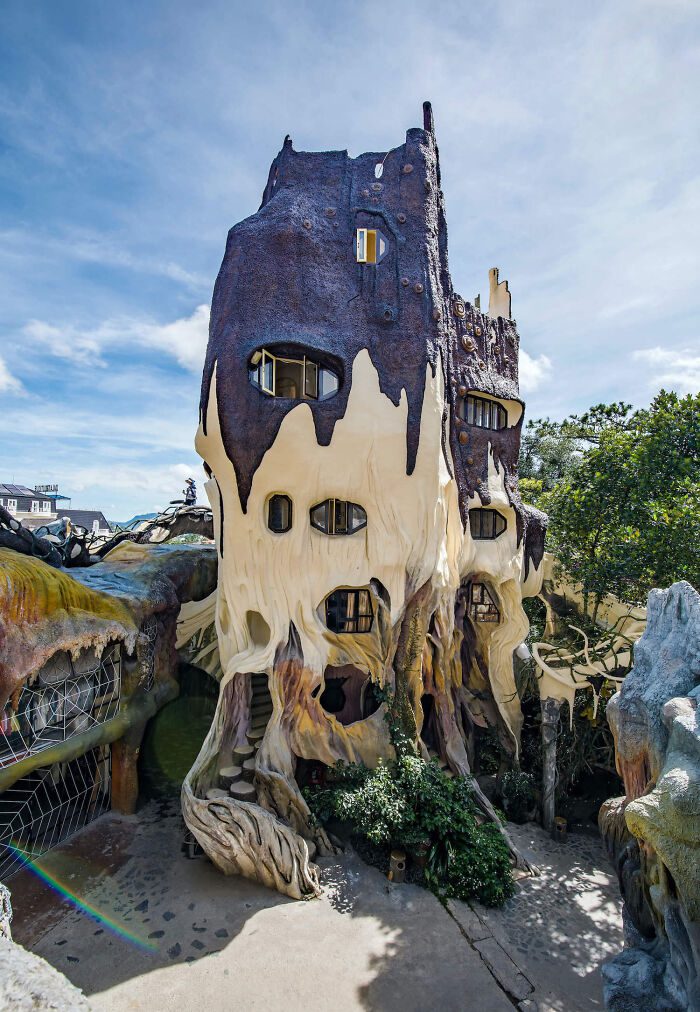 The guesthouse's façade and inside are both designed and furnished using twisted organic shapes and a few sharp angles. The hollow "tree" spreads out in all directions and rises upwards to touch the incredible Dalat sky. Truly a unique place that merits a visit.
Former NSA Surveillance Base — Teufelsberg, Germany
Government preservation as a historical landmark will be given to a former NSA surveillance base outside of Berlin. A preservation decree will be put in place for the famous structures on Berlin's western outskirts and the Teufelsberg hill it rests on.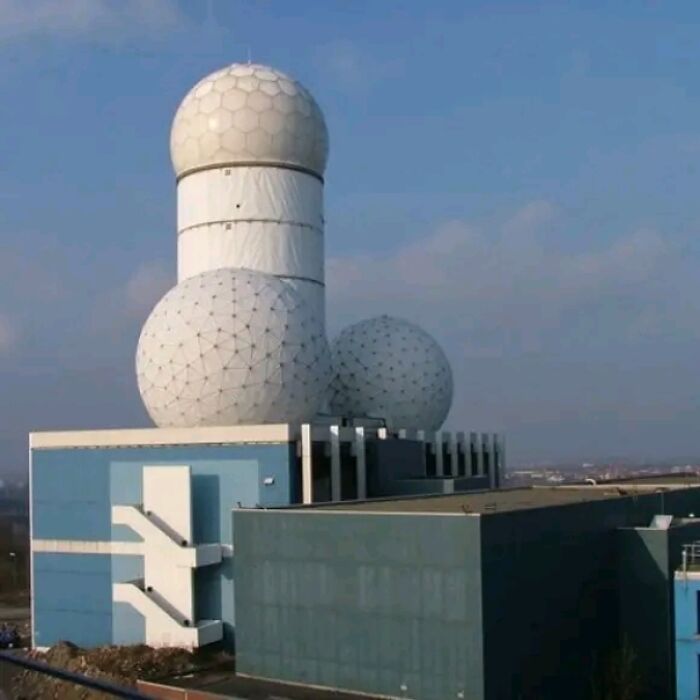 During the Cold War, American allies set up the complex spying system known as Echelon to snoop on the communication processes in the Eastern Bloc. The German government had been cognizant of US spying techniques at the time from locations like Berlin's Teufelsberg.
Grand Lisboa Hotel — Macau, China
The famous Grand Lisboa Hotel is situated in Macau, a territory on the southern Chinese coast, across the Pearl River Delta opposite Hong Kong. With its massive mirrored dome and astounding 856-foot gold tower, this towering casino is impossible to miss.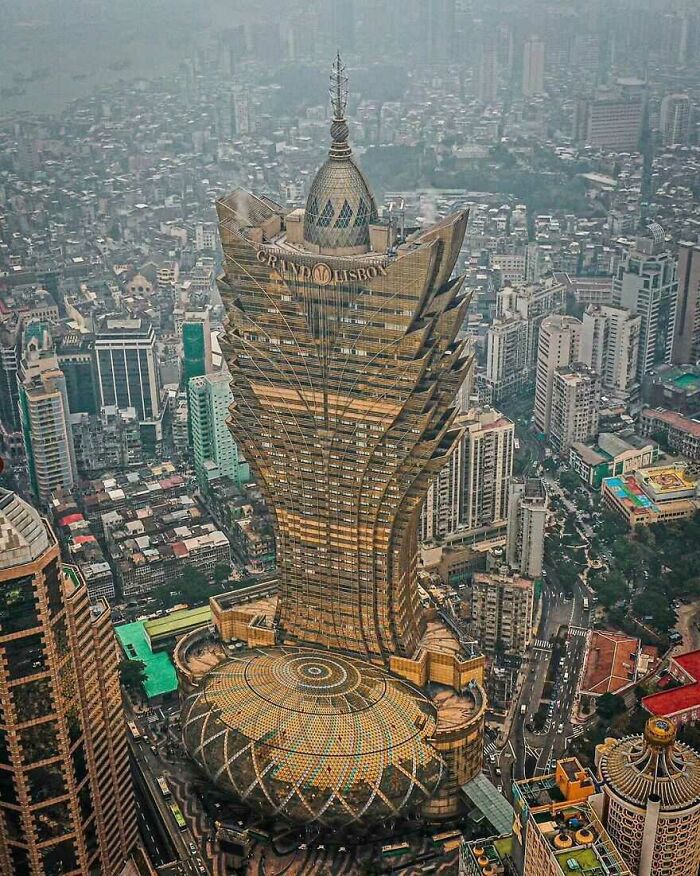 At nighttime, the dome emits a variety of colored lights. Visitors will discover that the inside splendor of the bedrooms matches the outside, and they have contemporary designer décor, chandeliers, and smart lights. Beautiful marble restrooms with cascading showers and in-room saunas are among room amenities.
Astra Tower — Hamburg, Germany
The Astra Tower, completed in 1971, towered over Hamburg's madam quarter for over thirty years. The Barnett Newman piece, as well as the beginning of a Jenga game, were both reminiscent of the contemporary building that held the brewery that produced Astra beer.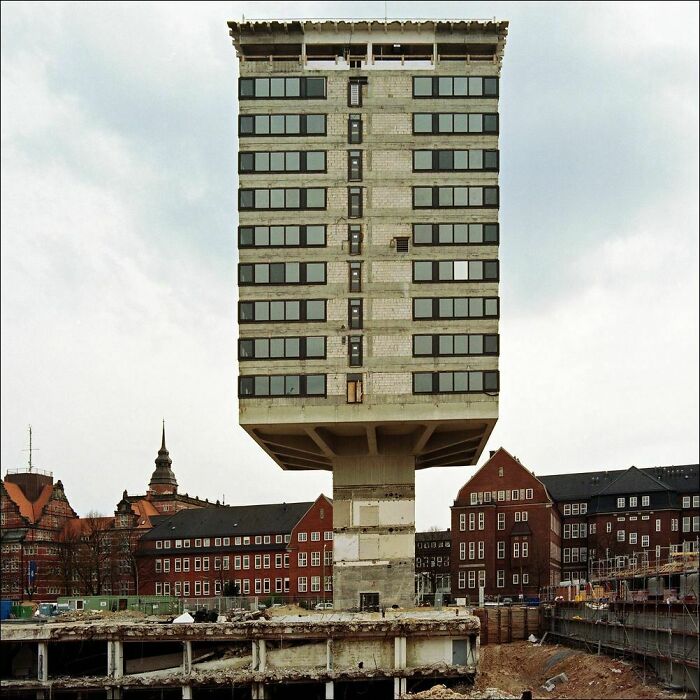 The skyscraper, which was perched up on a hill amid Hamburg's St. Pauli district, rose to prominence in the region's skyline. But when bigger and bigger beverage firms continued to acquire the brewery in the 1990s, Astra beer manufacturing ultimately moved abroad.
Taipei Performing Arts Center — Taipei, Taiwan
The Taipei Performing Arts Center is a piece of design in ambiguity — distinctive yet adaptable, unobtrusive yet visible, and recognizable without being intentionally designed as such. It is situated in Taipei's Shilin Night Market, which is known for its lively urban culture.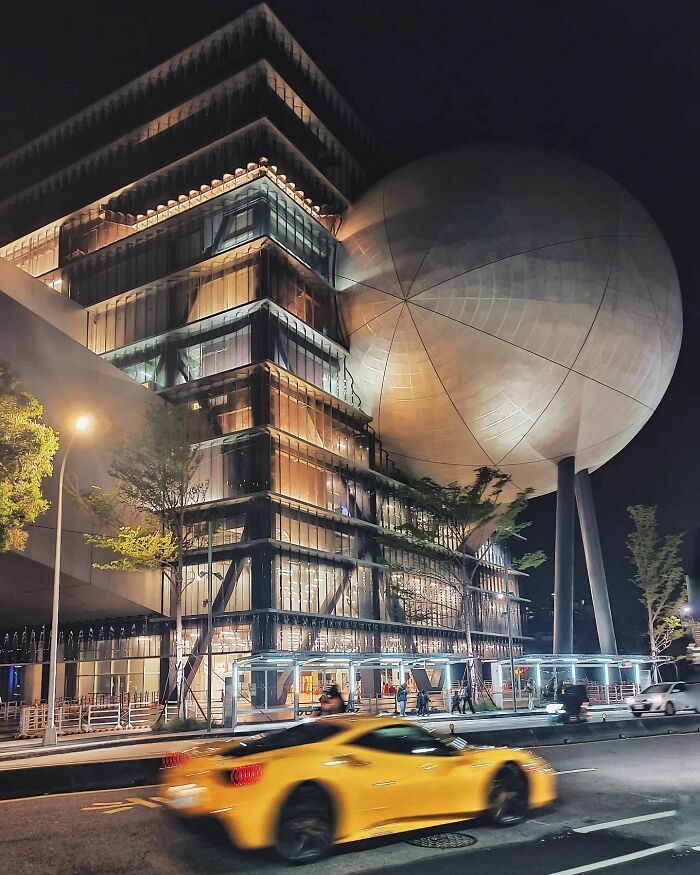 For an outstanding community loop that brings Taipei's street activity into the theatre, the cube is raised off the earth. The theaters' platforms, backstages, support areas, and audience areas are combined into a single, effective unit by the central cube.
Advent Calendar House — Unknown
There's a word in the English language for throwing someone or something through a window. It's called defenestration. We guess whoever came up with that word has seen this house before. Whoever it was, must have been quite taken aback by all the windows.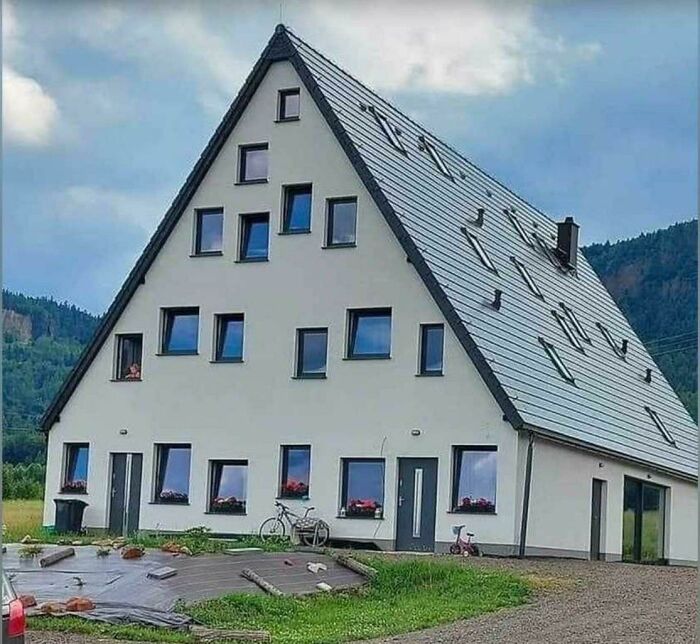 Also, this house offers maximum protection from vampires, if they mistakenly invite one of the creatures inside. All they have to do is to survive the night and come morning, open all the blinds to all the windows — instant supernatural relief.
Cicero approves this structure! — Orléans, France?
We are yet to receive confirmation that this is the exact balcony used in Romeo and Juliet. There are rumors that Juliet said her world-famous piece, "Romeo, Romeo! Wherefore art thou, Romeo?" from this exact balcony. At least we hope so!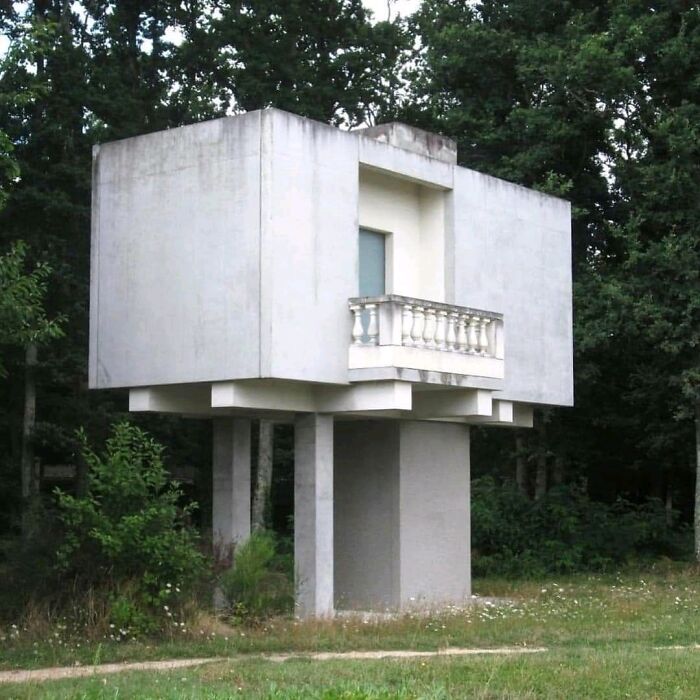 Sadly, this is not the case. This happens to be an art installation. But it does seem like the ideal location for staging a play with such emotional timbre as Romeo and Juliet. Or the best place for an orator to go all out.
Tondo Footbridge — Brussels, Belgium
In the city of Brussels, the Tondo footbridge has already been formally inaugurated. The "spatial element," created by Office KGDVS, links the buildings of the House of Representatives with its most recent addition, the new Forum Building, located across Leuvensestraat.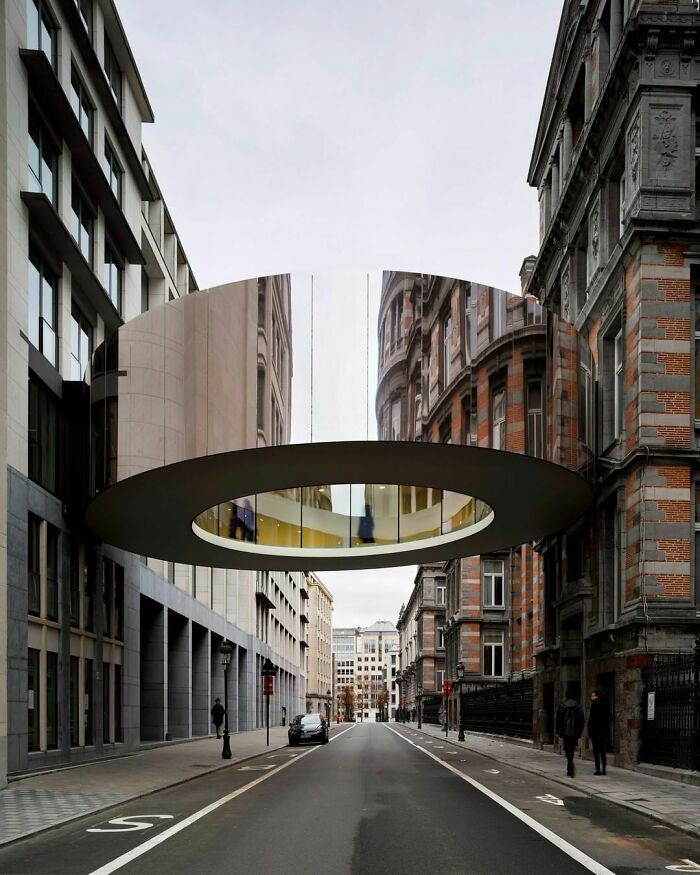 It kind of looks like a giant donut, just levitating between two buildings. But the most captivating thing here is the reflective paneling. That leads to a sort of an optical illusion, where it takes a short while to process the whole thing.
Bierpinsel aka Turmkunst — Berlin, Germany
The Bierpinsel (also known as The Beer Brush), built in 1976 by architect duo Ralph and Ursula Schuler in the Steglitz borough of South Berlin, is a well-known illustration of the German Brutalism movement. The futuristic building was initially intended to mimic a tree.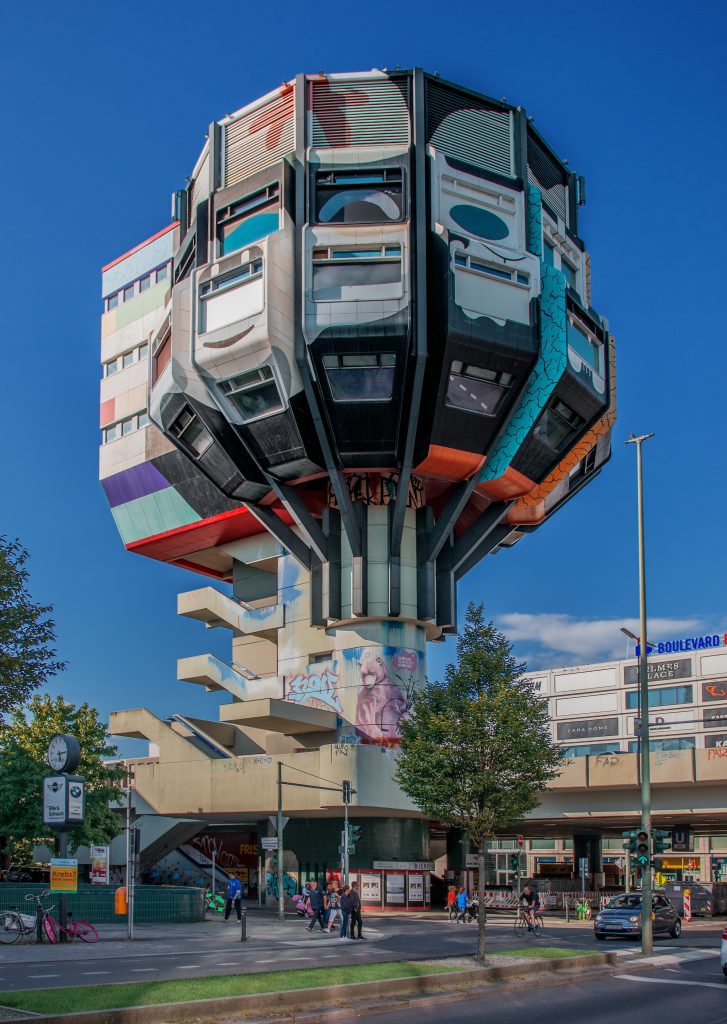 It climbs dizzily to a height of 47 meters above the ground and provides a sweeping perspective of the metropolis. The structure was adorned by well-known street painters, including Honest as well as Sozyone Gonzales. It relaunched in 2010 under the title "Turmkunst," receiving a new pop-art makeover.
The Corpus experience — Leiden, The Netherlands
By allowing the visitors to literally pass through a massive structure fashioned like a human body, the CORPUS museum in Leiden offers a complete and immersive experience through the human body. The journey as well as the exhibition provides information on how our bodies function.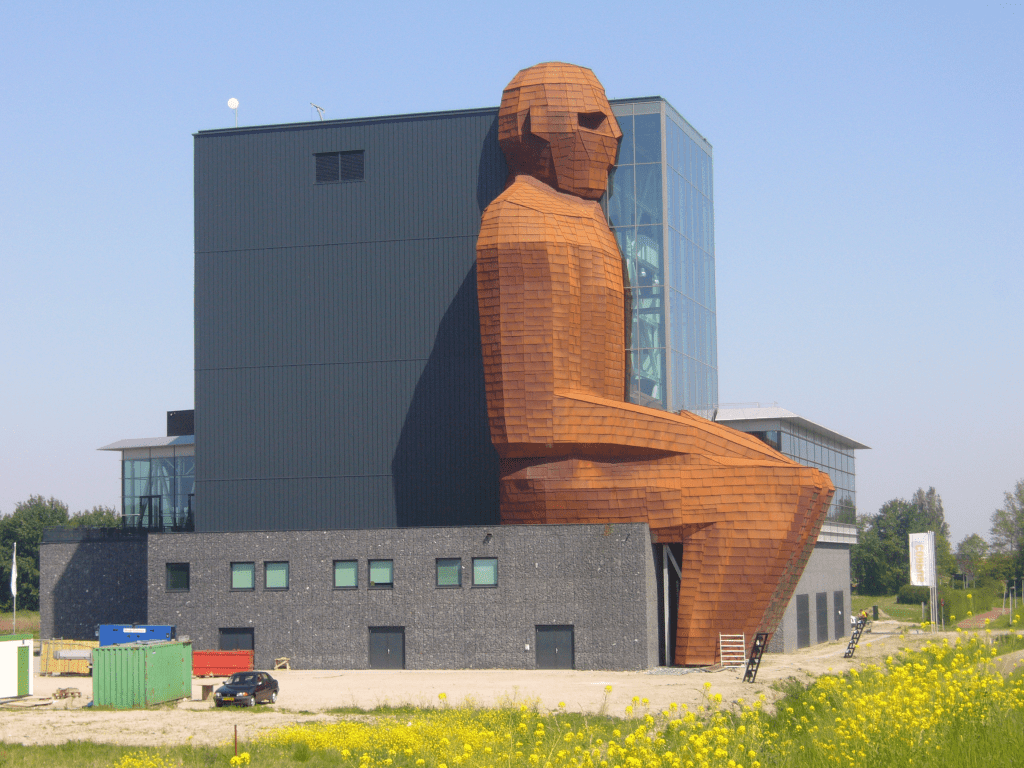 For example, you can learn how the many components link to one another, and how we may maintain its health. This is a must-visit spot for biology students — if possible. So, for all lovers of knowledge, this is a great opportunity.
The Kinémax Cinema — France
An amusement park in France called Futuroscope, also known as Parc du Futuroscope, is focused on multimedia, cinematic, and audio-visual experiences. Including other attractions and activities, some of which may be the only ones in the world, it boasts a number of 3D and 4D theaters.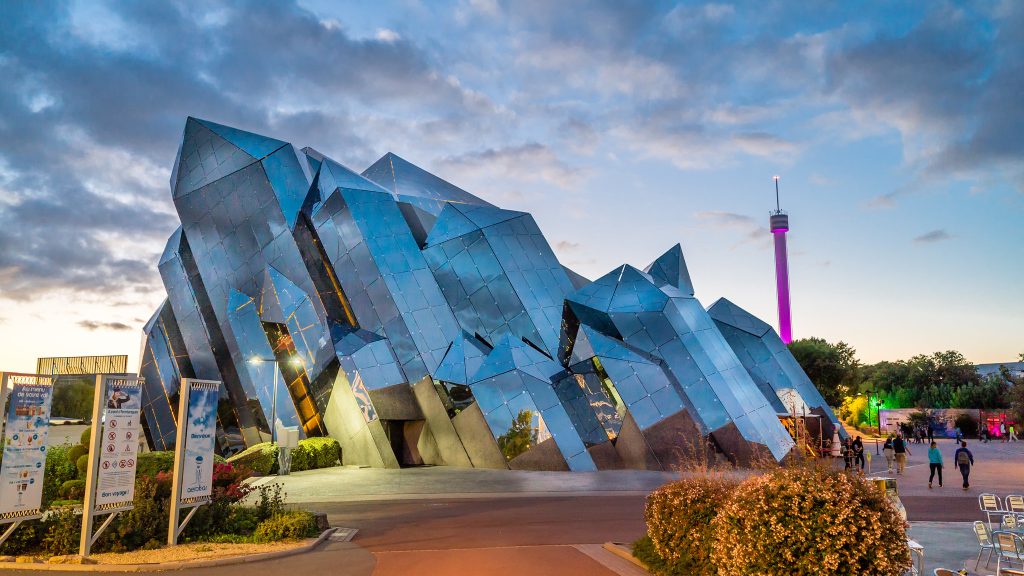 The 35-meter-tall Kinemax skyscraper is designed to resemble crystals and rocks erupting from the earth. If it wasn't already intriguing, upwards of 20,000 hours of structural research were required. Its 4250m2 surface is covered in 3,000 shimmering plates, resembling one giant crystal.
Casa del Portuale — Napoli, Italy
This Aldo Loris Rossi design has come to represent the contemporary resurgence of interest in Brutalism. However, the structure has been mostly deserted. It is utilized in conjunction with the port's industrial and logistical activity in Naples, where it is flanked by cranes, cargo containers, and railroad lines.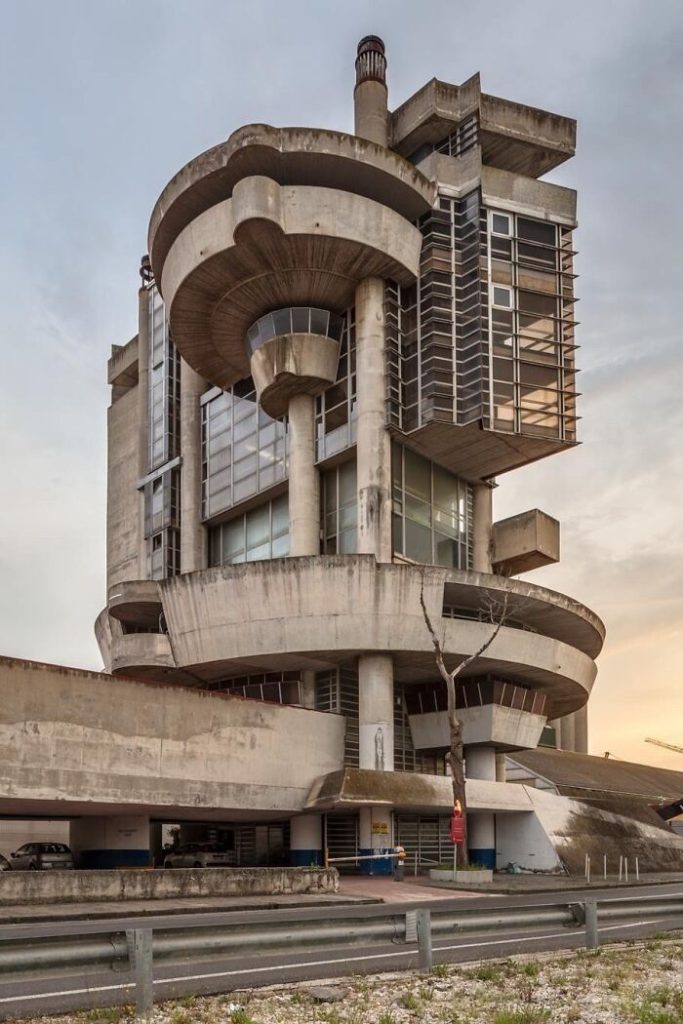 The majority of the business has been transferred to other parts of the port, even though some buildings are still in operation. For some reason, it reminds us of a number of Starfleet ships stacked on top of each other.
South Australian Health and Medical Research Institute — Adelaide, Australia
The South Australian Government hired Woods Bagot to design and construct the South Australian Health and Medical Research Institute (SAHMRI). When completed, up to 675 academics will be housed in nine research units, promoting innovation and enhancing public health services for future generations.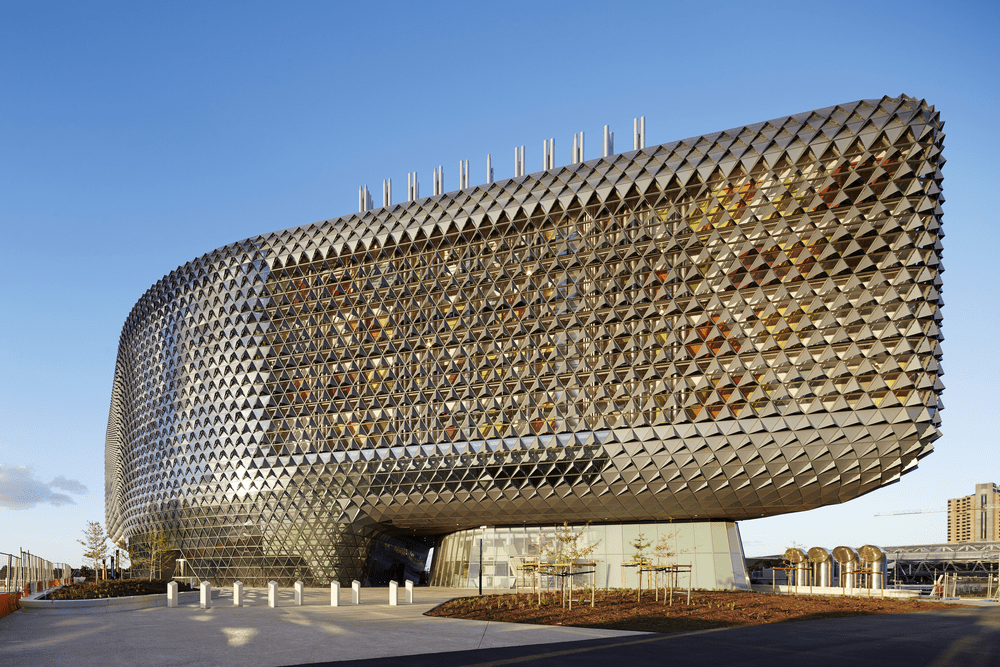 The center of Adelaide's new health and medical zone, located west of the city, offers over 25,000 square meters of space in a distinctive and artistic form thanks to cutting-edge architecture. It features an inventive exterior design, making it visually satisfying to look at.
House in Shakujii-Koen by Go Hasegawa — Tokyo, Japan
A photographer with her family live in this house in Tokyo, which is overlooking a two-lane street. Whereas the three stories and pitched roof were inspired by the local vernacular, the wedge-shaped layout makes the most of the site's limited space. The façade is only four feet wide.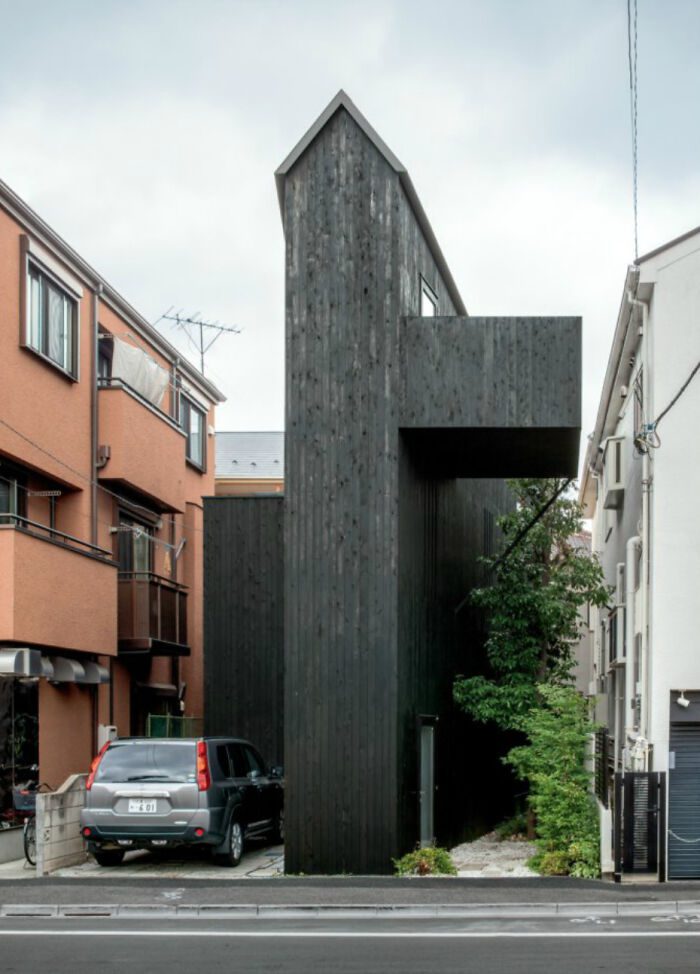 It is surrounded by a garden and off-street parking. Tokyo might be one of the biggest cities, but over-population has led to innovation, and the city features several of the tiniest structures in the world. Although there are several skyscrapers and massive commercial complexes in the city, its identity is mostly determined by its low-rise, dense districts.
Canadian Museum for Human Rights — Winnipeg, Canada
The Museum is poised on the grassland at the intersection of two rivers, rising from four rock "origins" that represent the interconnectedness of all life with Planet Earth. The building represents elements of the Canadian terrain: a glassy cloud surrounds a limestone hill that is covered with crags.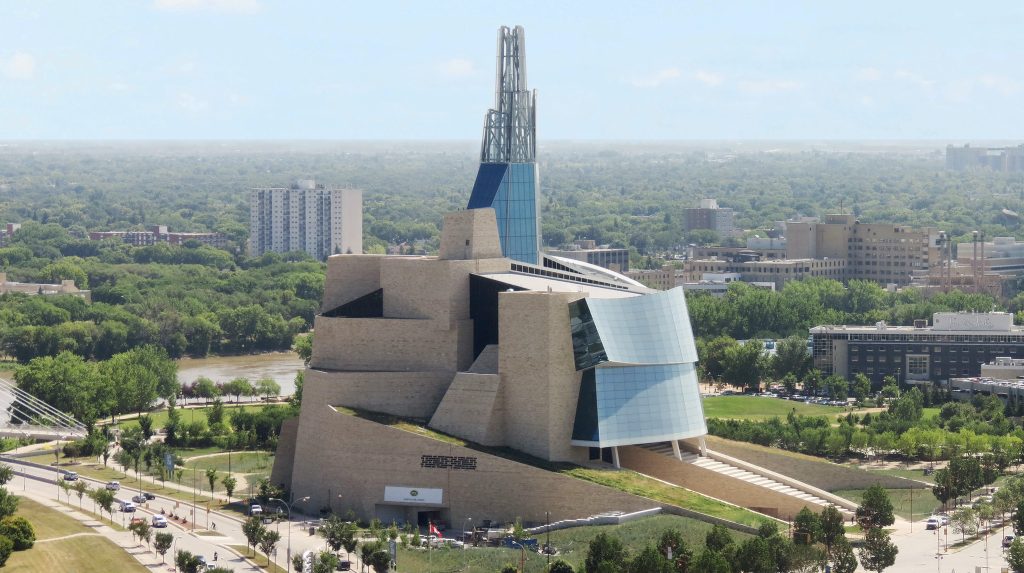 Also, it is crowned by an alpine peak. But if you take another glance, the cloud turns into a dove's wings that are hugging the structure beneath a shining beacon of hope. The building's several aspects and shifting emotions also give the sum of opposing viewpoints.
Space Age House by Damian Campagnaro — Adelaide, Australia
Due to the usage of the atomic bomb during World War 2, the populace felt frightened by nuclear power. In response to this situation, science assumed a dominant role in civilization and created the Space Age in the process, which leads us to today.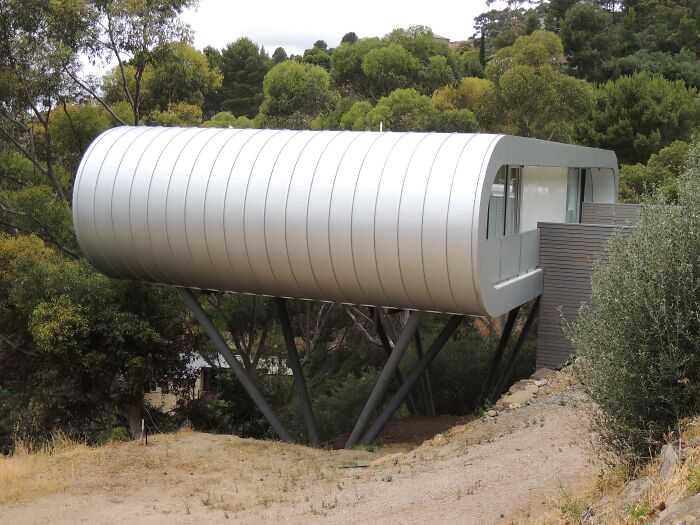 The Futuro house gave inhabitants the possibility to dwell in the world of tomorrow without ever departing their front yards. Overall, it conjures thoughts of alien spaceships, planetary spacecraft, and sci-fi modernism. Those are the based concepts that have been utilized in the construction of this unique piece.
Montreuil Conservatory — France
The Montreuil Conservatory complex was conceptualized in 1968. It was designed by Robert Bezou with architect Claude Le Goas. Currently located in the center of the Croix-de-Chavaux neighborhood, it was inaugurated on October 2, 1976. It was also featured in the Netflix series, Lupin!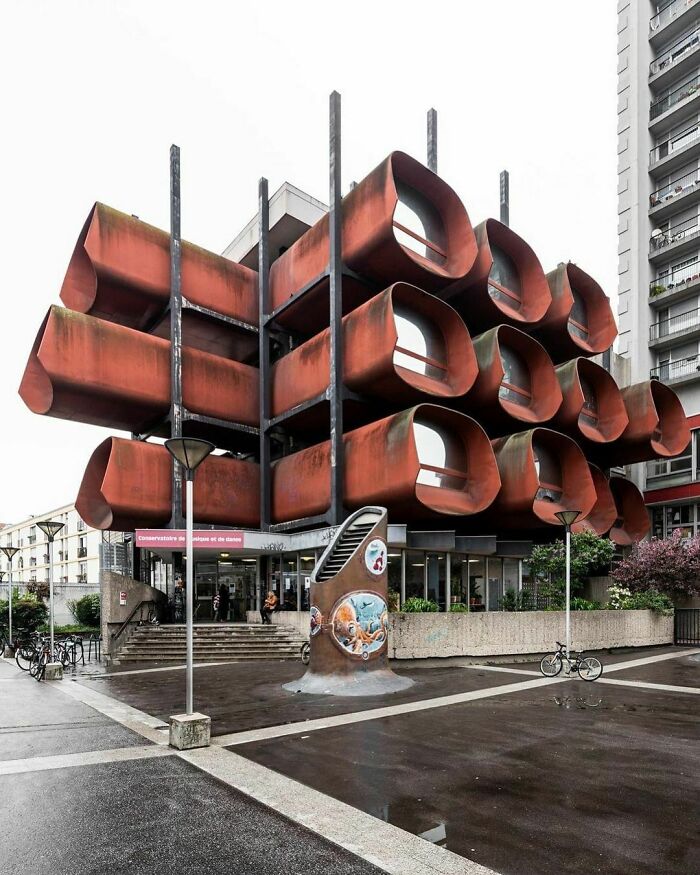 The start of construction began in 1972. The structure serves as an excellent example of post-war boom-era inventive expansion architecture. These two architectural designs fit within an "ossaturist" or "structuralist" paradigm because they provide a clear perspective of the constructive system of its enclosure.