Goooaaaal: 40 Fifa World Cup Memes That Are Winners
By Aakash M September 14, 2022
---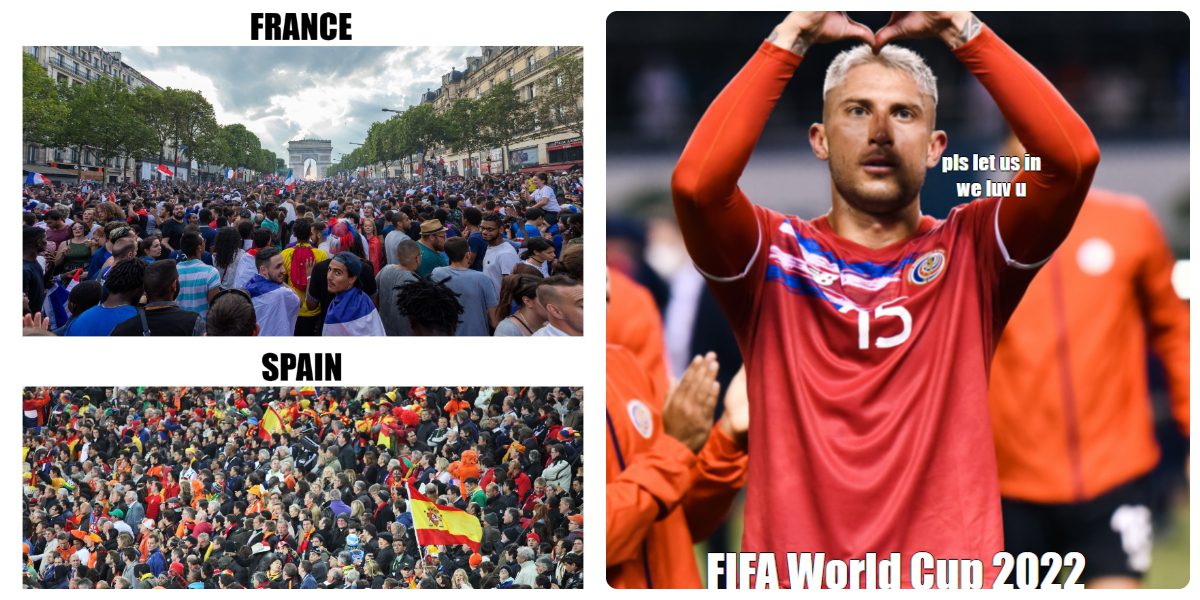 The long wait for the World Cup is soon coming to an end. In just a few months, we'll be blessed with Fifa World Cup Qatar 2022. Yes, we still have a ways to go… but we've waited three years already; what're a few extra months? France was the winner of the 2018 Cup when they beat Croatia 4-2 in Moscow. Huge credit goes to the goals scored by Pogba, Mbappe, and Griezmann. But, we absolutely won't ever forget about the self-goal by none other than Mandžukić himself. On the field, the games were breathtaking, intense, and full of drama. Off the field, everybody enjoyed these games with some food, beer, and of course: memes! Since we're already pumped for this year's games to begin, we thought of showing you a few of the best World Cup memes so far that will surely tickle your ribs!
1. Where is this heading?
Neymar is one of the best. Hands down, no questions asked. There is no doubt that he has an immense fan following, but is it for his skills or his fashion? Does his hair outshine his game? Predictions for this season's winners and Neymar's hairstyle have already begun.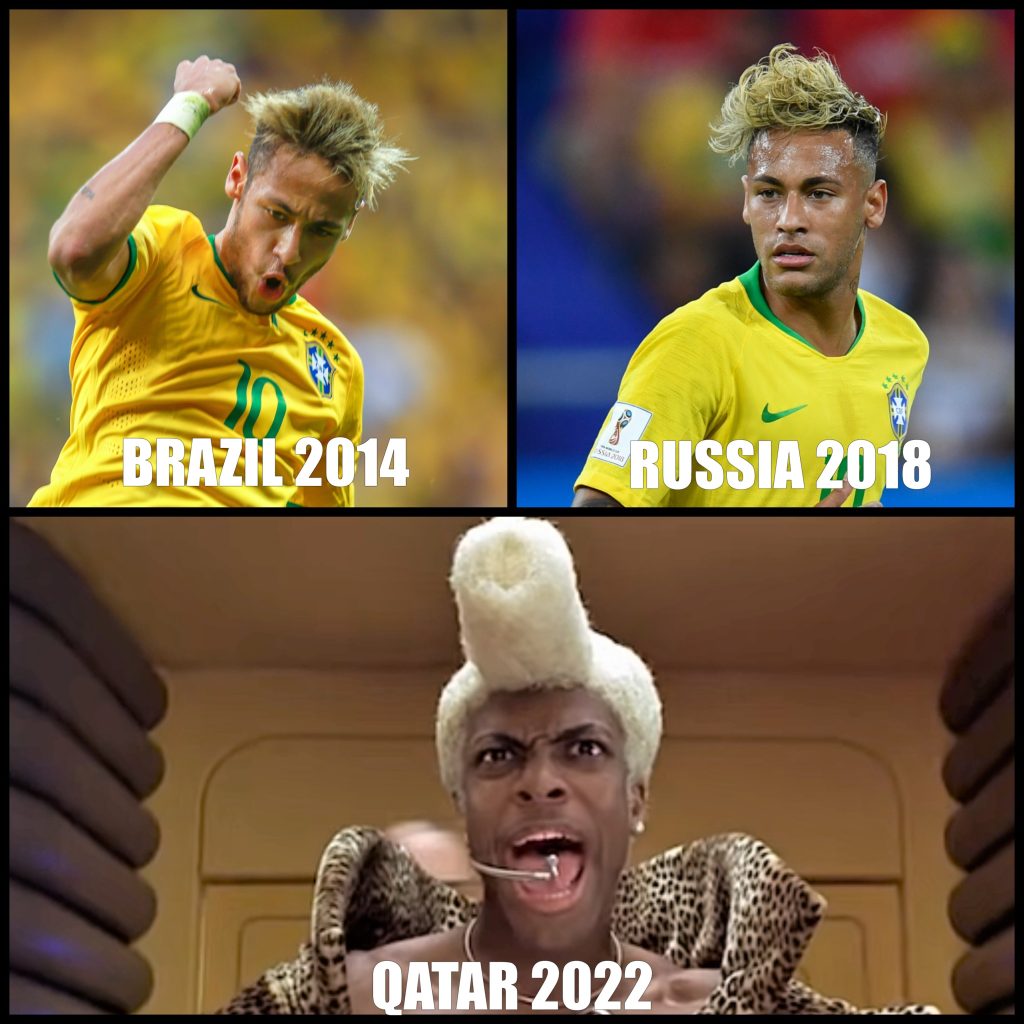 Nothing is wrong with his hair. It was different in the 2014 World Cup and a bit, um, puffed, as you can see in 2018. We doubt his hair will be anything like what you see in the third image, but that Chris Tucker reference is hilarious!
2. Revenge is a dish best served cold
Well, we can't technically call it revenge, but in a way, it is revenge. You must remember the 2018 Fifa World Cup match between Argentina and Croatia. If you somehow don't, Argentina lost to Croatia 0-3. Yes. That actually happened.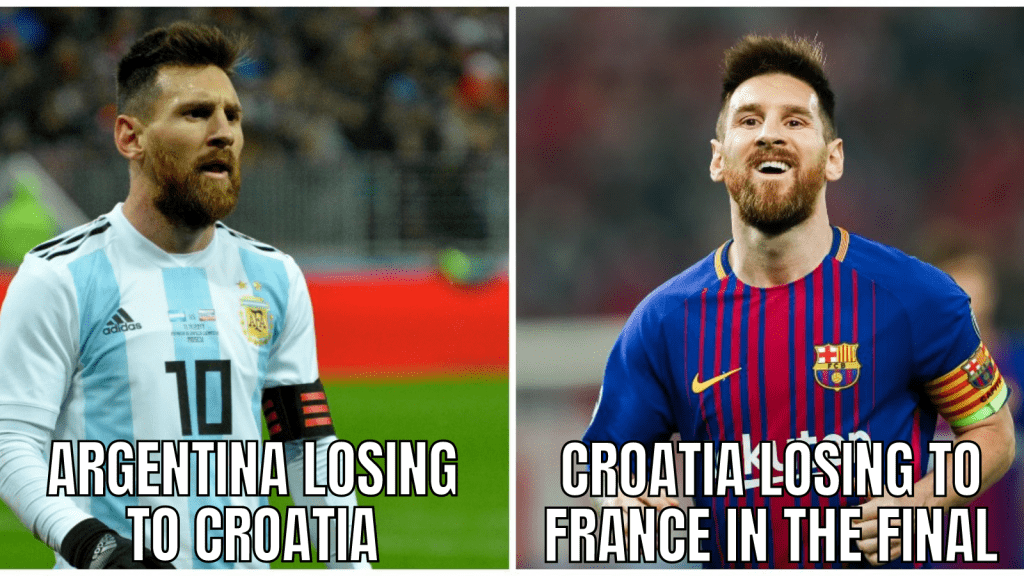 It must have been hard for Argentina fans to digest this loss at such a crucial stage. It was a group match, but it was still challenging for Argentina to qualify for the knockouts. They must have been relieved after Croatia's loss to France because that was an important game.
3. One-man army
Egypt had a tough time in the 2018 Fifa World Cup. It has never been easy for them since they have only qualified thrice overall for the Fifa World Cup. They have yet to win a match in the finals. Their total record consists of 2 draws and five losses.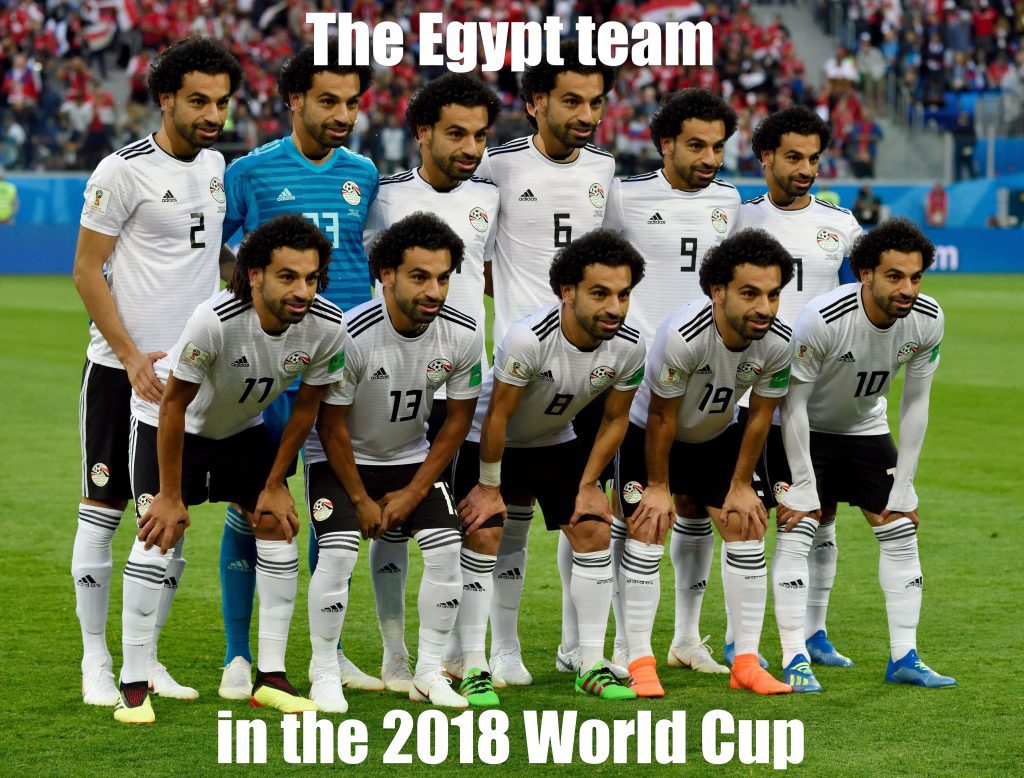 Their 2018 performance wasn't that much of a team performance since Mohammad Salah was the player putting in the maximum effort. Thanks to Salah, they lost all their matches in the tournament but scored two goals. It's hard to carry an entire team on your back alone.
4. Have it to yourself
Marcelo Vieira is among the best left-backs of all time. Naturally, he's also considered amongst the best defenders a team could ever have. As you can see, he plays for Brazil, and he's also the current captain of Real Madrid.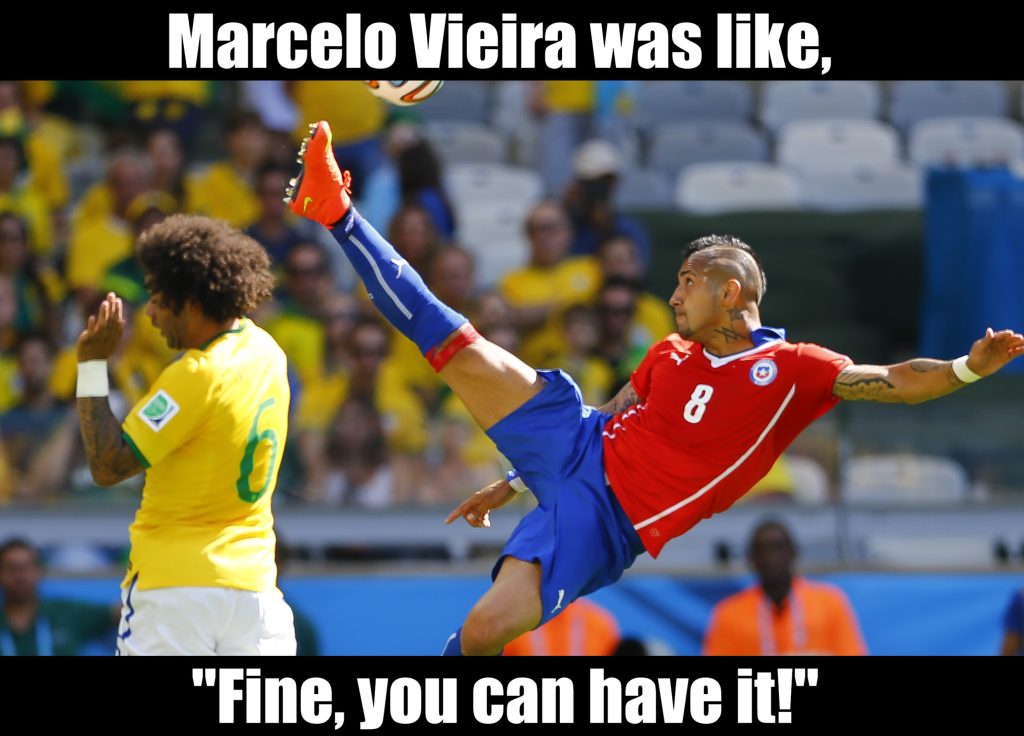 Soccer players often get up real close to each other to receive or intercept a header. That's precisely what happened here. Marcelo tried to take it for a point, but it looks like he got fed up with things, and ultimately, he just let the ball go.
5. Brazil vs. Panama
How many of you remember that devastating match between Brazil and Germany in the 2014 FIFA World Cup? The score was a whopping 7-1, with Brazil losing to Germany by a 6-goal difference. The worst part about the match was that it was a semi-final.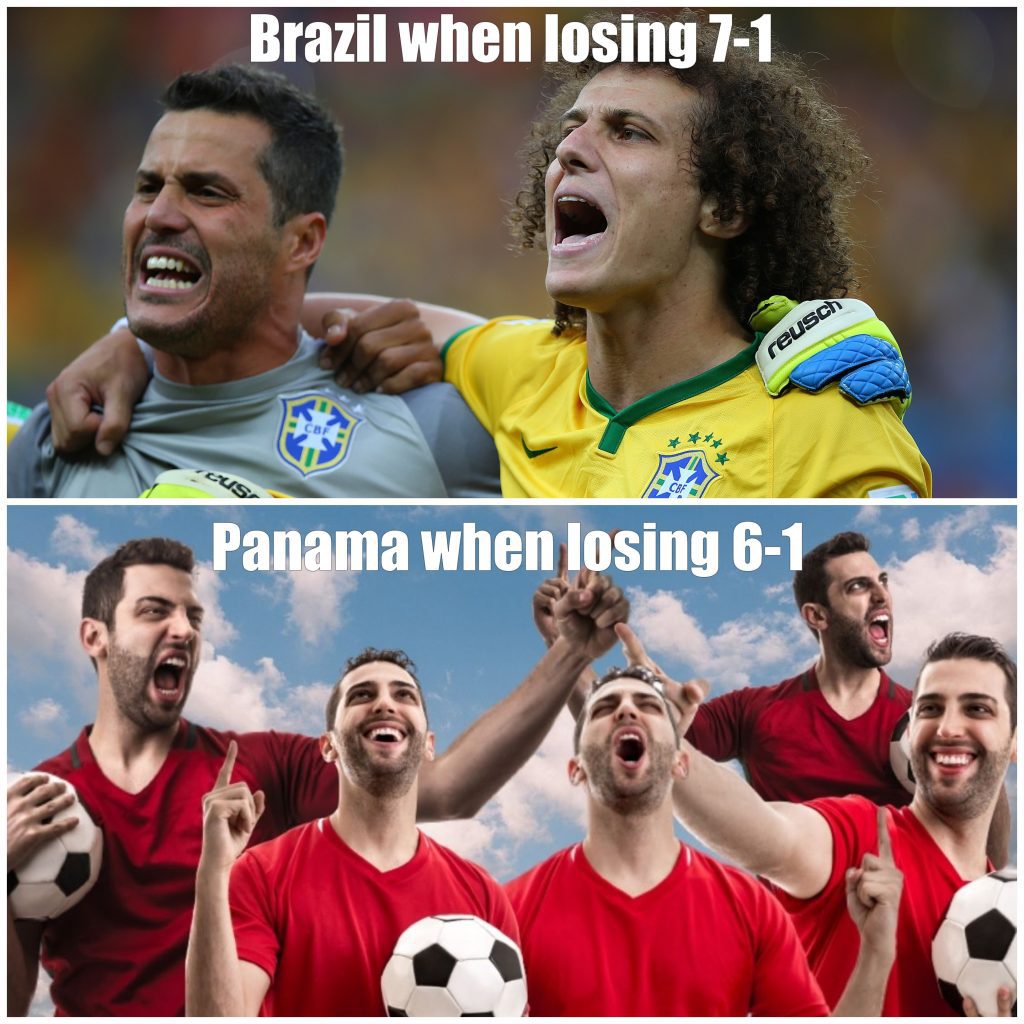 Now, even Panama has seen quite a significant loss like that. It was against England in the 2018 FIFA World Cup. Panama lost by a 5-goal difference, and the score was 6-1. This meme shows the difference of emotions in both the teams, and we'd say it's hilariously true to an extent.
6. History repeats itself
Here's a pretty alarming yet interesting observation. There is something familiar between Italy, Spain, and Germany. No, we aren't talking about the fact that they're all European countries. These three countries respectively won the 2006, 2010, and 2014 FIFA World Cups.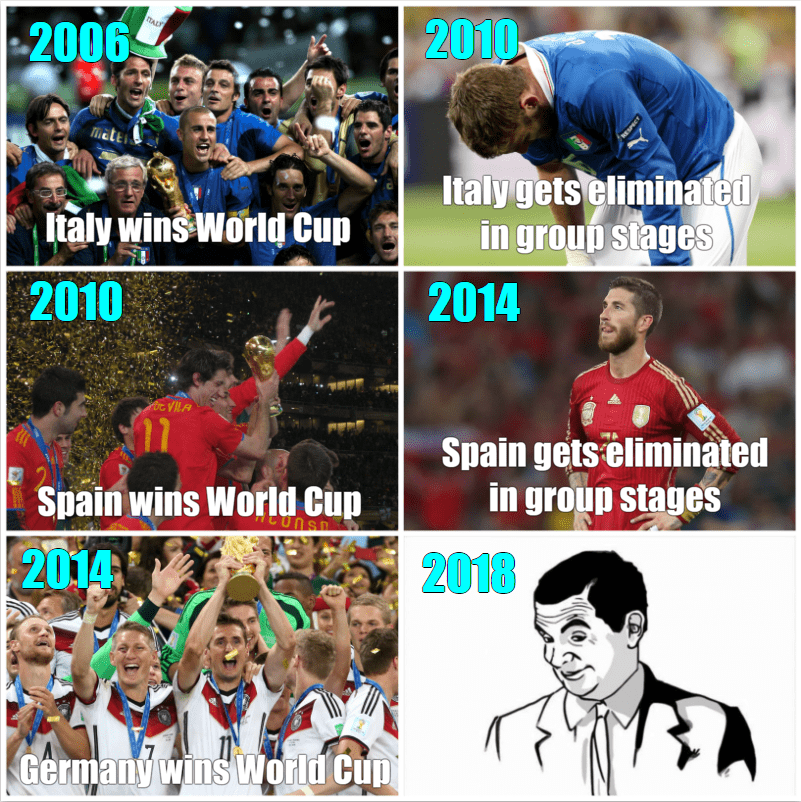 Sadly, these teams were eliminated in the group stages, right after their winning world cup season. Now, France won the 2018 FIFA World Cup. We're just putting the idea out there, and we don't know what's going to happen. Let's see where this curse goes!
7. That's a foul!
Sometimes it feels like a referee is simply overdoing it. We know it gets pretty intense on the field, so it is only human of them to make a wrong decision. Yet, it should be avoided, and it is also something that frustrates everybody.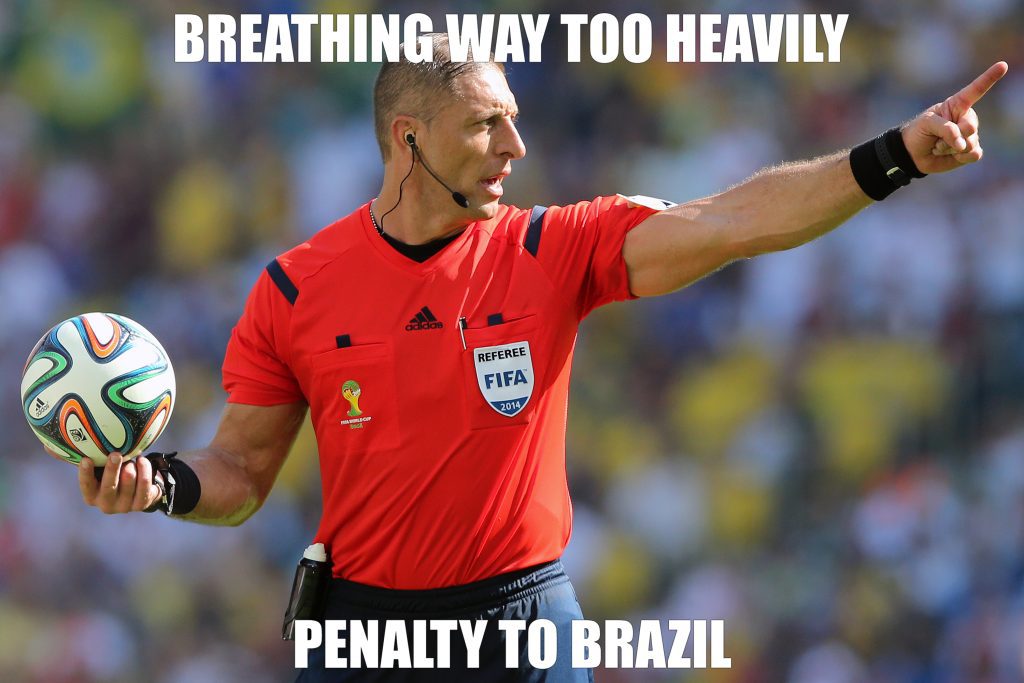 We don't think anyone has forgotten how it felt like Brazil was literally on the wrong side of the refs. That, and some fouls, they just had it coming their way. But this meme is indeed a hilarious way to take us back to that time!
8. Not a goal
This incident was indeed an awkward and angering one. Imagine you made all of the effort to pass around the ball and run around the field. You somehow make it to the other half and score a goal. You then start to dance and celebrate.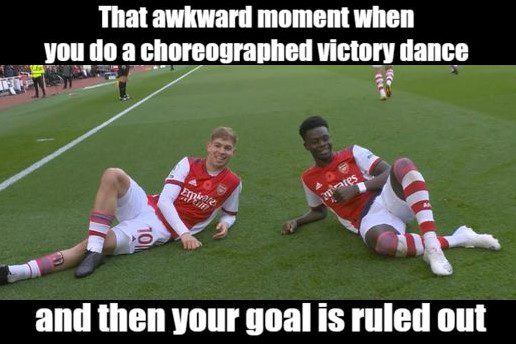 That was just the positive and typical scenario. Now, imagine if the ref comes up and rules out your goal because you were in an offside position. We wouldn't wish something like that even for our worst enemies. Poor Bukayo Saka.
9. Injury yoga
We don't think a pretext is needed for this meme because all of you soccer fans know really well about how it goes with Neymar and injuries. There have been so many times that he has been injured. We don't know how he's managed to sustain so many falls.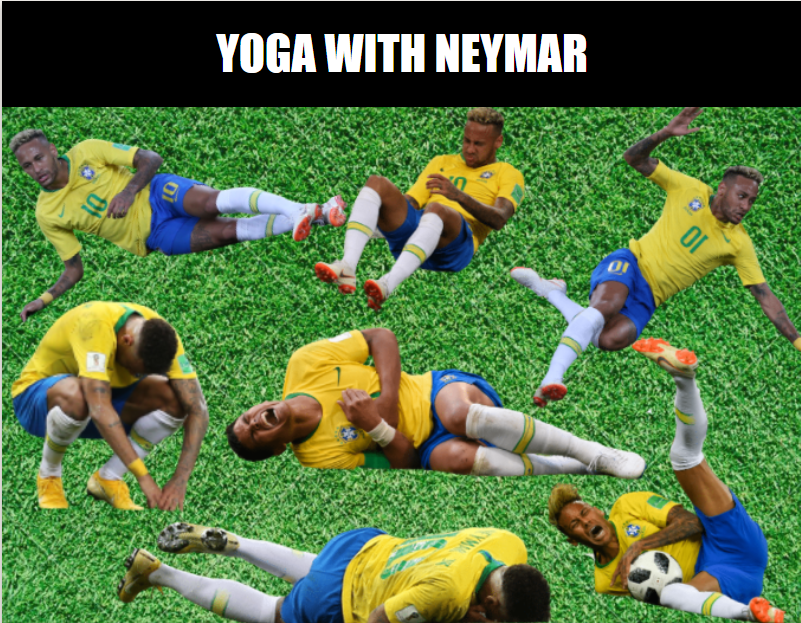 Although we don't know what actually happened, we could say that most of his falls weren't serious from watching it on the TV. All of those injuries do make up for some perfect poses, though. Is that downward dog we see?
10. World Cup comparison
Don't get us wrong on this one. Messi is among, if not the GOAT. He indeed is. He plays really well during the World Cup, but we don't know what happens to him when concerning scoring goals in World Cups.
It's hard to believe for all of us because he has just too many goals under his belt. Sadly, in World Cups, he only has five goals in 4 tournaments. If you contrast that with Harry Kane, Kane is simply a beast.
11. History repeats itself part-2
We saw in a previous meme how history repeats itself with World Cup-winning teams and their subsequent season. This one is somewhat close to that notion, but you never know what could happen at the upcoming World Cup! Let's go, Ronaldo!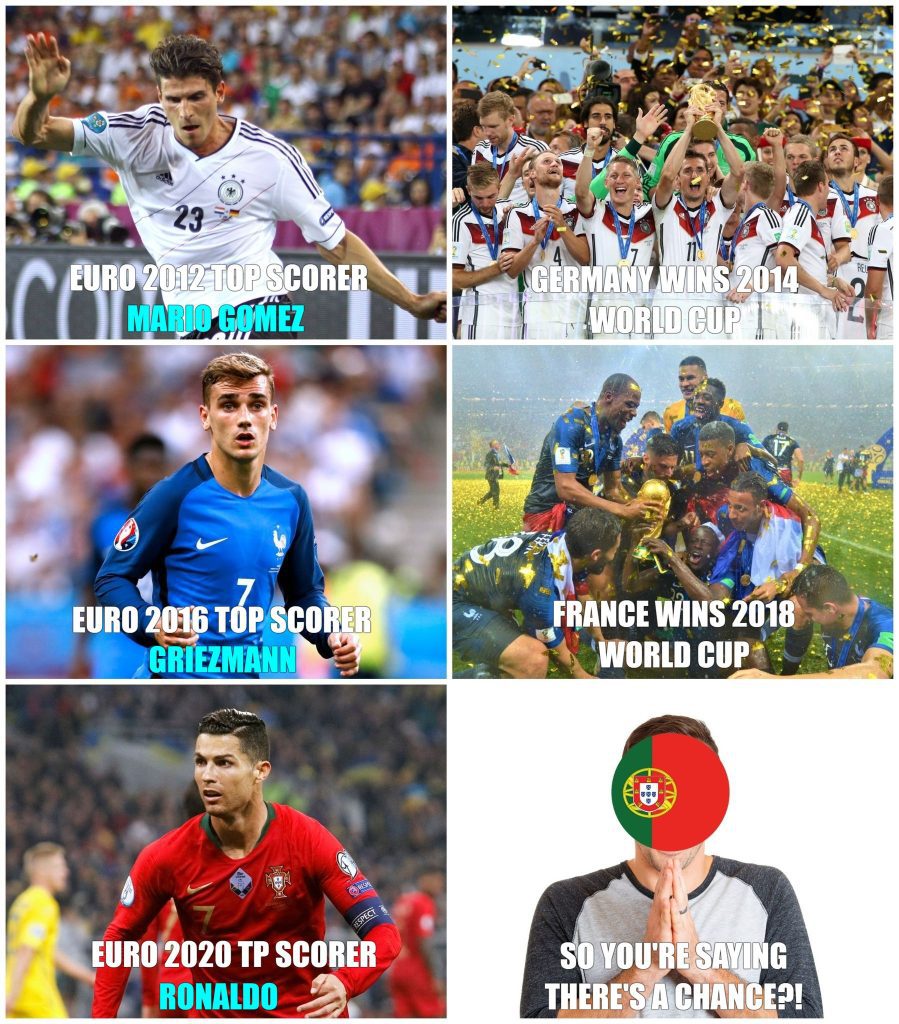 The UEFA Euro tournament is related to the FIFA World Cup. Whoever has been the top scorer of the former tournament is also part of the country that has won the latter game. Since Ronaldo was Euro 2020's leading scorer, will it be their first World Cup win as well?
12. All-in-one
Meet Dante Bonfim Costa Santos. He's a pretty huge player, and not only does he play for Brazil, but he's also the captain of the French Club Nice. That's Dante, and this meme is a massive burn for the English team.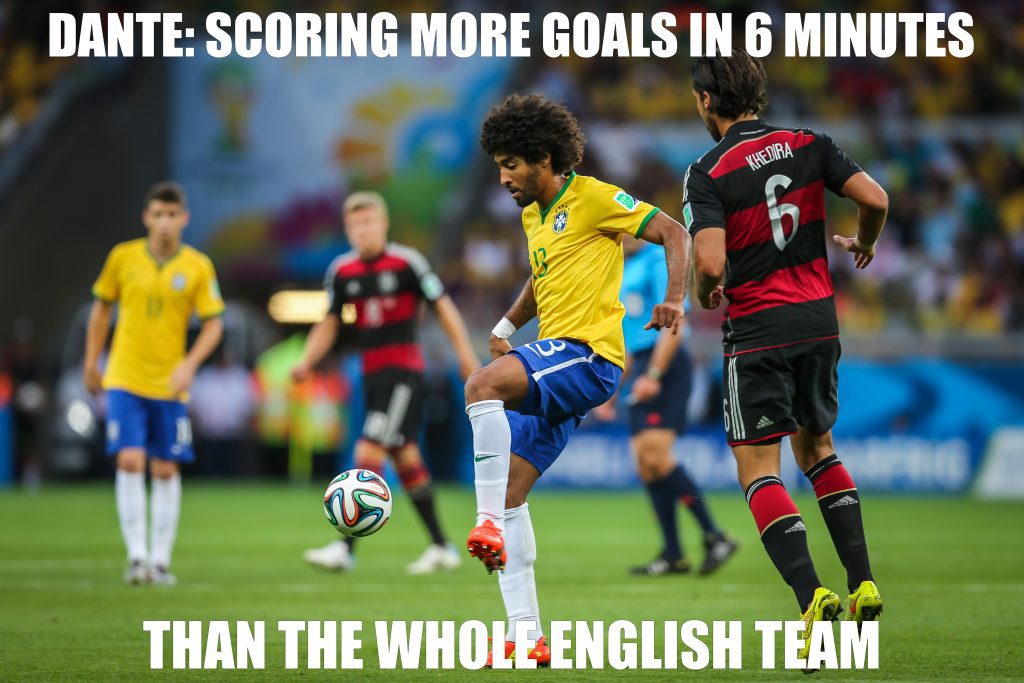 Dante actually scored more goals than the English team in only a matter of six minutes. Also, the 2014 FIFA World Cup was his debut World Cup, and it wasn't a great World Cup for England. They only had two goals in the whole tournament. Just saying.
13. One of the best goalkeepers
We hope you all know Manuel Neuer. Come on! Not only is he among the best German goalkeepers of all time, but he's also regarded as one of the best goalkeepers ever in the sport! Here is a meme that boasts his goalkeeping skills.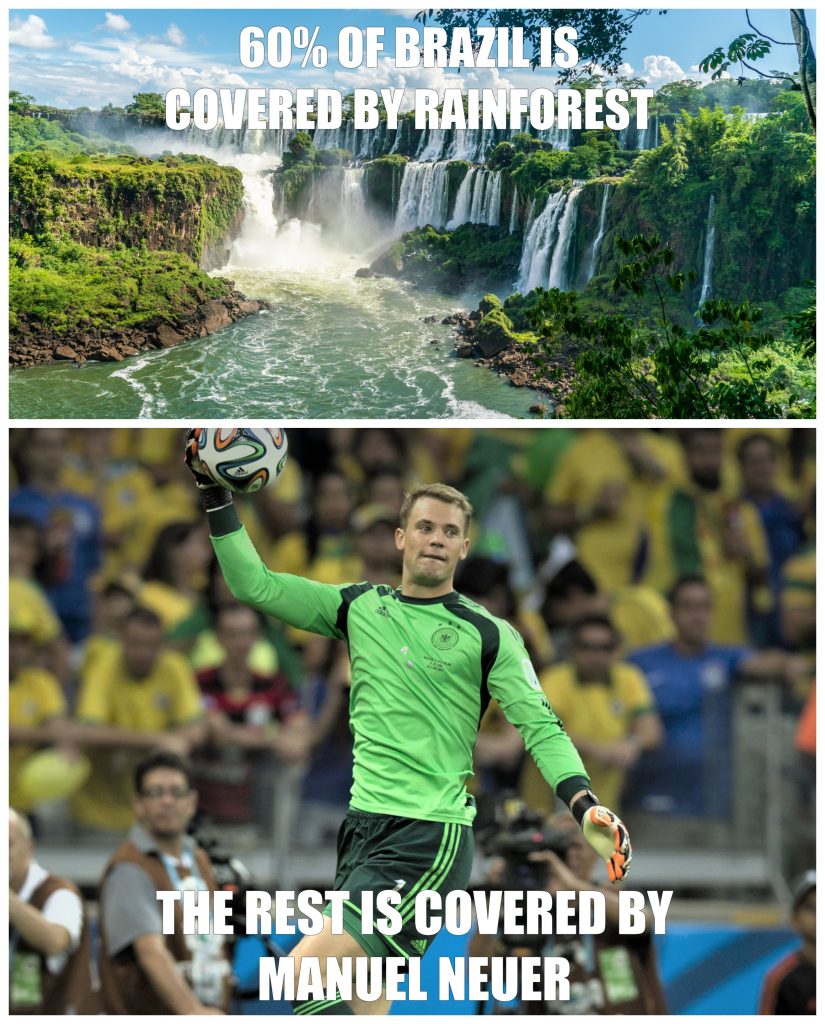 The beautiful Amazon rainforest covers 60% of Brazil. What about the remaining 40%? Manuel Neuer covers it. Let us take you back to the 2014 FIFA World Cup, where Brazil lost to Germany with a 7-1 score. Manuel Neuer saved a lot of shots that day.
14. Fan favorites
France did win the previous World Cup, and let us also say that every bit of it was well-deserved. They played exceptionally well, and you can see the result of it. But we do feel a bit bad for Croatia.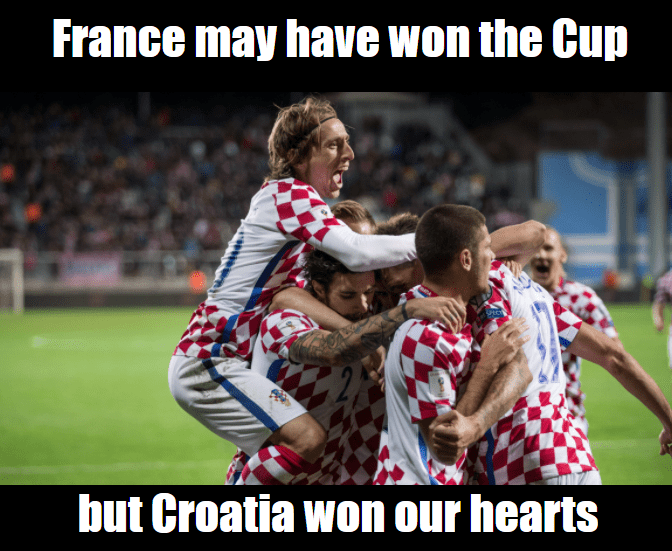 We think many soccer fans, especially Croatian fans, can relate to that. They played really, really well. Their spirit and their willpower were on a whole new level. Therefore, we can say that although France won the World Cup, Croatia won the hearts of the fans.
15. We're waiting
Take a look at these three players. Now, let us tell you that all three of them are among Croatia's greatest midfielders. Not only are these three tearing things up, but Croatia also has a fantastic team that is rising up the ranks.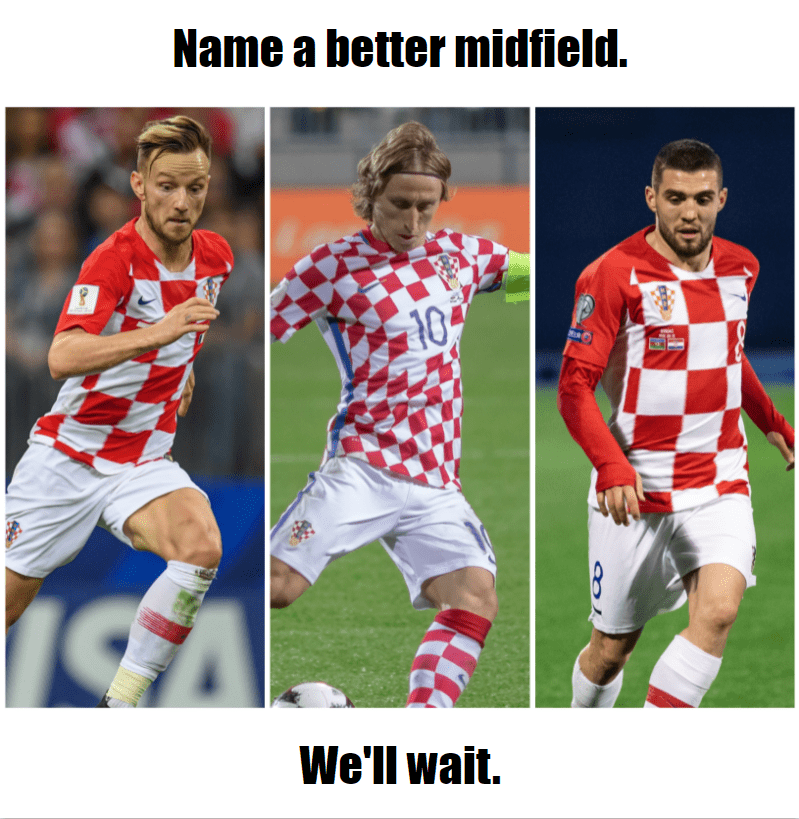 After looking at this trio, can you think of a better midfield trio? We, for one, seriously cannot. Since they played so well in the 2018 World Cup and looking at their current line-up, could this World Cup be theirs? What do you think?
16. Humiliated
For starters, Panama has only qualified for the FIFA World Cup once. Their World Cup debut only began in the 2018 World Cup. Their matches were quite disastrous, though, and they also couldn't get a single win under their belt.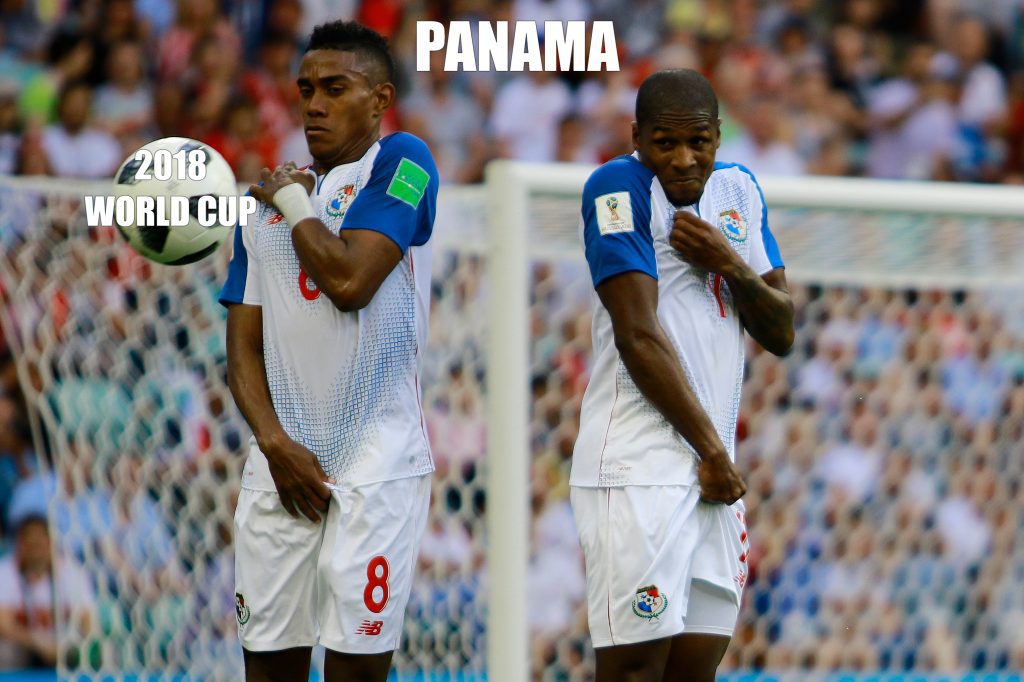 This meme describes their situation and how they played in the 2018 World Cup pretty well. They just dodged everything. Panama lost 3-0 to Belgium, 6-1 to England, and 2-1 to Tunisia. It must have been tough for the Panamanian soccer fans to watch.
17. Too hurtful to imagine
As you all can see, this screenshot isn't taken from real life; it is from a game. That's obvious, but it's sometimes necessary to clarify simplicities on the internet. Also, this screenshot isn't the only one. You only need to do a quick Google search to find many more glitches in video games.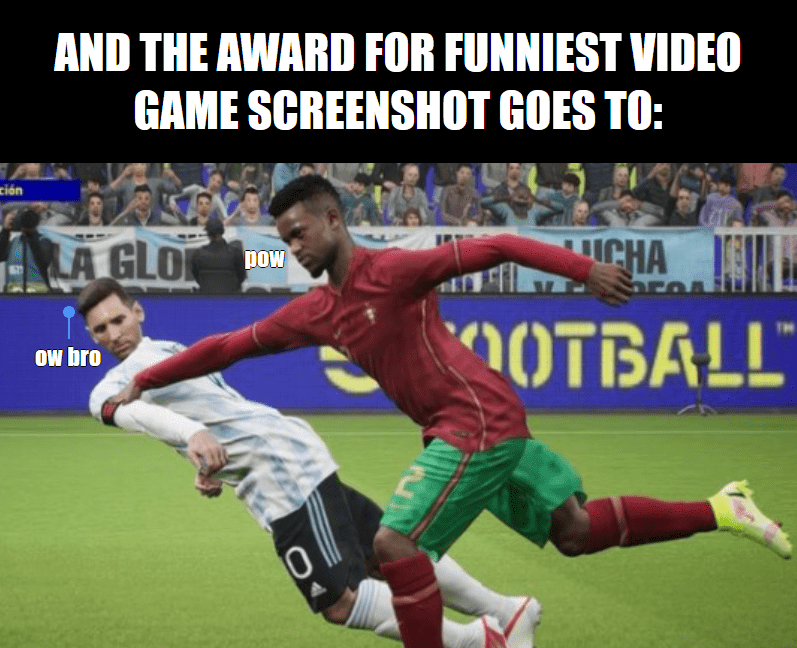 Once you do that, you'll be presented with many such images. This image probably looks like one from one of the FIFA video games. Although it's mostly a tackle where Messi is falling, for some reason, it seems like he took a punch, and his head is 180-ed.
18. Offended
We have seen this image quite a few times, especially in 2014 and a few times after that. It was quite an intense game, and nobody had scored a goal. In the 113th minute, Germany stole the game with a last-minute goal, thanks to Mario Götze.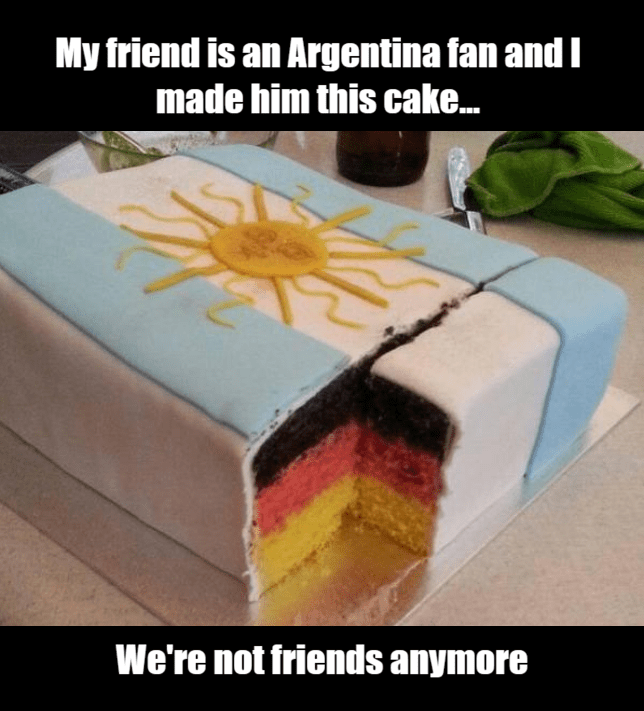 It was a sorrowful moment for all the Argentinian fans, and we don't need to say how huge of a defeat that was. Imagine playing in the World Cup final and giving such tough competition to your opponent that neither of you scores a goal. But then, in seconds, it all crumbles down.
19. Some effort?
This meme might offend the Portuguese fans, but they could also relate to it to a great extent. Their team is impressive, but it feels like some things are lacking in some places. We feel for Ronaldo. Come on, guys!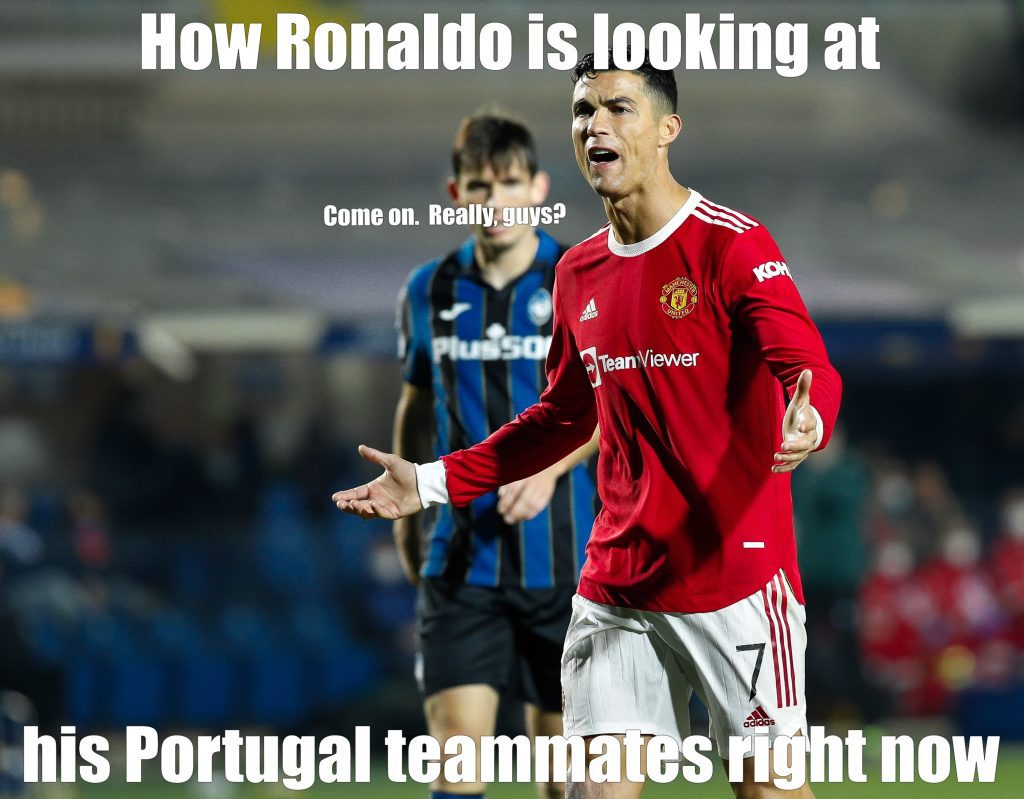 Sorry to say, but with their recent form and how things are going, it feels as if Cristiano Ronaldo is the best and only part of their soccer team. Well, he is also their top scorer, with a whopping 115 goals for the national team under his belt.
20. Compromises
FIFA fans, football fans, and gamers worldwide love playing FIFA games. It is perhaps among the most played football games of all time. Who doesn't love playing FIFA? Do you know the central part of a so-called boys' night out? It is playing FIFA!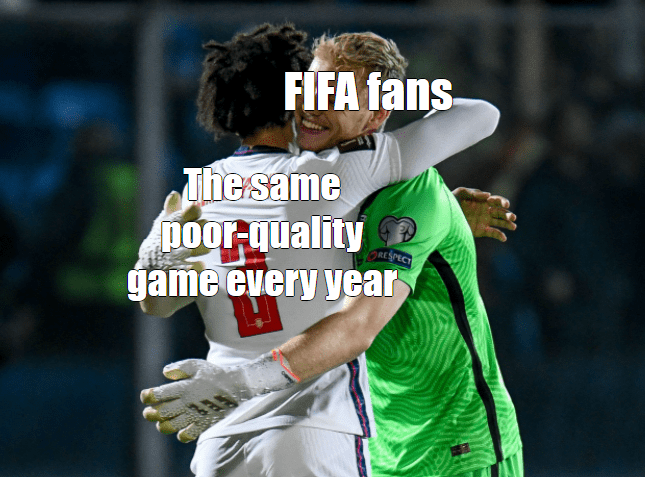 Sadly, the thing is that FIFA keeps on releasing newer games every year, but there isn't much change in the quality of the game. You expect to see certain newly-added elements and graphics changes, but it just doesn't feel that way lately.
21. Grand entry
Before we even get into this meme, let us enlighten you with some facts about the England national football team. It is the oldest national football team. Not only that, but the team also played the first international football match.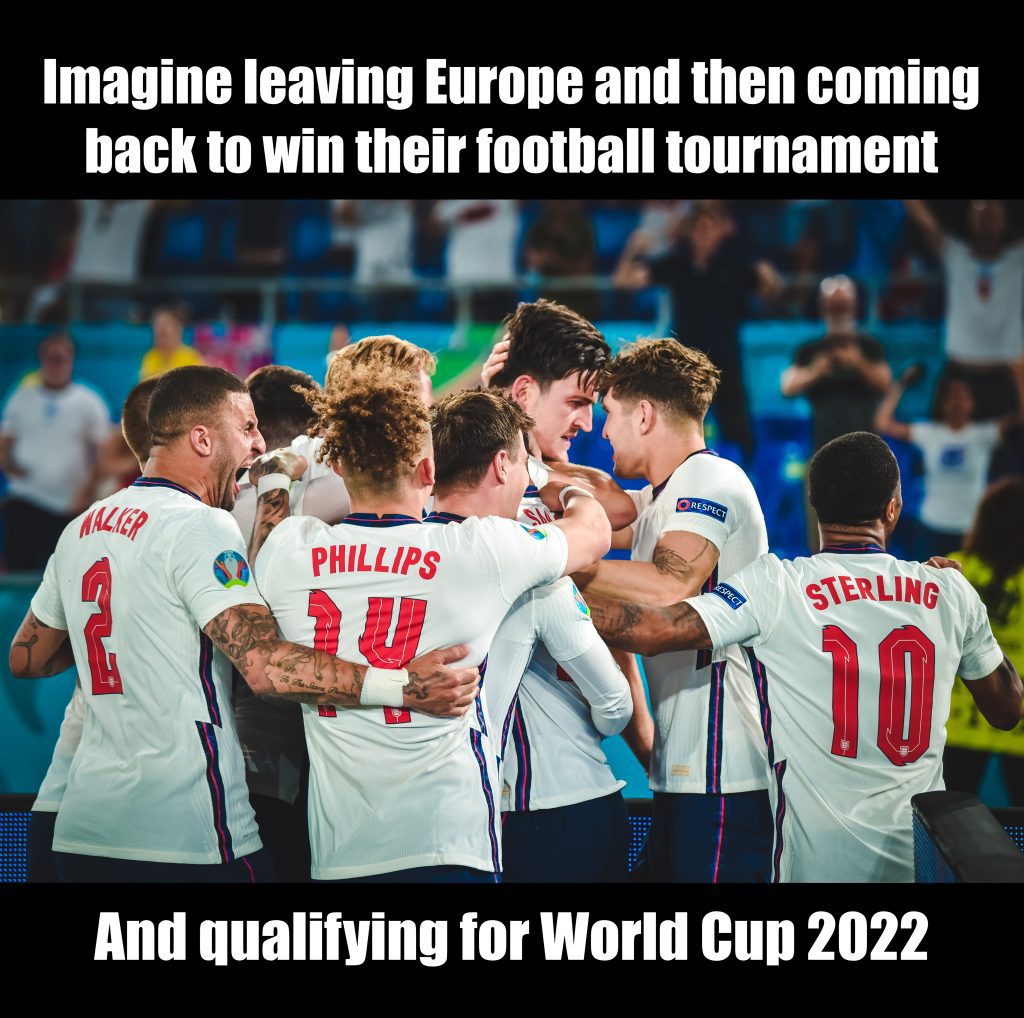 The first international football match was between England and Scotland in 1872. Coming back to the meme, we can say that the England national football team is doing a fantastic job. There was no doubt that they'd qualify for the tournament. Will this World Cup be theirs?
22. Thank you
We can't argue with the fact that David De Gea is one of the best goalkeepers of Europe's top five leagues. As of now, he's doing really well, but there was a time when people thought that his best days were behind him.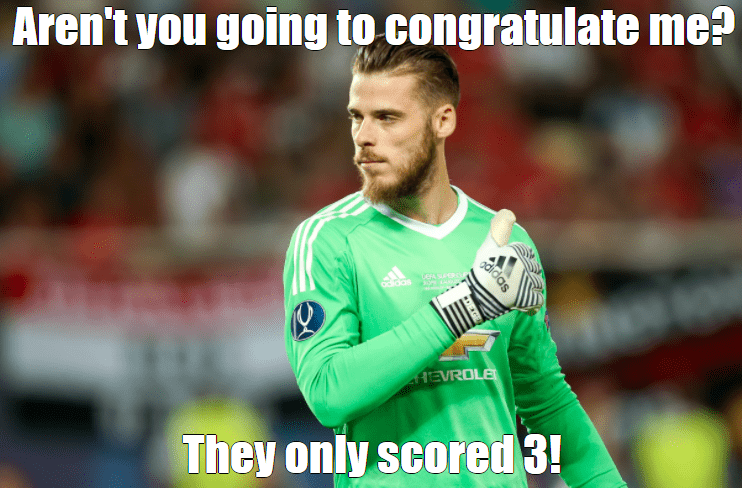 It actually looked like that, and you can see that from this meme above. There were a lot of mistakes and misses, which resulted in a lot of goals being scored against Manchester United. There were saves, but there were many misses as well.
23. The perfect team
Many people support a team just because it has their favorite player in it. These things aren't just common in football, but you'll see this idea everywhere. However, below is an example of to clarify where we're going with this.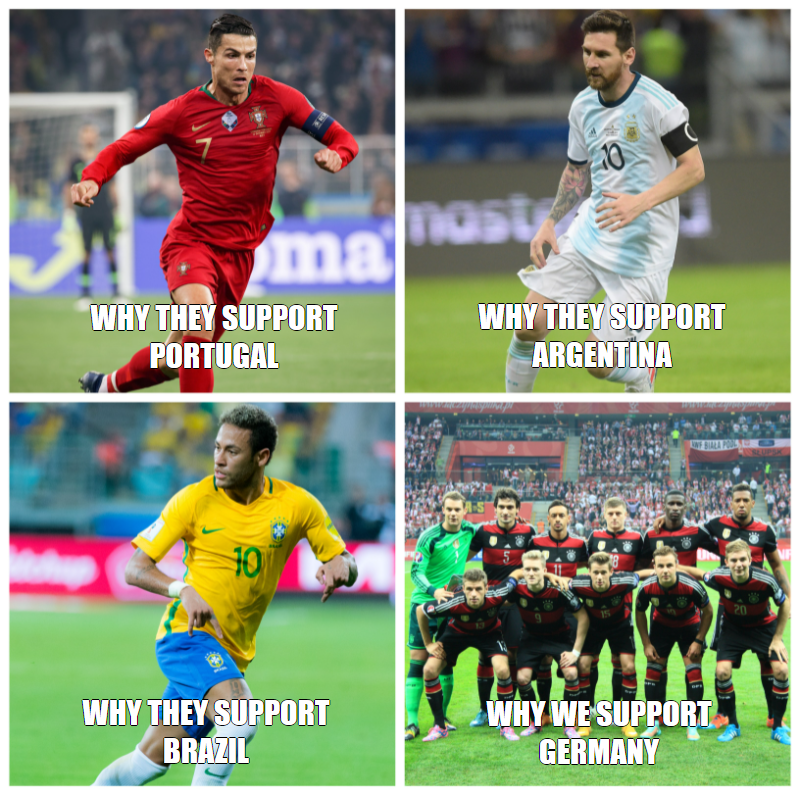 Here's the thing. Many people love Portugal because of Ronaldo. Many people love Argentina for Messi and Brazil for Neymar. Similarly, there might also be some people who love Germany for a particular player, but we assure you that Germany has a fantastic team, and most people love it for that!
24. Expectations vs. reality
There have been so many video games that have disappointed their fans in this way. We don't even want to get started because it's such a vast list. It happens pretty often. You see something different in the posters and the trailers.
But, the game is something entirely else when you finally get to play it. The most significant difference is clearly the graphics. You can look at an example in this meme. Take a look at Messi's eyes in this game. It's horrifying!
25. Sad but true
Football has a massive fan following in so many countries. People just go crazy for their national football team, and you can literally see how these games unite everybody. There are certain countries where the love for football is on a whole new level.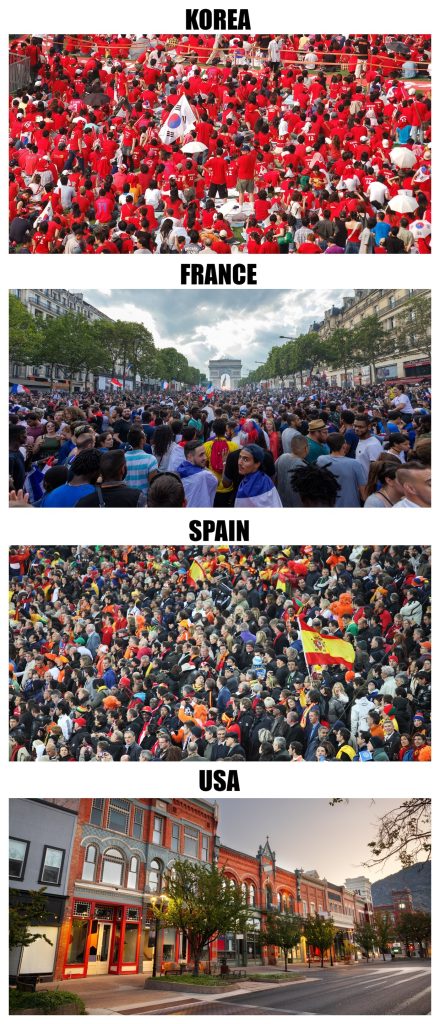 For example, Korea, France, Spain, and many other countries are not in this meme. But that's not the same thing with soccer in the USA. We don't know the particular reason behind it, but we can see that many sports in the USA keep their people occupied, like American football.
26. Nice inspiration
Come to think of it; this thought process might be pretty accurate. Maybe, just maybe, the people behind all of it must have been talking about what they should do to design a new stadium for hosting the World Cup.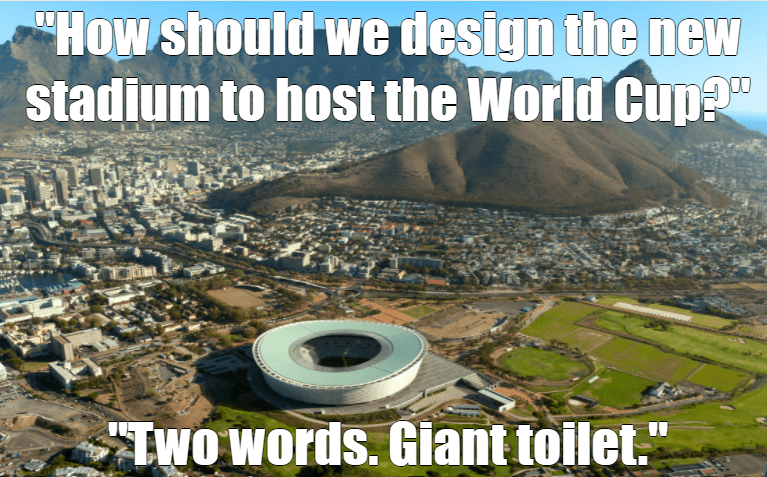 Suddenly, there must have been a Eureka moment, where one of the team members came up with the idea that they should design the stadium so that it looks like a giant toilet from an aerial POV. In their defense, these stadiums feel fabulous from the inside. We can all agree to that.
27. A whole lot of importance
Some people go the extra mile, some do even more than that, and then, there is this. By this, we mean this meme. It's true. Lusail, which s a planned city in Qatar, will host the final game of the FIFA World Cup 2022.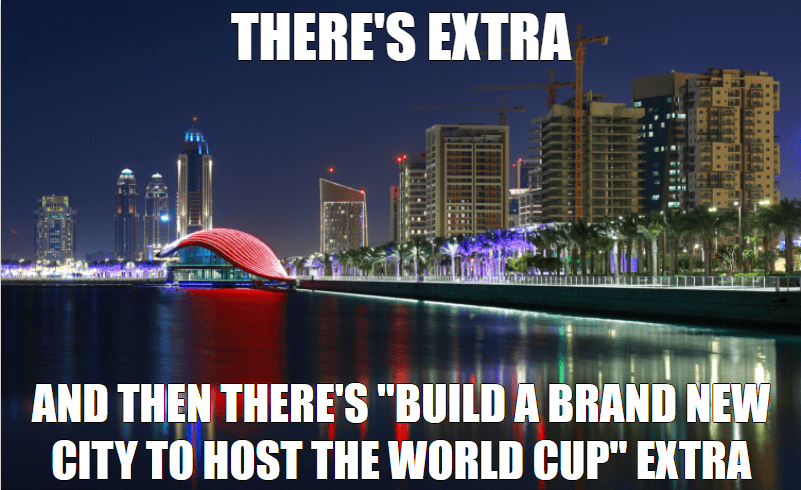 The football stadium construction has been done. It's ready to host the game. But, a football stadium isn't the only thing planned here. There are many other plans for Lusail, like building two marinas, two golf courses, a shopping mall, and a zoo.
28. Choose one
As most of you know, the FIFA World Cup 2022 is going to be hosted in the beautiful country of Qatar. Many of you have also probably seen the image with the upcoming FIFA 2022 tournament logo. Now, look at this image.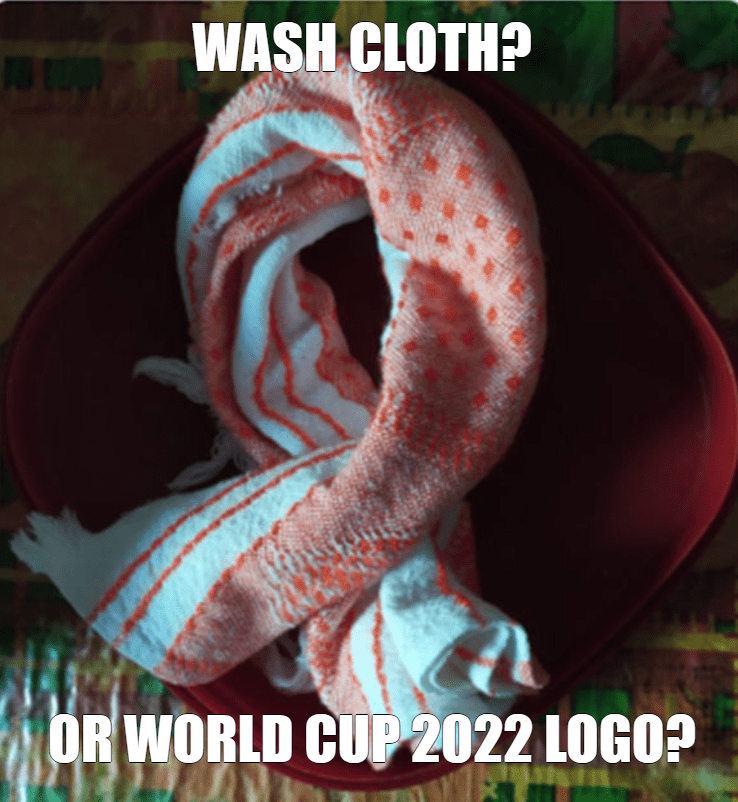 Since you have looked at this image, does this image closely remind you of something? It does, right? It looks so much like the World Cup 2022 logo. No offense, but it's pretty hilarious! Maybe it's not just a washcloth. You never know.
29. Relatable
We understand what the English fans must be going through, and we can understand things better after looking at this meme. For those who don't get the context, Football's Coming Home is a song that came out when England was hosting the 1966 Fifa World Cup.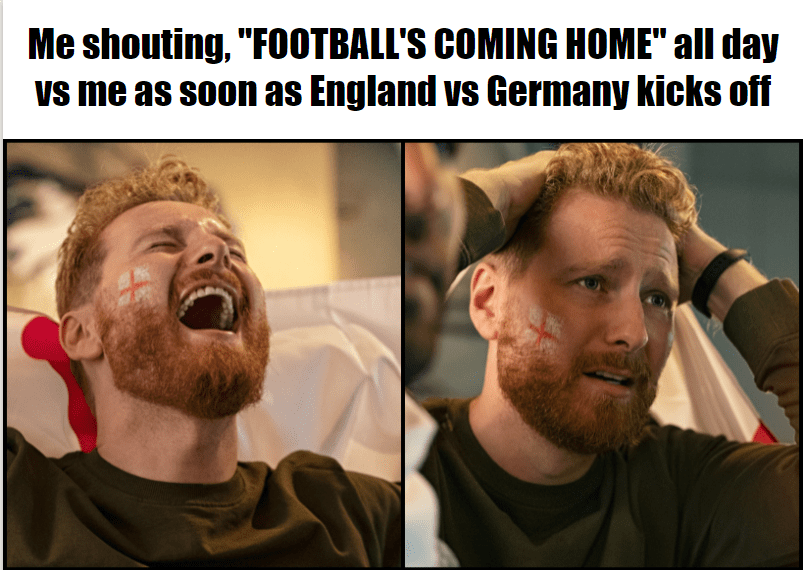 People typically only sing that song as a reference to hope. They sing it to encourage their team, hoping that their team will win and bring home the trophy. Sadly, the last time it came home was in the 1966 World Cup itself, after England defeated West Germany.
30. The best reference ever!
Do you know what makes this meme all the better? Come on. It's effortless to guess. It is, obviously, the How I met Your Mother reference! The show starts with an older version of Ted telling his kids "an incredible story" of how he met their mother.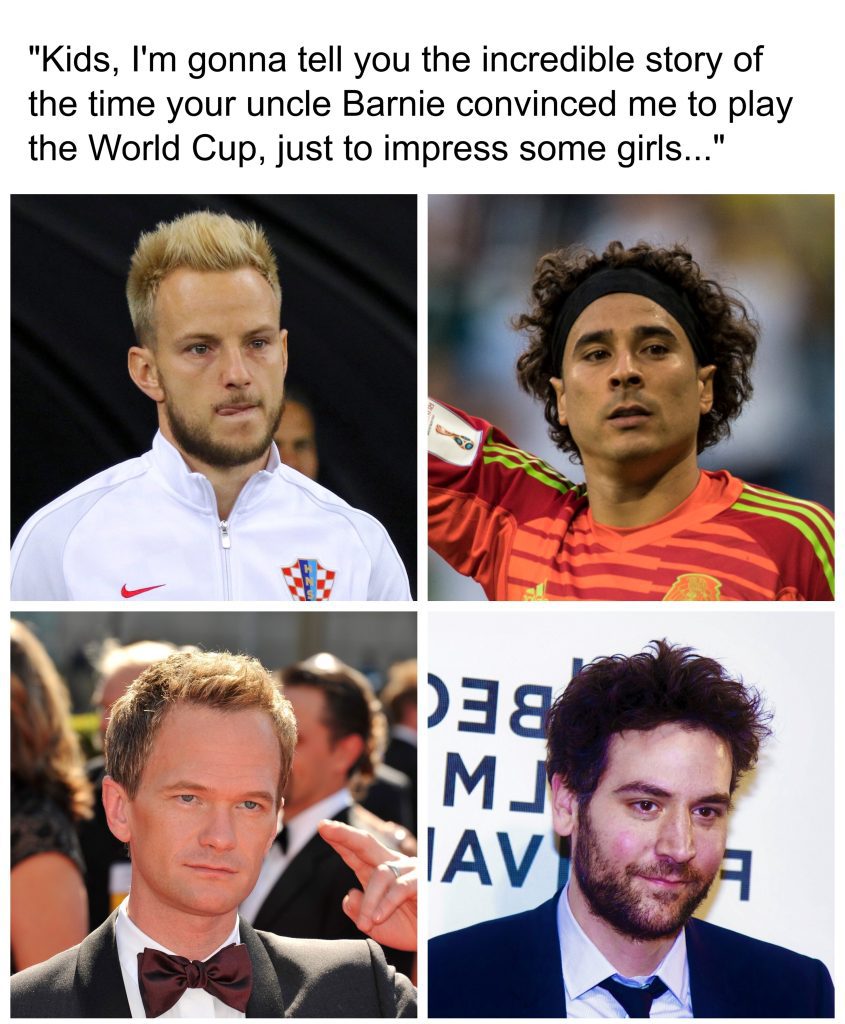 This meme isn't just hilarious. It's also really accurate! Ted does look an awful lot like Guillermo Ochoa, and Barney does look an awful lot like Ivan Rakitić! We wonder how it would be if they swapped Neil Patrick Harris onto the team one day.
31. All kinds of wrong
PES, or Pro Evolution Soccer, is a series of football video games that are pretty amazing to play. It has indeed achieved a lot of success, be it from reviews or sales. But, we seriously don't know what happened to it when it rebranded to eFootball.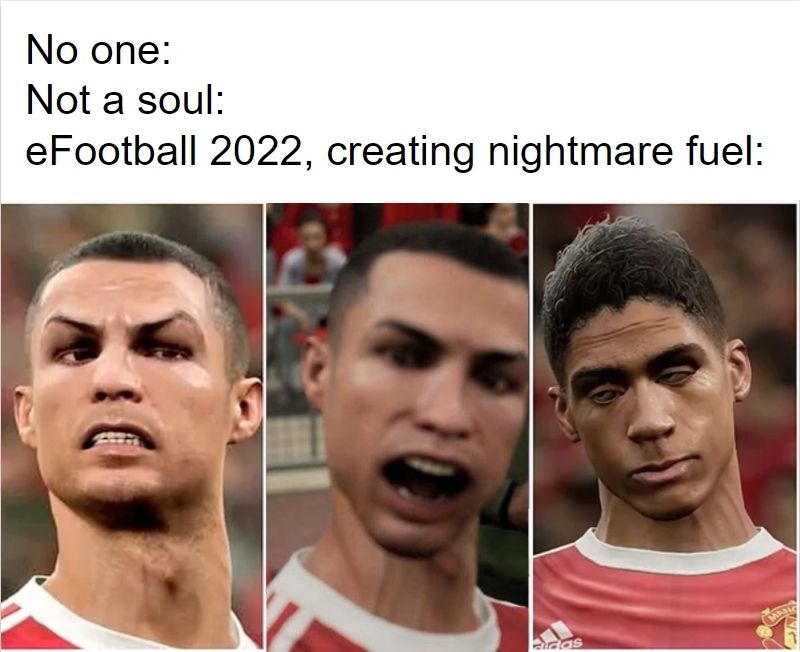 The first season of the game was titled eFootball 2022. It came out back in 2021, and you can pretty much guess how the game was from this meme. Yes. It was nightmarish. The game received a lot of negative press, especially for its graphics.
32. Where is our team?
As we mentioned before with a meme, the support for European football in the USA is a little on the lower side compared to other countries where football is enormous. Now, we also briefly mentioned the reasons that could be behind it.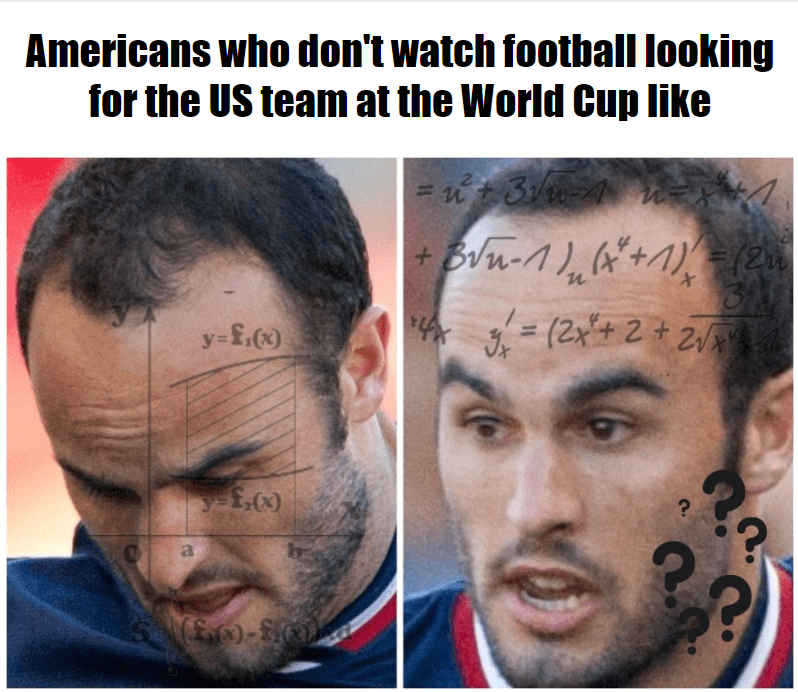 Things like these also happen pretty frequently in the soccer world. There are so many Americans who don't actually watch soccer and don't show up for the games or support the team, but they don't understand when their team doesn't qualify.
33. Gifted, talented, hardworking, and lucky
Many players like Xavi and Iniesta have won the FIFA World Cup and UCL, but they haven't won the Ballon d'Or. Despite this, Xavi and Iniesta are considered to be among the greatest midfielders of all time. It's their time.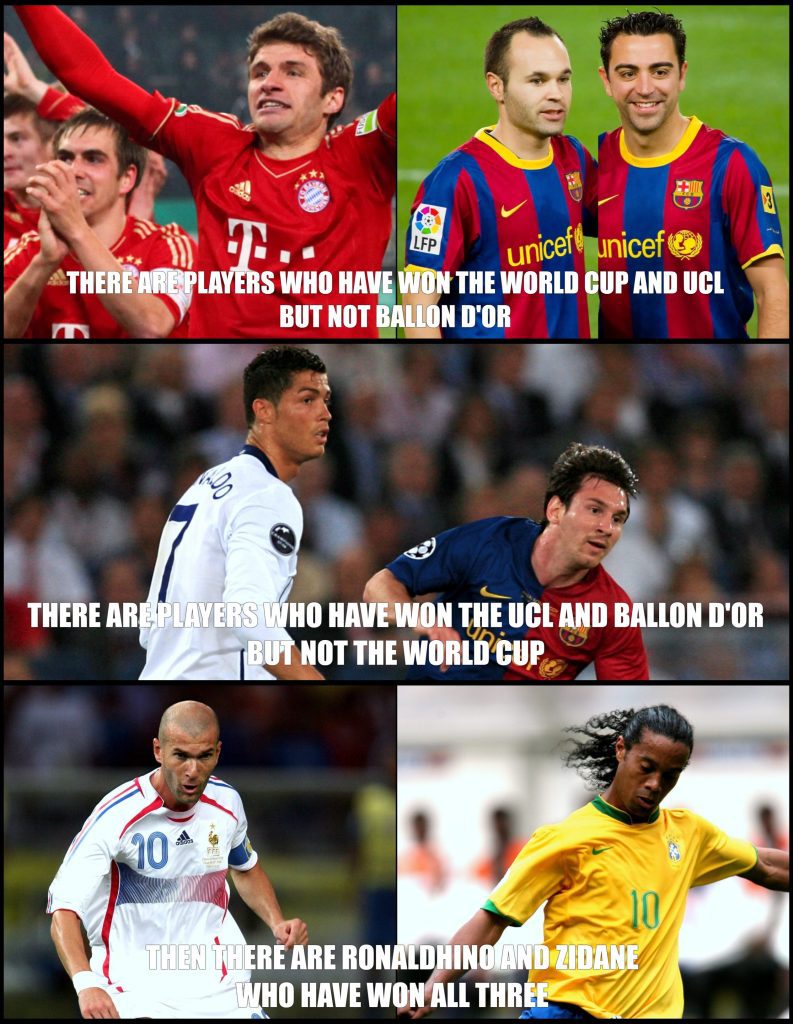 Then, the GOATs like Messi and Ronaldo have won the UCL and Ballon d'Or. But, sadly, these players haven't held the World Cup till now, although they're literally the top 2 footballers. Then, there are Ronaldinho and Zidane, who has won it all.
34. Progress
Arjen Robben was famous for his dribbling skills, controlling the ball, and of course, those long-shots. He's widely regarded as one of the best players of his generation. He was also the best winger. Those who saw him in his prime were lucky. Those who haven't, you missed out. But you can still see the clips!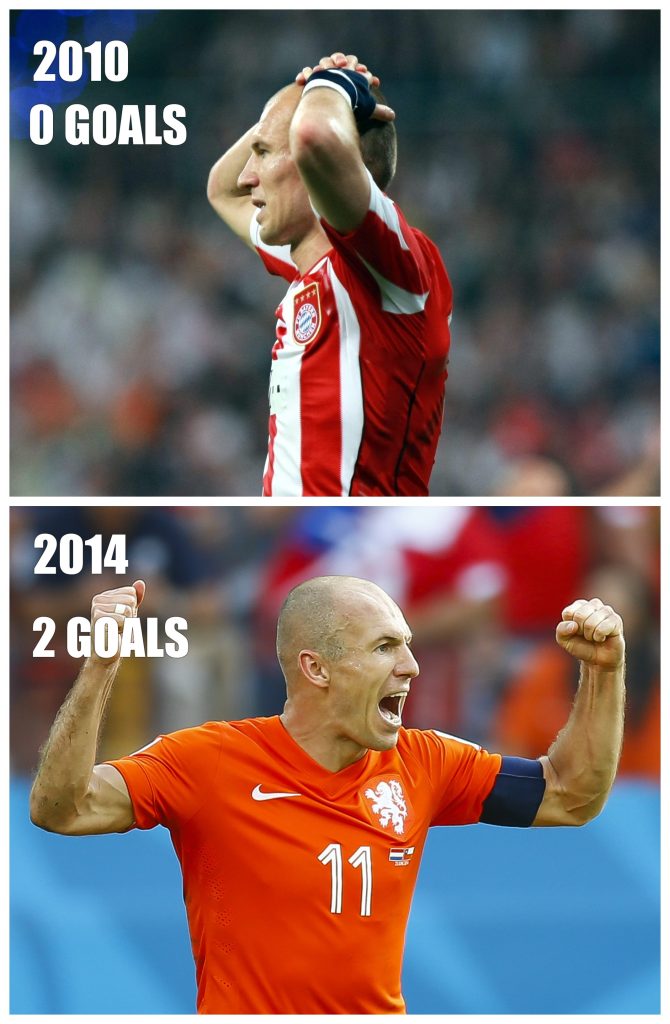 He's excellent, but we think a little meme wouldn't mean any harm! He retired pretty recently, back in July 2021. Well, 2010 was a rough one for him because he didn't get any World Cup goals. He did get 4 in 2014, though!
35. Does it now?
Here's another meme on the 2022 FIFA World Cup logo. It looks like many things, including a washcloth, and now, out of all things, Oaxaca cheese. We know that there might be quite a few mixed opinions here about it, but it's alright.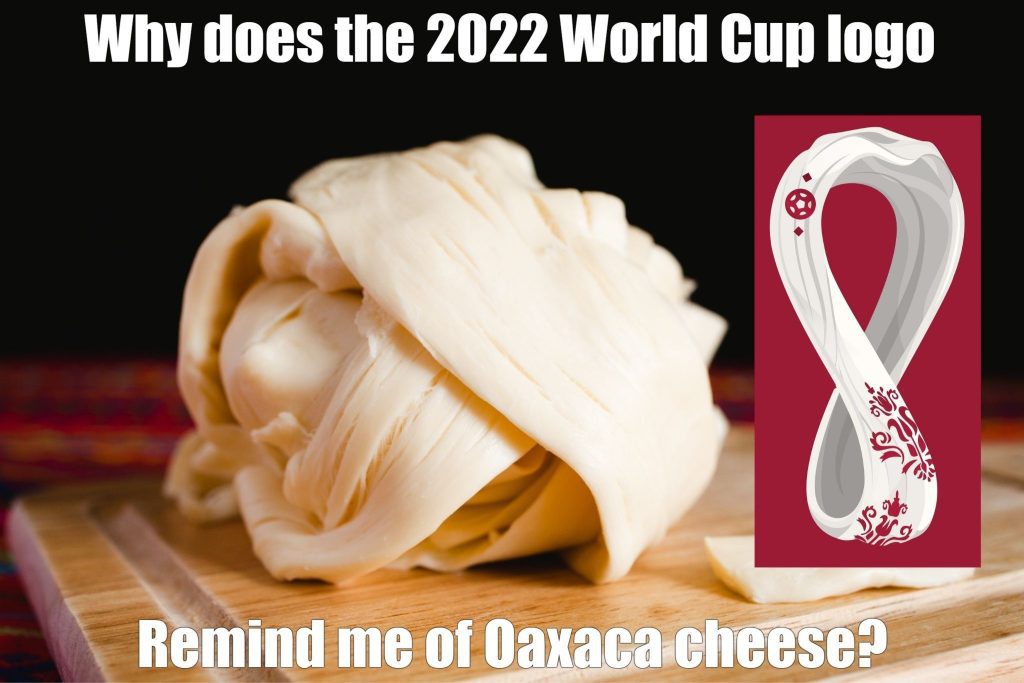 You know, if you pull the Oaxaca cheese into the shape of the World Cup logo, you actually would get something similar from it. There is a certain resemblance! We're sure that the World Cup logo looks like many other household items, and we can't wait to see other memes that come from this.
36. The struggle is real
Costa Rica is indeed finding it really tough to qualify for the FIFA World Cup 2022. When we look at this meme, we can't help but feel really sad for them. The situation for them is pretty tense as of now.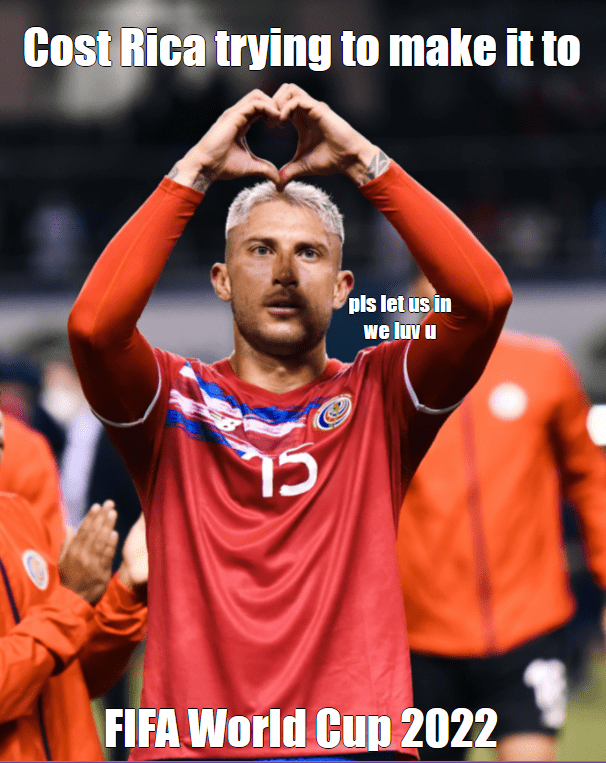 Currently, there are eight teams in the third round for qualification, out of which three teams have qualified for the World Cup. One team has qualified for the inter-confederation playoffs, two teams have been eliminated, and one team can directly be eligible. The only team remaining without a result is Costa Rica.
37. Rest assured
This one is a bit different because it isn't a meme per se. It's more of a fact. When you look at the image, the template, and everything else, it feels like a hilarious meme, and even when there isn't anything funny about it, it makes people laugh!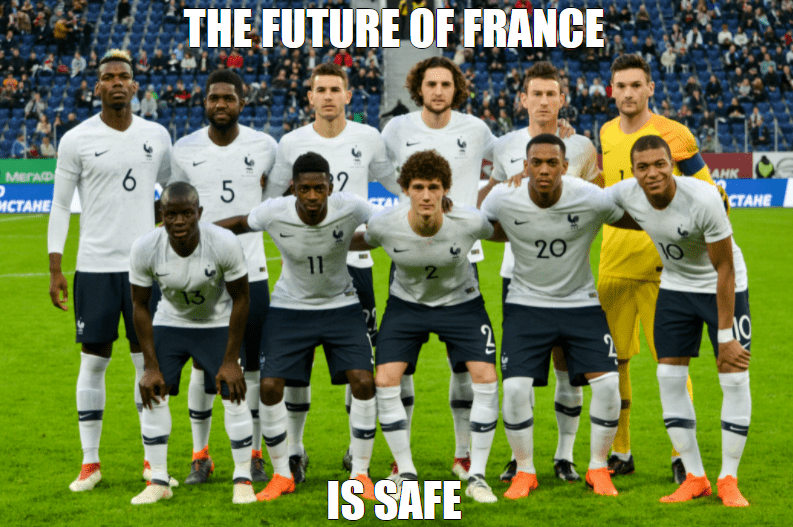 That's true. The template and other things have a lot to do with all the makings of a good meme! Now, the future of the France national football team is actually promising, and we saw it for ourselves, especially when they won the previous World Cup.
38. Easy-peasy tasks
Germany was in the UEFA Group J for the 2022 FIFA World Cup qualifications. Now, we don't even need to get into the details, but it's necessary. How is it possible that they wouldn't qualify for any competition on Earth?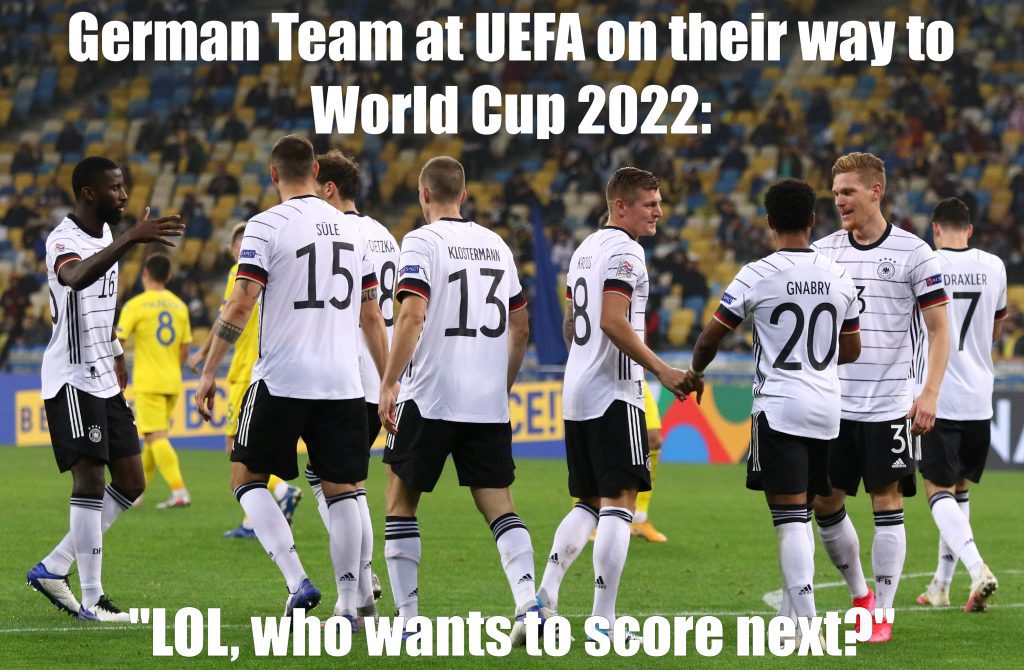 Now, there were six teams in the group, and each team played ten matches. Germany won 9 out of 10 games, which helped them rank on the top of the table. Since they were the group winners, they directly qualified.
39. Sorry boys
This meme is of the highest quality since you are now looking at four of the best footballers of all time. You are looking at Lionel Messi, Luis Suárez, Cristiano Ronaldo, and Robert Lewandowski. There is a slight difference, though.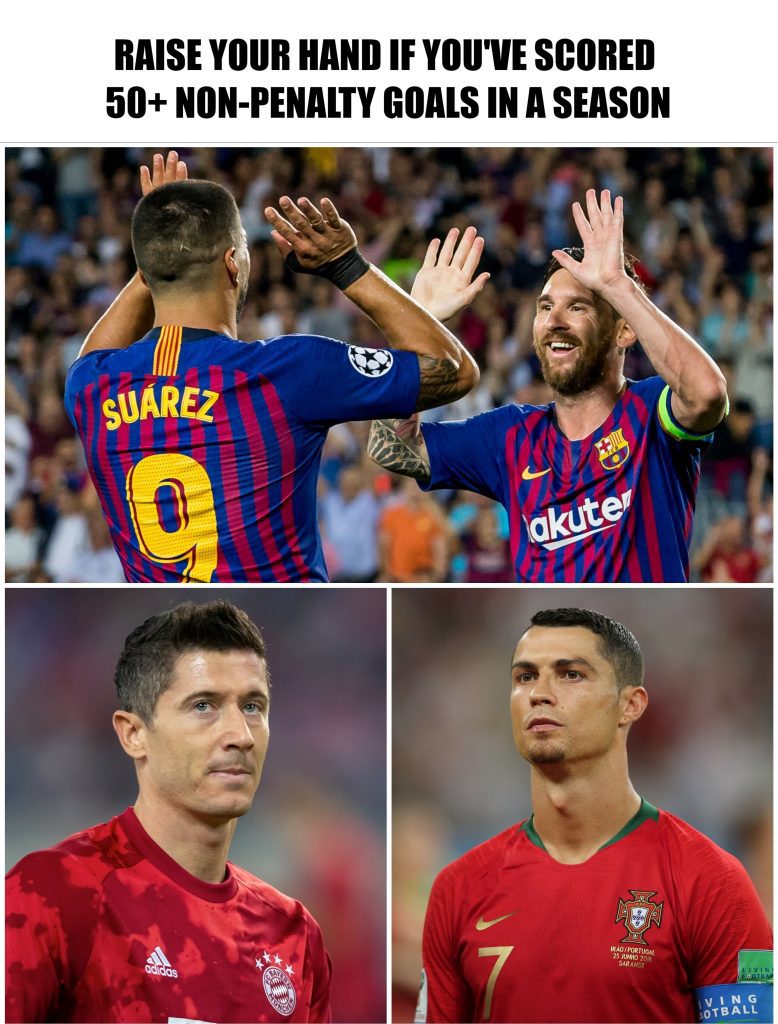 Messi and Suárez have both had the opportunity to score more than 50 goals in one season, excluding the penalty goals. Sadly, neither Ronaldo nor Lewandowski have been able to do that. But, we're sure that day will arrive soon.
40. Good things don't last forever
Earlier, we talked about how things don't stay so good for the team that wins the previous World Cup. Well, it's obviously amazing for France that they won the World Cup, but their subsequent season hasn't gone so well. Take a look at this meme.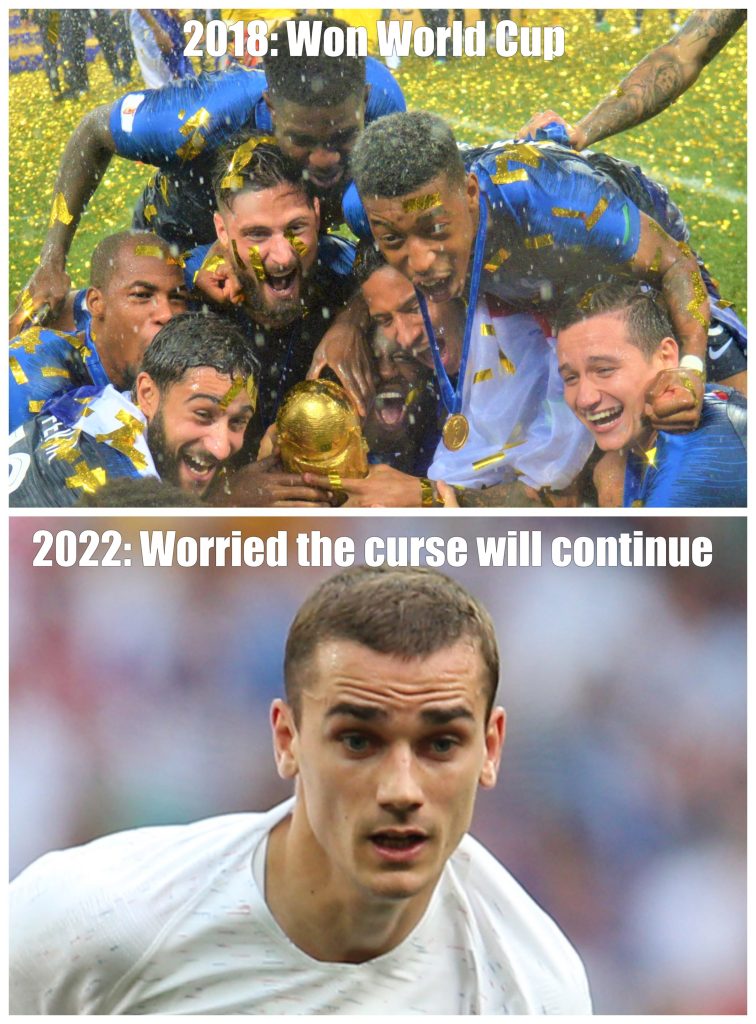 Now, France did win the 2018 FIFA World Cup, but what's going to happen in this World Cup? We don't know that one! Only time can tell. But, these are all just things that are said, and we'd love to see them breaking the so-called curse.