Seeing Double: 35 Famous Actors And Their Talented Stunt Performers
By Jishnu B July 12, 2022
---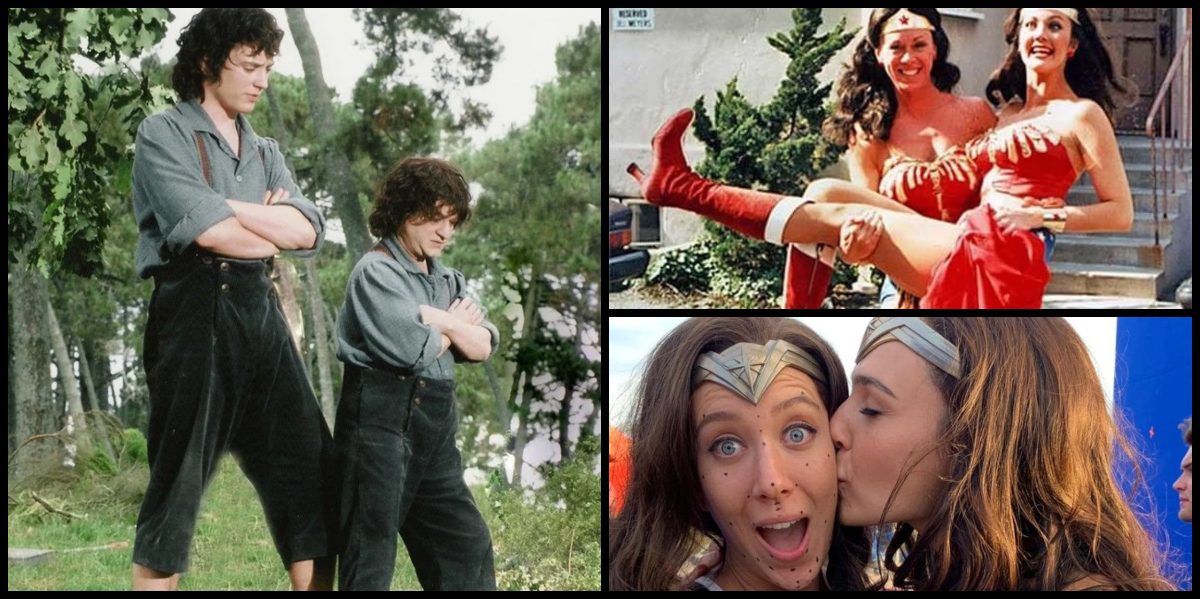 We have all seen our favorite actors perform intense action scenes on the big screen and wondered how they do it with such grace and little to no injury. It turns out that while we were mesmerized by their life-threatening stunts, they weren't the ones always performing them. Stunt doubles are Hollywood's best-kept secret, and it's impressive to see how they're used in films without the audience even noticing that it's not the actual actor. Stunt doubles are professionals who have been trained to stand in for an actor during action-packed activities that can be deemed dangerous at times. Aside from performing jumps, flips, and tricks, these talented stand-ins have so much more to their stories that you'll be pleasantly surprised to learn about.
Daniel Craig
The James Bond franchise consists of some of the most combat-intensive films ever made. As a result, it's safe to assume that the directors would go out of their way to hire the most elite stunt performer available in the industry. Jean-Charles Rousseau fits this bill, and he was hired to double for Daniel Craig in all of the Bond films.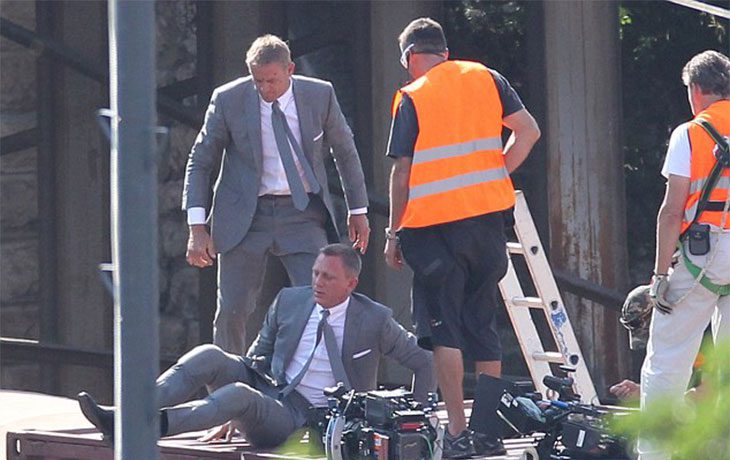 Rousseau has also been involved in Mission Impossible, Jason Bourne, and Spectre projects. He's been doing stunts for over a decade and has also done a few acting projects. Although Daniel Craig prefers to do most of the action, Rousseau opts to do the more risky ones.
Scarlett Johansson
Scarlett Johansson has played the popular Russian super-spy Black Widow aka Natasha Romanoff, in the Marvel Cinematic Universe for nearly a decade. Johansson made her MCU debut in Iron Man 2, and her double, Heidi Moneymaker, has assisted her in playing the role since then. Johansson has been very complimentary of Heidi, even saying that "Heidi was born a superhero."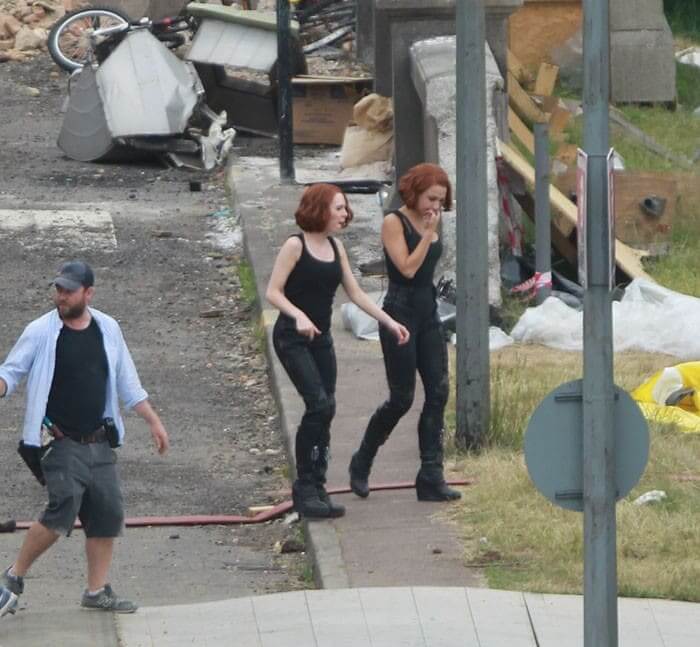 Heidi was a national champion gymnast before entering the industry. Her athletic abilities and exceptional physique propelled her career as a stunt performer. In 2020, the story of her journey in the industry was shared in a documentary called The Stuntwomen: The Untold Hollywood Story.
Keanu Reeves
Keanu Reeves is one of those celebrated actors that Hollywood is truly blessed to have. Aside from being a genuinely lovely guy, Reeves is also a very competent actor. He is best known for his work on action films like The Matrix and the John Wick franchise. His movies featured a lot of death-defying stunts that many stunt performers were apprehensive about. However, one stuntman named Jackson Spidell agreed to accompany Reeves in his vision.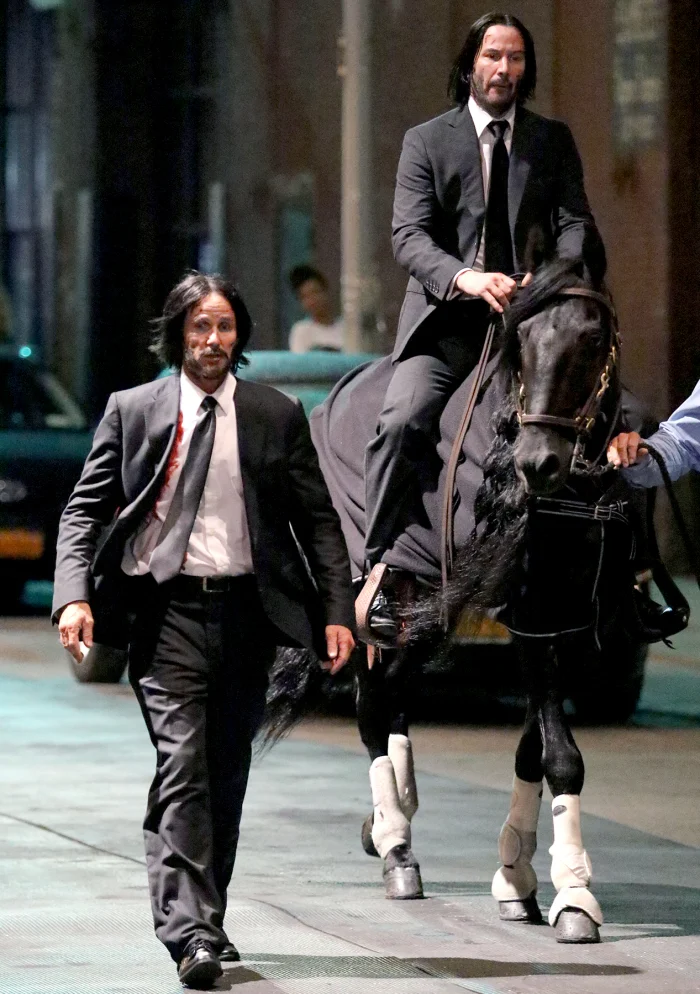 Because of his fearless and skilled approach to his job, Jackson Spidell quickly became Reeves' favorite. The director praised him highly, which led to him landing other high-profile projects. Spidell has also worked on several Marvel projects, including Captain America: Civil War, Spider-Man: No Way Home, Avengers: Endgame.
Sacha Baron Cohen 
During the filming of The Dictator, Olive Keller was cast as a stand-in for Sacha Baron Cohen. Cohen portrayed Aladeen, a man who adamantly opposed the idea of bringing democracy to his country. If you've seen the flick, you'll remember that the outfits were quite outrageous. We now know that Cohen was not the only one dressed ridiculously.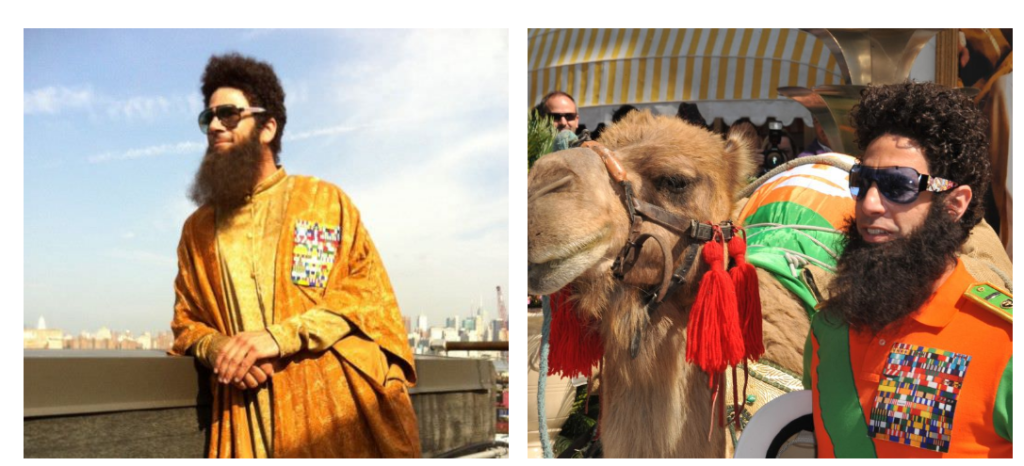 Originally hailing from Switzerland, Olive Keller has always had a penchant for action since he was a child. Keller rose to prominence in the industry, working on high-profile projects such as Wrath of the Titans, Pirates of the Caribbean, and Killers. The job of a stunt double comes with serious occupational hazards as Keller demonstrates that he got third-degree burns once and even fell out of buildings several times.
Chandler Riggs
Chandler Riggs is best known for his portrayal of Carl Grimes in The Walking Dead's television series, which aired from 2010 to 2018. Nowadays, having doubles of the opposite gender is not so uncommon, and Riggs followed suit. His stand-in on the show was Emily Brobst, a 29-year-old woman.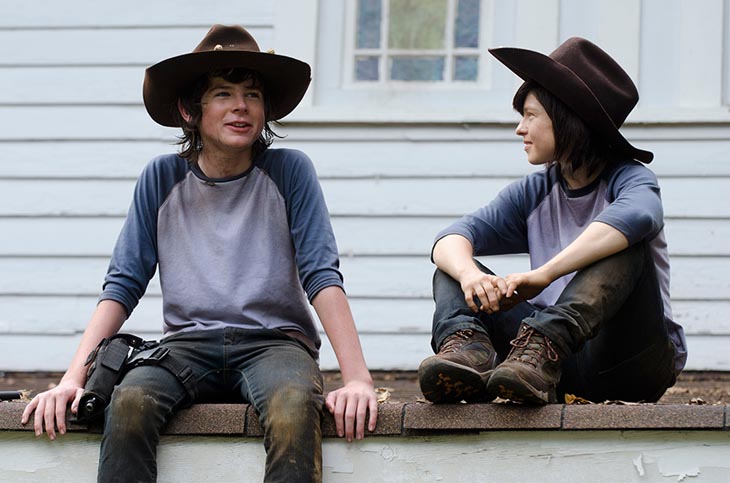 We now understand why Brobst was chosen as Riggs' double because it's difficult to tell who's who from the picture. Brobst appears to be a fan of the horror genre. In addition to The Walking Dead, she has worked for other horror films like Annabelle, Fear Street, Insidious, etc.
Megan Fox
When Megan Fox was cast as April O'Neil in the movie Teenage Mutant Ninja Turtles, she was required to do some intense stunts. Stacey Carino was the stuntwoman hired for Fox. Aside from Fox, Carino has worked for other actresses such as Lisa Thornhill, Melissa George, and Juliette Lewis.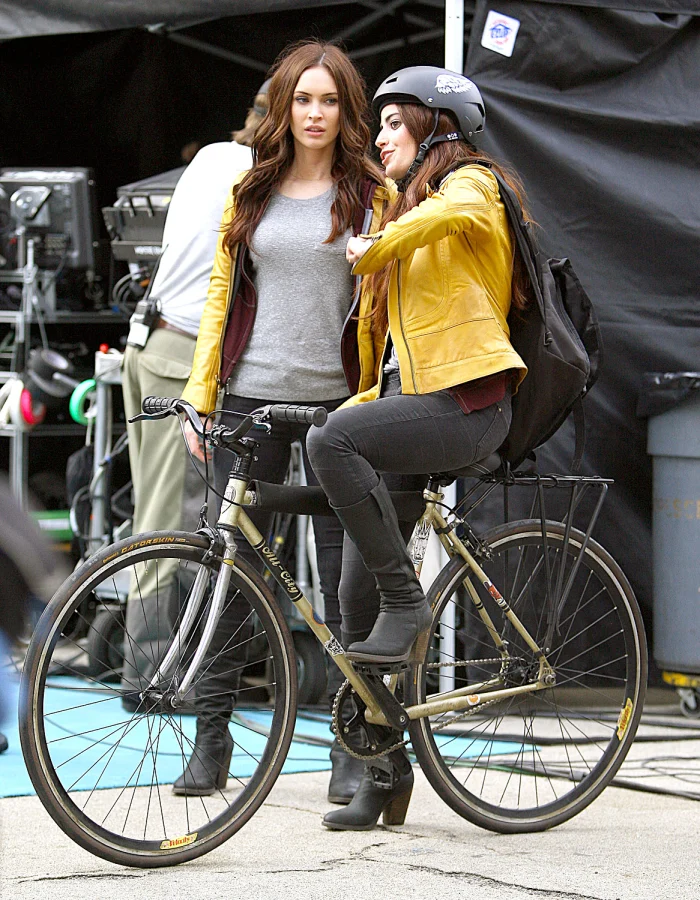 Stacey Carino has stunt doubled in many movies such as Bruce Almighty, Miss Congeniality 2: Armed & Fabulous, and The Amityville Horror. She is currently the secretary for the "United Stuntwomen's Association (USA)" and is about to debut as a stunt coordinator in Darkness Visible. Carino even admitted to breaking her neck and not realizing it for years until she got an x-ray.
Andrew Garfield
William Spencer, also known as Skate Ninja, assisted Andrew Garfield in most of the stunts performed in The Amazing Spider-Man. He worked with Andrew Garfield in the first two Spider-Man films. Aside from being a well-known and in-demand stuntman, he is also a skateboarder and filmmaker.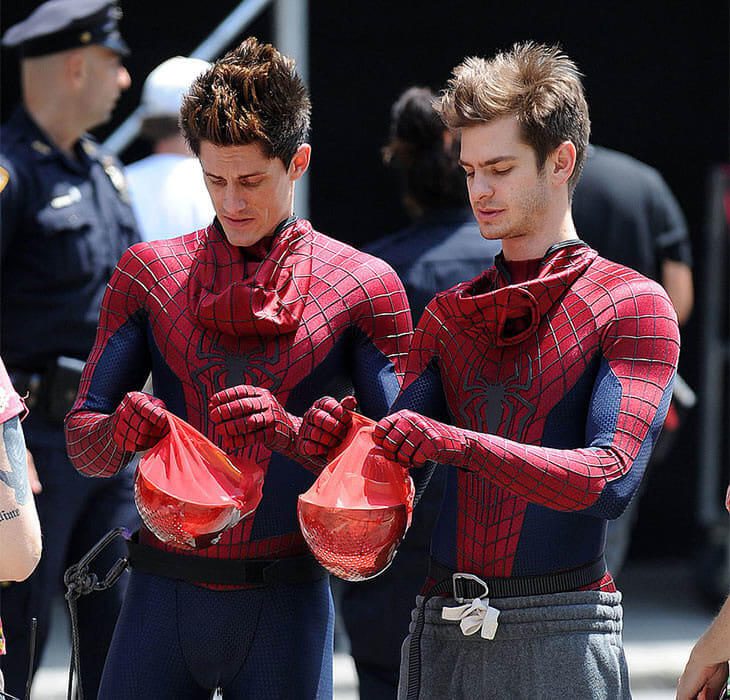 Spencer has also worked on stunts for CSI: NY, The Kids Are Alright, and Project X. In addition, he directed a short film called Block Attack and even starred in it. He is very passionate about skateboarding and has traveled to many countries to compete in various skateboarding events. If you follow him on Instagram, you'll come across several clips of his extraordinary skateboarding abilities.
Emma Watson
You might be astounded to find out that Emma Watson had several stand-ins while filming the Harry Potter series. As you can see, there are three doubles in the image, and they hired them for just one film. Emma encountered mixed doubles for the Harry Potter franchise over the years as she grew throughout the movies.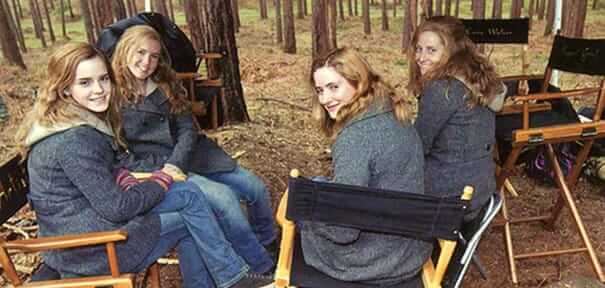 Watson was also studying at Brown University during the later films, so she required more doubles to help her divide time between studies and filming. Flick Miles, one of her doubles from the series' three films, recently shared her experience working with Watson, stating that they were particularly close and that Watson was lovely and fun to be around.
Uma Thurman
Zoe Bell was Uma Thurman's talented stunt double in Kill Bill Volumes 1 and 2. Quentin Tarantino, the film's director, noticed Bell's skills and gave her the opportunity to play the lead role in Death Proof. This rose Bell to stardom.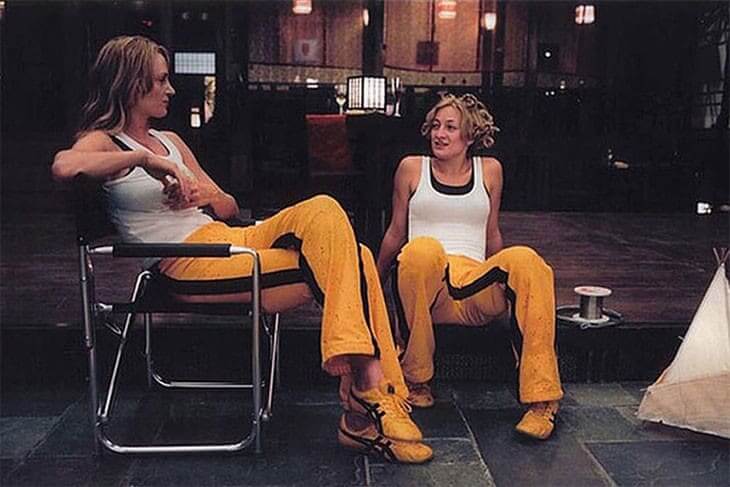 Zoe Bell acted and doubled in several Tarantino films, including The Hateful Eight and Once Upon a Time in Hollywood. She also appeared in the television series Angel of Death. Her most recent notable stunt double work was in 2017's Thor: Ragnarok, where she doubled for Cate Blanchett.
Natalie Portman
Black Swan was a psychological horror film in which Natalie Portman portrayed a ballerina. As we all know, Ballet is a very graceful dance that requires a lot of intricate technical skills and years of practice to perfect. As a result, Sarah Lane, a professional ballet dancer, was hired to stand in for Natalie Portman.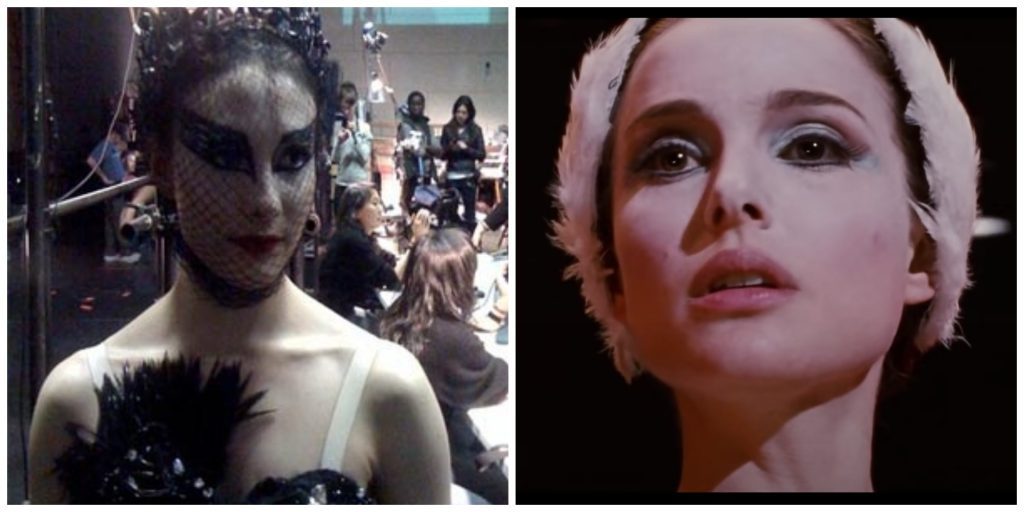 Sarah Lane stated that Portman only performed 5% of the full-body shots, leaving her with the rest of the scenes. This controversy became so large that the film's production companies issued joint statements saying they were fortunate to work with Sarah and praised her hard work. On the other hand, Portman's co-stars, Mila Kunis and Benjamin Millepied, came out in Portman's defense.
Anne Hathaway
Anne Hathaway is an accomplished actress known for several high-profile films like Interstellar, Devil Wears Prada, The Princess Diaries, and many more. She played Catwoman in The Dark Knight Rises and required a double to do the combat and intense motorcycle scenes for her.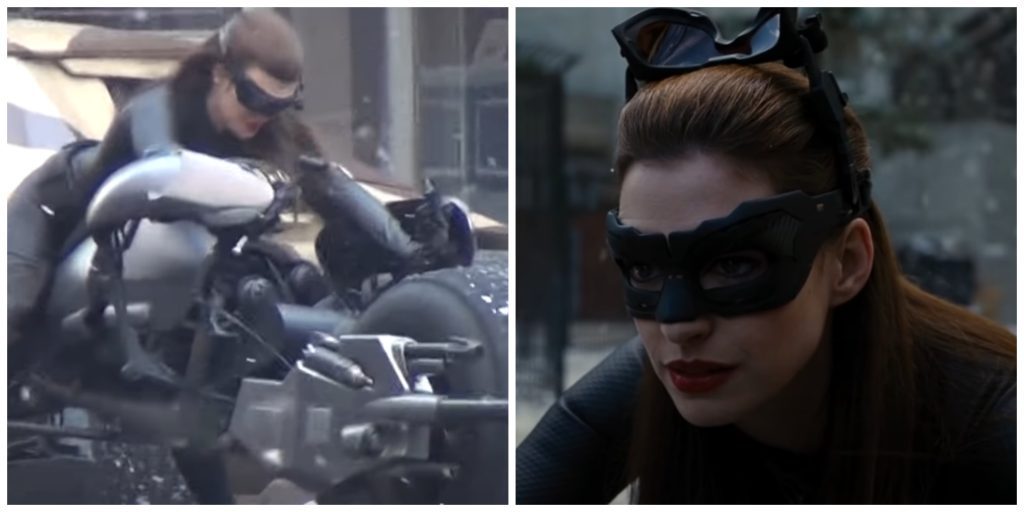 Whitney Coleman stepped in to perform the daring motorcycle stunts featured in the movie on behalf of Hathaway. Aside from DC projects, Coleman also did a slew of our favorite Marvel projects. Some of her notable MCU stunt projects include Wanadavison, Captain America, and Runaways. She appears in the newest Marvel, Doctor Strange 2.
Johnny Depp
Over the years, Johnny Depp has been quite open about his lack of enthusiasm about doing action scenes and thus likes to keep it for the professionals. Tony Angelotti has doubled for Depp in three of the Pirates of the Caribbean movies.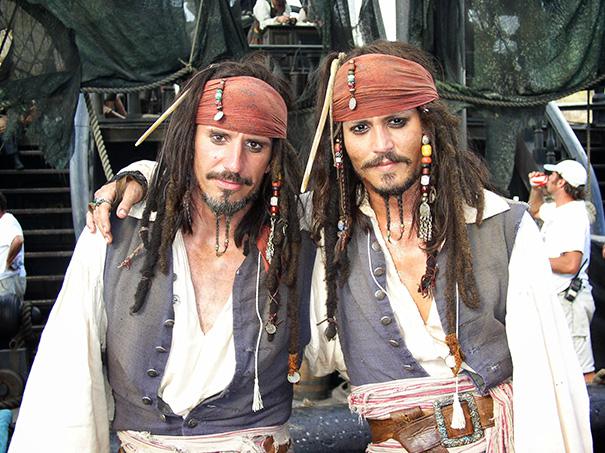 Angelotti's career began with Disney World, and the Pirates of the Caribbean franchise later hired him. He has also appeared in films such as Planet of the Apes, The Amazing Spider-Man, and The Mask of Zorro. Angelotti was seriously injured while filming Pirates of the Caribbean, breaking a plate in his pelvic area.
Lynda Carter
Lynda Carter made a splash in the 1970s as the titular Wonder Woman in the live-action adaptation of the original comic book. She is hailed as the original Wonder Woman to date. Carter required two stunt doubles as the television series was action-oriented, and one of the double was Jeannie Epper.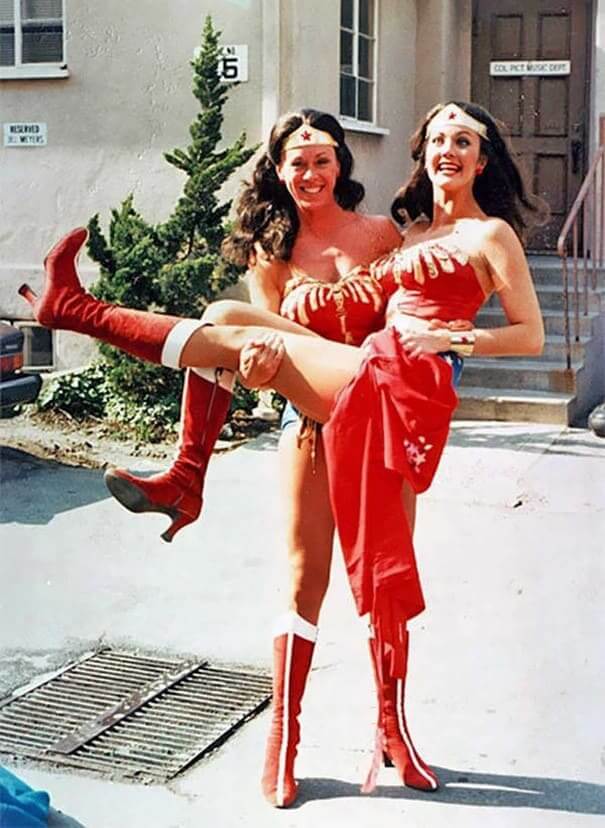 Jeannie Epper had a thriving career from the early 70s to the late 80s. A woman working as a stunt performer was a huge deal back then. Epper is legendary because she paved the way for countless other women in the industry by leaving a lasting legacy. She is now 78 years old and continues to pursue her career, though she prefers lighter stunts. She was even honored with a lifetime achievement award at the 2007 Taurus World Stunt Awards.
Robert Pattinson
We all remember when Robert Pattinson first appeared in the Twilight series as the pale-skinned, brooding vampire Edward Cullen and became an instant heartthrob. Since the Twilight saga phenomenon, Pattinson has been accompanied by Paul Darnell as his double. They have worked together in other movies like Remember Me and Water for Elephants.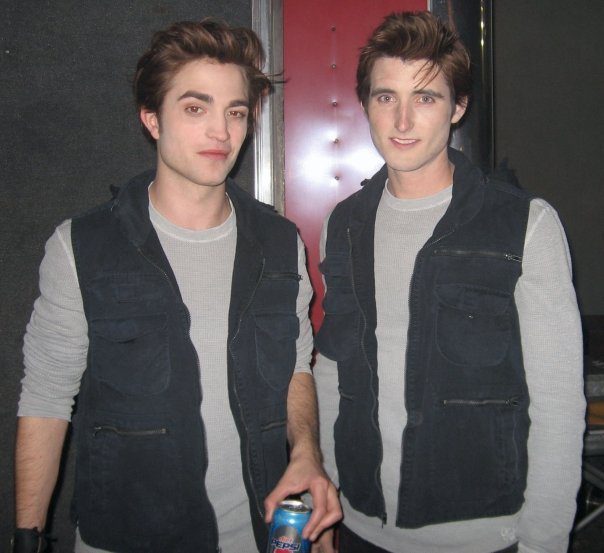 Pattinson had even managed to win a medal for the best quarrel at the 2009 MTV Movie Awards, and all the credit goes to Darnell. However, one particularly awkward moment was when Robert forgot his stunt double's last name while thanking him during the live acceptance speech. Despite the minor hiccup, Darnell was still grateful that Robert had thought to mention him in the first place.
Chriss Pratt
It's pretty amusing to see how similar an actor can look to their double at times. That's precisely what transpired with Chris Pratt and his double Tony Mcfarr. We'd even go so far as to say these two could pass for brothers.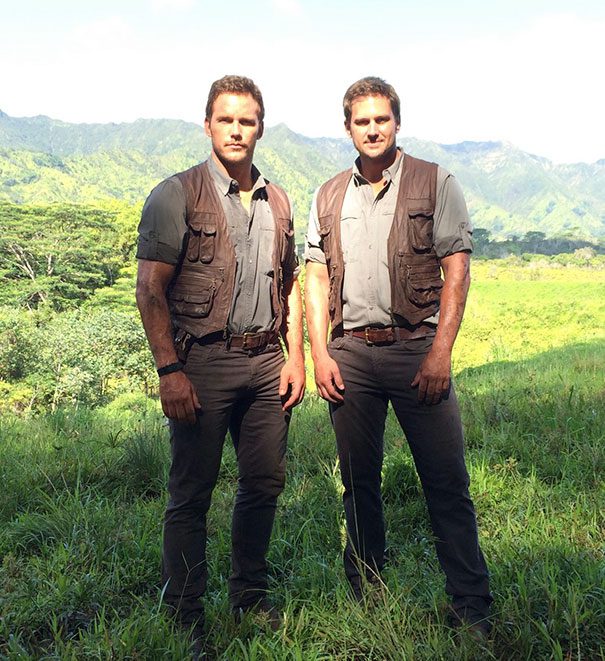 The two started working consistently after the filming of Jurassic World: Fallen Kingdom. Mcfarr has also played Pratt's double in Guardians of the Galaxy and Passengers. You might be surprised to learn that he even played a ravager in Guardians of the Galaxy.
Tom Cruise
Tom Cruise is one of the biggest A-listers in the industry, with several accolades. He has starred in the most sought-after list of action movies throughout his career. Thus, it's safe to say that he always had a knack for action. You'd be surprised to know that Cruise usually prefers doing his stunt scenes independently.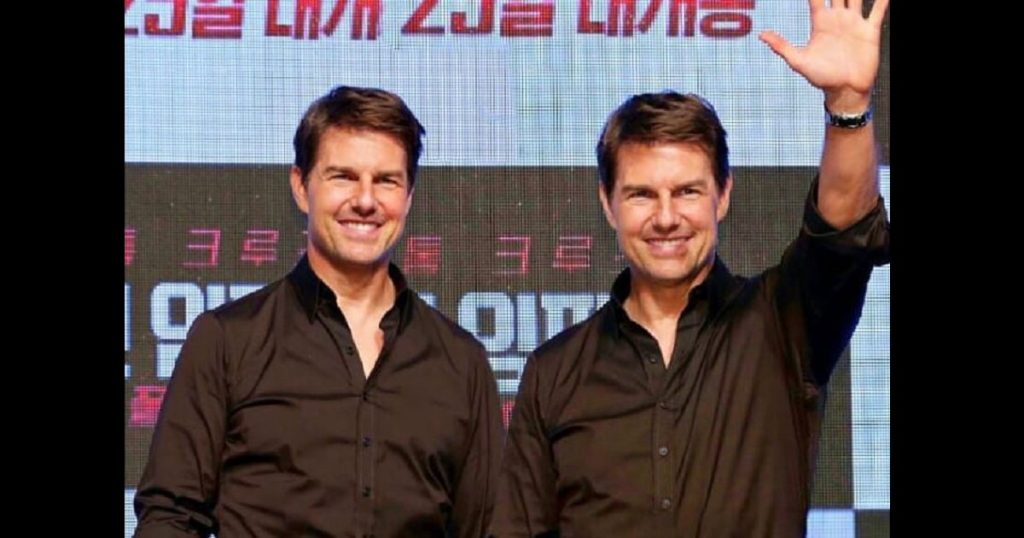 In the movie Knight and Day, Cruise did go for a stuntman named Casey O'Neill. However, there was one motorcycle scene that Cruise chose to do on his own. The incredible scene was his idea, and since he has good riding skills, there was no way anyone else would do it while he was on the set.
Chris Hemsworth
Chris Hemsworth plays our beloved character Thor, the God of Thunder, in the MCU. Playing a superhero requires maintaining a toned physique and Hemsworth had to go through a rigid diet and exercise regimen to achieve that look. His double Bobby Holland was surprisingly able to match up to Hemsworth's physique. We'd even go as far as to say that their uncanny resemblance amuses us.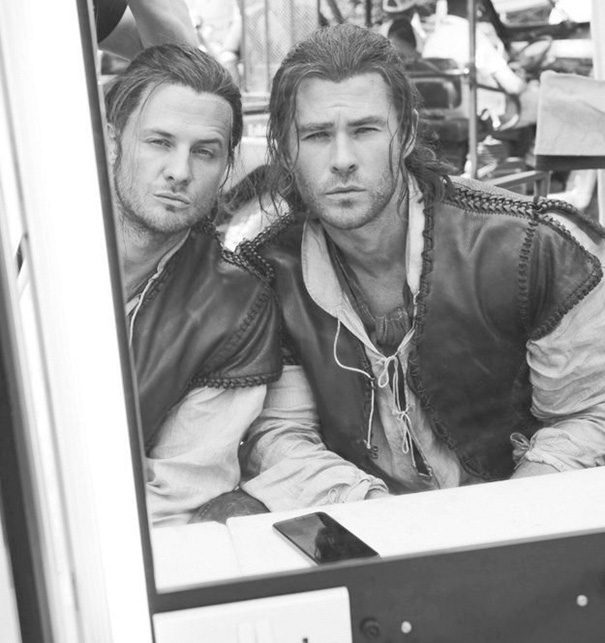 Holland's journey to becoming an athletic individual began as a gymnast at four. He then competed as a member of the National Squad and won a National Gold Medal. He also appeared in several live-action shows, TV commercials, and modeling campaigns. In the later years, he decided to shift his career path and became a stuntman after four years of training under professionals.
Shia LaBeouf
Shia LaBeouf portrayed Sam Witwicky in the popular Transformers film franchise. Because the film is a science fiction action film, LaBeouf had to perform some extreme stunts. However, because LaBeouf does not prefer doing his own stunts, Dustin Dennard was tasked with doing most of his action scenes.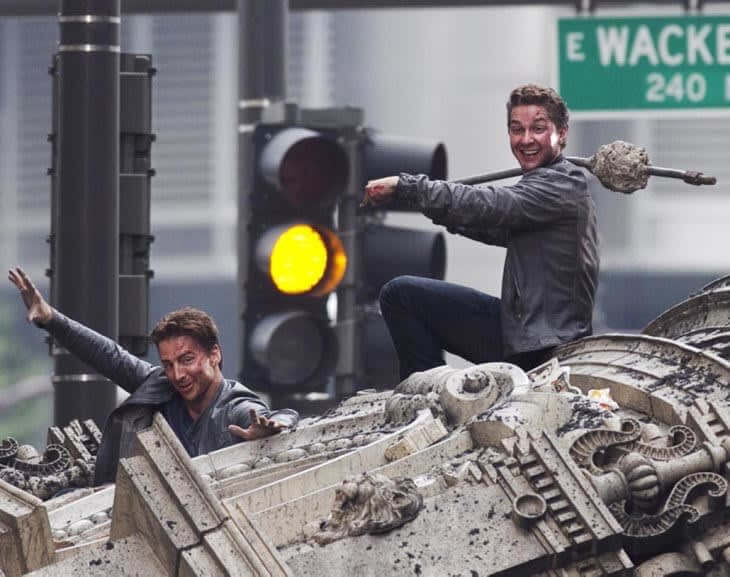 Dustin Dennard hails from El Paso, Texas, and was interested in pursuing a career in stunt performing from a very tender age. In addition to Transformers, he has worked on big-budget films such as Gangster Squad, Revenge of the Fallen, and Friday the 13th. He has also participated in a few acting roles.
Brad Pitt
If you've seen the film Once Upon a Time in Hollywood, you'll know that Brad Pitt played a stuntman for Leonardo DiCaprio. You may not know that Brad Pitt too had a stand-in for the film, and his name was Phill Ball. Phill Ball also collaborated with Brad Pitt on the movie World War Z.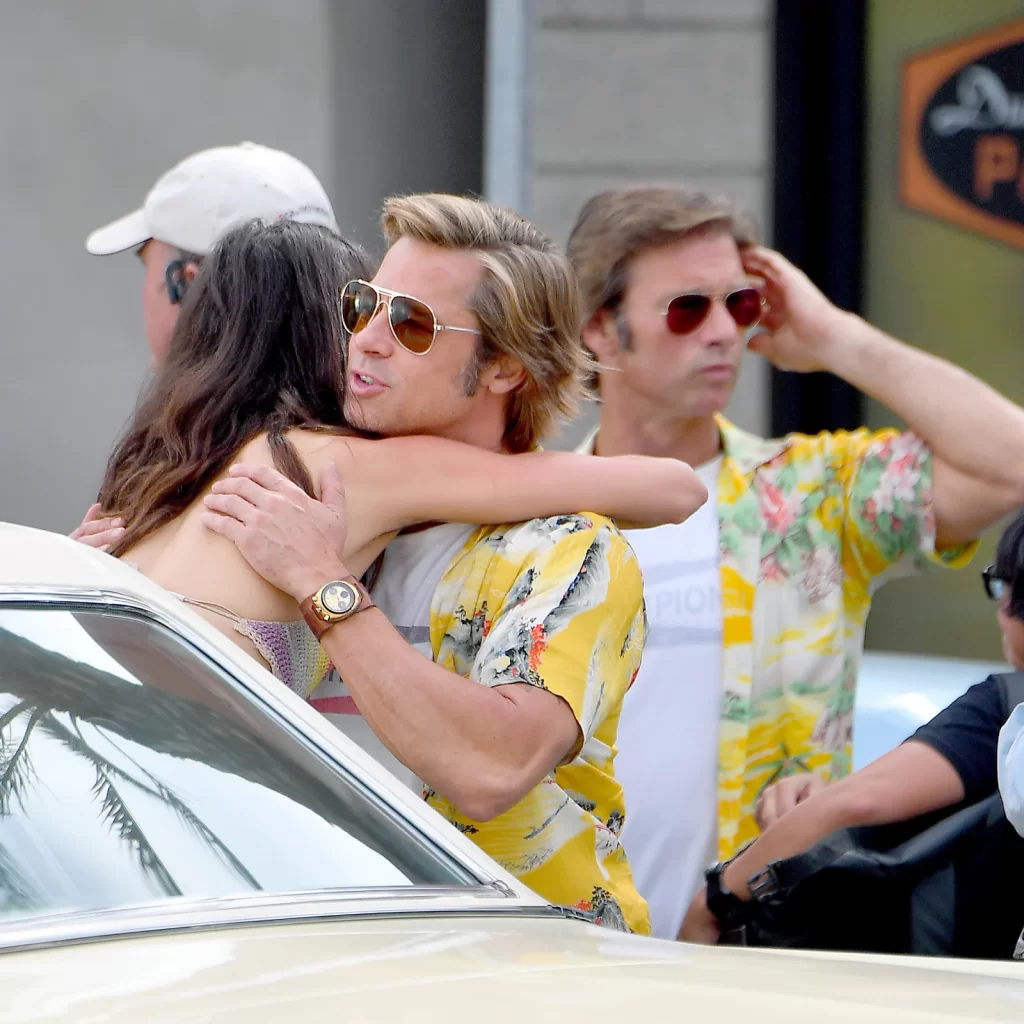 His stunt double had to shave his hands and wear hair extensions to look like Pitt. While filming, he tweeted about the incident, saying, "Just when I thought my day job couldn't get any more bizarre, I'm made to shave my hands."
Hugh Jackman
Hugh Jackman's name has long been synonymous with the Wolverine franchise. He played the titular character of Wolverine for nearly 17 years, which ended with the film Logan. The franchise required the actor to be in incredible shape, so his double also had to be. Richard Bradshaw played Jackman's double, who also happened to be his brother-in-law.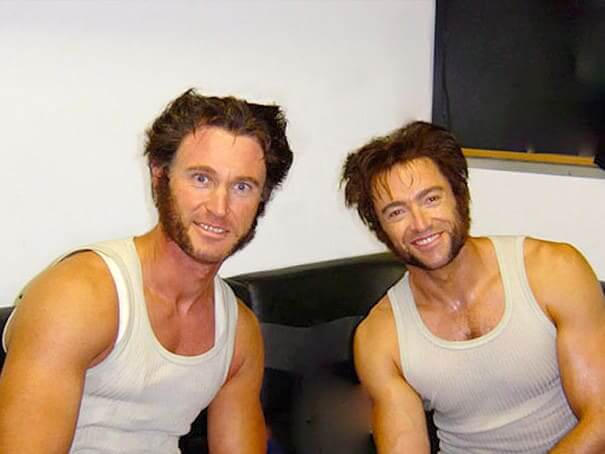 In addition to Jackman, he has collaborated with Matthew McConaughey, Hugh Grant, Colin Firth, and Ted Danson. Bradshaw's career has been highly successful, owing entirely to his enthusiasm for performing diverse and complex stunts. Certain stunts involving cars, riding wires, and horses have piqued his interest.
Harrison Ford
Harrison Ford diligently played the titular character of Indiana Jones for several years. The Indiana Jones movies are packed with adventure, action, and fantasy, and thus it made sense to hire a double for Ford to do the majority of action scenes. Ford's double was Vic Armstrong.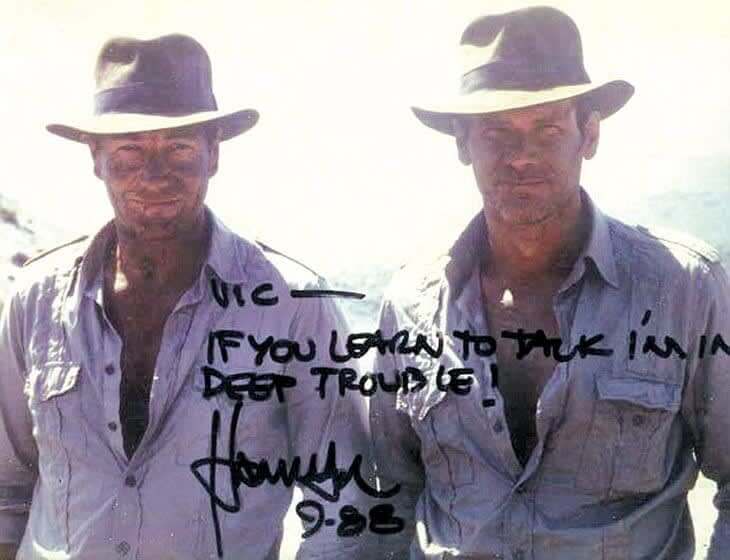 To commemorate their friendship and working relationship, the pair used to take pictures on the set of each film, and Ford would leave a sweet note on the image. Unfortunately, Armstrong could not return for the next movie due to scheduling conflicts. After the first three sequels, the two still maintain a close friendship.
Michael Douglas
Michael Douglas is best known to modern audiences as Dr. Hank Pym in Ant-Man, a brilliant scientist specializing in the synthesis of Pym Particles. You may not know that Douglas has been in the industry for many years, as has his longtime double and friend Mike Runyard. They have been collaborating for nearly 26 years.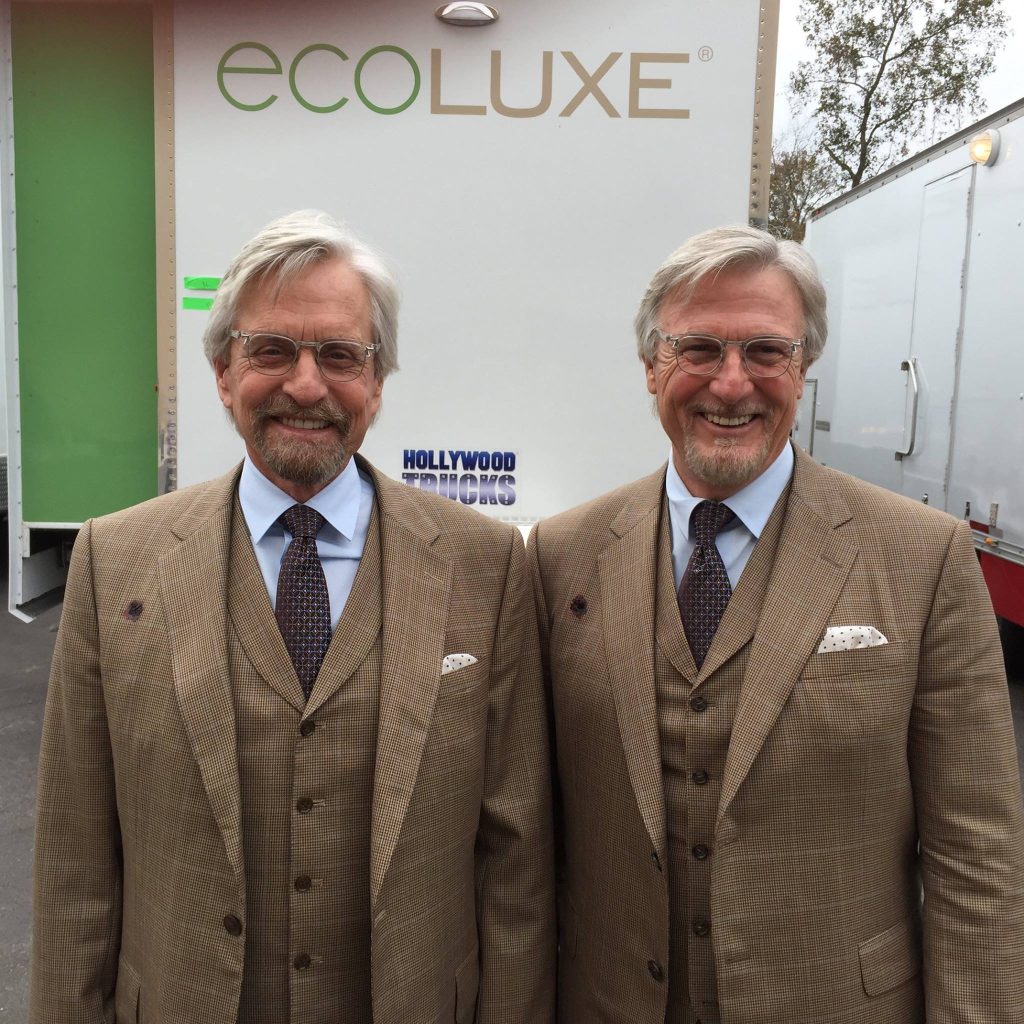 Their story began with 1989's Black Rain when Runyard was cast as Douglas' stand-in. We can see why the two have been working together for so long because Runyard is almost a carbon copy of Douglas. Runyard is a well-known utility stunt performer in the industry who has worked on various Marvel and DC projects.
Mark Ruffalo
Mark Ruffalo plays our beloved Hulk in the MCU, who has had quite a hard time controlling his rage and involuntary smashing habits as the films progressed. So it's pretty understandable that Ruffalo needed a body double to help Hulk smash. Anthony Molinari has been by Ruffalo's side as his stand-in for a long time.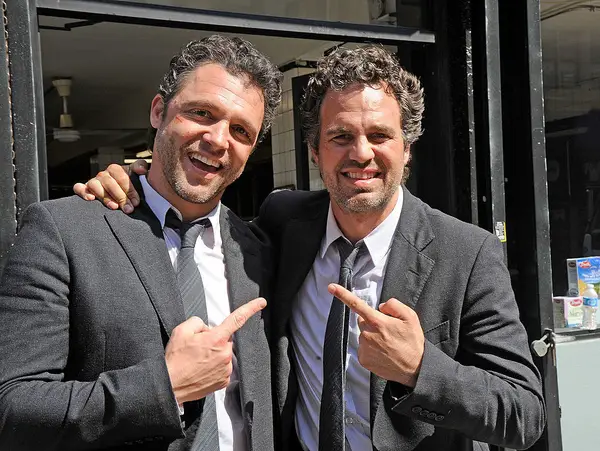 Molinari has been in the job for years and is talented. His experience far exceeds our expectations, as he has worked on over 100 television shows and received numerous awards. He has won a SAG award for hardest hit and a Taurus World Stunt Award for best high work.
Taylor Lautner
After starring as the lovelorn werewolf in the Twilight Saga, Taylor Lautner was once considered a teen heartthrob. In the movie Tracer, Gabriel Nunez was cast as Lautner's double. Lautner and his double are both handsome and share the same physical attributes.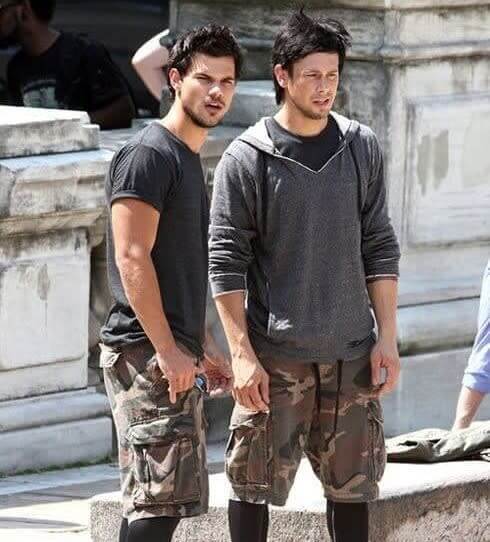 The pair especially became close during the movie's filming, and Lautner was even spotted laughing on one occasion while Nunez was taking the punches on his behalf. Nunez landed his first job in an Adam Sandler comedy called You Don't Mess With the Zohan. Since then, he has had the honor of working on over 70 films and television shows with the finest in the industry.
Jennifer Garner
Jennifer Garner's close friend and stuntwoman, Shauna Duggins, has been in the industry since Garner's debut. The two appear to have similar characteristics, explaining why they work together so frequently. Duggins and Garner collaborated on several projects, including 13 Going On 30, Antman, Arthur, Elektra, and Daredevil.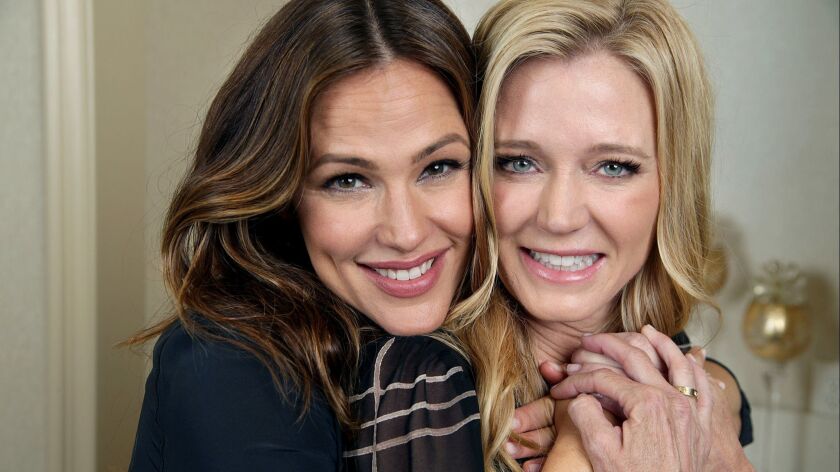 Duggins had a background in gymnastics and martial arts before pursuing a career as a stunt performer. She is an Emmy Award winner and the first stuntwoman nominated for Outstanding Stunt Coordination. Her credits include Peppermint Charlie's Angels, The Kingdom, Fast Five, and others.
Elijah Wood
Elijah Wood played Frodo Baggins in the most epic high fantasy saga, The Lord of the Rings. Surprisingly, his stunt double in the film, Kiran Shah, was only half his size. Kiran Shah had not only doubled for Elijah Wood but also for all of the other hobbits in the movie. According to the Guinness World Records, Shah's height stands at four feet six inches, making him the world's shortest stuntman.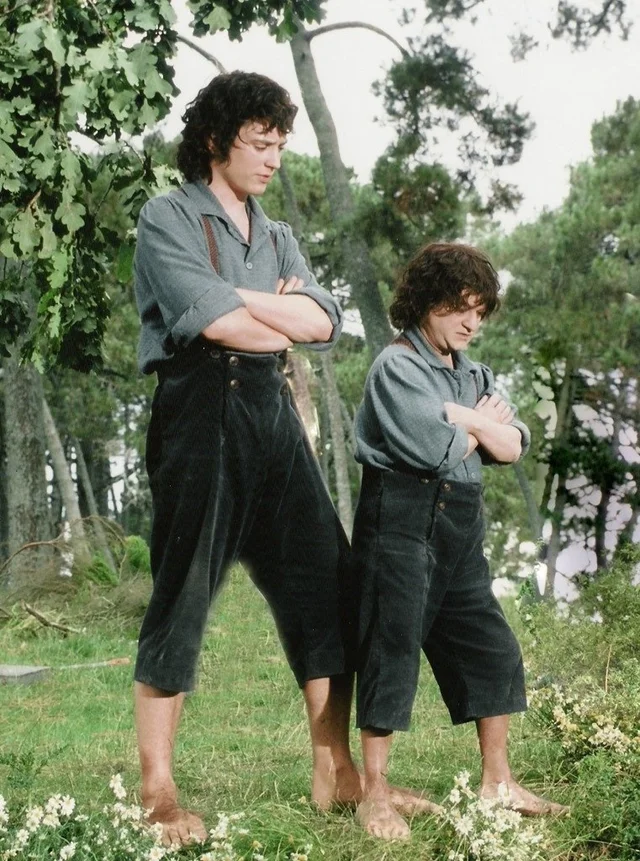 Kiran Shah is a Kenyan-Indian actor and stuntman. He has been interested in show business since the age of 12. His first project was in Norman Tokar's Candleshoe, where he was cast as a stand-in. He landed his first acting gig in Kevin Connor's The People That Time Forgot. Since then, he has acted in over 31 films and performed stunts in 37.
Cameron Diaz
Kimberly Shannon Murphy was cast as Cameron Diaz's double in the film, Knight and Day. Knight and Day Is an action comedy film starring Tom Cruise and Cameron Diaz, two of Hollywood's most talented actors. For years, Murphy has been Diaz's go-to stuntwoman.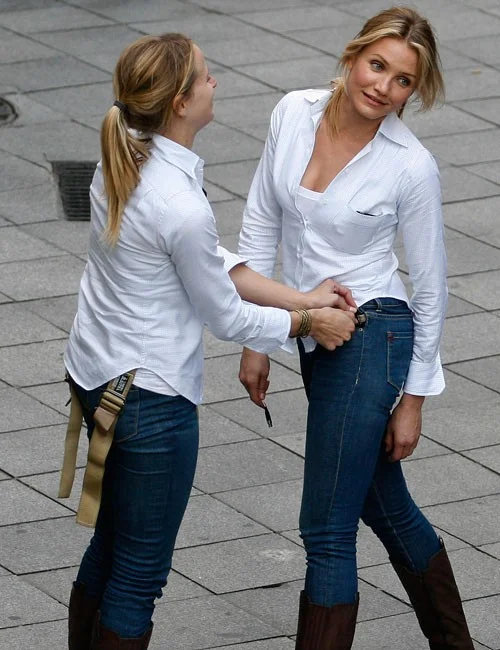 She has also collaborated with celebrities like Uma Thurman, Emily VanCamp, and Taylor Cole. Murphy once revealed in an interview about her worst workplace injury. During the filming of I Am Legend, she was performing a descender stunt when things got out of hand. The wire that was supposed to catch her failed to do so, and she fell 20 feet to the ground.
Ian McKellen
Ian McKellen, who played Gandalf in The Lord of the Rings, required not one but two stunt doubles. One of the doubles known as Basil Clapham was used as McKellen's riding double. On the other hand, Paul Randall played scale double of McKellen to emphasize the height difference between the hobbits and the humans.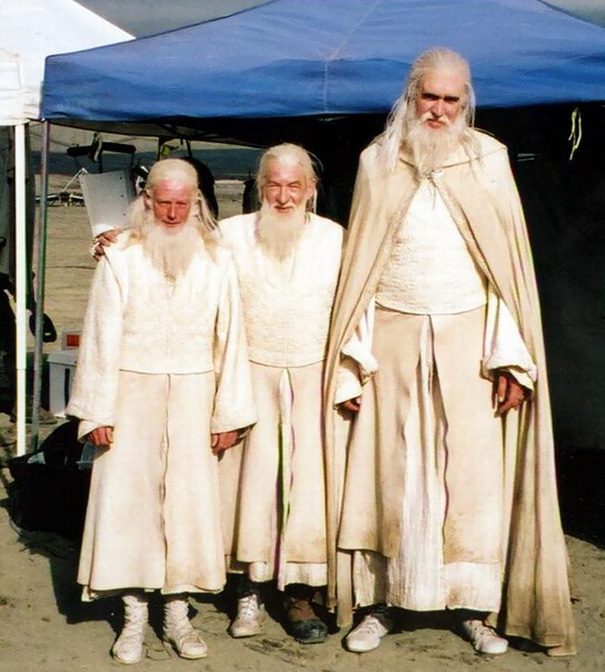 Paul Randall's height is 7 feet and 1 inch, and he was often referred to on set as Tall Pall. He also worked as a cop in Porirua, New Zealand. Both doubles appeared in most of the Lord of the Rings films, and while none of them looked exactly like McKellen, there's nothing a little makeup and VFX can't fix.
Bruce Willis
Bruce Willis' stunt double Stuart Wilson has worked with him for over a decade. Wilson once visited Willis' set and instantly got spotted by the crew, and that's how he landed the job. We would even get as far as to say that the pair can even pass as twins due to their highly similar build.
Along with stunt doubling, Wilson expanded his stunt coordination and fight choreography skills. He works as an associate instructor for Progressive Fighting Systems, Inc. and occasionally trains navy seals. Wilson has over 30 years of martial arts experience and was crowned the Light Heavyweight Kickboxing Champion in 1986.
Gal Gadot
Israeli actress and model Gal Gadot ascended to stardom due to her incredible performance in DC's Wonder Woman in 2017. Gadot was pregnant during the filming process, and thus Alicia Vela-Bailey was hired to do most of her action scenes. Vela-Bailey is considered an A-list stuntwoman and has made a significant name in the industry.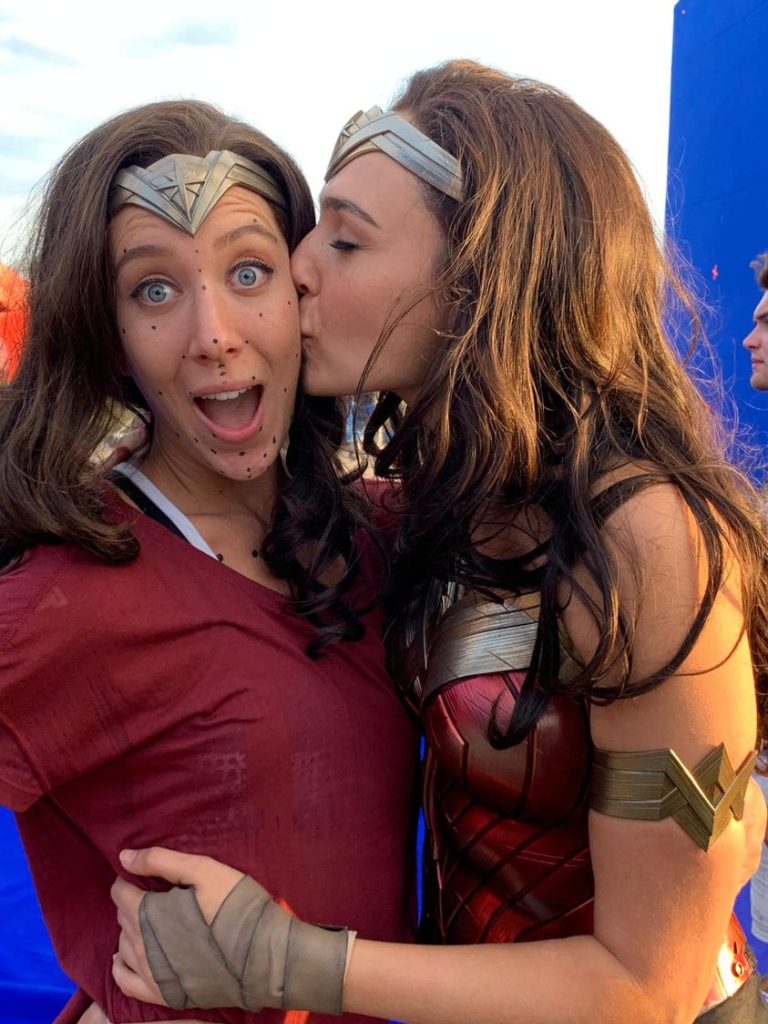 Alicia Vela-Bailey was born on the Hawaiian island of Oahu and has been an athlete since childhood. Her first stunt work was at 21 when she auditioned for the film Ultraviolet. She was highly recognized for the movie and even received Taurus World Stunt Award nominations.
Lena Dunham
Lena Dunham is the creator, writer, and star of HBO's Girls, which made waves when it debuted in 2012. The story follows an aspiring New York writer and her friends in their early twenties as they try to figure out life. Throughout the series, Dakota Brown served as Dunham's double. There was one particular scene involving falling from bicycle handlebars, and Brown was the one in that scene.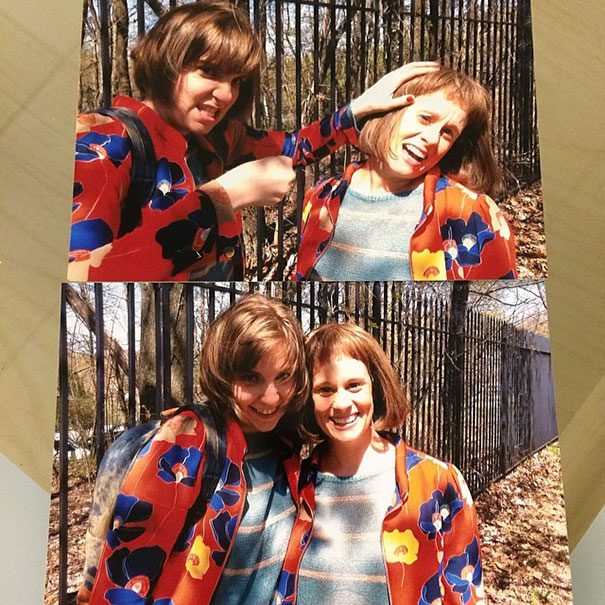 Brown also appeared in an episode that involved a car crash scene. Girls' is usually a lighthearted series, but you know things will go south if Brown is on the set. She hails from Kansas City, Missouri, and some of her other works include Isn't It Romantic, Non-Stop, and After Life.
Ryan Reynolds
Ryan Reynolds plays one of the raunchiest characters in the MCU, aka Deadpool. His portrayal of the vigilante is avidly humorous and unhinged at times. He persuaded Fox Studios to give him the role for years, and we are so glad he did. Although Reynolds used to do most of his action scenes on his own, he halted his efforts due to injuries resulting in a broken neck.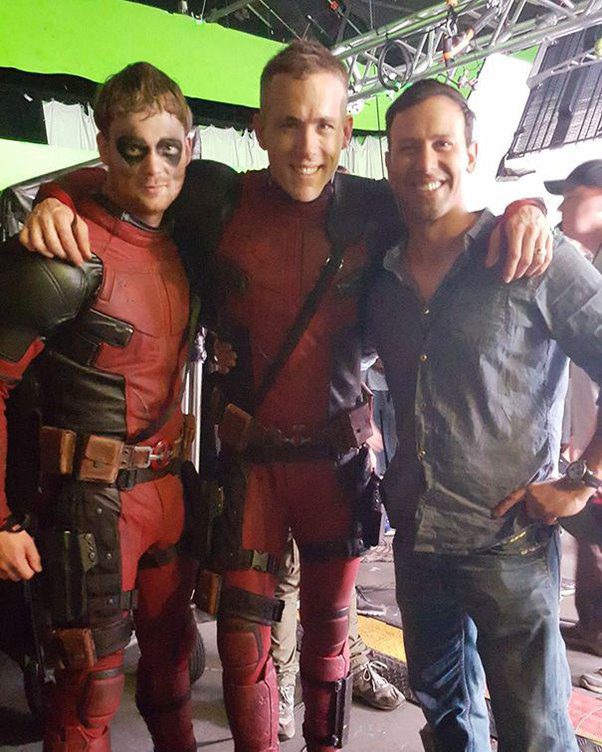 Reynolds now opts to work with not one but four stunt doubles for his movies. Two of the four doubles he works with are Alex Kyshkovych and Will Erichson. Other projects by Will Erichson include War of the Planet of the Apes and Power Rangers. Alex Kyshkovych, on the other hand, has filled in for actors like Nicholas Hoult, Adan Canto, and Josh Brolin.
Daniel Radcliffe
Daniel Radcliffe starred in the most beloved film franchise, the Harry Potter series. As a young child, he joined the cast and grew throughout the eight movies that followed. The franchise is well-known for its exciting action sequences, such as flying motorcycles, swishing around on broomsticks, and epic battle scenes. Thus it made sense to get multiple doubles for these scenes.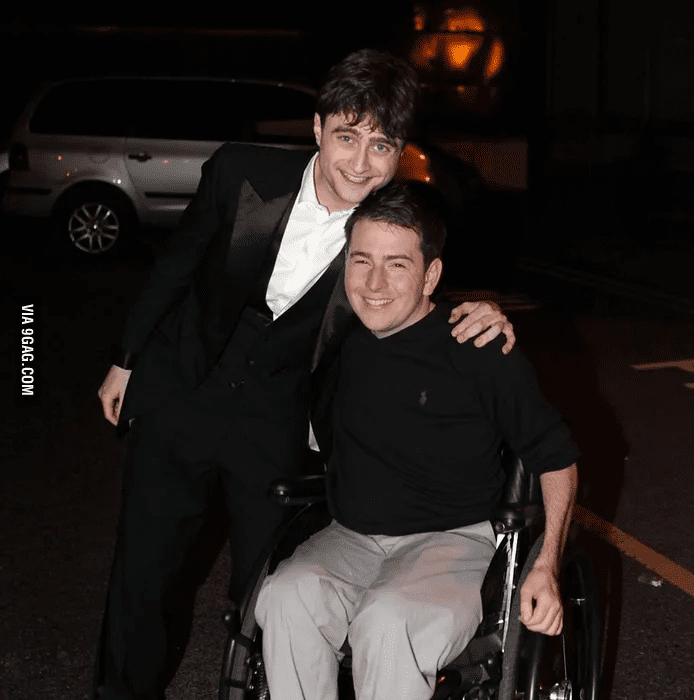 Daniel Radcliffe's double was David Holmes, and when Holmes landed the job, he thought he'd found the role of a lifetime. Unfortunately, his days on set were outnumbered by a severe accident that paralyzed his lower body. Holmes was practicing a flying sequence when he collided with a wall and fell. He was in the hospital for nearly six months and could barely sit up for weeks.
Robert De Niro
Rick Avery is an industry veteran with years of experience, best known for doubling for Robert De Niro. The two have appeared in some films together, including Grudge Match, The Comeback Trail, The Intern, and The War with Grandpa, to name a few. Avery and De Niro were particularly close on set, spending a lot of time together.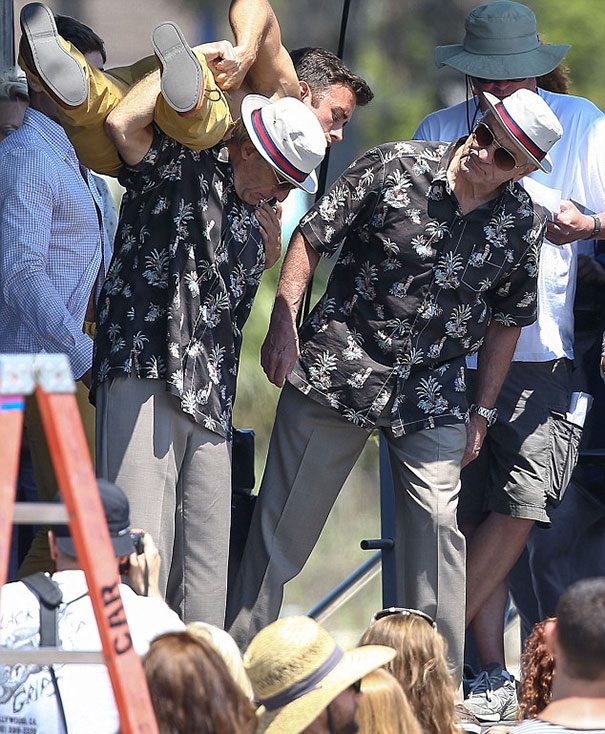 Rick Avery is not just a stunt double, but he is also an actor, director, stunt coordinator, and author. Before entering the glitz and glamour of show business, Avery was a sergeant in the United States Army. His resume is far too long to list, as he has worked on over 400 films and television shows in his career. He has even written a memoir about himself.
Melissa McCarthy
Melissa McCarthy is one of those actresses in the industry that warms your heart when you think about her. Over the years, she has brought joy, laughter, and tears to the faces of her audiences. Even though McCarthy enjoys doing her own stunts, her double Luci Romberg was on hand to handle the more difficult ones.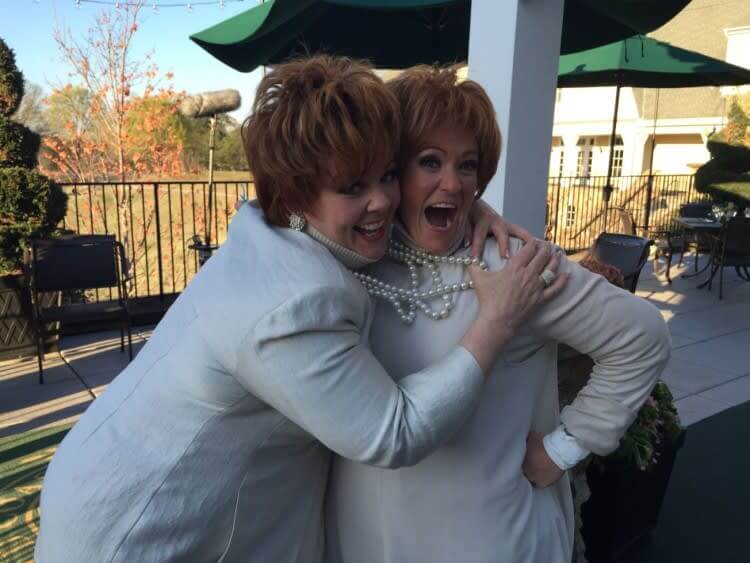 McCarthy and Romberg have teamed up on films such as Ghostbusters, The Boss, and Identity Theft. Romberg used to compete in collegiate gymnastics and even graduated from university on a gymnastics scholarship. She is currently the co-owner of Tempest Freerunning and has produced a short documentary film.
Ben Affleck
Ben Affleck plays Batman, one of the most sought-after superheroes in the DC universe. The Batman series is packed with action, and Rich Cetrone volunteered to fill in for Affleck as his double. They've worked on various films together, including Batman v Superman: Dawn of Justice, Justice League, Suicide Squad, Triple Frontier, and The Accountant.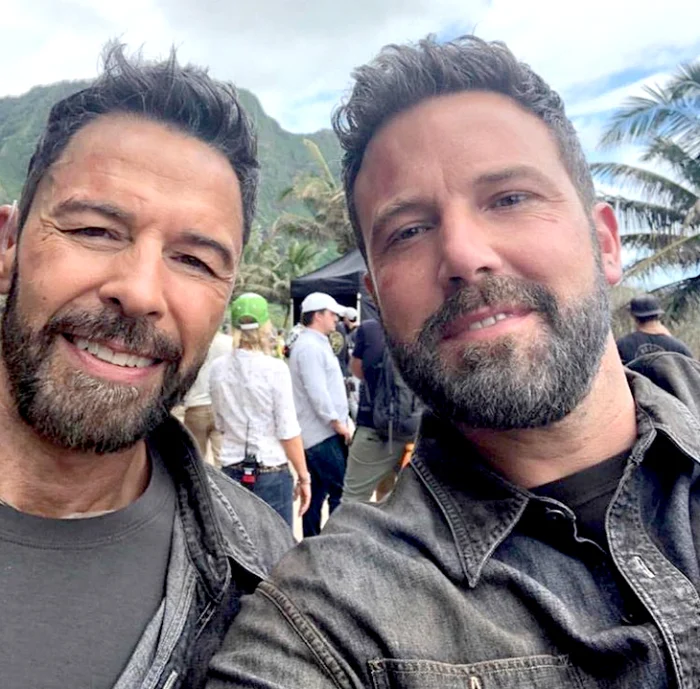 They took this photo on the set of Triple Frontier, and as you can see, the two have an eerie resemblance. Cetrone's career began as an amateur boxer. He hones multiple skills like Silat, Jeet Kune Do, Arnis, Thai Kickboxing, and Jiu-Jitsu. His first film appearance was in Mission of Justice in 1992. Centrone's big dream was to play Batman on the big screen, and working as a double in the Batman movies brings him closer to that goal.