35+ Innovative Ways To Use PVC Pipes That Will Change How They Are Viewed
By Ziyee N May 18, 2023
---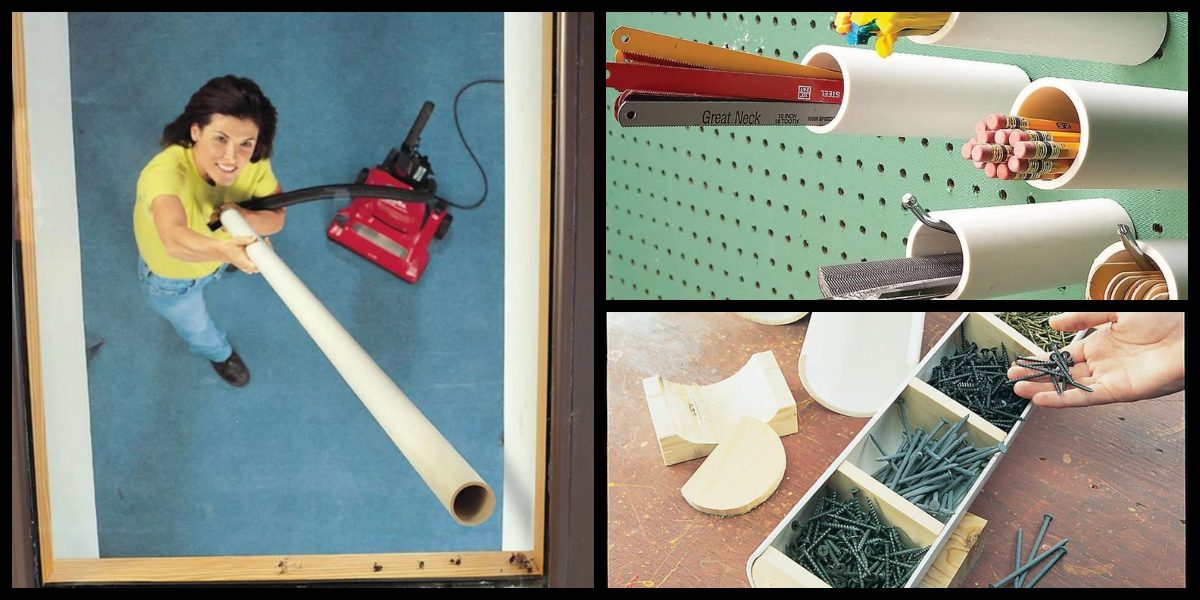 This article was originally published on
morehackz
Polyvinyl chloride pipes, or more commonly known as PVC pipes, are one of the most widely used plastics in the world due to their strength, durability, easy installation, as well as low cost. Not to mention the material doesn't just come in the rigid form we are all used to; it can be easily molded into different shapes. In addition to all these advantages, PVC is also sustainable and recyclable, making it environmentally friendly, which is always a plus. This plastic polymer is typically used for plumbing and drainage, but we are here to tell you that there are actually many more uses for it, some we couldn't have imagined! We'll be sharing 45 of the infinite handy purposes of your everyday.
Plumbing help
As mentioned, PVC pipes are frequently used in plumbing; so why not change the course of their original purpose and give them a dual purpose? Well, you can! Transform ordinary plumbing pipes into secret compartments to store your valuables in!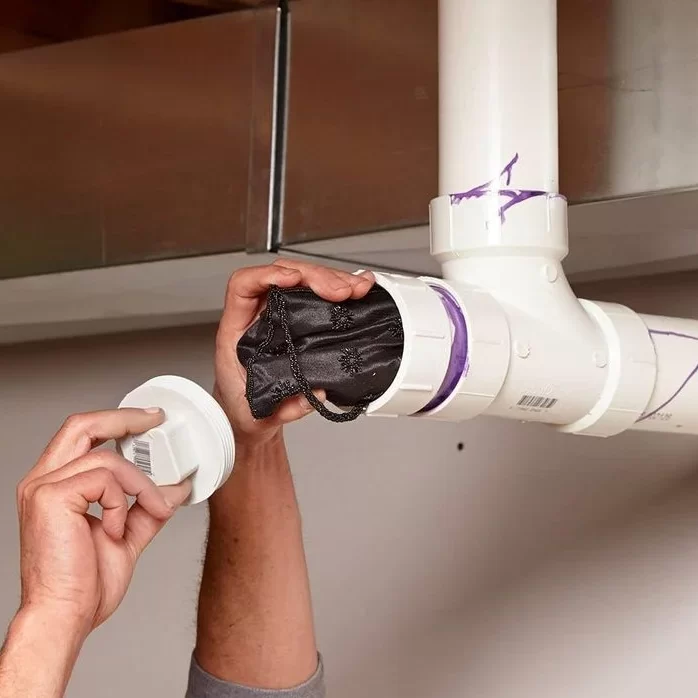 Put in a fake PVC pipe complete with a cleanout plug in any spot in your home; just keep in mind that the pipe has to blend in, or it'd be way too obvious. Then, unscrew the plug and save your treasures safe in there.
PVC Pipe Cutter
Most of the following PVC hacks require the use of saws to cut the pipes. If you've ever tried to cut PVC pipes, you'd know that it is actually rather difficult to hold it in place and get a clean cut.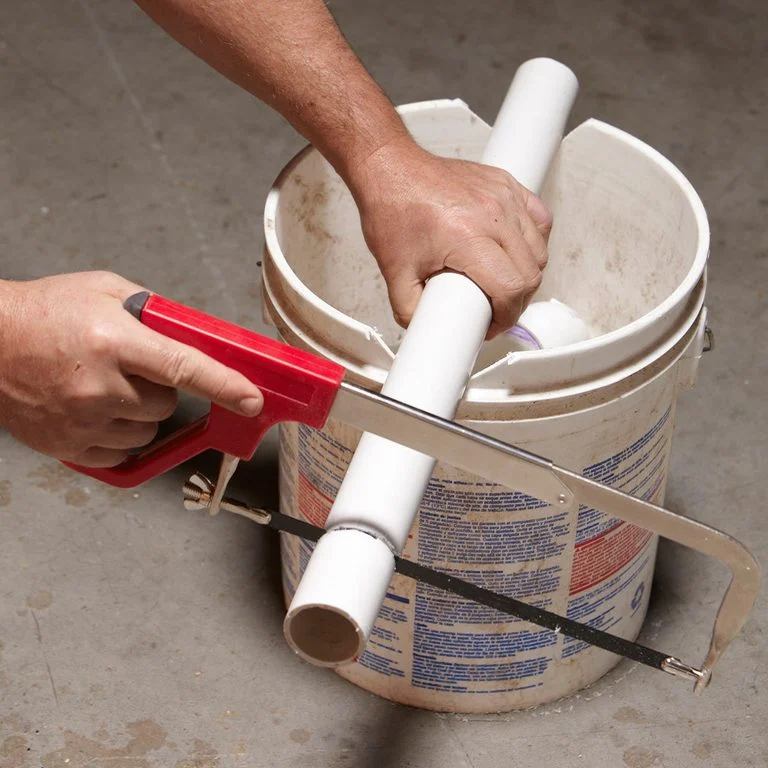 Well, the first actual DIY trick that we're going to introduce to you is making a PVC pipe cutting stabilizer. Go ahead and cut a triangle-shaped indention on the rim of a bucket. You can set the pipes in the notches and saw away.
Trolleys
One challenge that most people face when moving stuff around is how heavy some things are, and sometimes, it isn't easy to find someone to help move it. This is especially problematic when you live alone or are new to the neighborhood.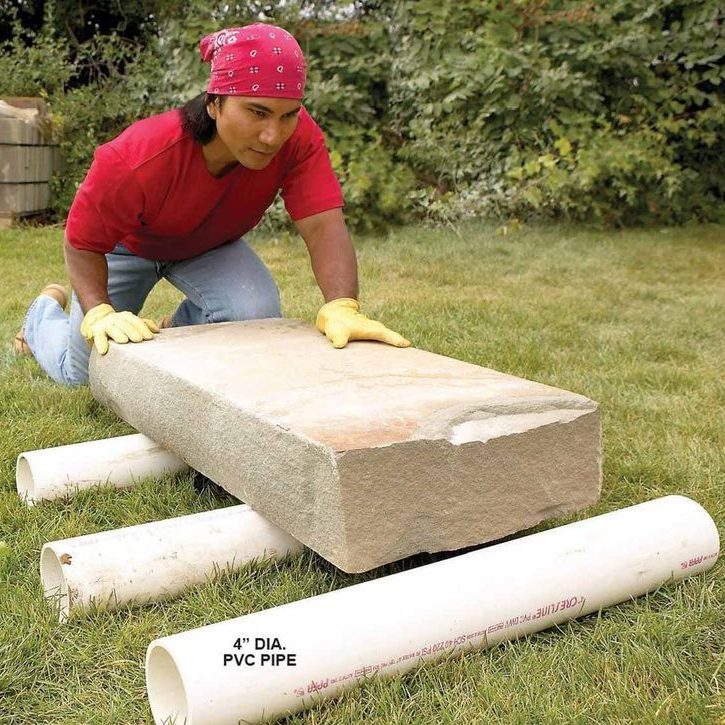 A straightforward solution is to slip two 4-inch-diameter Schedule 40 PVC pipes under the object, one near the front, the other about midway. Then, place the third pipe in front; roll the thing forward, move the rear pipe to the front, and repeat.
Drill Locks
If you consider yourself a handyman, we bet you have multiple tools and drills lying untidily in your garage or storeroom. It's an absolute headache to see such as mess, not to mention the hassle you'd be going through just to find a particular tool.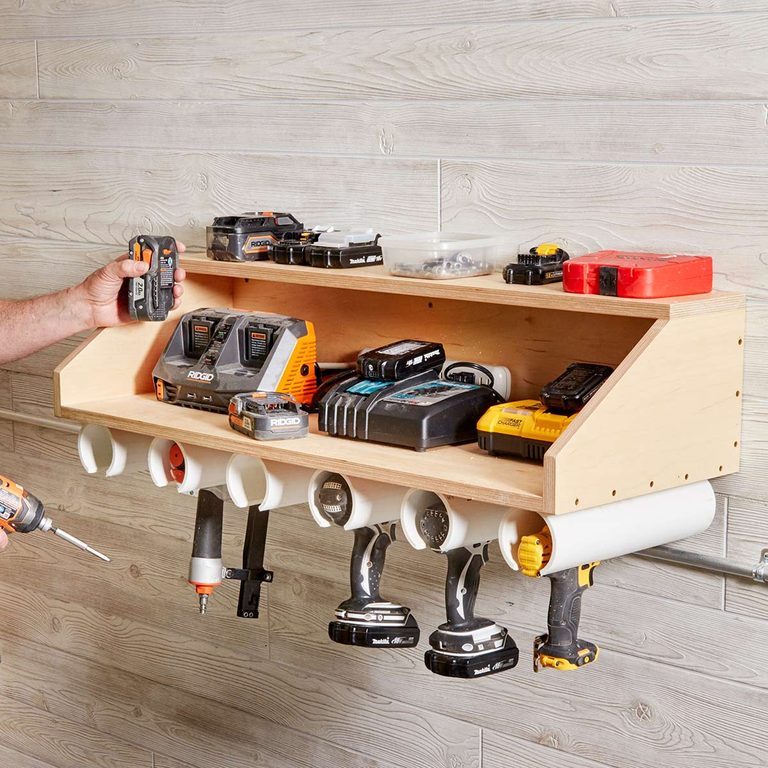 One easy solution is to build an organizer that cleverly involves PVC pipes. This organizer consists of a top shelf to hold smaller tools and accessories, a bigger lower shelf that holds any other devices, and 3-inch pipes to hold your drills.
Hammer Holders
Continuing on the topic of handypersons, one essential item you always see them with is a tool belt. They're rather helpful for any household as all necessary tools are kept within reach at all times. If you don't want to invest in a tool belt, try DIY-ing it yourself!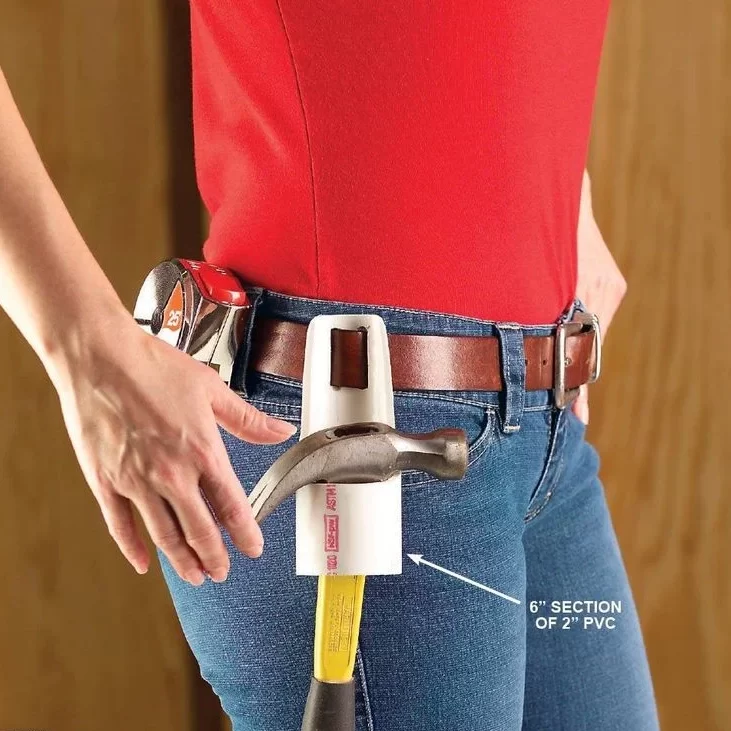 Cut away one side of a 6-inch-long piece of 2″ PVC pipe, not forgetting to leave enough at the bottom. Then, drill ¼-inch slits in the top; these will be the belt slots. Finally, drop a hammer in it and slot it through your belt.
Tool Pockets
This next PVC pipe idea is building a tool holder that can hang on the wall. With this idea, you can display all your tools in a conspicuous location in your garage or workroom so that you don't have to spend much time looking for them when you need them.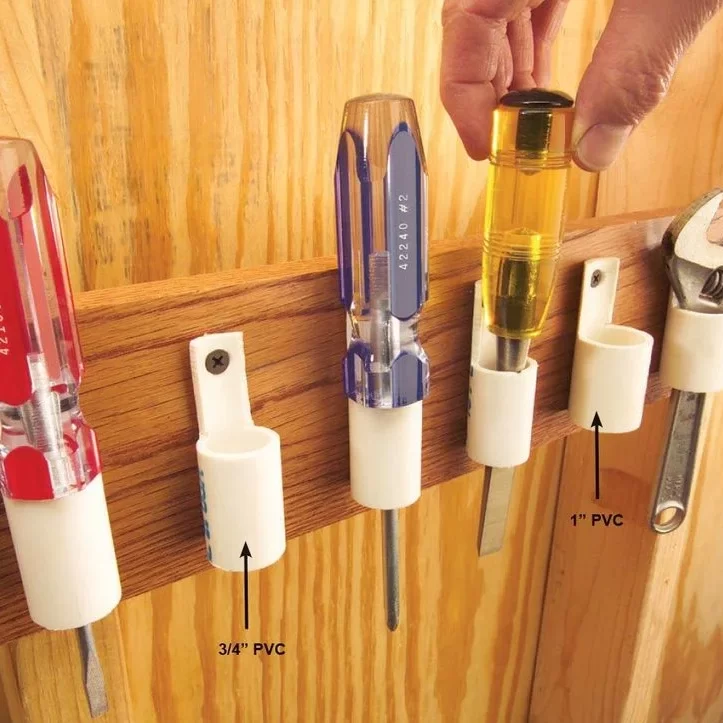 You'll need 3-inch-long pieces of ½- and ¾-inch PVC pipes for this. Cut the upper half away, leaving a sort of handle, and drill a hole through it. Once you screw the pipes on a piece of plywood, you are ready to hang your handy new tool holder.
Panpipe Tool Storage
One other option that you have for storing your tools is a panpipe rack. Imagine a test tube storage rack that you usually see in labs; the end product should look similar. It's a great way to organize your gear and doesn't take up much space.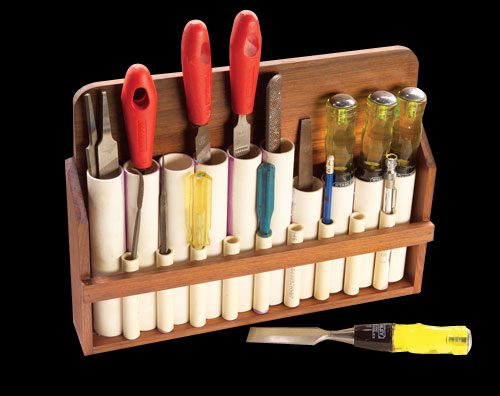 For the tool holders, use PVC cement to join 1-1/4-inch and ½-inch PVC pipes together; the fatter pipes would be able to hold larger tools and the smaller ones hold tinier tools. For the casing that keeps everything in place, you can buy one or make your own.
Pipe Clamp Rack
Another thing that most handymen have is pipe clamps; these are often found in households and industrial and outdoor settings and are frequently used to restrain, secure, or guide tubing or conduits through a range of plumbing, heating, and electrical purposes.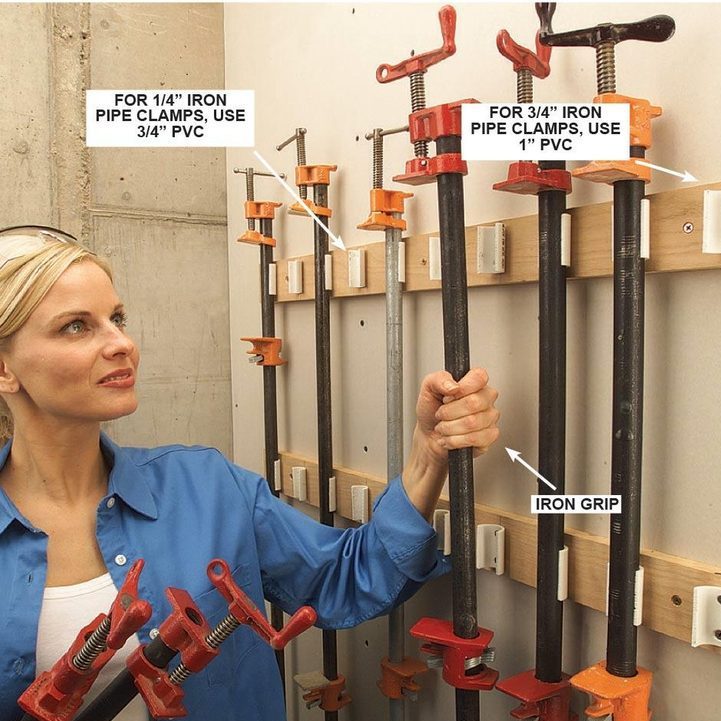 Create your own by cutting 2-inch-length PVC pipes into 3/16-inch past the diameter's centerline. Then, drill and countersink two holes in each pipe. Next, space and screw them onto a pair of 2-inch-wide boards. Finally, attach them to your wall with about a foot of space in between.
Organizer For Nails and Screws
We all have a lot of nails and screws on standby that need to be safely stored away. Otherwise, we might prick our fingers when we're rummaging through toolboxes, looking for the things we need. So, to avoid this, we'll need an organizer.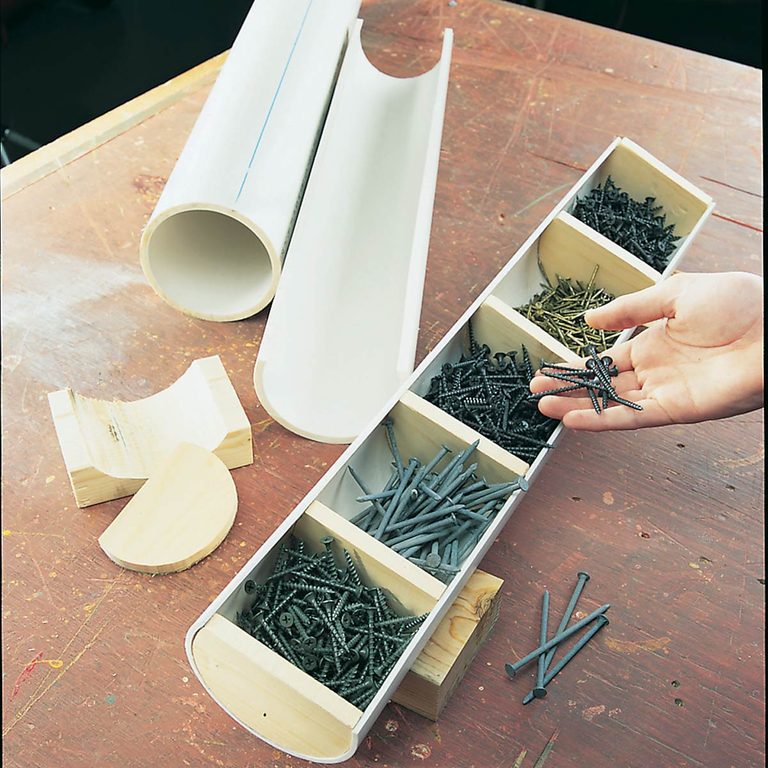 Cut a 2-foot piece of 4-inch PVC pipe lengthwise; this creates a trough that should be more than half the diameter. Create compartments by gluing in ½-inch thick wood partitions. Finally, add a cap to prevent the screws and nails from spilling out.
Dowel Holders
Dowels are cylindrical wooden rods commonly used as structural reinforcements in cabinet making as well as many other applications. These are also frequently seen items in a handyman's home. Of course, you will need a way to store them neatly.
To create a dowel holder, cut notches (lengthwise) in a 30-inch-long piece of 3- or 4-inch-diameter PVC pipe, and on one end, glue the cap. Attach the end product on your walls and drop standard 36-inch-length dowels in it.
Spring Clamps
Spring clamps are clamps that hold down materials for both indoor and outdoor tasks easily; this makes it a rather useful tool, and if you're longing for a spring clamp of your own, you don't need to go to a store and purchase one. Make it with PVC pipes!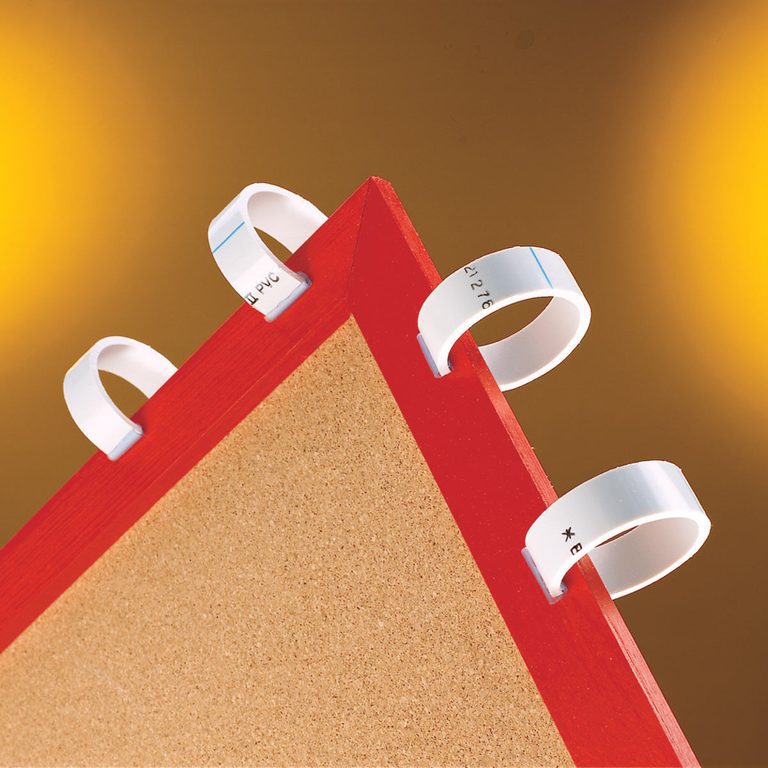 Simply use a 1-1/2 to 3-inch-diameter PVC pipe and cut it into 1-1/2-inch-wide sections. Then, slit the areas across the width, and you're done. This DIY clamp will give about 8 to 10 pounds of clamping pressure suitable for gluing and keeping your project in place.
Fishing Rod Organizers
One of the most prominent problems fishers face is tangled fishing rods caused by the lack of attention to organization and storage space. Luckily, this problem can be easily solved with nothing more than a pool noodle and a 3-inch-diameter PVC pipe.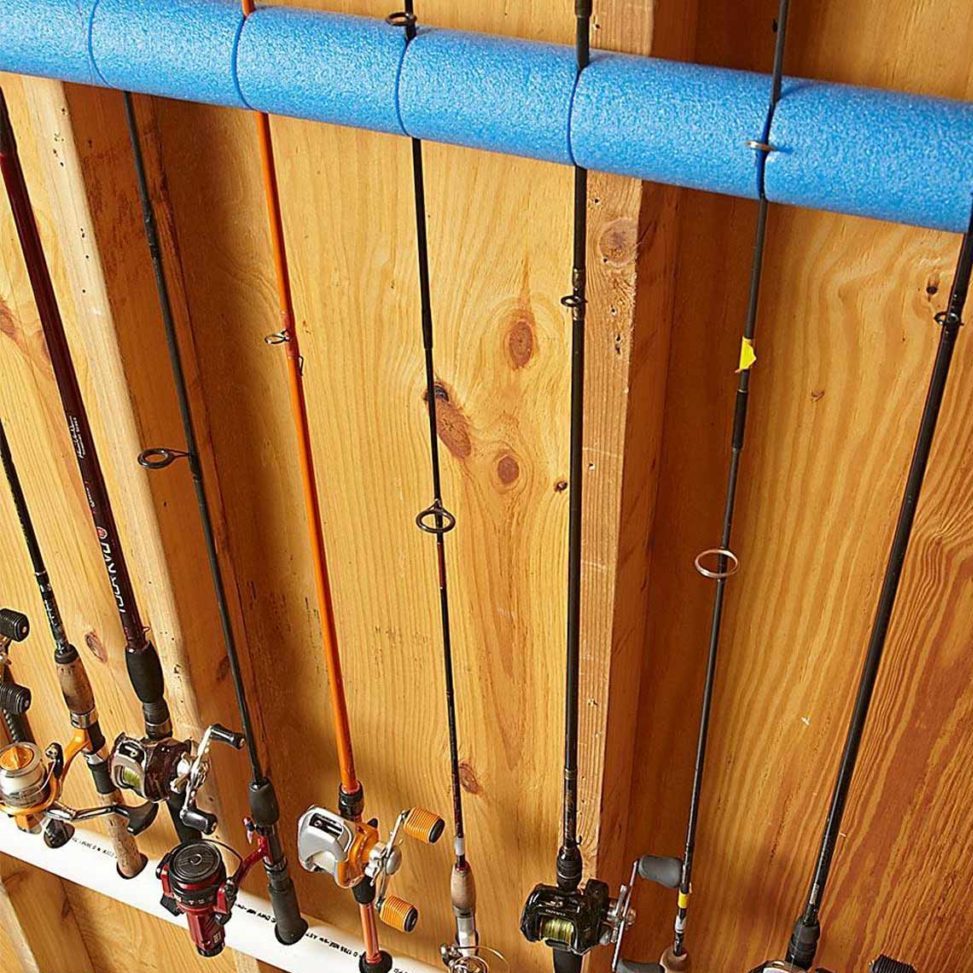 Drill 1-inch holes every 4 inches. With a utility knife, make slits in the foam noodle. Attach it to the wall, pull apart the slits, and slide in a fender washer. Finally, place the pipe below at a comfortable height and insert the rods.
Bungee Cord Organizer
Another object that tends to get tangled up easily if not correctly stored is bungee cords; tangled bungee cords are an absolute eyesore and are extremely difficult as well as time-consuming to detangle. So, try not to let it get all tangled up in the first place with this PVC bungee cord organizer.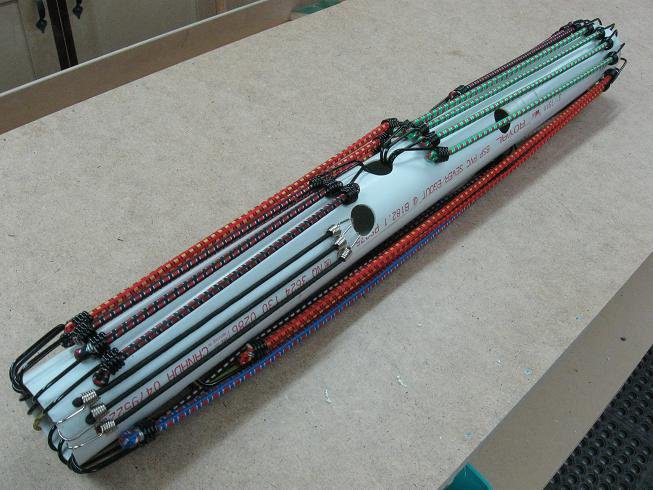 All you need for this DIY organizer is a 3- or 4-inch PVC pipe. Simply drill ½-inch-diameter holes in the pipe where you wish to hook the bungee cords and store them away. Now, you can easily find the cord you need!
14. Curling Iron Organizer
Furthermore, curling irons and straighteners also get tangled up easily if not properly stored; they should be put away when not in use and easily accessible when you need them as not to create a hassle of having to detangle them.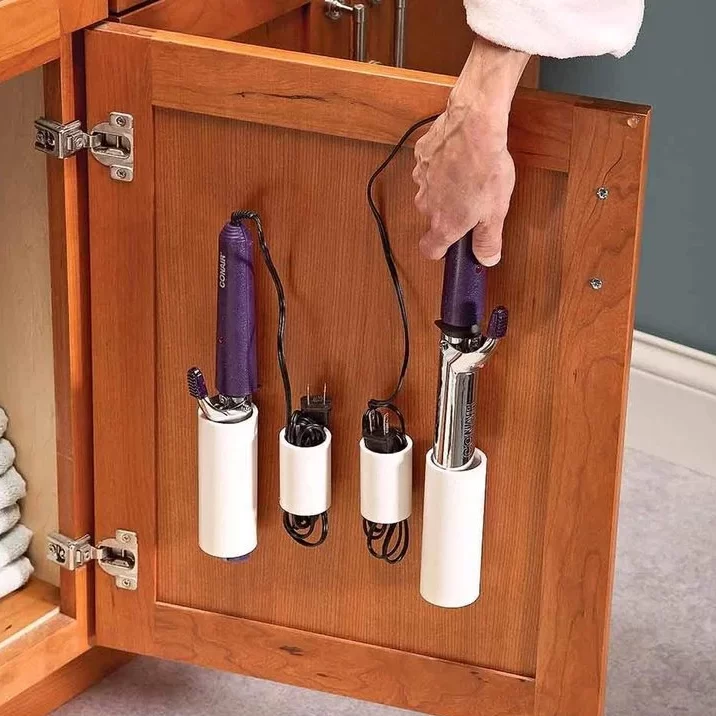 Use PVC pipes to organize them; attach 5-inch-lengths of 2-inch PVC pipe to your vanity door or wall with hook-and-loop tape and repeat with 3-inch pieces of 1-1/2-inch-diameter pipe to hold the cords. Keep in mind to let the curling iron or straightener cool before storing them!
Drawer Organizer
We all have junk drawers in our homes; almost anything is shoved into them, and because they don't have compartments to help keep things organized, it becomes a huge mess and an absolute eyesore. Therefore, drawer organizers are essential if you like neatness.
You can easily create drawer organizers with PVC pipes; simply cut a few in half, and you'll have cheap but sturdy and stackable drawer organizers. With this DIY project, you'll never have a messy drawer again, and as a bonus, you can now store so much more!
Bat and Ball Organizer
If your children love sports, you must have a lot of equipment lying around. This particular PVC pipe hack creates a rack that holds baseball equipment, but you could modify it on your own to keep the sports equipment you have in your home.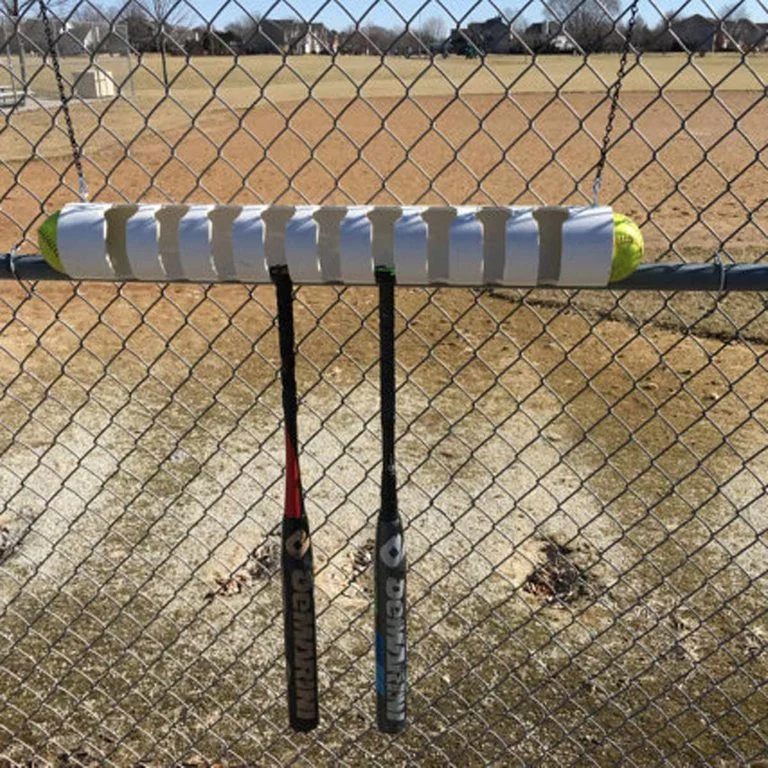 Firstly, place a PVC pipe of your desired size horizontally and cut out vertical rectangles that are big enough to accommodate the knot of the bat. Remember that when we say "desired size," we mean to use a pipe wide enough to fit baseballs.
Towel Rack
Continuing on the topic of sports, swimmers often have wet towels, swimming suits, and life jackets; bringing these items inside without letting them dry first could ruin the carpeting. Therefore, you'd need a rack outside your home to help with this.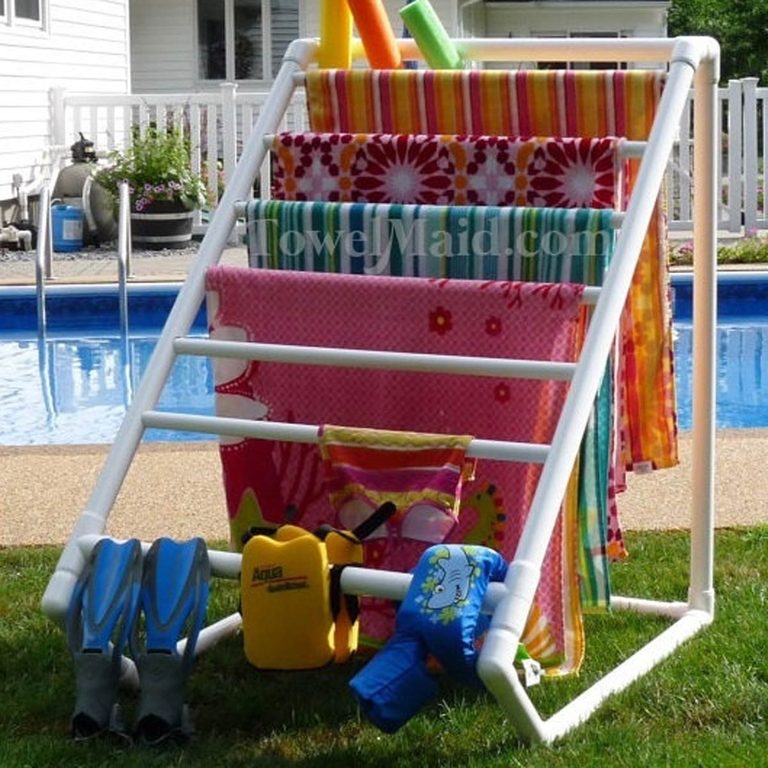 Simply create one with PVC pipes! This towel rack can hold up to 4 towels all at once, not to mention that it's actually large enough to hold your pool noodles as well as poll toys at the same time; the structure is quite sturdy.
Drying Racks
As wonderful and magical as wintertime sounds, wet gloves and mittens are a nightmare that nobody likes. As a result, many opt for waterproof gloves and mittens, which are unfortunately rather expensive. We're here to provide you with a way to have dry gloves and mittens – a drying rack.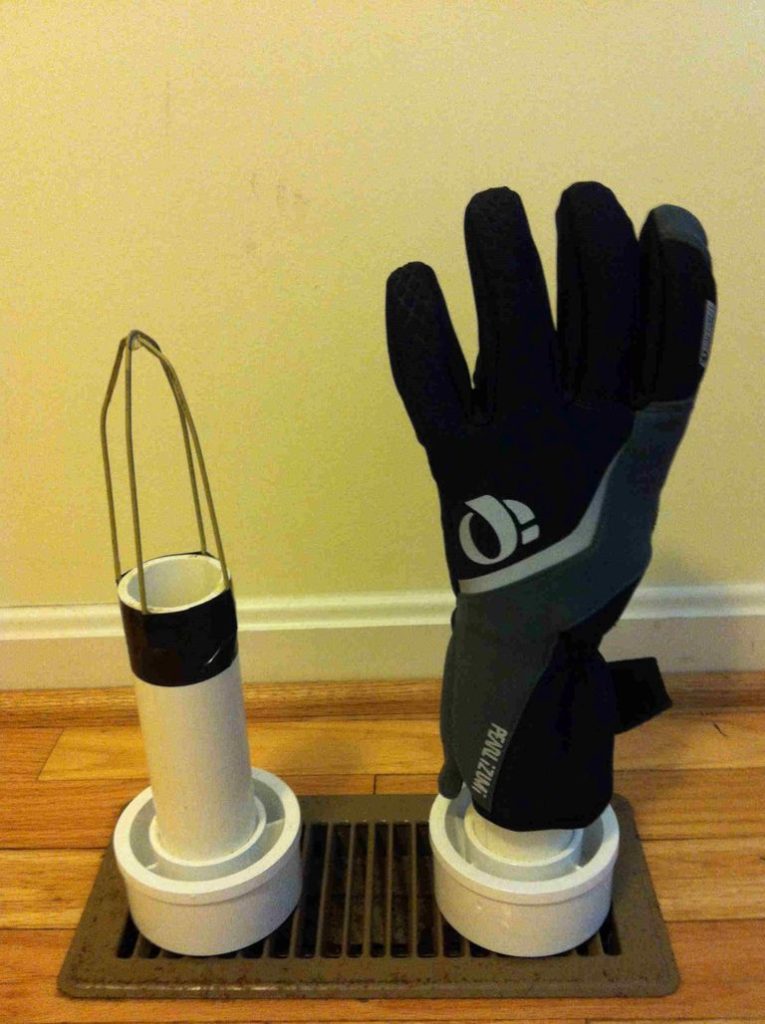 Create this drying rack with wire, glue, electrical tape, and a 6-inch piece of PVC pipe. Attach a base to the pipe and use the wire to create the top where you'd hang the gloves, securing it with glue. Then, use electrical tape to reinforce the bond.
Vacuum Attachments Holder
Vacuums are a commonly used household item found in almost every home. However, they often come with multiple attachments, which are occasionally helpful but often left in the box, gathering dust. Here is how you can store them effectively.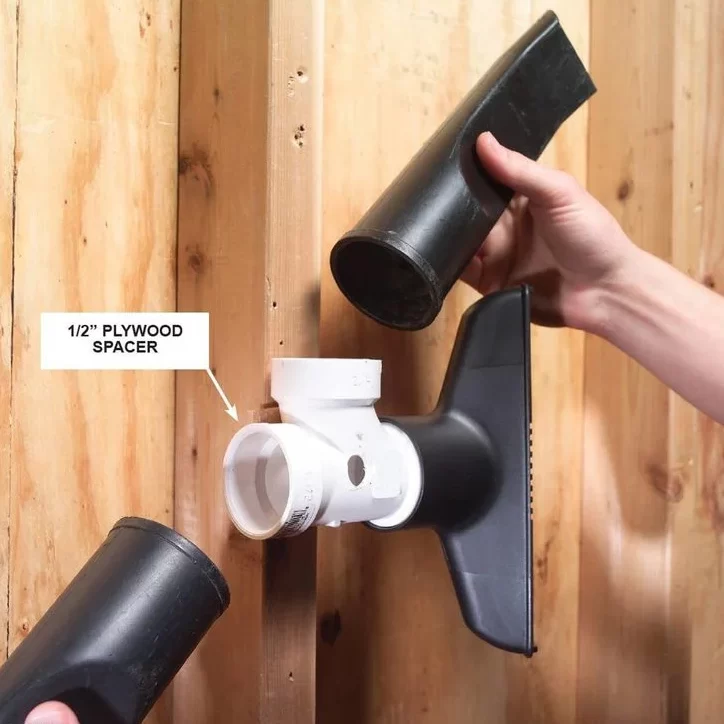 Using PVC tees, drill a hole that is large enough to hold a screwdriver. Place a small spacer (plywood is perfect) behind the tee. Once you mount it to the wall, you can store your vacuum attachments while keeping them within easy access.
Vacuum Extension
Speaking of vacuums, some areas in your home are just difficult to reach without that extra extension. That spot ends up accumulating dust over the years, which is particularly bad if you have someone in your home who has allergies.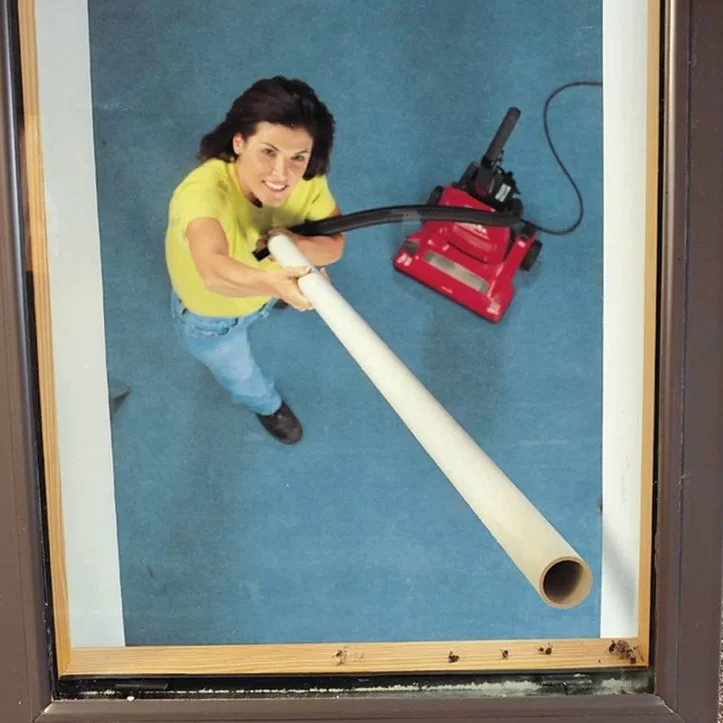 One simple solution is to make your own vacuum extension with an inexpensive 10-foot-piece of PVC pipe. To connect the pipe to the vacuum, use a rubber "reducer" coupling that can be easily found in the plumbing aisle of any hardware store.
Dust Catcher
Another thing that we closely relate to vacuums is dust; whether it is sawdust, sander dust, or general dust, in general, it is bad for those with allergies. That is why we'd need this catcher to collect all the grime.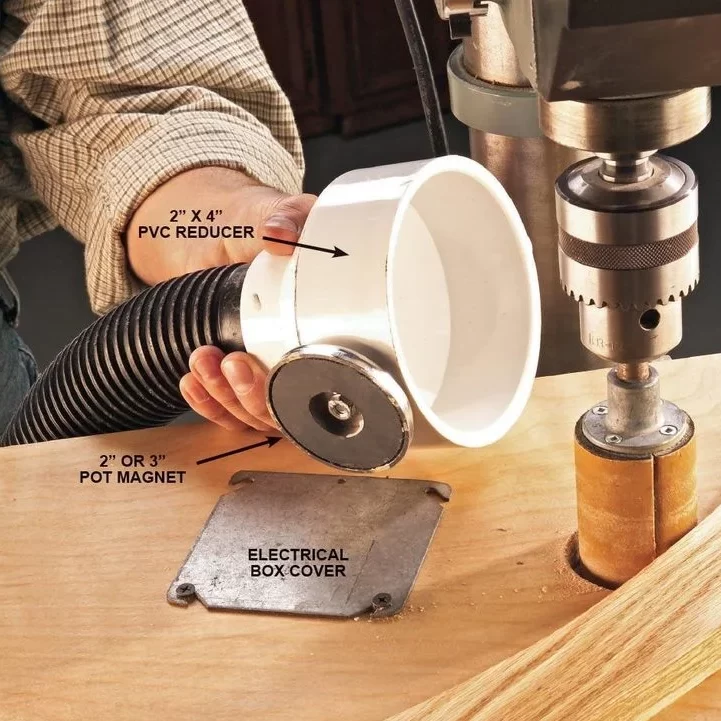 For this, you'll need a 2-inch pot magnet and a 4-inch by 2-inch PVC pipe reducer. Attach the two together and position it near anything that is producing dust in your home; a 2-inch shop vacuum hose fits perfectly with the reducer end.
Gift Wrap Rack
Wrapping presents are generally required once in a while on occasions such as Christmas or birthdays. This means that you'd definitely have wrapping paper left over, but do you know how you can store them neatly, ready for the next use?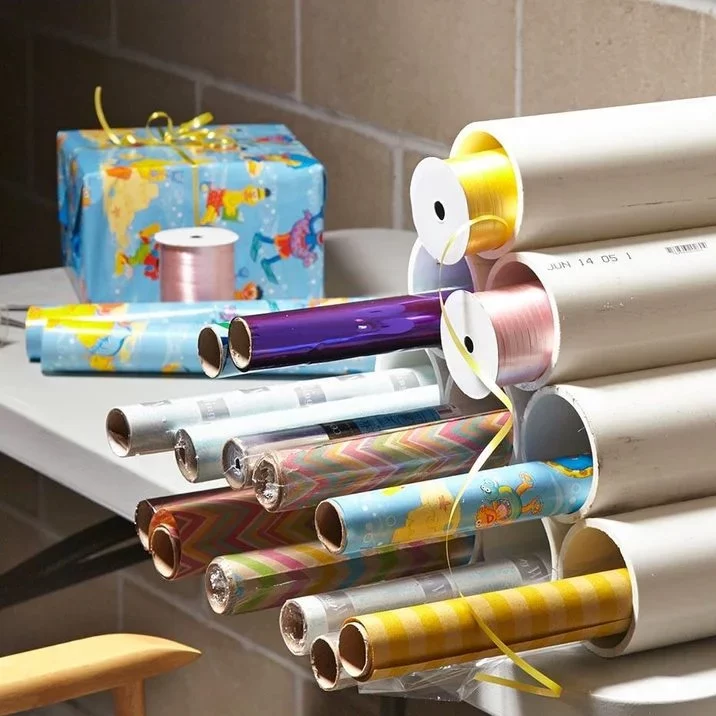 We do, and the answer is – you already guessed it! Go ahead and glue a bunch of 30-inch-long pieces of 3-inch pipes with all-purpose PVC glue. This rack is perfect for keeping your wrapping materials dust-free as well as wrinkle-free.
Caulk Tube Nest
Caulk tubes – another eyesore if not properly stored. They roll all over shelves and floors like slippery logs, and if you're not paying attention, you could potentially slip on one of them that has fallen to the floor and trip.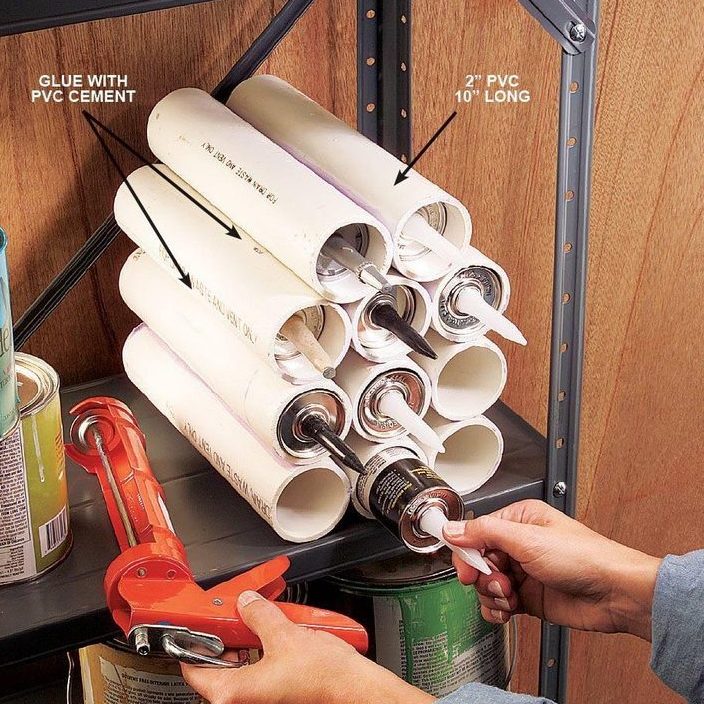 So, similar to the gift wrap rack idea, create a nest to hold all your caulk tubes in one place. Prepare 10-inch-long pieces of 2-inch pipes and glue them side-by-side with PVC cement; you can glue them in any shape, really, as long as it holds your caulk tubes.
Storage Pockets
If you have objects such as pencils, paintbrushes, stir sticks, or other things that just don't have their own storage space lying messily around the house, this PVC pipe hack which illustrates how to turn pipes into storage pockets, is for you.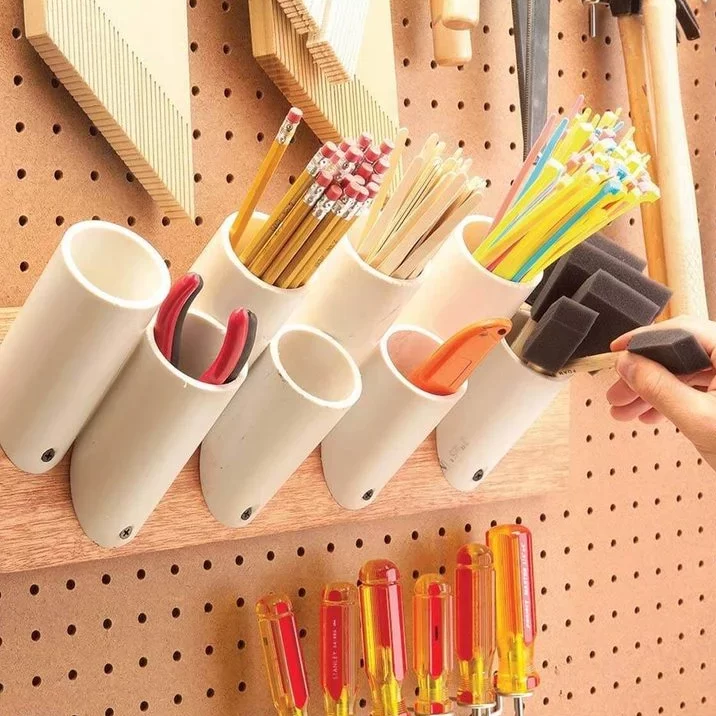 Start by sawing off short pieces of 1-1/2, 2- or 3-inch PVC pipes with a 45-degree angle on one end. Then, screw them to a board to hold all the objects you originally don't have space for. You can mount them by drilling a ¼-inch hole in the angled end and attaching it to the wall.
Pegboard Holders
Instead of storage pockets, pegboard holders are one option for you to keep your workshop clean and neat. These will keep all your tools and accessories in place, so you can get started on your projects without spending ages searching for the things you need.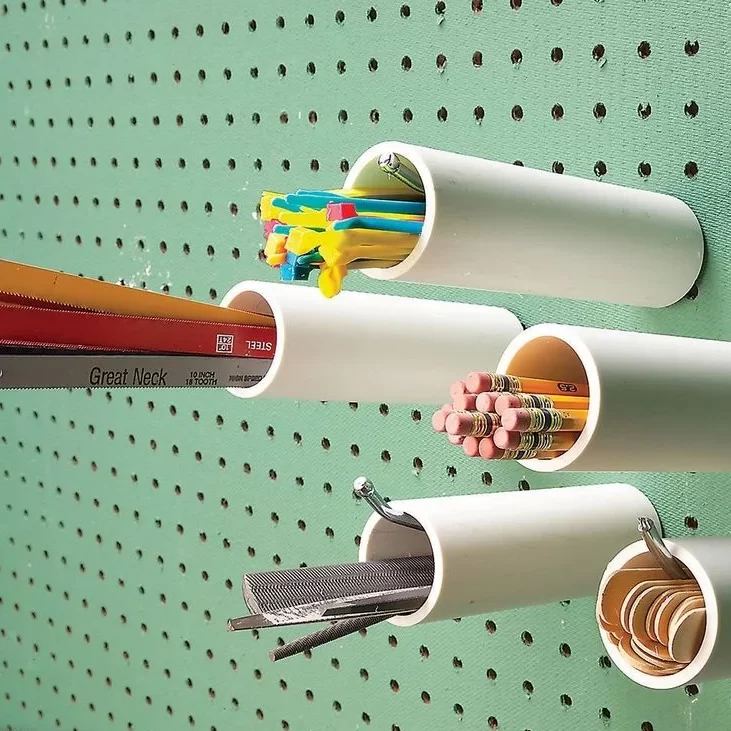 To make this, cut short lengths of PVC pipes, slide them over pegboard hooks, and fill them up with your tools and accessories; generally, 1-1/2-inch and 2-inch-diameter pipes work the best. You could even decorate them with wrapping paper or paint.
Storage Cylinders
Alternatively, build a storage cylinder that can store basically anything that is long and skinny. From fishing rods to drill bits to cross-country ski sets to blueprints, this PVC storage cylinder has got you covered no matter what adventure you're embarking on.
Firstly, cut the PVC pipe to length and glue an end cap to one end and a female adapter to the other end of the pipe with PVC cement. Finally, twist in the threaded cleanout plug for a cap.
Odds-and-Ends Storage
Other than that, odds-and-ends storage spaces are perfect for storing items that are skinny and extra-long; regular storage cylinders limit the length of objects that can be stored (as you see below). Additionally, this can be a substitute for a gift wrap rack.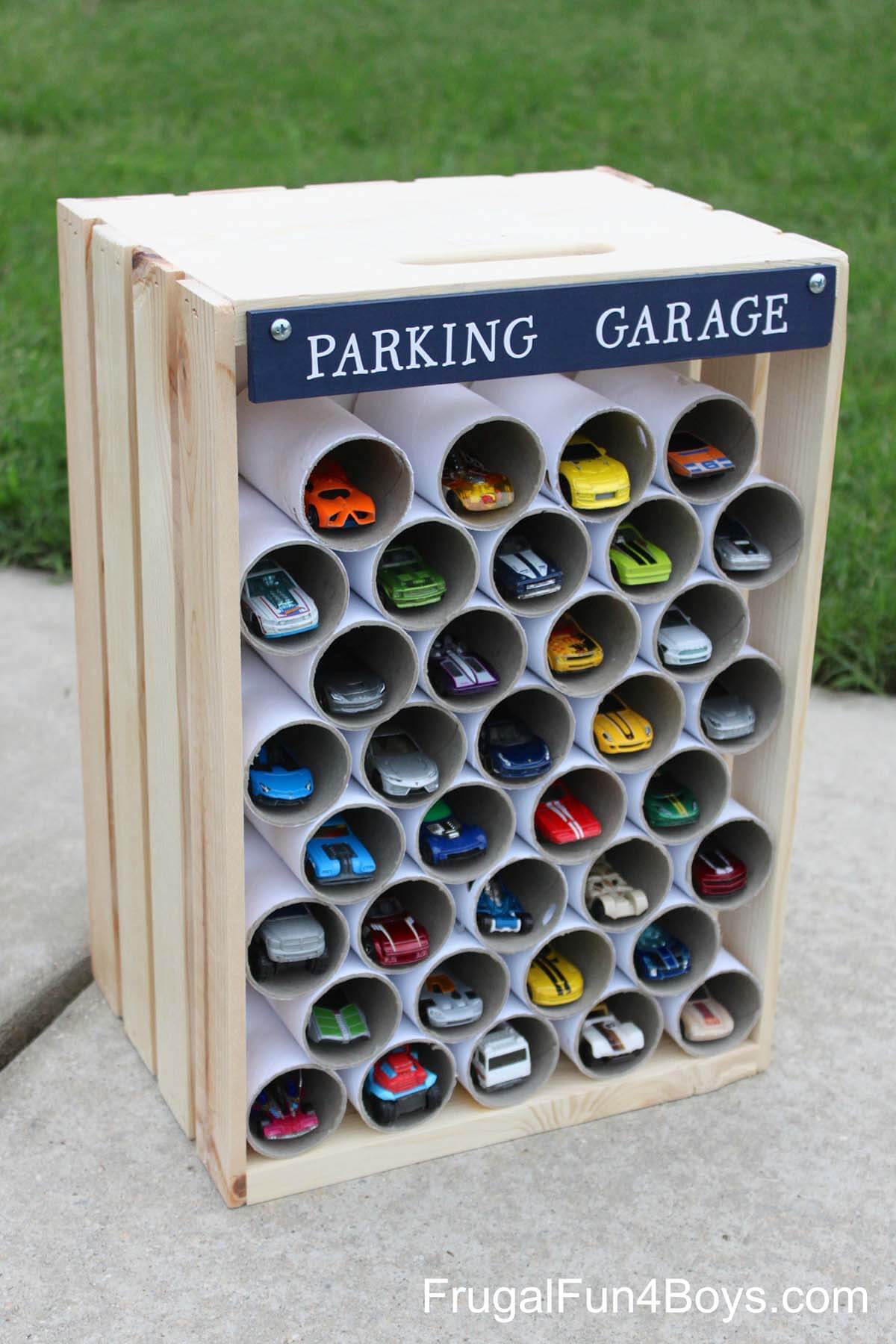 Simply find a sturdy box in the size of your choice and put as many PVC pipes as it can fit. You could glue them to the box to secure them in place or let them hang loosely; they won't generally move as much if they're filled.
Overhead Garage Storage
Maybe you need overhead storage for your garage? You can make it with PVC pipes; this would create a simple rack that you can use as storage space. Because you hang it from the ceiling, this is an ideal way to add more room to store those awkward items.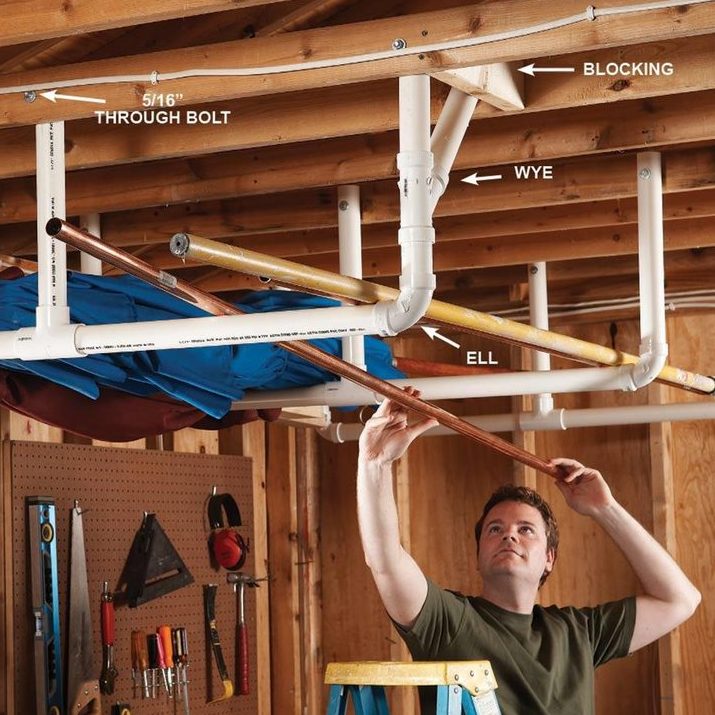 Using 2-inch PVC pipes and fittings, bolt the straight pipe to the ceiling joints to support heavy loads and screw the angled pieces from the "wye" connectors into a cross brace to stabilize the whole structure. Now, you can load and unload easily from this storage space.
Storage Hanger
Conversely, you could make a storage hanger that sits on your walls instead of an overhead storage compartment if that's too troublesome for you to retrieve items. Storage hangers are better for those who have children in their homes as it allows the children to reach them easily.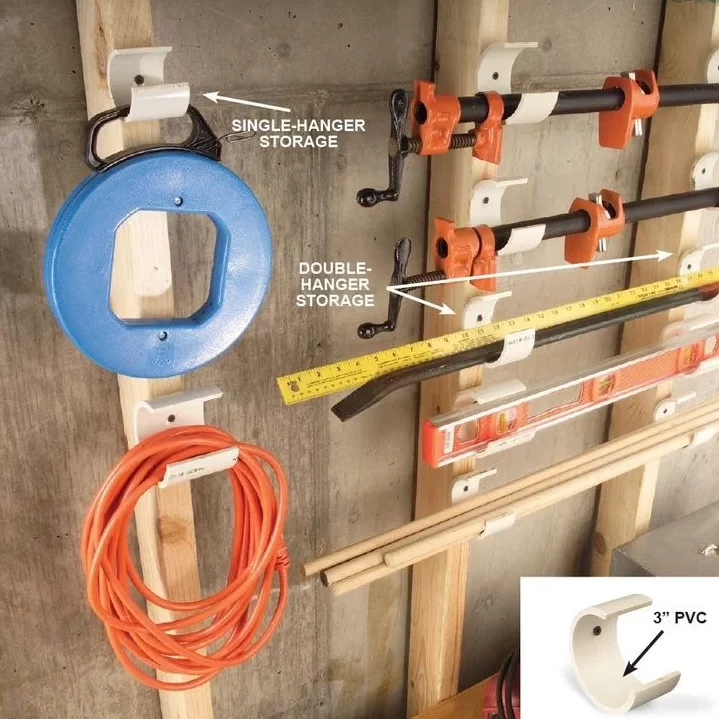 Start by cutting 2-inch pieces of 3-inch PVC pipes and saw away a 2-inch section so it looks like Pac-Man. Then drill a few holes and attach the hangers to your walls; be sure to leave enough space to hang them horizontally.
Bike Racks
If you have many bicycles in your home, you probably have gotten headaches thinking of how to store them neatly in your garage. Usually, this can be done by purchasing bicycle racks. However, they're pretty pricey. Fortunately, we have a bicycle rack DIY that is much cheaper.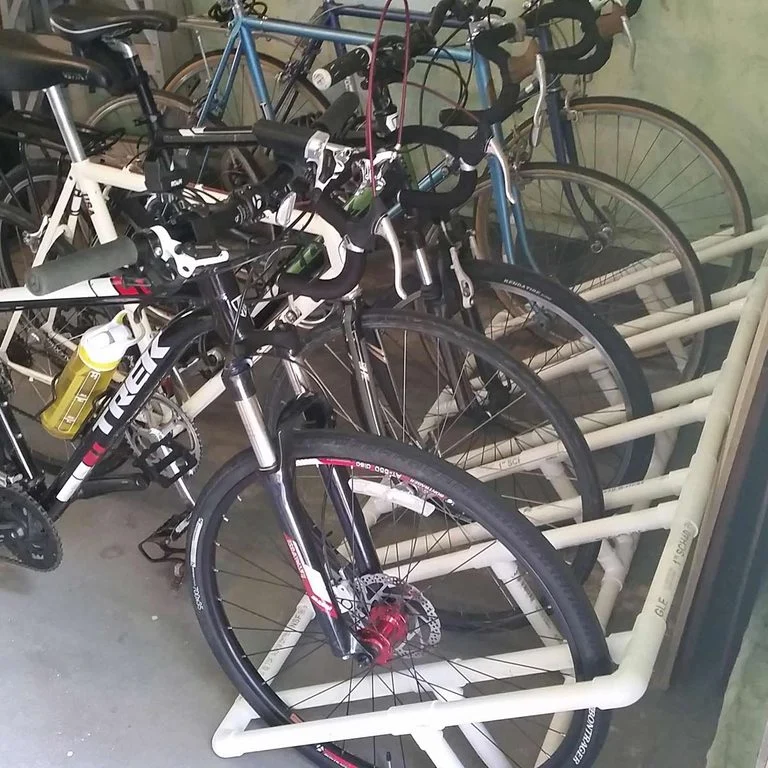 Just take a look at how this Reddit user made a bike rack from PVC pipes. The dimensions can even be modified to fit bike wheels of any specification. To take it up a notch, you could even make a wall-mounted bike rack!
Grease Gun Holder
Grease guns are required if you have any machinery that demands frequent lubrication. Unfortunately, they make a mess no matter where you store them. It makes a greasy spot and we all know that grease is one of the hardest things to clean.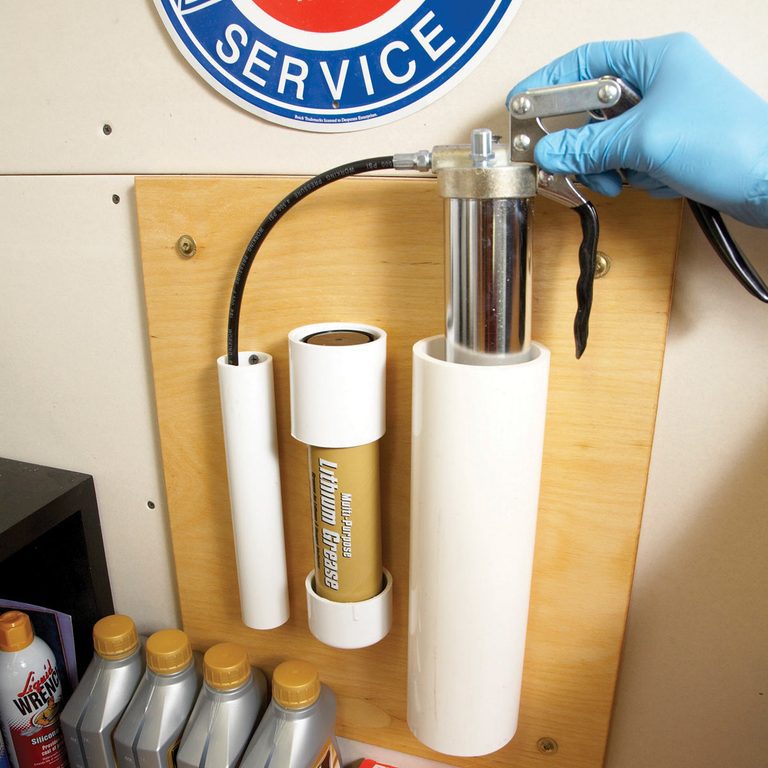 So, avoid greasy drawers and cabinets with this grease gun holder. Slice up a few sections of 1-inch and 3-inch PVC pipes and screw them to a plywood back. Attach a 2-inch coupler and a cap to hold a backup tube of grease.
Kitchen Utensils
Kitchen utensils – knives in particular – should always be stored away in a safe place, especially if you have young children at home. Even if you don't, you could nick your hands while searching in the picnic basket if the knives you brought aren't properly covered up.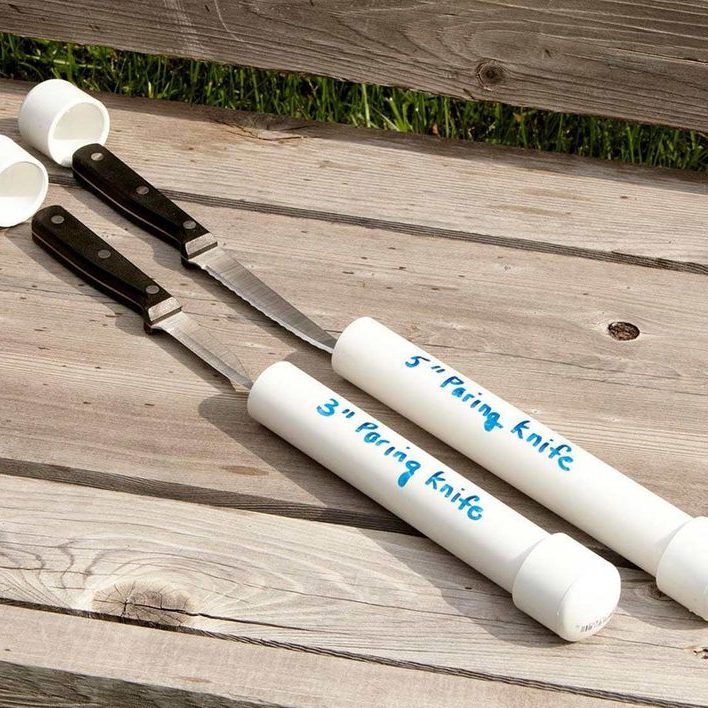 Either way, they should be stored properly to prevent any accidents from happening. Therefore, utilize PVC pipes and caps to make a knife container; glue one end of the cap to the pipe and leave the other for you to open and retrieve the knife.
Table Saw Miter Gauge Holder
Another thing that is dangerous to leave around is saws; they can be quite a hazard if not properly stored in a safe place. If you have a table saw, you can cover up your saw's miter gauge with this simple DIY.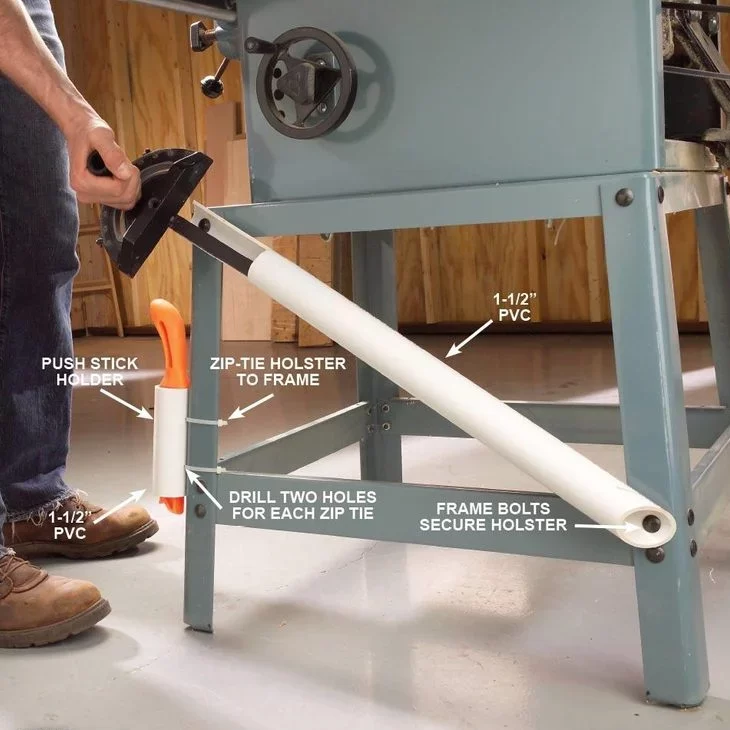 Bolt a 1-1/2-inch PVC pipe to your table, drill holes in the pipe for the machine screws and store your table saw's miter gauge in it. This way, the saw would be within reach at all times as well as covered up when not in use.
Mower Accessories
Mowing can be a rather tiring job, as you'd have to run to and from the house to get the tools and water you need to ensure a nice-looking lawn and to stay hydrated, especially in the summertime when it's so hot out.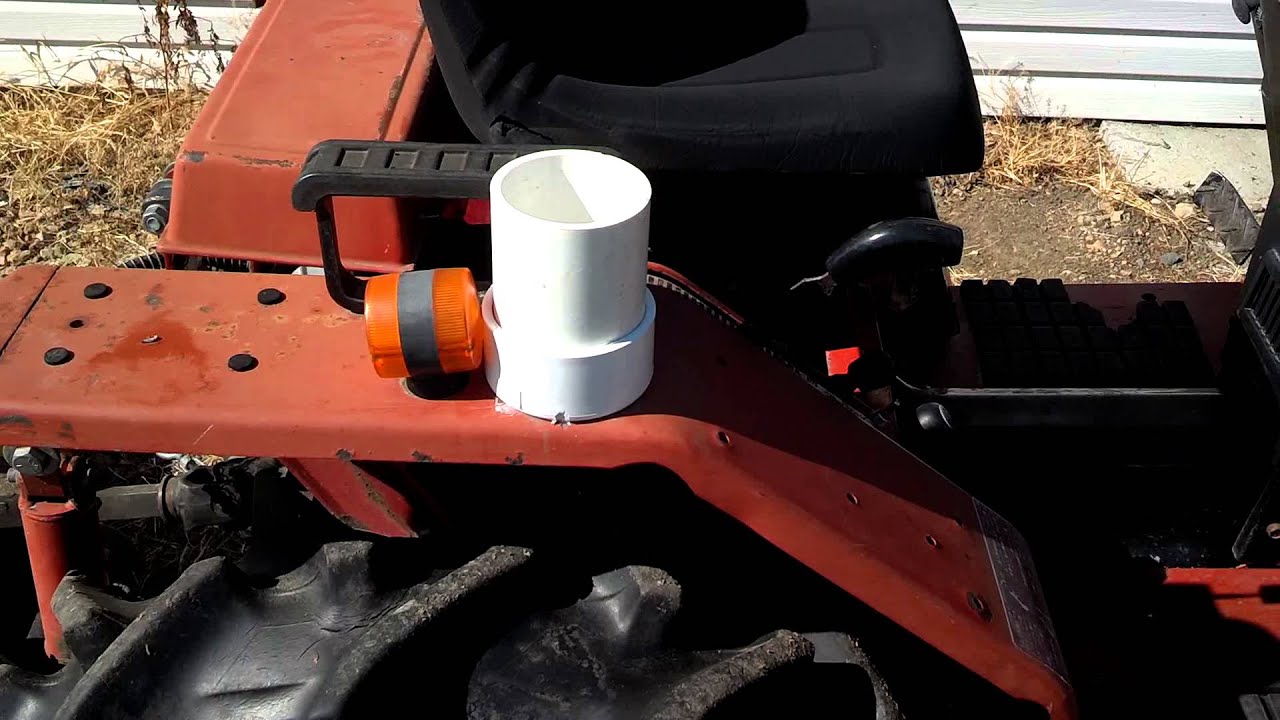 You can make mowing easier by strapping tools to your mower to avoid running multiple trips to and from the house just to get what you need. All you need to do is tape short sections of PVC pipe to the mower's handles or armrest (if it's a riding mower).
Sprinkler Systems
After mowing the lawn, you'd have to ensure that they're green and healthy; this can be done by watering them. Now, this job is made much simpler with sprinkler systems, but if you have a spike-type sprinkler, you will notice that it's challenging to keep them in place.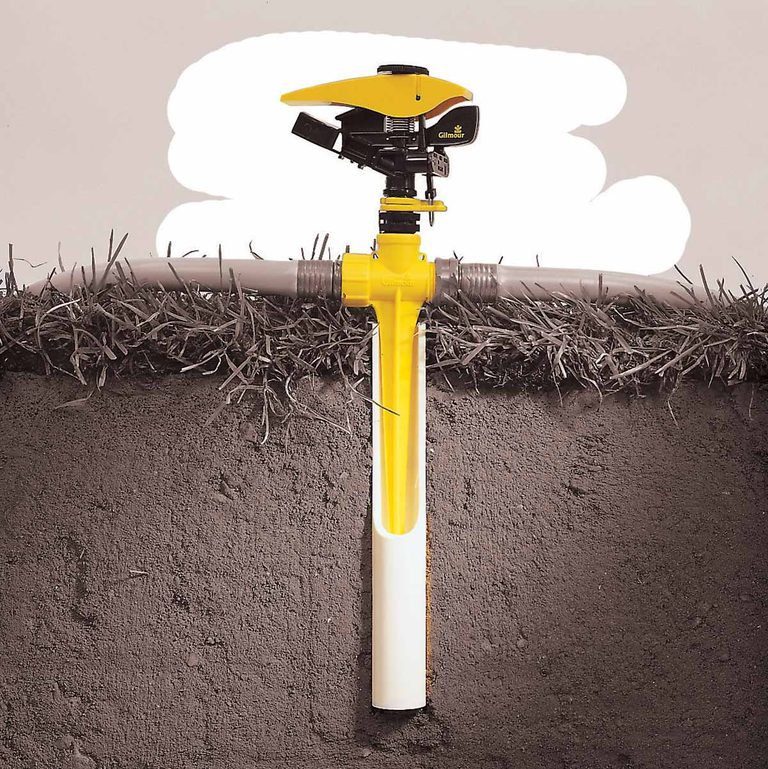 When not kept in place, they wouldn't sprinkle upright and would tend to miss the spots you want to water. Fix this with a simple solution – sticking the sprinklers in a permanent socket made of 1-inch PVC pipes. Easy!
Shovel Grips
Another task that requires hard work is shoveling; this is especially the case if you have a straight-handled shovel. These can be pretty difficult to hold, which is what makes digging with it so tiring. With the help of PVC tees, this job can be easier.
All you need to do is epoxy a 1-inch PVC tee to the end of your straight-handled shovel. This would create a "handle" of some sort for you to get a better grip on the shovel, which would simplify the job.
Gutter Cleaners
Cleaning gutters can be rather dangerous and difficult; you usually have to climb onto your roof to clean them efficiently, and some spots may be difficult for you to reach, which causes dirt to accumulate in that particular area over time.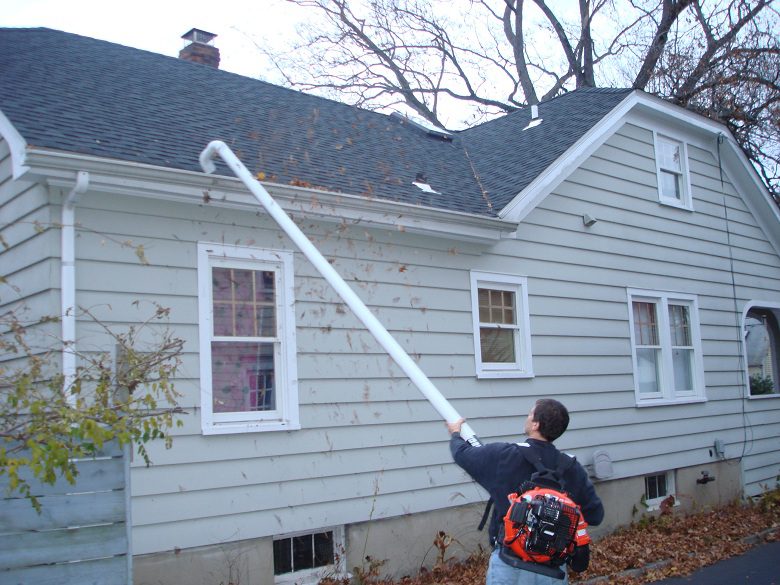 Avoid the danger of cleaning gutters with this nifty tool. Drill 1/16-inch holes in a cap. Then, use the ¾-inch PVC pipes to create the handle; connect the two with elbows and attach a garden hose coupling to the bottom.
Gutter Cleaner's Eyes
As mentioned above, cleaning gutters can be difficult because there are some spots that you would inevitably miss. To prevent this from happening, you'd have to climb onto the roof where you can properly see, but this is dangerous. So, here's a simple solution for you.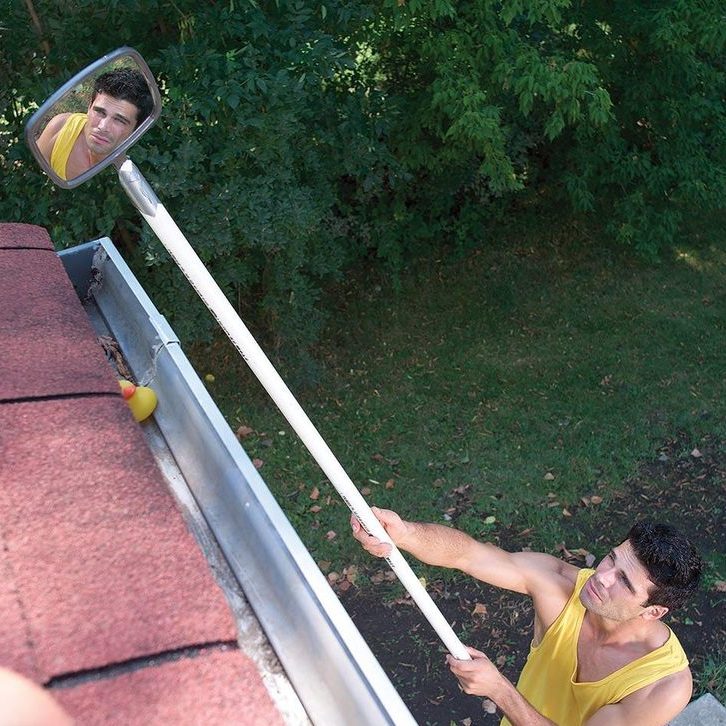 Cut a 60-degree angle on the end of a PVC pipe and tape a hand mirror to the angled end; make sure the pipe is long enough for you to reach the gutters. The next time you're at it, simply hoist your invention and check for missed spots.
Makeshift Tables
Imagine you're hosting a party or gathering, and you have just found out that you don't have enough tables to accommodate all your guests. What a nightmare, right? Wrong! Because this problem can be easily solved with our old friend, PVC pipes.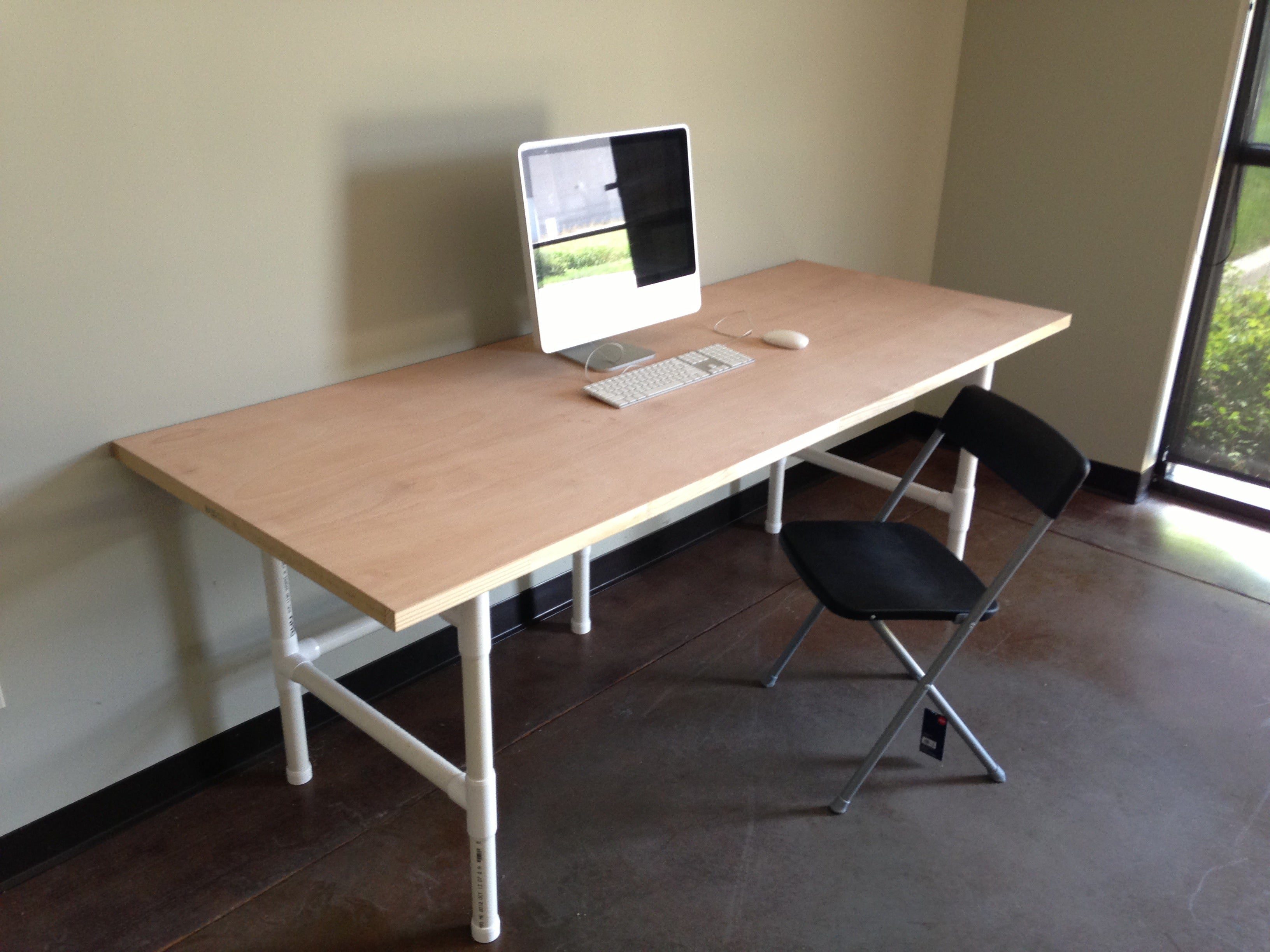 Head to a home center and pick up a 10-feet length of 3-inch PVC pipe, four 3-inch toilet flanges, and a hollow-core door. Start by cutting the PVC to make legs and assemble them either as pictured above, or you can opt for something simpler.
Planter
As we mentioned before, PVC pipes are great for the environment, not only because it's sustainable and reusable but also because there are many ways to adapt them in sustainable inventions. For example, go green by making your own planter!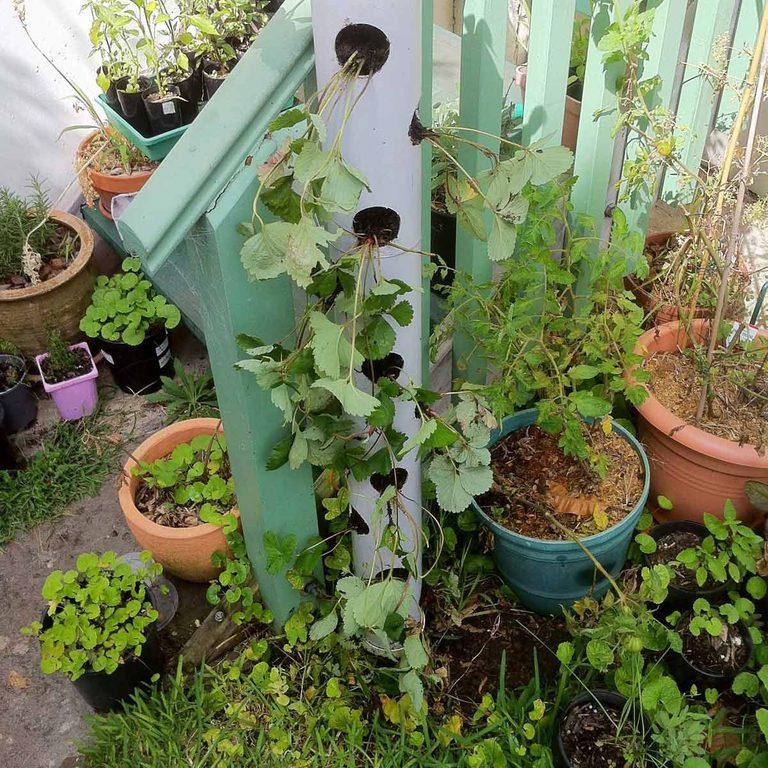 First, cut a watering tube 8-10cm longer than your PVC pipe. Then, drill vent holes in the watering tube and cover them up to avoid the roots getting into the holes. Finally, make holes on one side of the PVC pipe at least 20cm apart, place the pipe against the wall, and insert the tube.
Oil Recovery System
If you are someone that has great concern for the environment, you would probably want to completely drain out oil containers as not to create one drop of oil waste. Well, we have the perfect invention that does the job.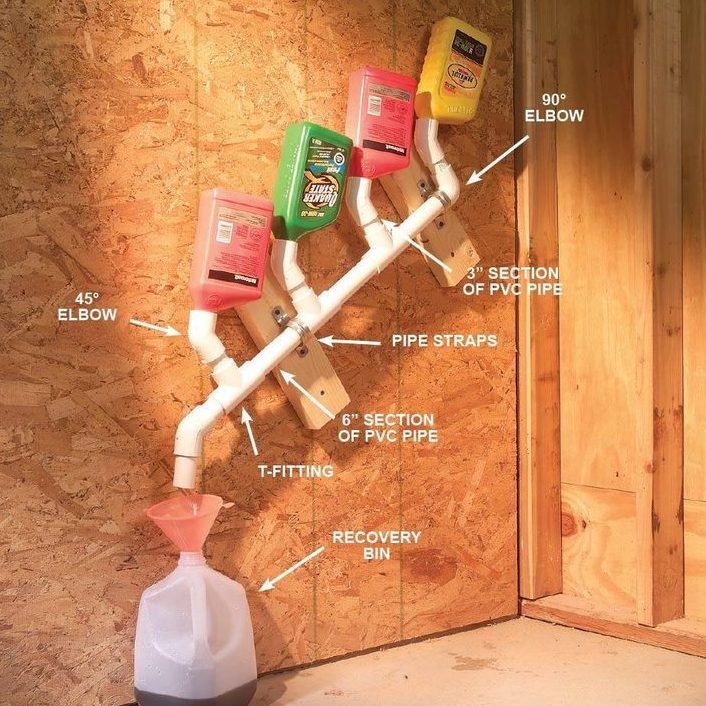 Firstly, cut a 1-inch PVC pipe into 3-inch and 6-inch lengths and glue everything together with PVC cement, as shown in the picture above. Then, mount it to the wall with pipe straps; be sure to place it high enough so a jug can slide underneath it to catch the oil.
Plastic Bag Dispenser
Pretty much all of us have a stash of plastic bags. No one likes to throw them away since they're super helpful, and tossing them after one use isn't the best for the planet. But finding a suitable spot for them can be a hassle.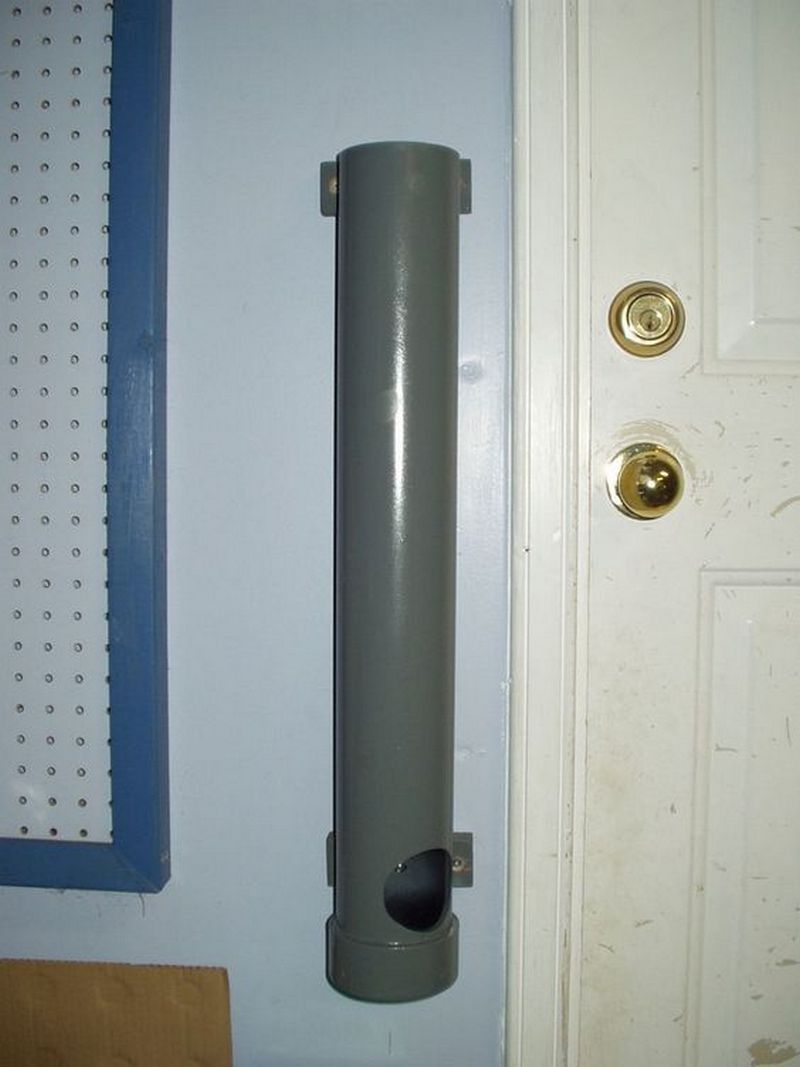 Here's one way to store those plastic bags that you have, and that's creating a PVC pipe plastic bag dispenser. Using a 3-inch diameter pipe, stuff all your plastic bags in it through the top of the pipe and retrieve them from the bottom.
Dog Beds
May I have your attention, dog lovers? This next idea allows you to provide a comfortable bed for your dog without having to spend big bucks on it as you'd typically have to. Due to PVC pipes' sturdy characteristics, they'd make a durable dog bed.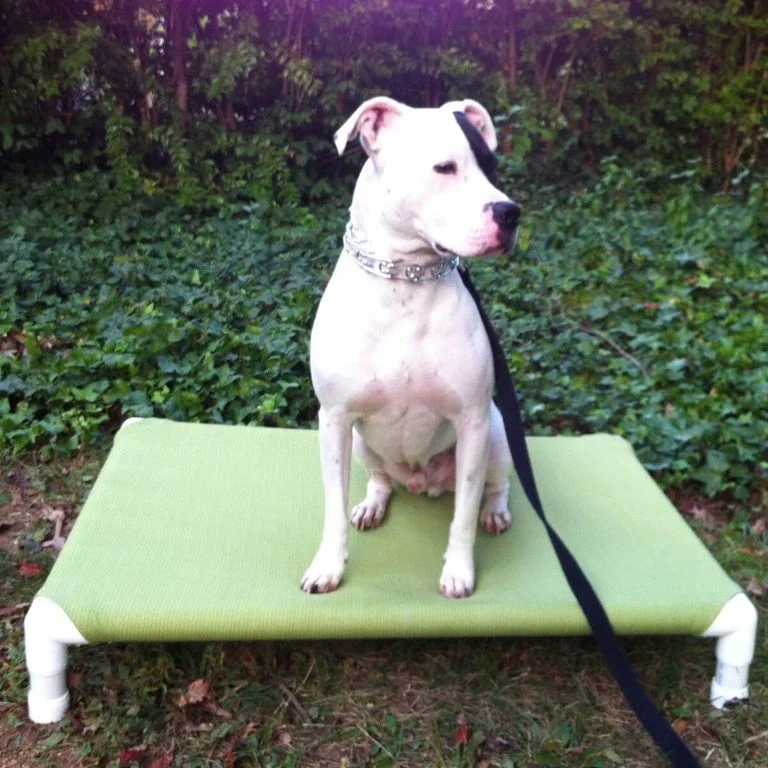 Use pipes to create the legs and basic structure of your dog bed; PVC cement can be used to attach them together firmly. Finally, use cushions and pillows to act as the bed's mattress. We're sure your dog would love this!
Fishbowl Decorations
For those who have fish as pets, don't think that we've left you out because this next PVC pipe hack involves tricks and tips that are suited for your pet fish! Build a mini obstacle course for your fish with our trusted tool.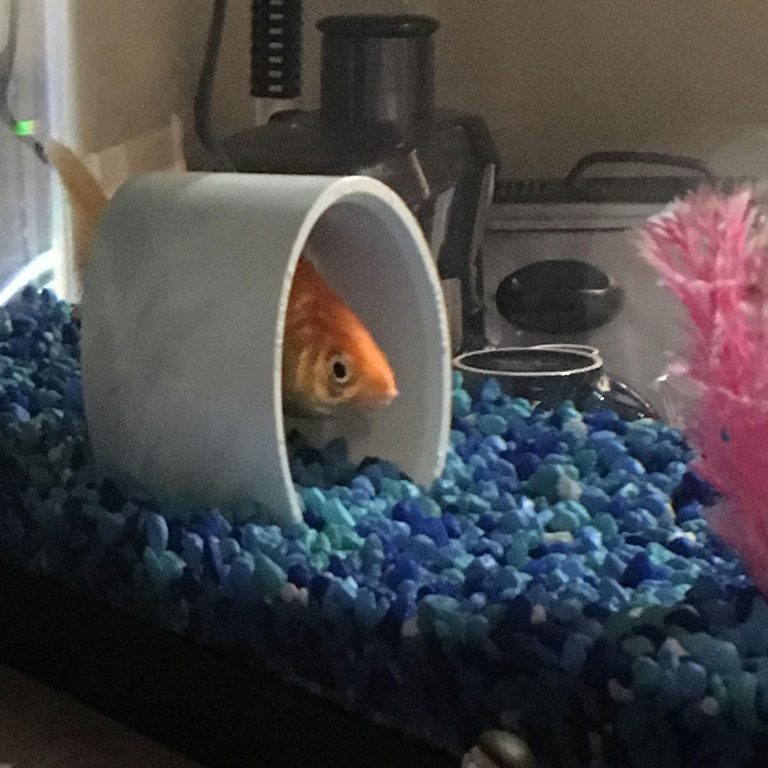 Cut a small piece of PVC pipe and place it at the bottom of the fish tank to act as a tunnel for your fish to swim through. If you're up for the challenge, you could even build a cozy home for your fish by using many pipes.
Improving Neighbor Relationships
Although warning lights are great for alerting us of danger and assuring us of the operation of a particular item, it might not be that beneficial to your neighbors as the light may be too bright and has disrupted the "peace" they originally had.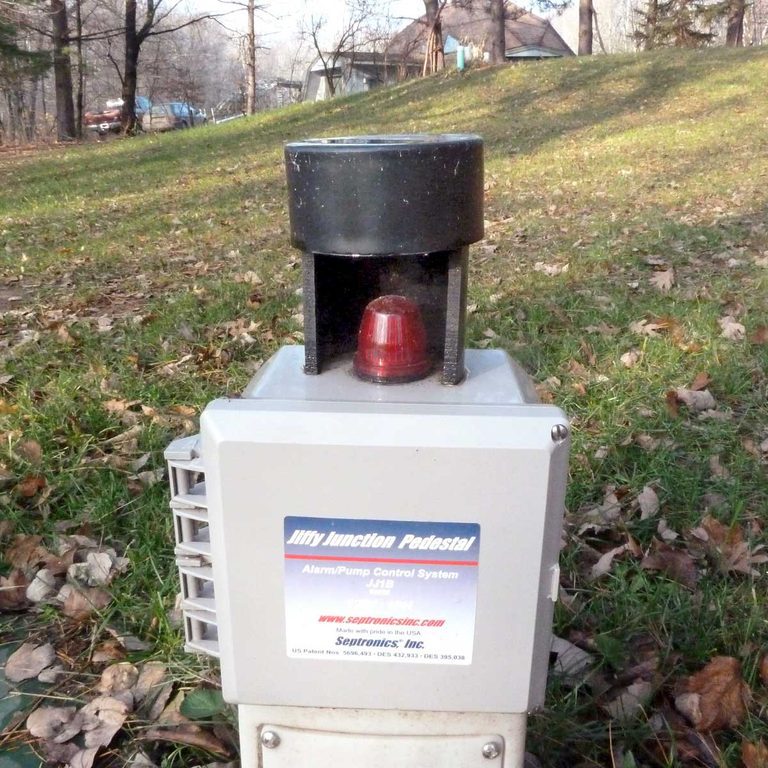 Therefore, you should build a shroud that shields your neighbors from the bright light. Using a 3-inch PVC pipe, cut a little slot in it, and put a cap on top of it. When you're done with that, slip it onto the warning light that's bothering your neighbors, they'd definitely be thankful for it!