Papped In The Produce Section: Photos Of Celebrities Spotted Grocery Shopping
By Saniya B August 1, 2023
---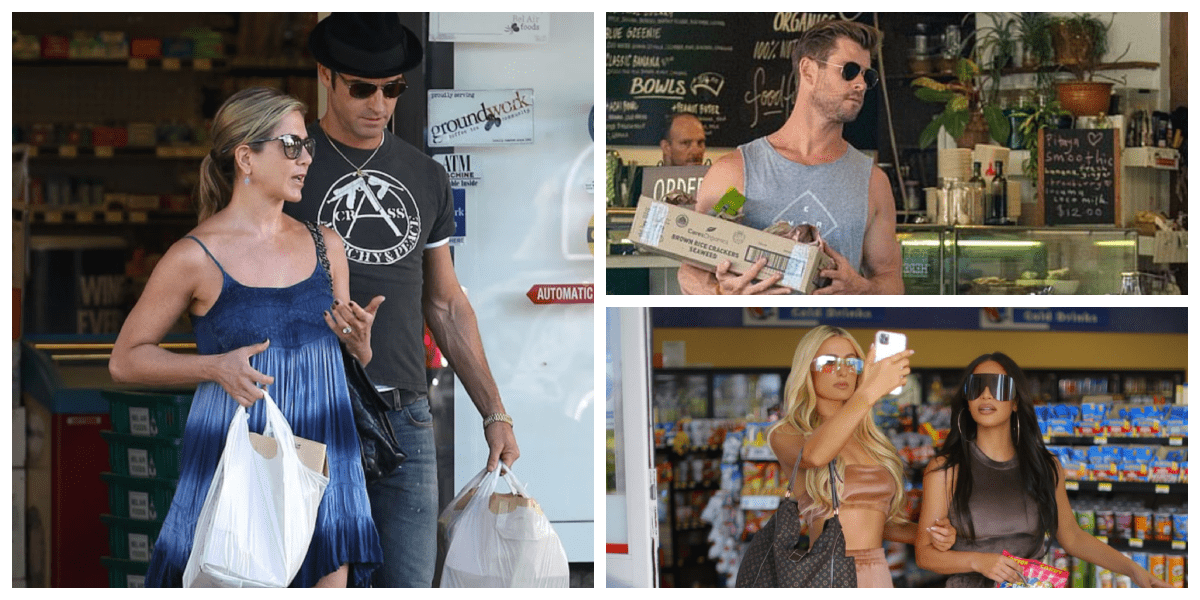 There's some inexplicable allure that comes from knowing more about the lifestyle of famous celebrities. Most of us often wonder if they lead lives just like regular people or if they are completely different. It's why we follow their lives diligently on TV and, well, Instagram!
If you think you belong to the group of people we just described, worry not because you're not alone. We're the same way! And today, we would love to share some tea here and inform you that some celebrities might be just like us in more ways than we thought.
Supermarket visits are something most people do regularly. And just like is, some stars also love visiting stores occasionally. After all, who doesn't love a little shopping here and there? So, if you want to know more about these "celebrity supermarket sightings," read on!
Kylie Jenner
In today's crazy world of social media, there's hardly anyone who hasn't heard of Kylie Jenner. She's practically everywhere in the news and tabloids for several reasons – be it for her famous cosmetics brand or for being dubbed the world's youngest billionaire by Forbes!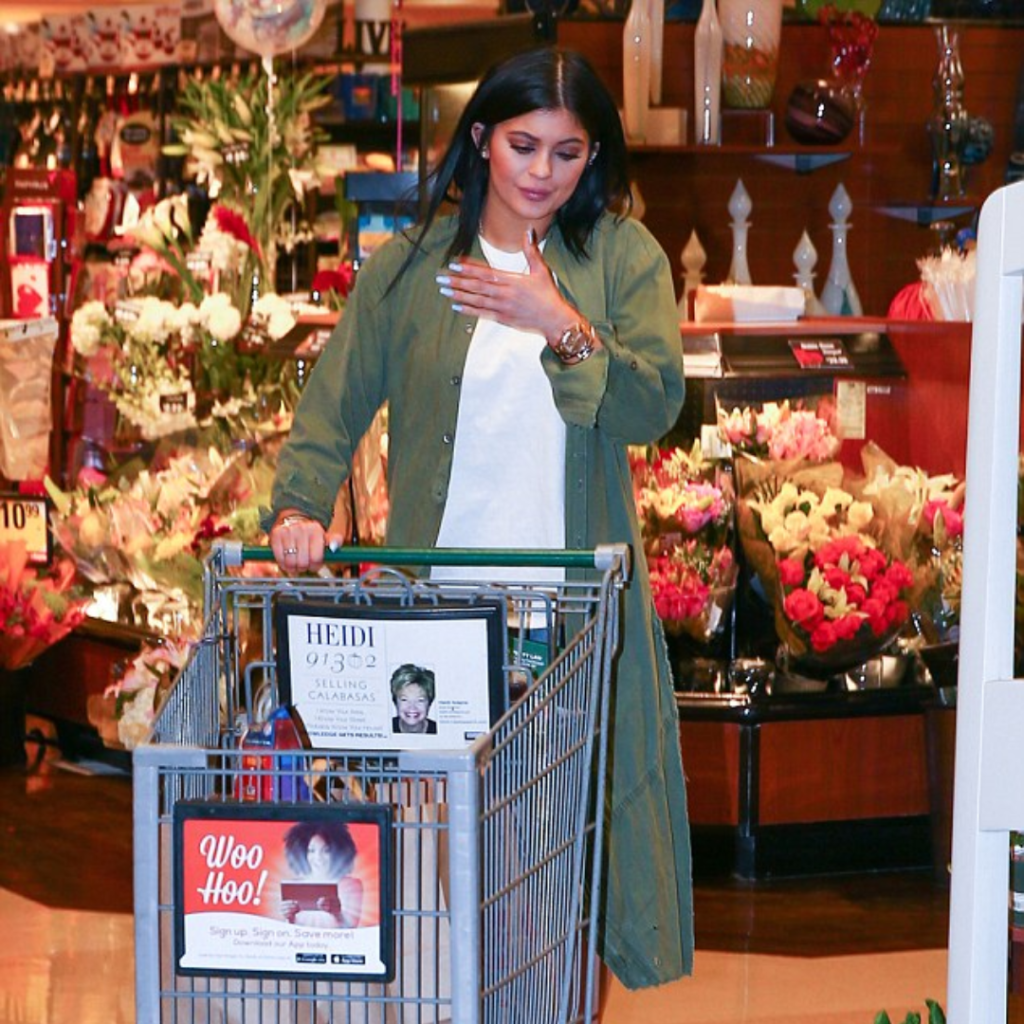 Despite being a bonafide mogul, she has been seen grocery shopping on multiple occasions. In 2021, a then-pregnant Kylie was spotted shopping for pumpkins in a local supermarket with her mom, Kris Jenner. This outing was aired on The Kardashians, which, funnily enough, landed them in a few controversies!
Lea Michele and Matthew Paetz
If you're a theater-loving adult like us, you might already know who Lea Michele is. After all, she played the main character, "Rachel Berry," on Glee. Lea dated Matthew Paetz between 2014 and 2016, and naturally, she went on numerous supermarket trips with him!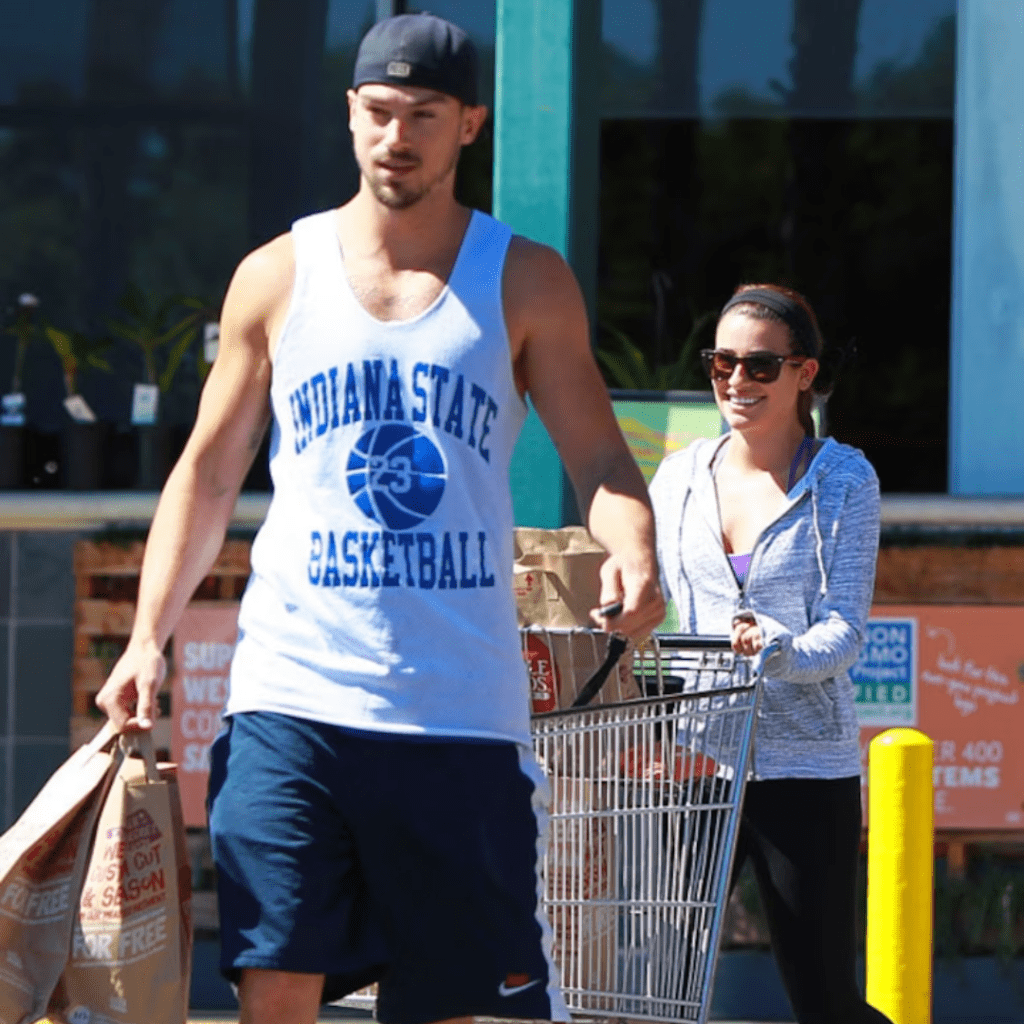 It looks like Lea truly enjoyed her grocery outings with Matthew, as they were often spotted shopping at different supermarkets. In 2015, the two were spotted at a local Whole Foods, stocking up on groceries just like us regular people.
Shia LaBeouf and Mia Goth
Shia LaBeouf and Mia Goth's relationship timeline had us all confused and wondering what was actually happening. This couple filed for a divorce in 2018 but got back together in 2022. This time, Mia also got pregnant with their first kid.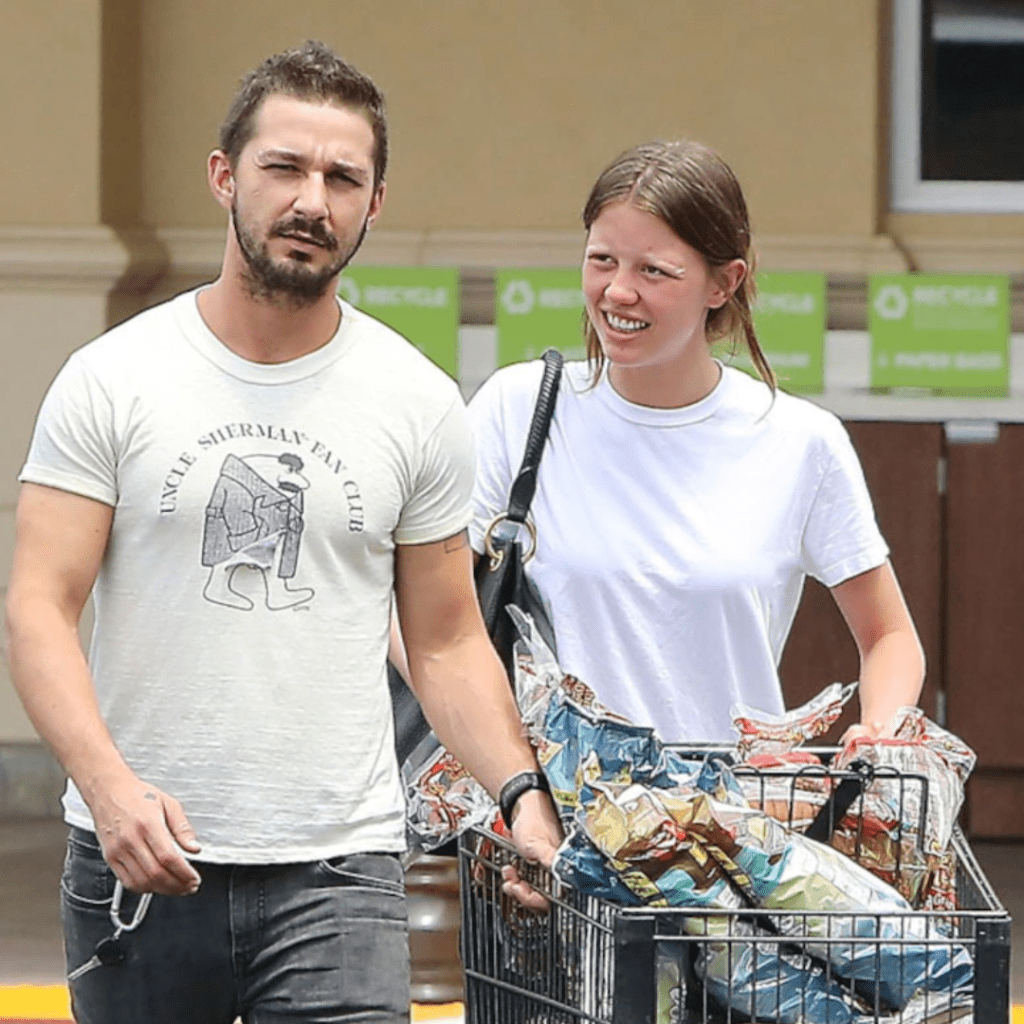 Apart from their unexpected relationship, Shia and Mia were also in the headlines for their adorable supermarket dates. The couple was often seen grocery shopping with their French bulldog. When they got engaged, there were rumors that LaBeouf told the Gelson's cashiers that they were about to get married!
Ali Larter
Ali Larter is well-known for her many prominent and minor roles. One of the most famous characters she played is "Clear Rivers" from the movie franchise Final Destination. If you're into chick flicks, you might also recognize her from the movie Legally Blonde, where she played "Brooke Taylor."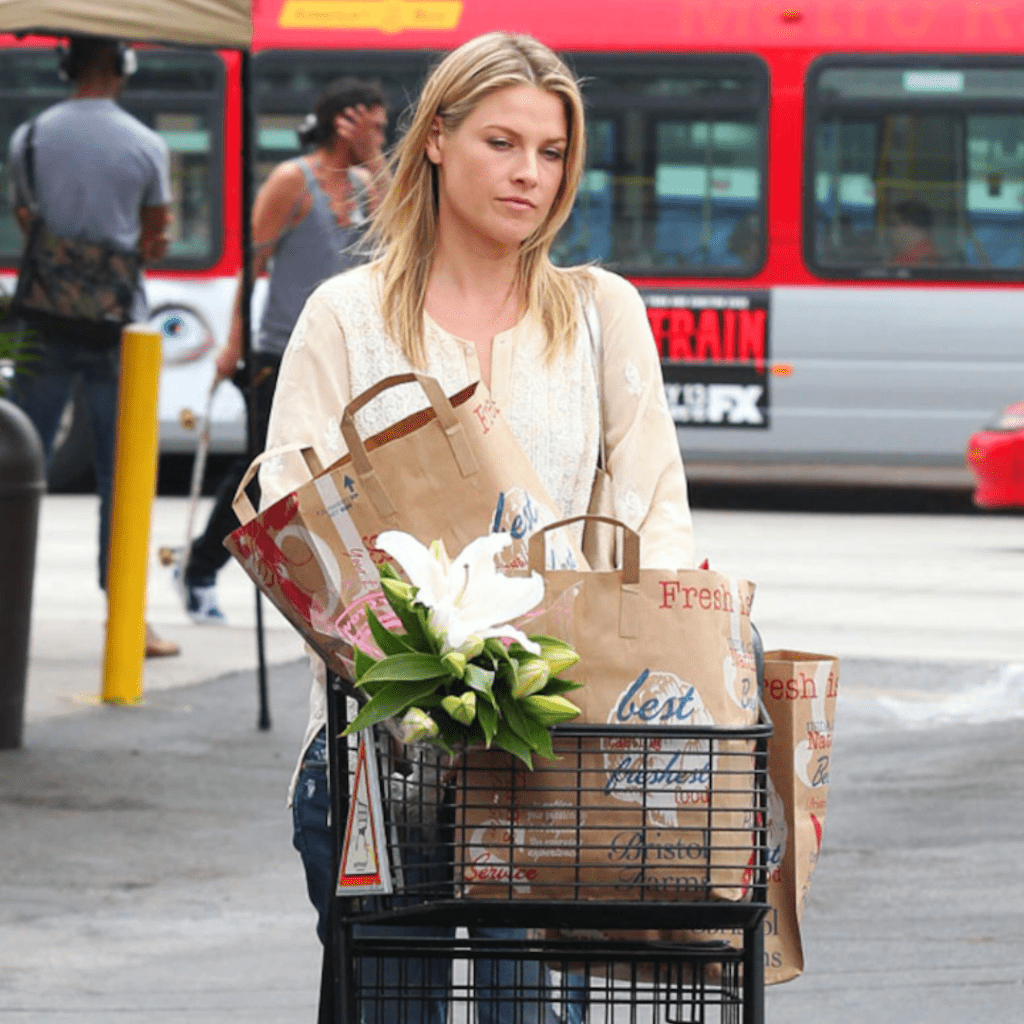 Unlike celebrities who don't go to supermarkets, the public has spotted Larter taking several grocery trips by herself! Here, she was spotted shopping at Bristol Farms, a Cali-based grocery store chain. Also, back in 2012, she was also seen shopping at Whole Foods in West Hollywood.
Jude Law
Jude Law is known for delivering some of the most spectacular performances in the entertainment industry. In case you are #Sherlocked like us, you might have seen him playing the role of "Dr. Watson" in Guy Ritchie's Sherlock Holmes adaptation.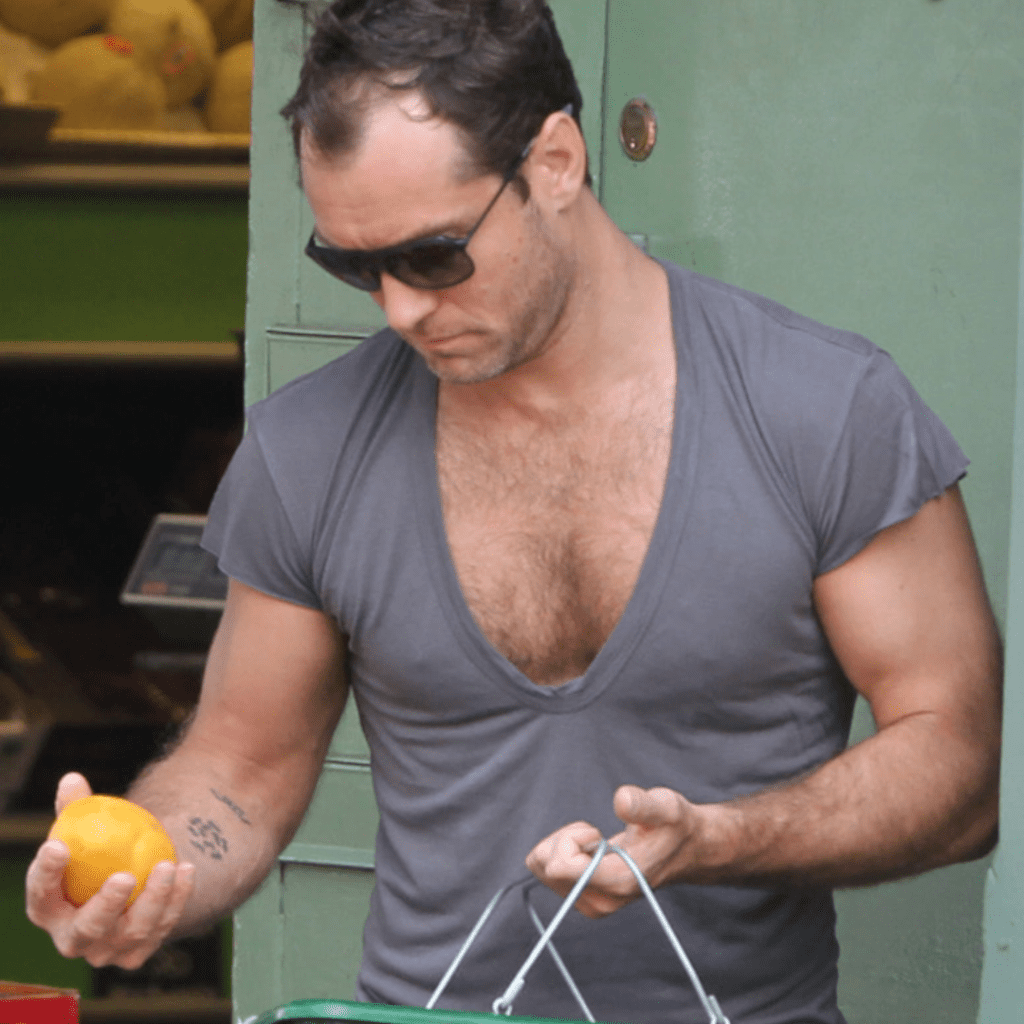 Jude's fans in London spotted him at a local grocery store, sporting a casual look while also showing off his lean figure. Seems like our very own "Dr. Watson" also loves to shop for groceries by himself, particularly fresh vegetables and fruits. We're all here for it!
Aaron Eckhart
The name 'Aaron Eckhart' may not ring any bells, but we're sure you might remember this guy for playing the iconic role of the District Attorney "Harvey Dent" in Christopher Nolan's The Dark Knight. He's also starred in many other movies like Sully and Midway.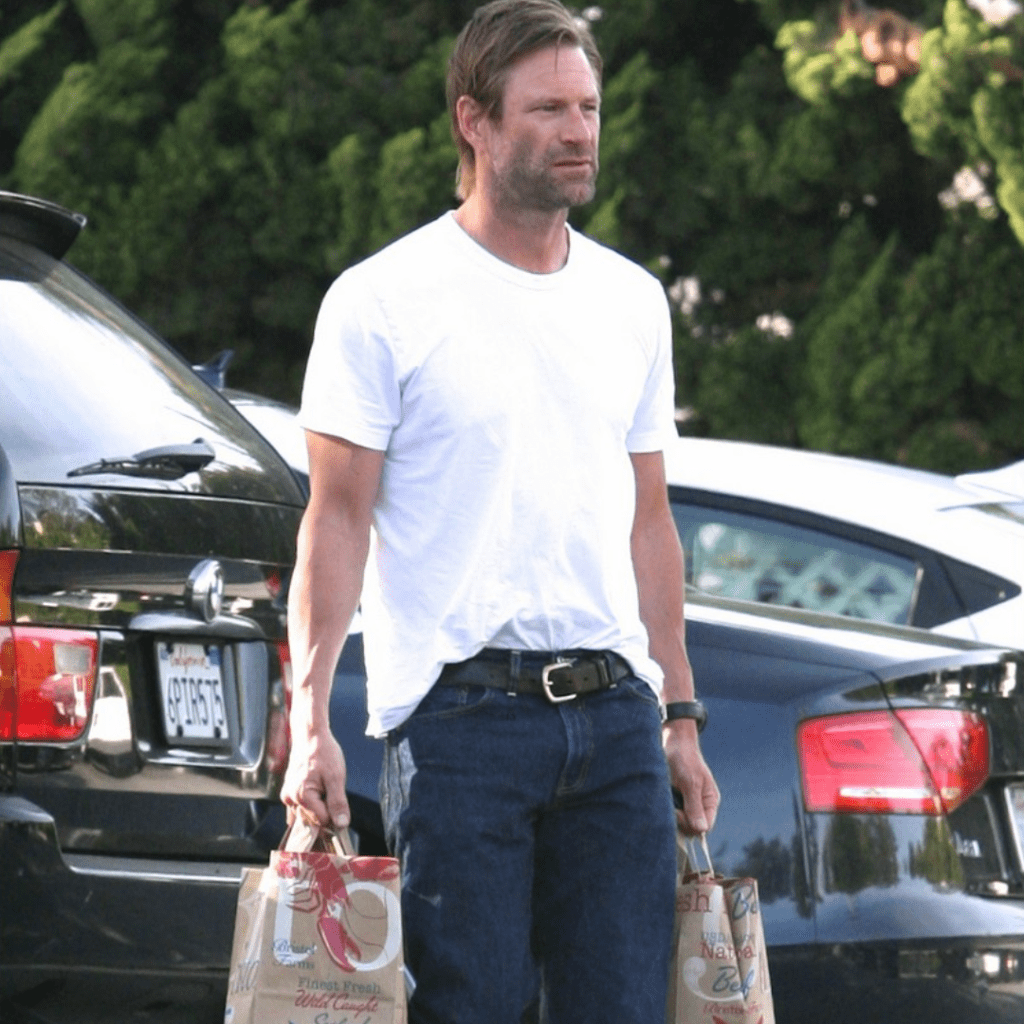 When "Harvey" (or Aaron) isn't fighting with "Batman" or wreaking havoc, he is probably out there spending some quality time at the Bristol Farms in West Hollywood. Although, after seeing his supermarket picture, we can't help but wonder what he's so annoyed about!
Taylor Swift
Taylor Swift is one of the finest singers of our time. Now, you don't always have to go to a meet-and-greet event or even a concert to see her. Who knows, if you're in luck, you might find her at your local supermarket, as she's known to do her own grocery shopping!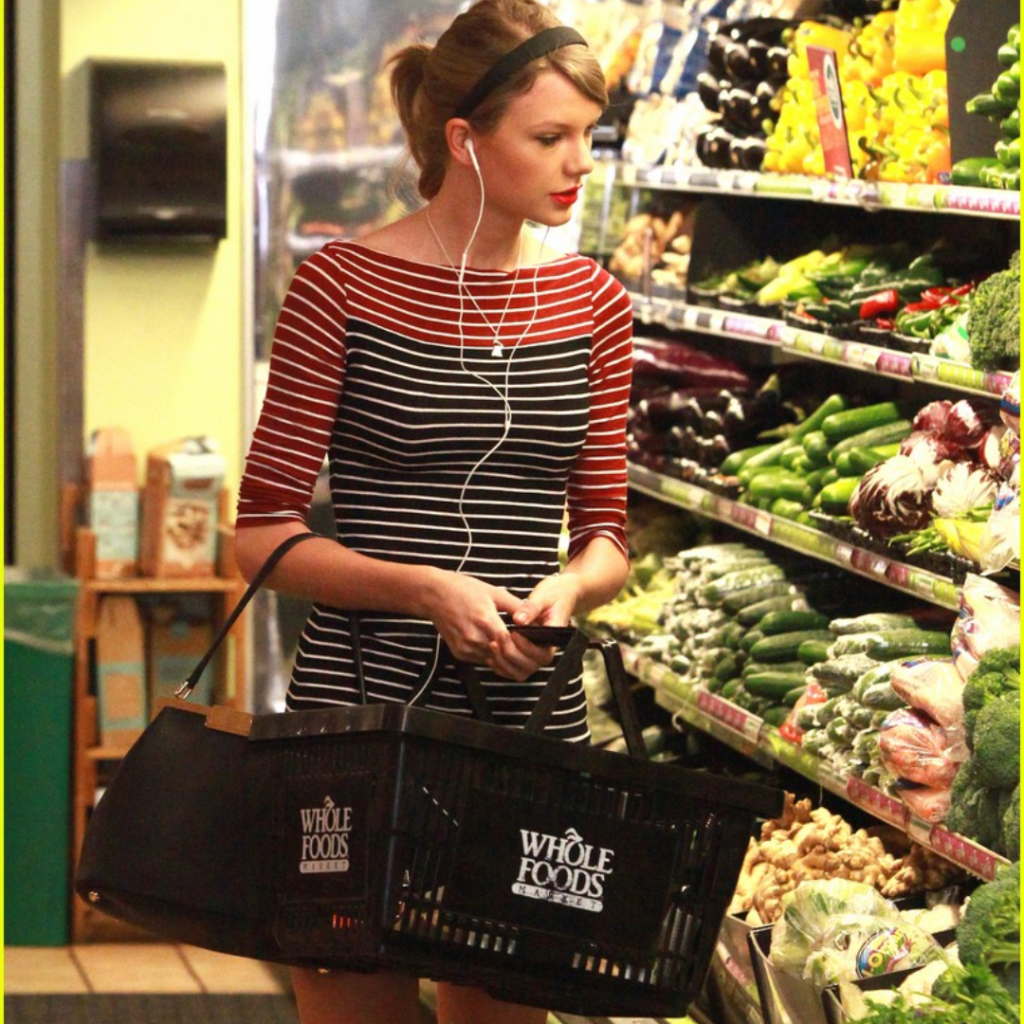 Many Swifties have spotted the popstar at various supermarkets, including Whole Foods and Bristol Farms, wearing some of the cutest outfits. If we ever run into Taylor Swift while grocery shopping, we might either scream and possibly burst her eardrums or end up fainting!
Anne Hathaway
Did you know that our princess, "Mia Thermopolis," from The Princess Diaries, also goes to supermarkets by herself? Well, if you didn't, allow us to inform you that Anne Hathaway, the renowned American actress, has been spotted in supermarkets lots of times!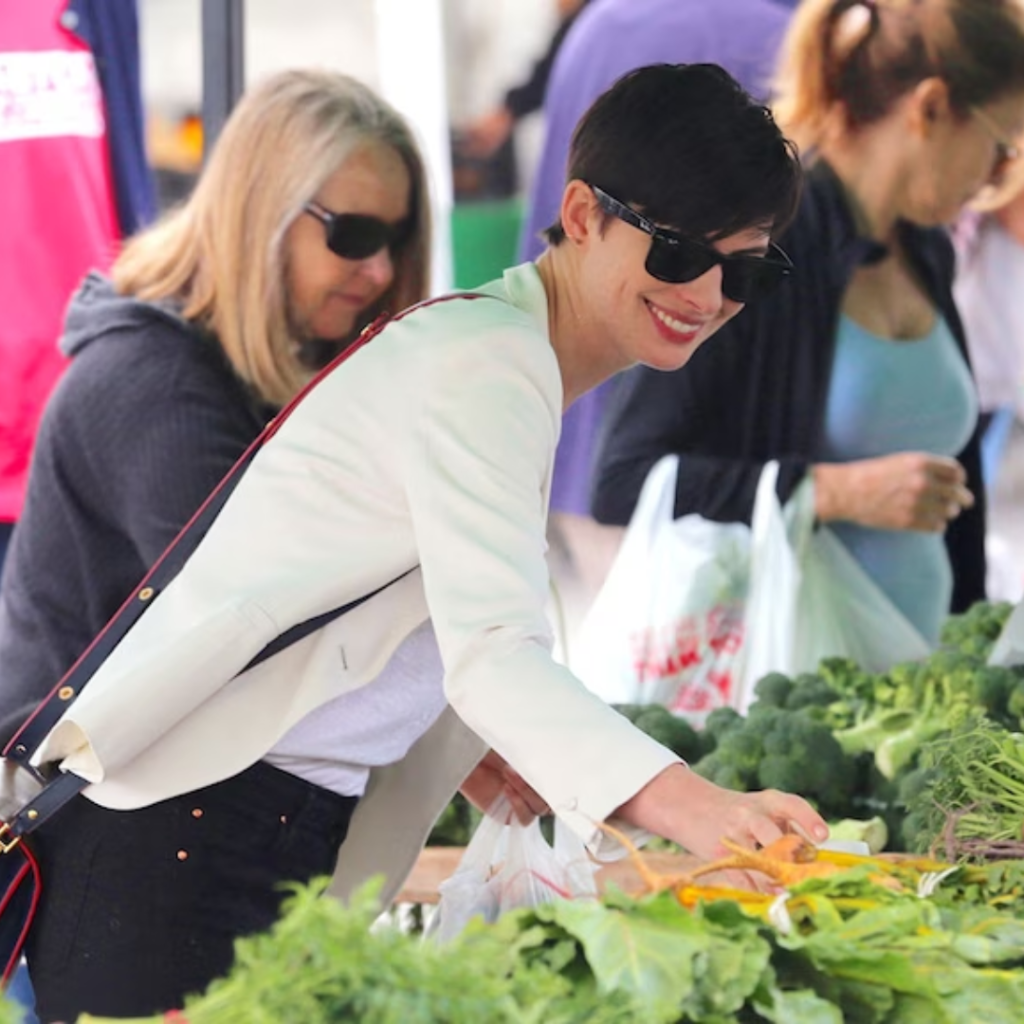 Anne Hathaway is one of those celebrities that everybody just knows due to her unforgettable roles and radiating energy. Over the years, she has brought the same radiant vibe while shopping at supermarkets like Whole Foods and giving drop-dead gorgeous smiles to her fans!
Emily Blunt
The 2006 hit movie The Devil Wears Prada introduced us all to the gorgeous British actress Emily Blunt. But that's not her only iconic movie, as Emily has starred in a few other hits like A Quiet Place with John Krasinski. She's also set to play an important role in Christopher Nolan's Oppenheimer.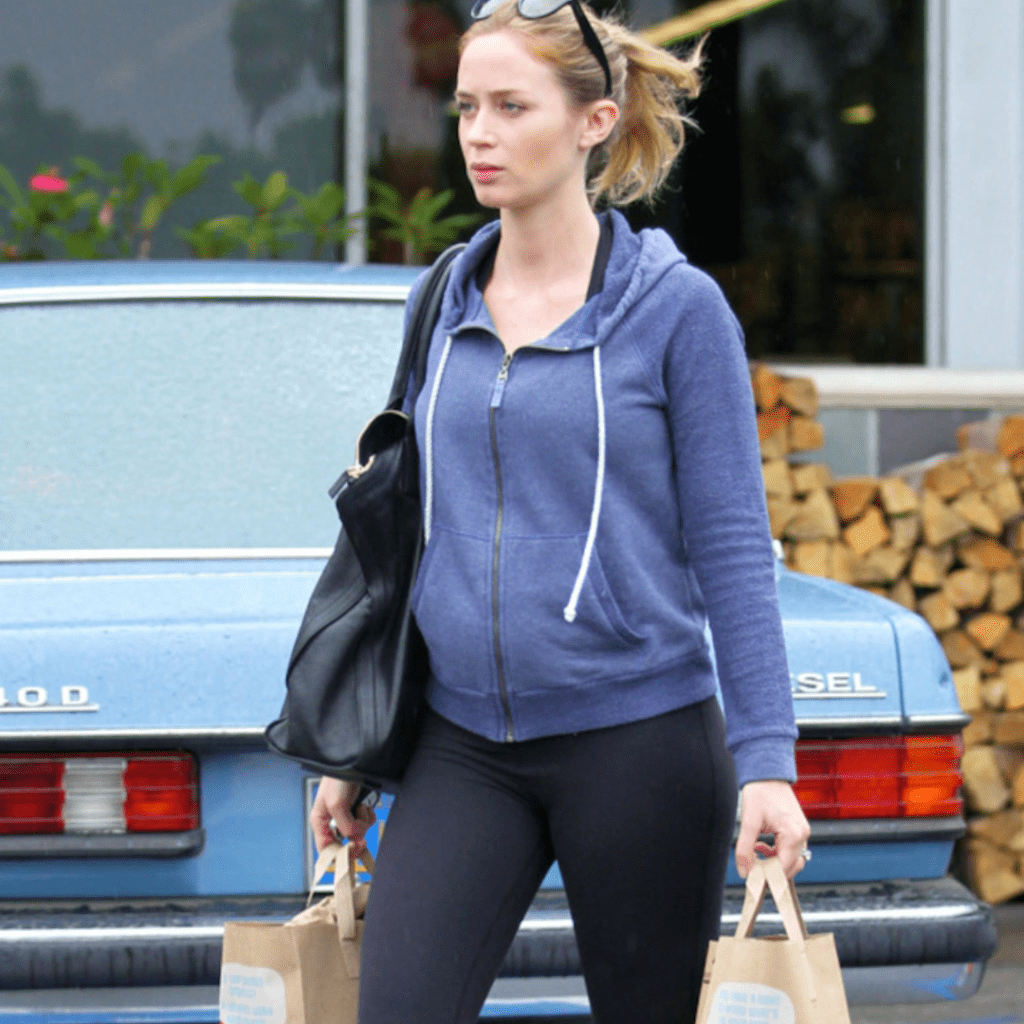 Just like some other celebs on this list, Emily Blunt has also blessed her fans with her visits to supermarkets like Whole Foods. She also often goes grocery shopping with her husband, John Krasinski, who's famous for playing the role of "Jim" in The Office.
Lea Michele
We know that we've already talked about Lea Michele with Mathew Paetz on this list! However, it is worth mentioning that she has also taken several solo trips to a bunch of supermarkets in recent times. As much fun as it is to have company during these trips, it's not always possible.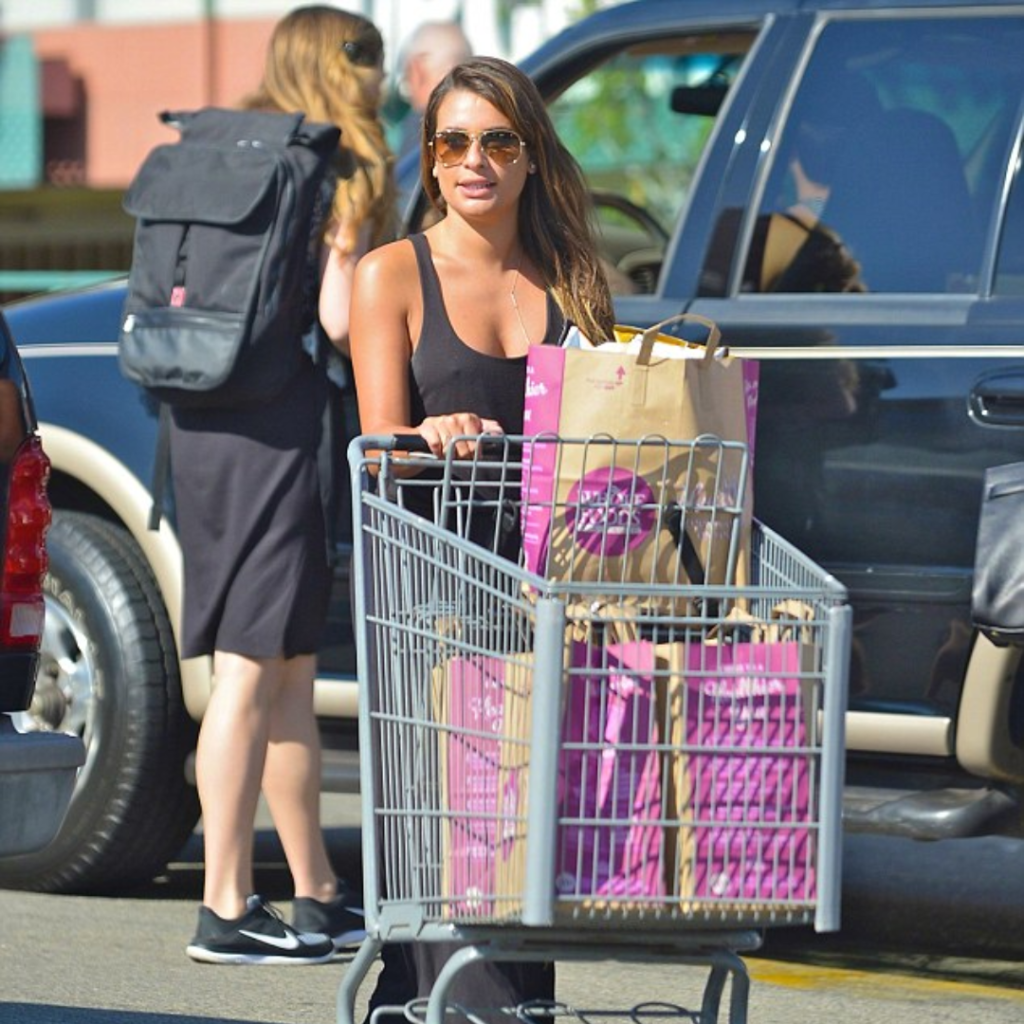 Over the years, Lea has visited Whole Foods in West Hollywood a good number of times. One thing we especially love is how well-dressed she usually is! You'll see her flaunting some adorable fits, be it a stylish black maxi or a casual striped dress, while out grocery shopping.
Jennifer Aniston & Justin Theroux
Jennifer Aniston, or our beloved "Rachel" from the show Friends, and Justin Theroux were often in the news between 2011 and 2018. This lovely couple got married in 2015 but then got divorced around 2018, citing issues with long-distance. Fortunately, they still remain good friends.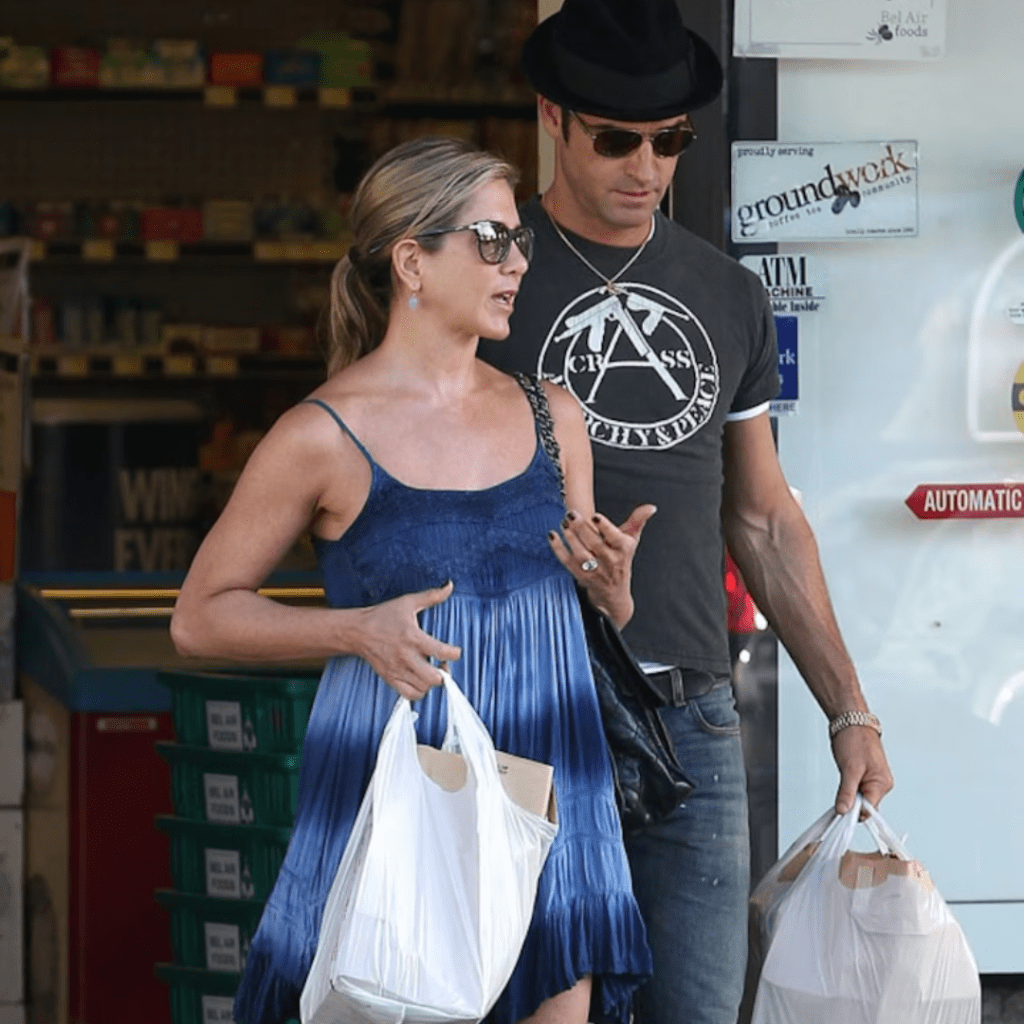 During their years together, Jennifer and Justin were spotted together at many places, including supermarkets. They often spent their Sundays shopping for groceries in a local supermarket in Bel-Air. It's a shame that they aren't together anymore because they gave us major #couplegoals!
Sean Penn, Charlize Theron & Jackson
Both Sean Penn and Charlize Theron are super popular in Hollywood for their memorable film performances. Penn is known for his excellent roles in movies like Mystic River, Dead Man Walking, and I Am Sam. Similarly, Theron is also famous for starring in movies like The Astronaut's Wife and Prometheus.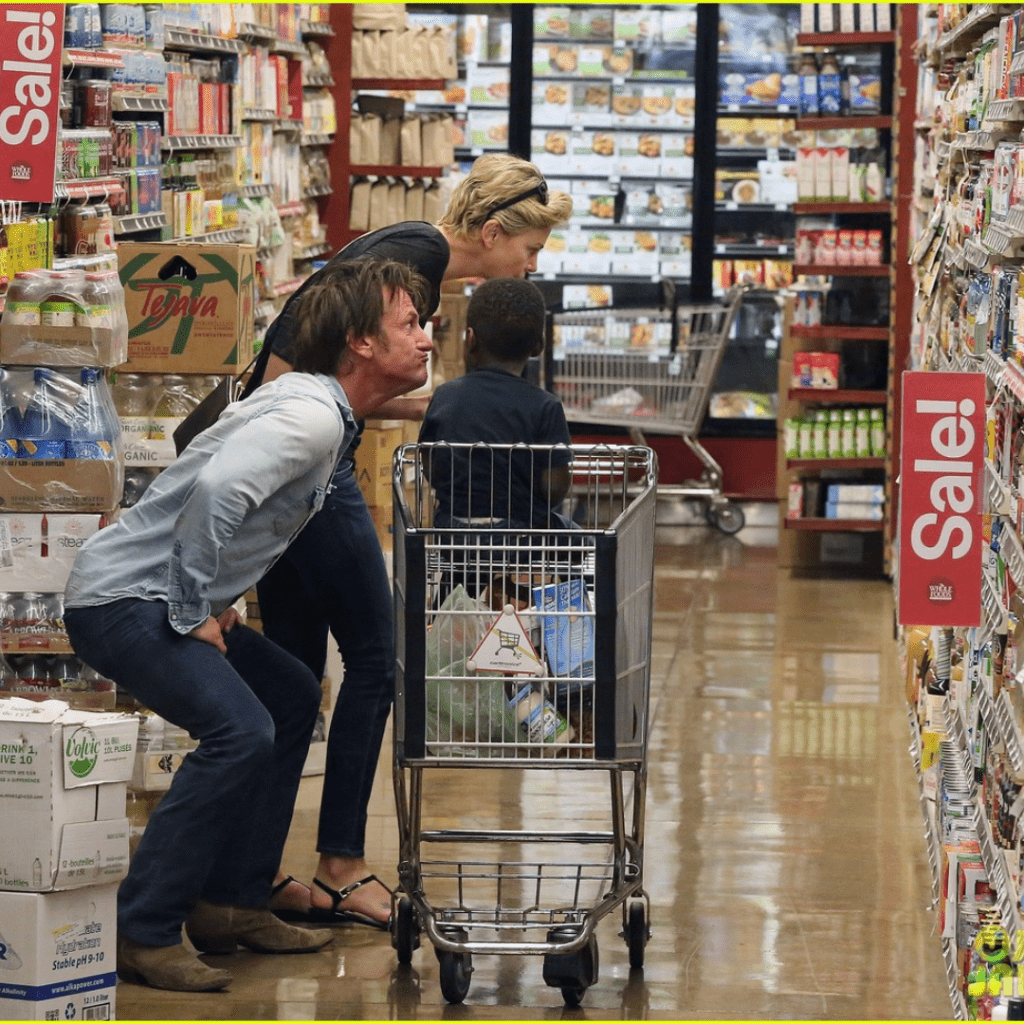 Sean and Charlize dated between the years 2013 and 2015 and were spotted grocery shopping by their fans! Along with the pair, Charlize's adopted kid Jackson Theron was also seen sitting and enjoying himself in the grocery cart. This definitely seemed like a wholesome moment!
Reese Witherspoon
If you don't know Reese Witherspoon, you're missing out on some pretty amazing movies. This American actress has starred in numerous famous productions, including Legally Blonde and Cruel Intentions. Recently, she was in the news for her latest romantic comedy, Your Place or Mine, with Ashton Kutcher.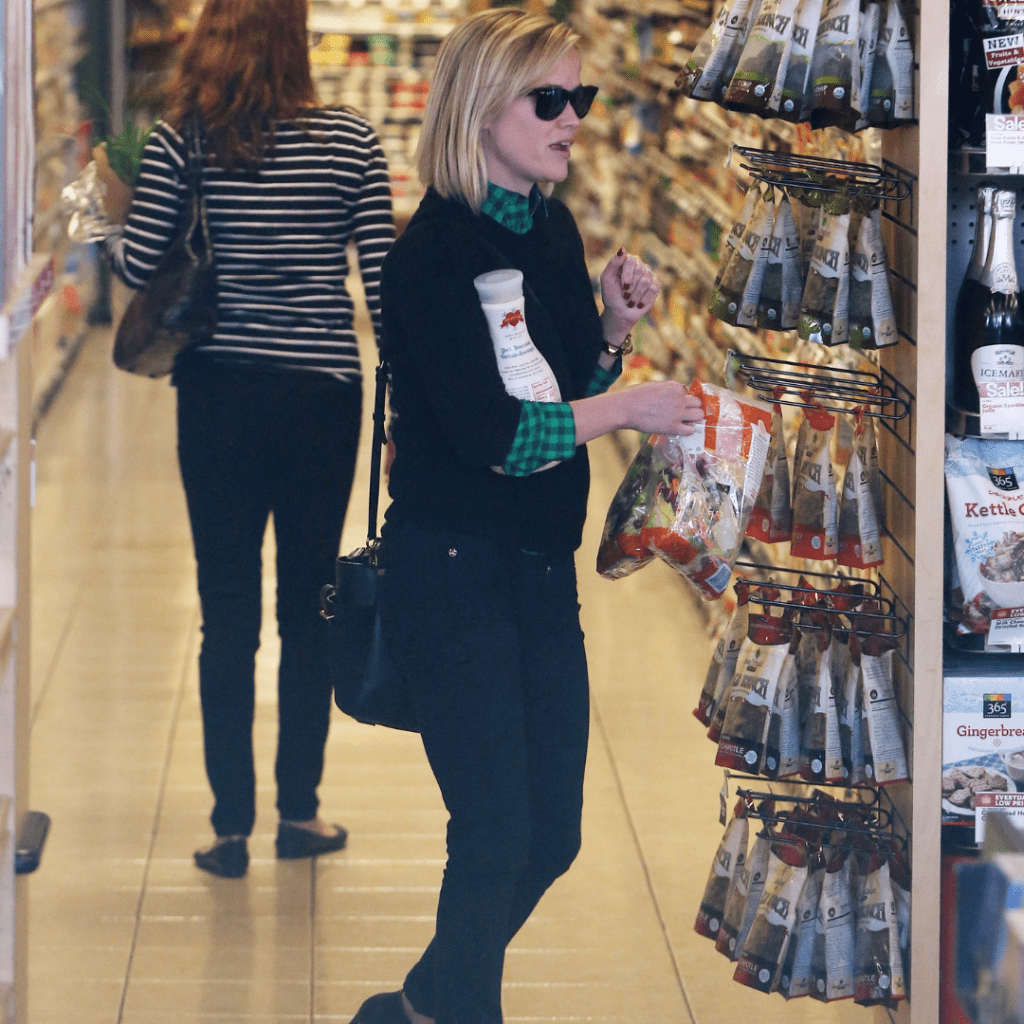 This star actress also loves to go to supermarkets, as she has been to several stores. For example, Reese was seen shopping at Whole Foods in Brentwood by the paps. Back in the day, she was also spotted in supermarkets with her daughter, Ava.
Mariah Carey
Mariah Carey is one of the most successful chart-breaking singers of the past few decades. She is practically known by everyone for her single All I Want for Christmas, and others like Fantasy. Did you know that the Guinness World Record also refers to her as "Songbird Supreme" due to her impressive vocal range?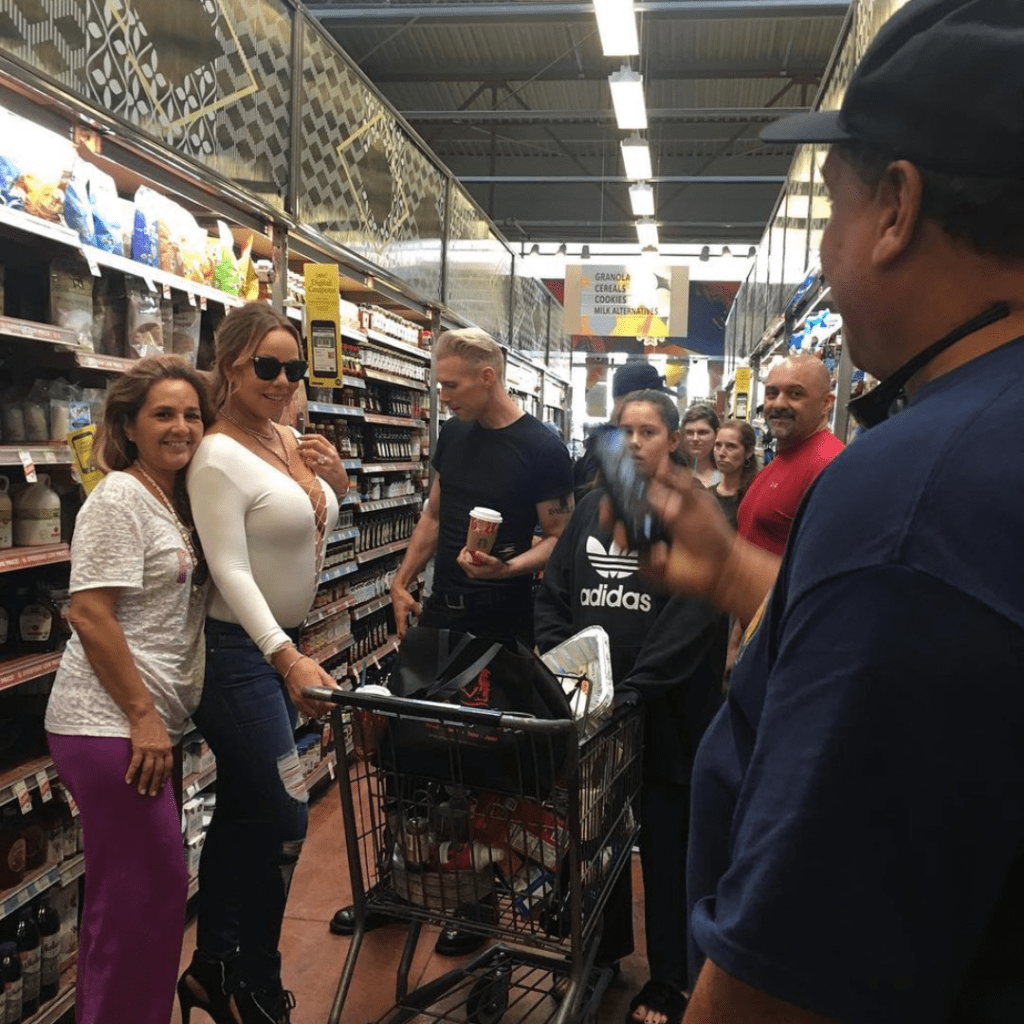 Maybe all Mariah wants for Christmas is some good groceries! After all, she is often spotted visiting supermarkets, be it in LA or in Honolulu. She is also constantly featured in pop culture articles for sporting breathtaking looks as she walks down the grocery aisles!
Kourtney Kardashian
Anyone who is aware of the Kardashian clan knows who Kourtney is. She is the eldest daughter of Kris Jenner and has also starred in the reality show Keeping Up with the Kardashians. You might also know her as the owner of Poosh, a lifestyle brand and blog.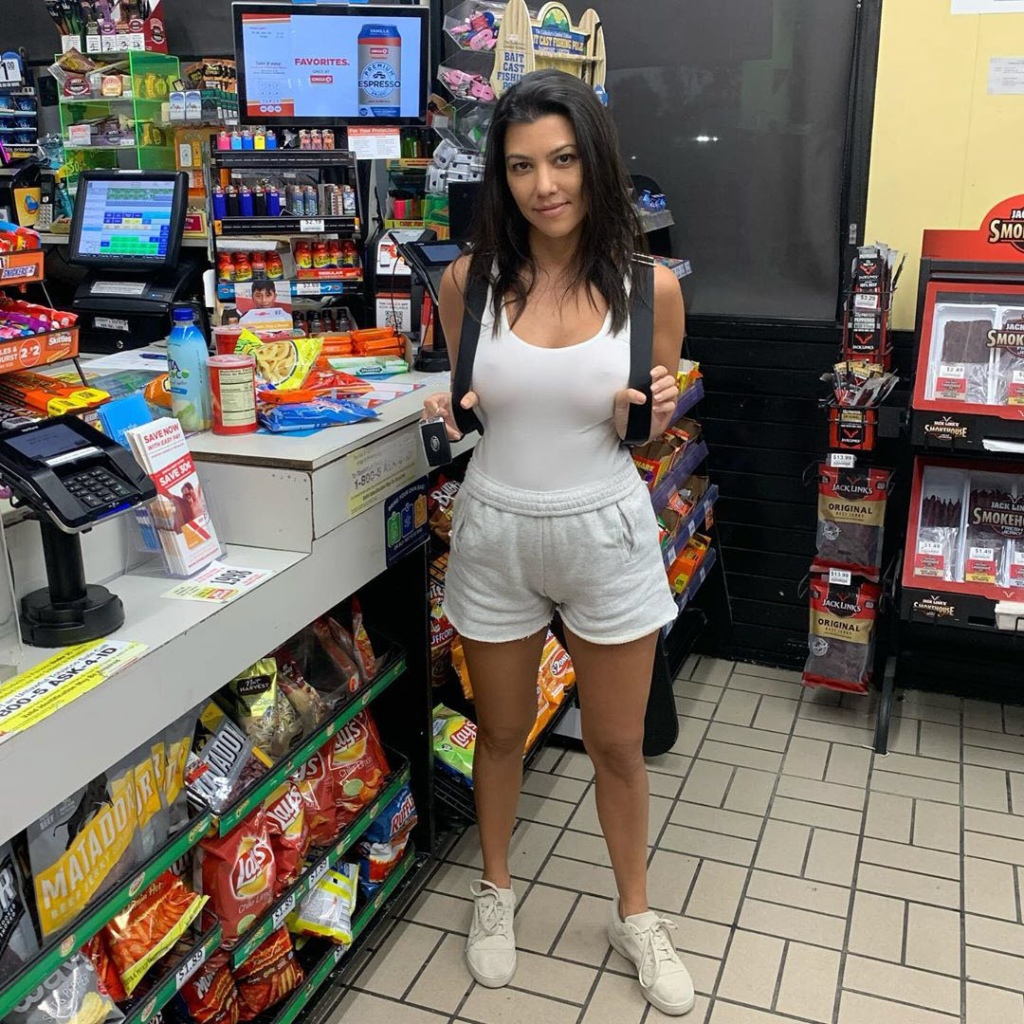 Just like Kylie and Kris, the residents of LA have also spotted Kourtney Kardashian going grocery shopping at supermarkets like Erewhon. A few months ago, the socialite also went to a grocery store with her husband, Travis Barker, and uploaded pictures of herself posing in the store on her Instagram.
Hilary Duff
For all the OG Disney kids out there, Hilary Duff needs no introduction. This American actress is known for her legendary role as the titular character in the show Lizzie McGuire. She has also worked in many other teen-fiction productions like A Cinderella Story and The Lizzie McGuire Movie.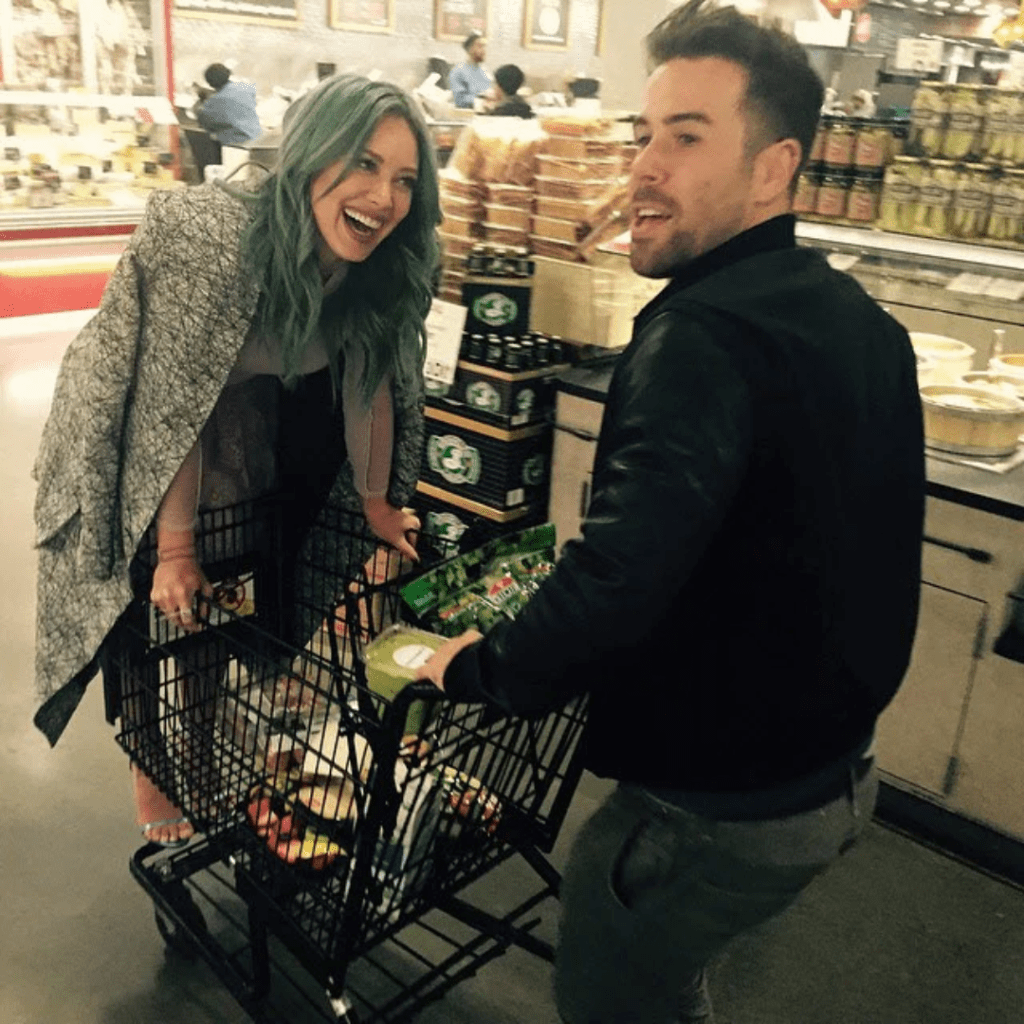 Now, imagine you're in a supermarket, and you spot Hilary Duff! Well, a few fans have experienced this moment as Hilary has been spotted grocery shopping at many LA stores. Just a few days ago, fans spotted her with her two-year-old daughter Mae looking absolutely refreshing during an outing!
Miley Cyrus
Miley Cyrus was the ultimate "IT" girl for a lot of '90s and 2000s kids. Her character "Hannah Montana" got us all wishing we were pop stars with our own walk-in closets and hit albums! Miley has also made headlines for her hit songs like Wrecking Ball and Flowers.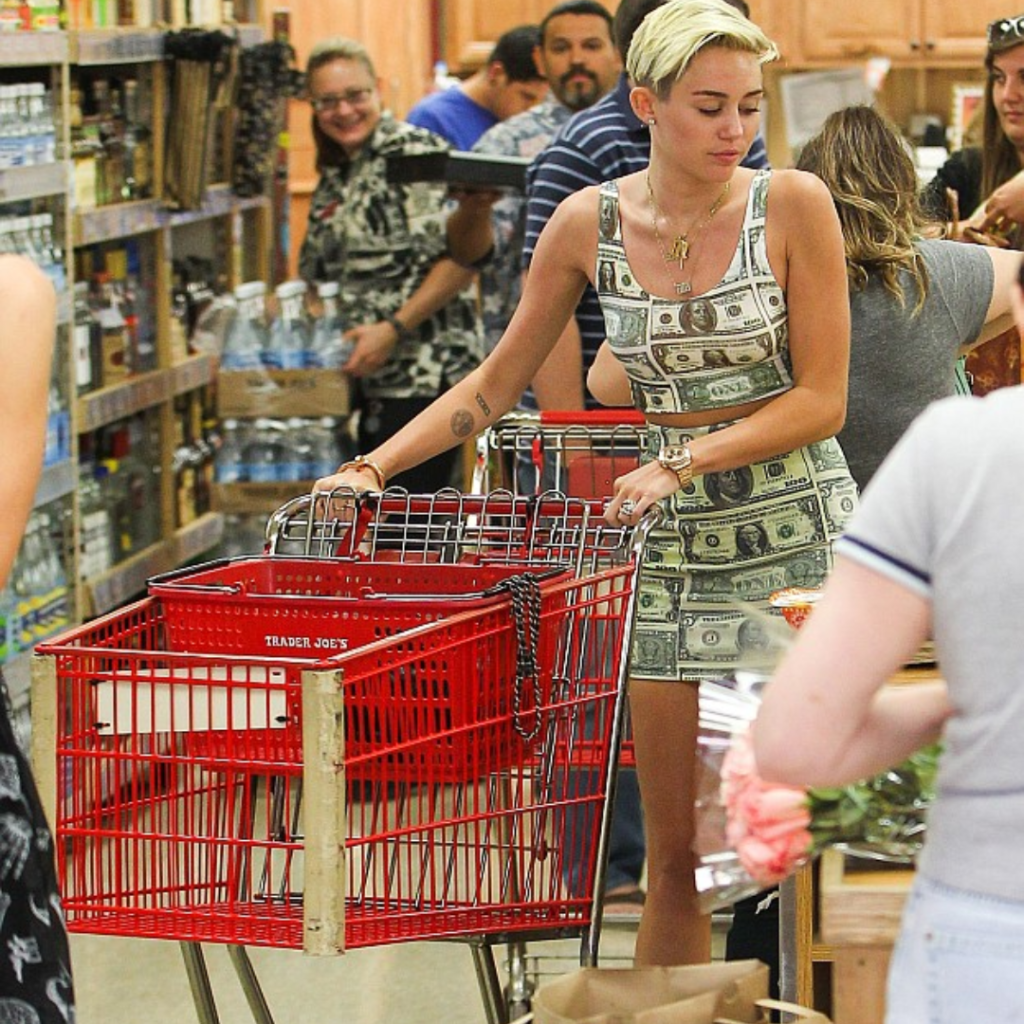 Despite reaching the pinnacle of success in Hollywood, Miley still seems to have a grip on her inner country girl, as she is spotted at supermarkets frequently. Till now, she does grocery shopping at stores like Erewhon Market, Asda Supermarket, and even Ralphs. This superstar clearly loves to shop for herself!
Jennifer Lopez
Jennifer Lopez, also known as JLo, is a renowned American actress and singer. She's popular for playing big roles in movies like Maid in Manhattan and The Wedding Planner. Some of her songs, like On The Floor and Ain't Your Mama are also massive chartbusters!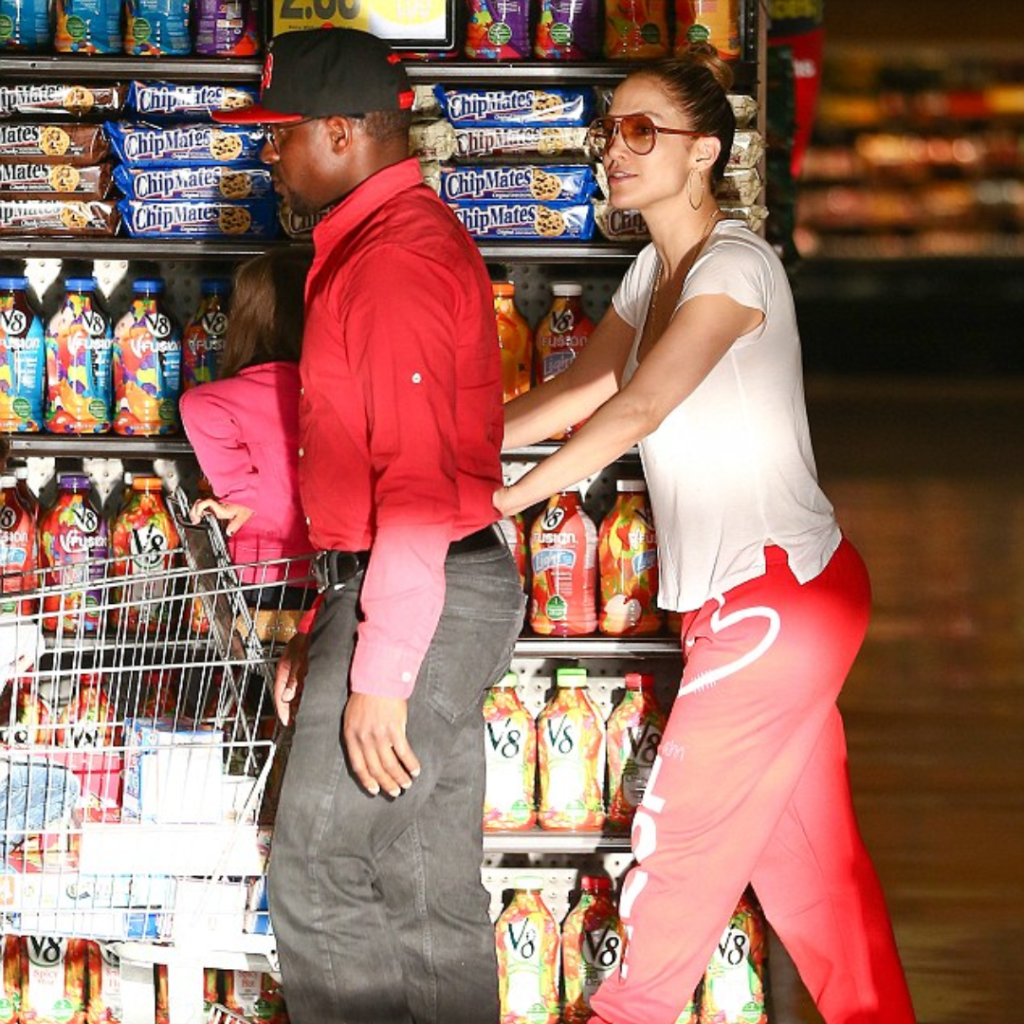 Over the years, JLo has been spotted at grocery stores many times. One time she went to a market in Calabasas with her twins, wearing casual red sweats (and still looking gorgeous). Interestingly, JLo played a supermarket employee in one of her movies named Second Act.
Rihanna
You wouldn't really expect somebody as huge as Rihanna to go grocery shopping by herself. There's no doubt that she'd be completely surrounded by fans! Well, it turns out that our Bad Gal Riri has also had some "normal people" days when she has gone to the store on her own.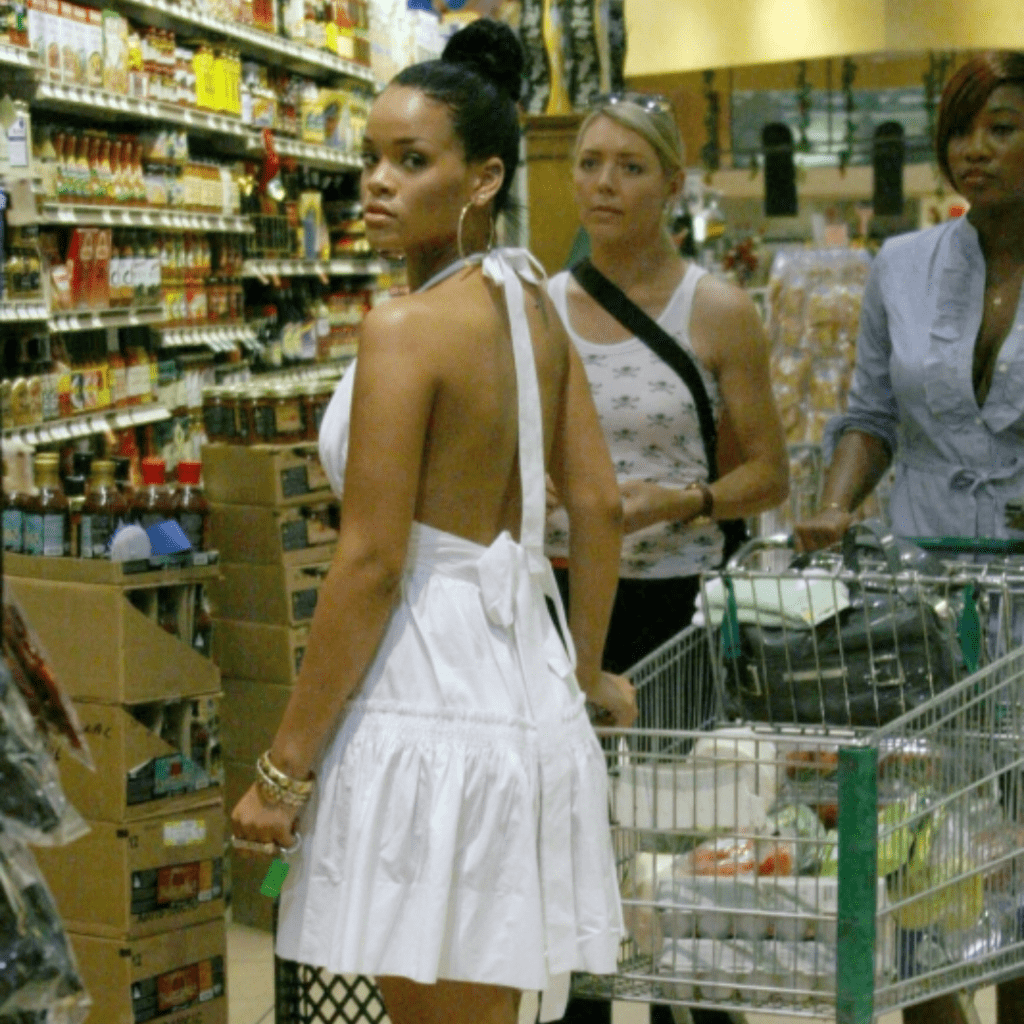 Rihanna has been spotted severally shopping for groceries while wearing chic outfits and looking like the queen that she is! She once even took some time off her grocery shopping spree to engage in a conversation with her fans. Such class!
Beyonce
Beyonce, just like Rihanna, is yet another mega popstar who you probably wouldn't expect to run into at a grocery store. The American singer is loved and admired for her sassy persona and catchy songs like Halo and Run the World.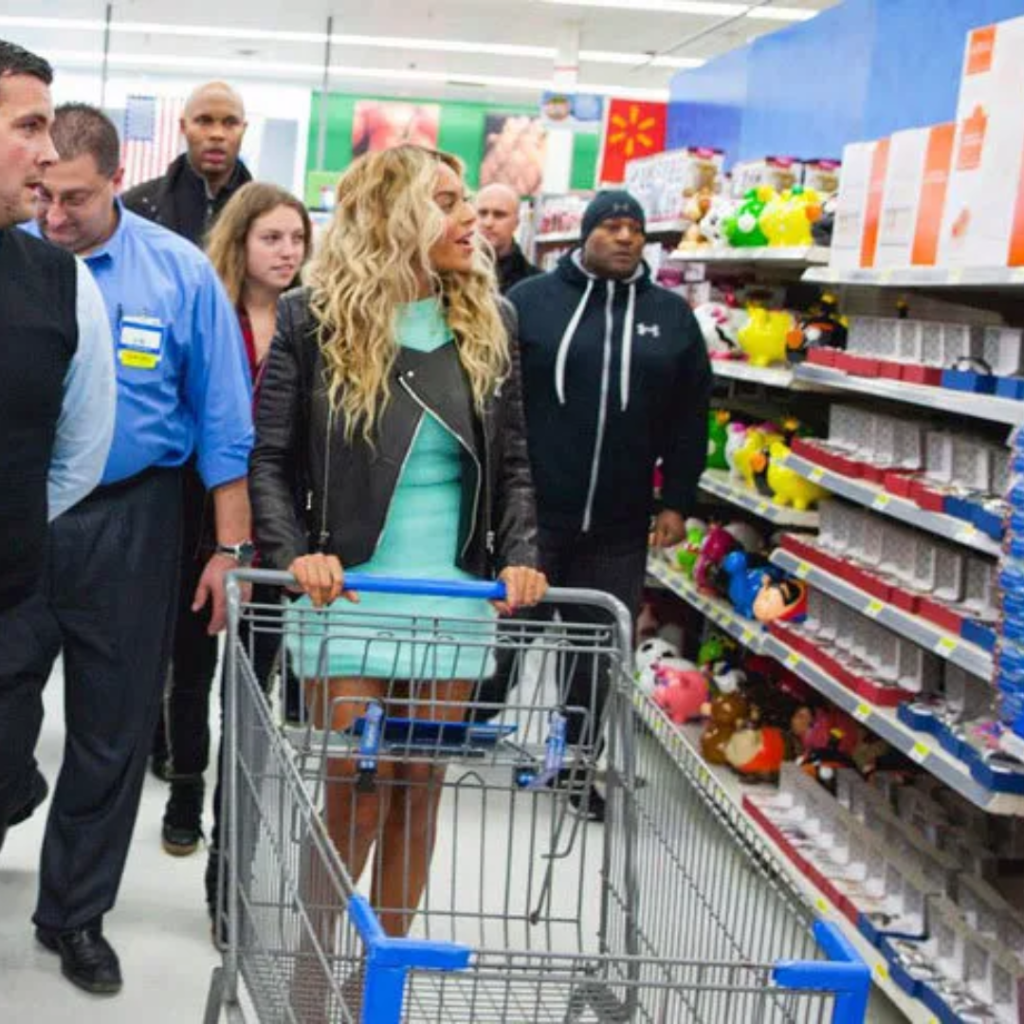 Yet, some fans have had their own lucky days as they've spotted Beyonce in stores like Target! She has also ditched some celebrity stores and gone to normal people chains like Walmart in the past! Can you imagine going to Walmart to run a quick errand and seeing Beyonce?
Selena Gomez
Most of us remember Selena Gomez as our sweet little wizard, Alex Russo, from the Disney show Wizards of Waverly Place. Even amongst newer generations, Selena has made her mark with her catchy songs, and her makeup brand, Rare Beauty. She's also the most-followed woman on Instagram, with over 400M followers.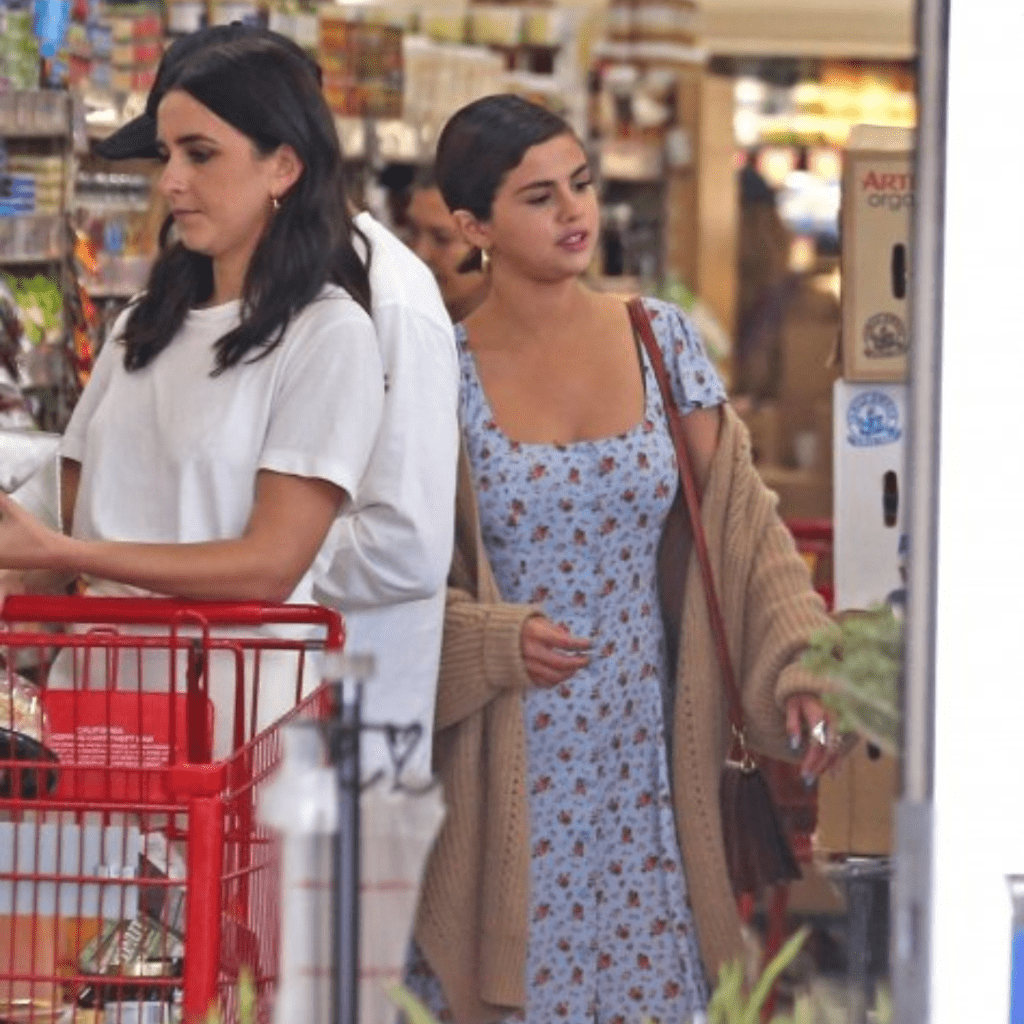 In spite of her popularity, Selena doesn't shy away from doing things the way we commoners do. There have been many instances when people have seen her shopping at supermarkets like Trader Joe's and Pavilions. Hoping to see her the next time we go grocery shopping!
Chris Pine
Chris Pine was the ultimate heartthrob for a lot of young girls. Throughout the 2000s, he did multiple hit films like Star Trek, The Princess Diaries 2, and Just My Luck. Fortunately for his fans, Chris has also been spotted at supermarkets shopping for groceries!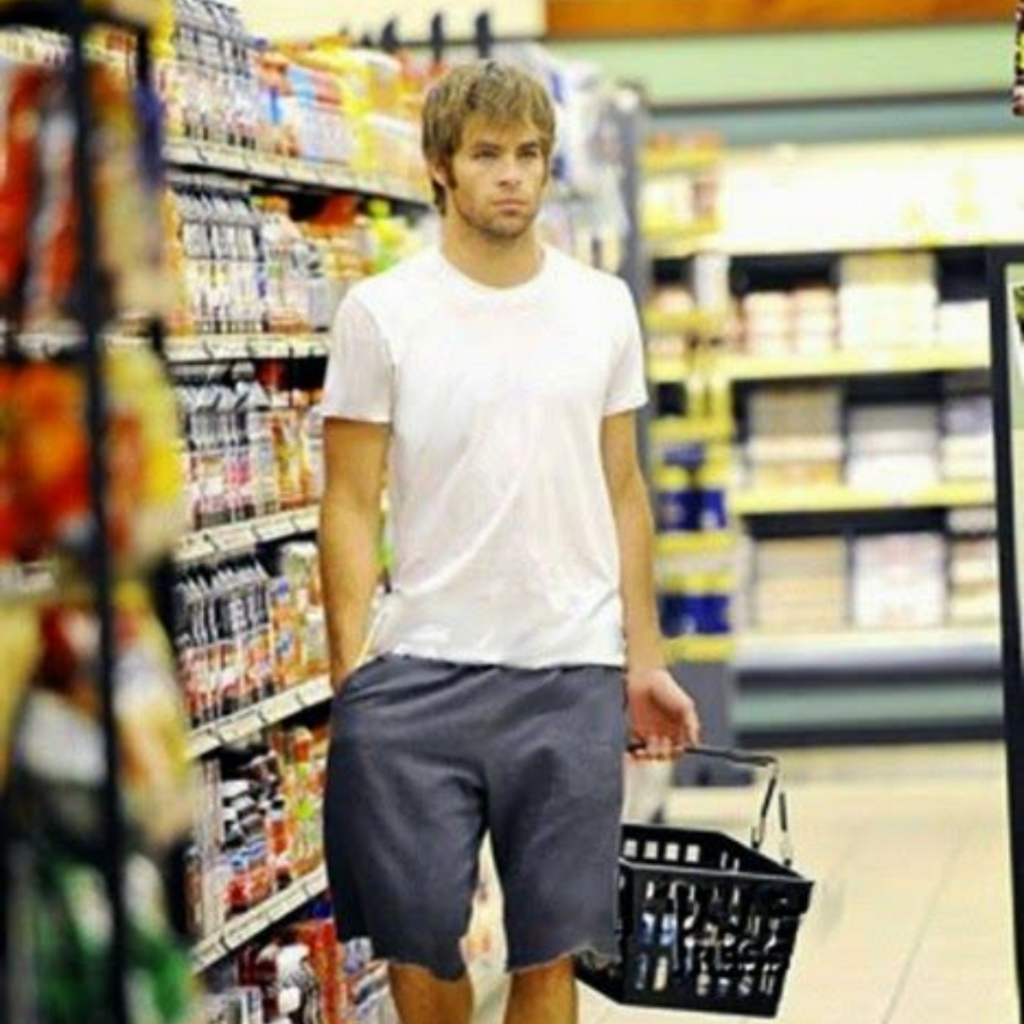 At some point, he was seen in a casual outfit grocery shopping with his then-girlfriend Annabelle Wallis. He also went to supermarkets with his other exes like Dominique Piek. Moreover, there have been times when LA residents have seen him doing shopping by himself.
Chris Hemsworth
The Australian actor, Chris Hemsworth, gained fame after playing the role of Thor in the MCU (Marvel Cinematic Universe). He has also played main roles in critically-acclaimed films like The Cabin in the Woods and Rush. We won't lie; we are mostly concerned with his Adonis-like looks and build!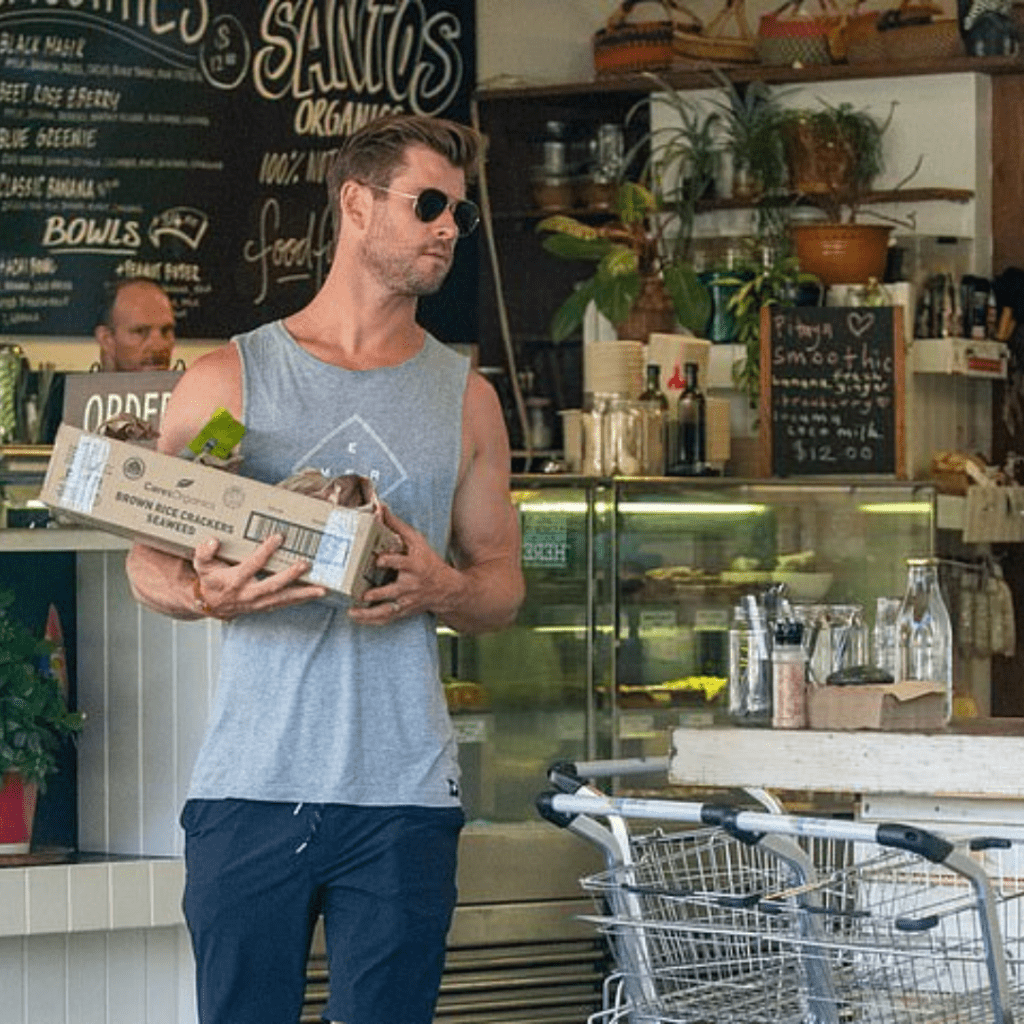 Chris clearly takes care of his body, as not only was he seen shopping at a grocery store in Byron Bay, but he also stocked up on mainly healthy food! Instead of going alone, Chris' kids accompanied him on his supermarket trip.
Pedro Pascal
Pedro Pascal used to be famous for playing the lead characters in some of the world's most famous shows like Game of Thrones and Narcos. Recently, he has been making waves yet again for playing the character of Joel in HBO's latest series, The Last of Us.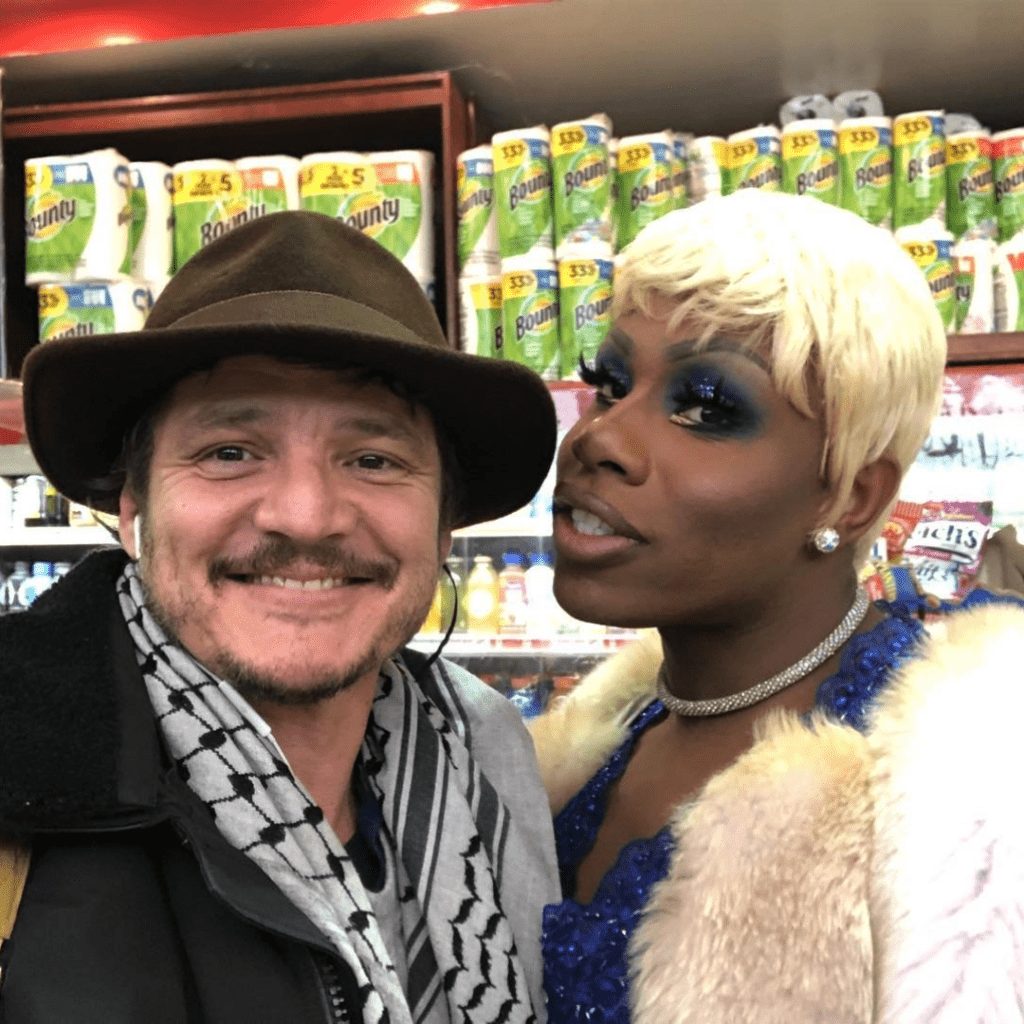 Pedro has also been spotted grocery shopping at various supermarkets in LA. In 2019, he posted a picture on his Instagram, inside one with the American drag queen and singer Monét X Change. Apparently, they get sandwiches from the same bodega!
Tom Cruise
Tom Cruise has been stealing hearts ever since he got started in Hollywood. You might've seen him playing exciting action roles in movies like the Mission: Impossible series, Top Gun: Maverick, and Collateral. Presently, he is one of the highest-paid actors in the industry.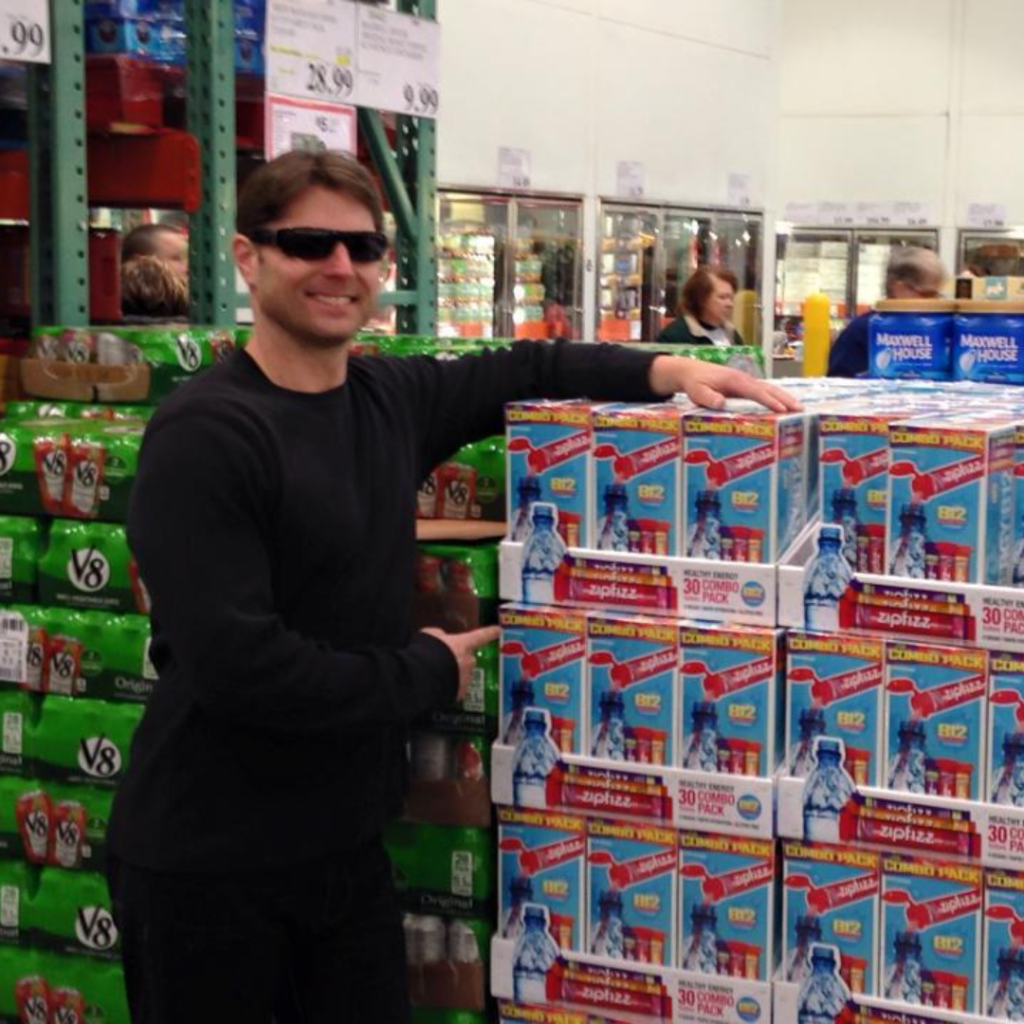 No matter how huge Tom Cruise is, he has also been seen grocery shopping at supermarkets like Costco. Moreover, in the early years, Tom, along with his then-wife Katie Holmes, were spotted grocery shopping at a store in Berlin, Germany!
Brad Pitt
We now believe there is some sort of affinity between hunks and groceries, as many male superstars, including Brad Pitt, are papped at supermarkets! This American actor has starred in many critically-acclaimed blockbuster movies like Ocean's Eleven and Inglourious Basterds.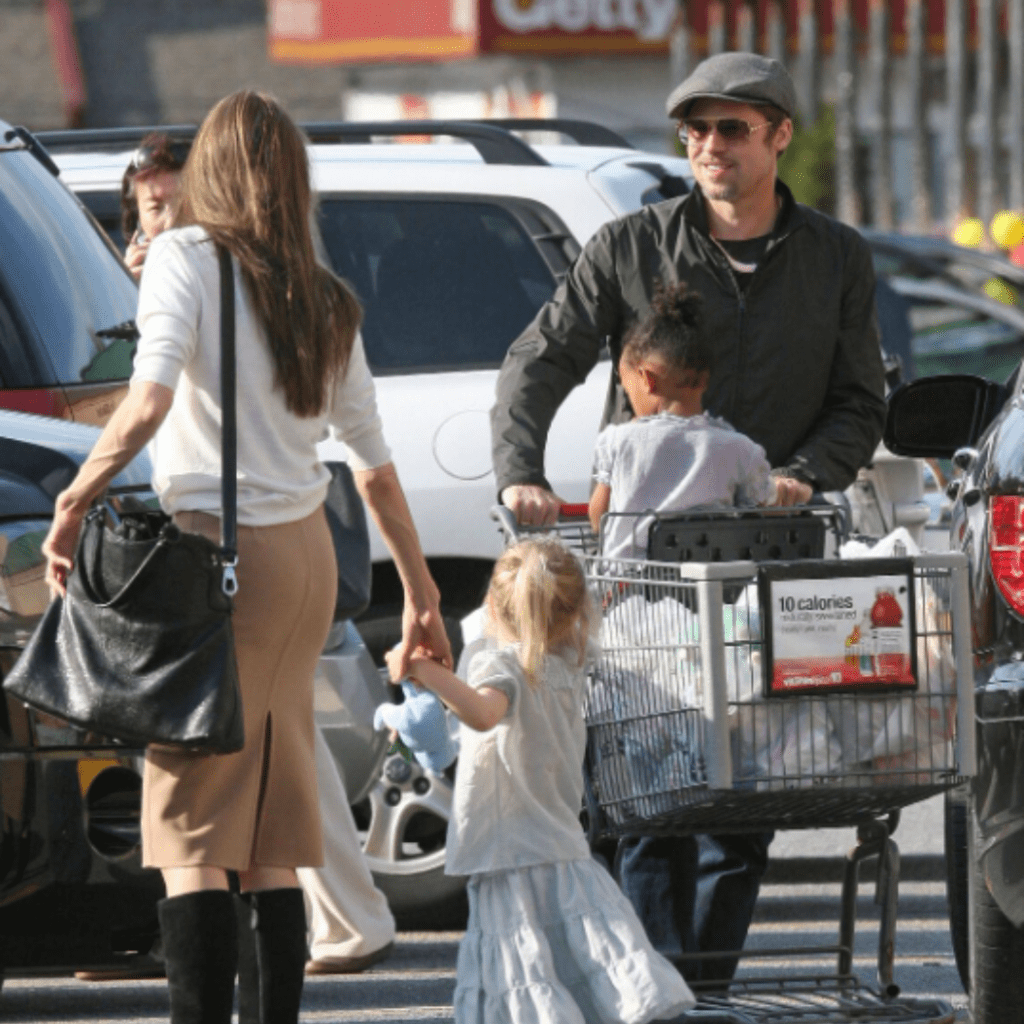 Apart from Brad's filmography, we all also know him for his sizzling chemistry with his charismatic ex-wife Angelina Jolie. During their time together, Brad was seen grocery shopping with her and their children many times. Their family pictures still fill our hearts with love!
Nicole Kidman
Nicole Kidman is one of the most celebrated actresses, thanks to her excellent acting chops and striking appearance. Her famous works include Moulin Rouge! and Eyes Wide Shut. Between the years 2017 and 2019, you might have also seen her in the show Big Little Lies.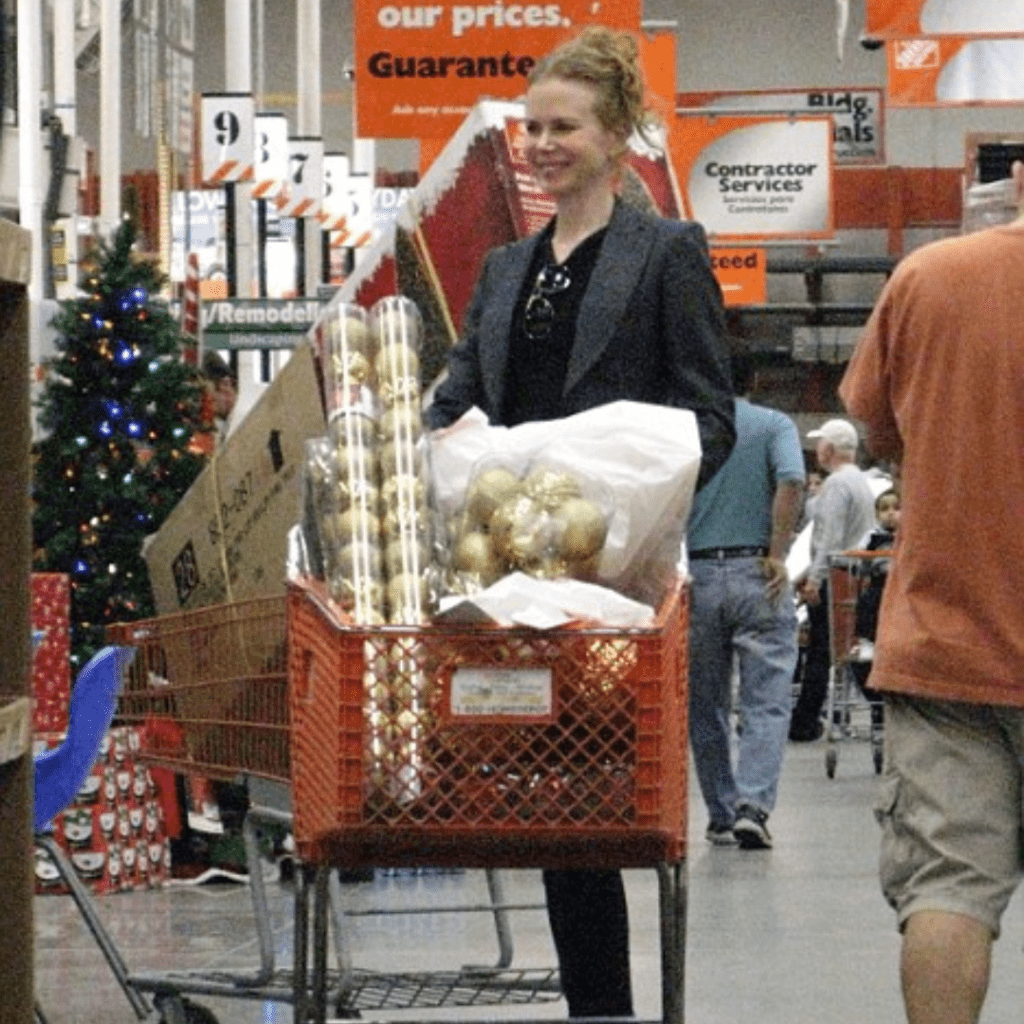 Kidman has also been spotted at grocery and retail stores across LA severally. During one Christmas, she, along with her husband, Keith Urban, were snapped shopping for decorations at Home Depot. She was also spotted at a Target store in Nashville with her daughter!
Dwayne Johnson
It is hilarious to imagine somebody as famous and intimidating as Dwayne Johnson, also known as The Rock, going grocery shopping. But well, this photo shows him at a supermarket named 7-Eleven, from where he used to steal Snicker bars! But this isn't where the story ends.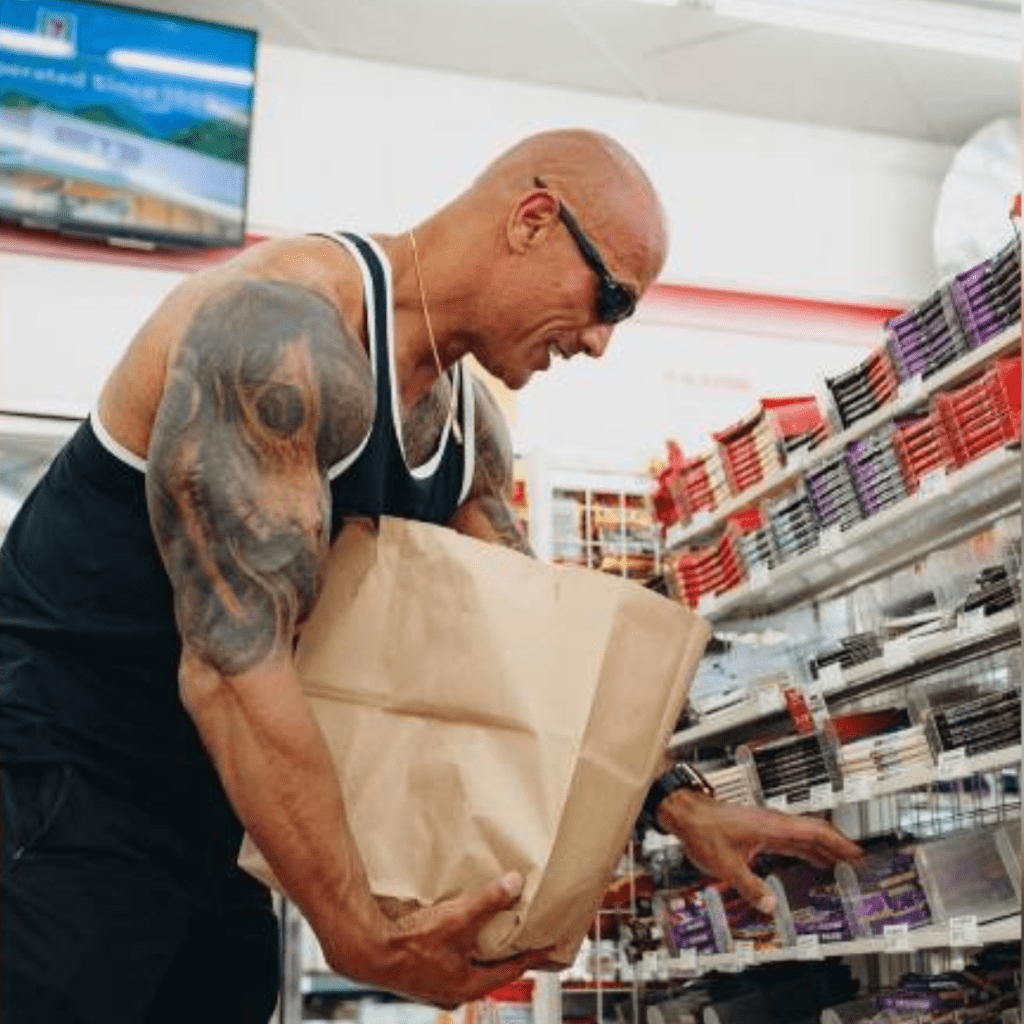 After visiting the store, Dwayne was kind enough to buy everybody groceries and gave Snickers to everyone present! Later on, he told the media that as a kid, he used to feel guilty about stealing Snickers from the store, so he wanted to clear his conscience with that visit.
Maria Menounos
Maria Menounos is truly a Greek goddess with her striking features and breathtaking smile. In the past years, she has been a part of big productions like One Tree Hill and Fantastic Four. Recently, she also announced to her fans that she's pregnant!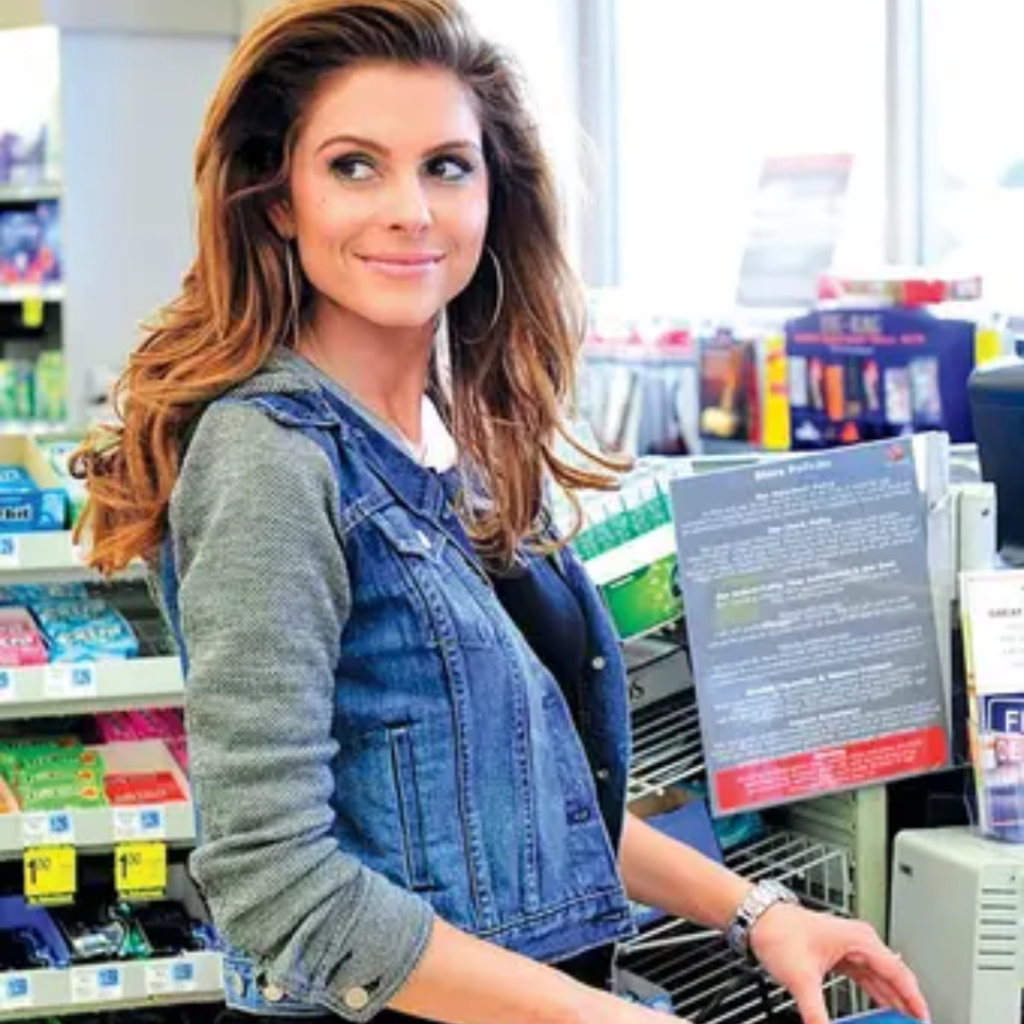 The Greek actress was captured here shopping for groceries in Beverly Hills. She is also one of those stars who love to shop, as she has been spotted in plenty of stores a good number of times. We hope she'll bring her baby to her future shopping adventures whenever she's ready to!
Jennifer Garner
Jennifer Garner was truly in her element in the early 2000s! If you used to watch movies regularly then, you must have seen her in cult-classic movies like 13 Going On 30 and Pearl Harbor. That said, she's kept acting and has been a part of several productions between the years 2015 and 2018.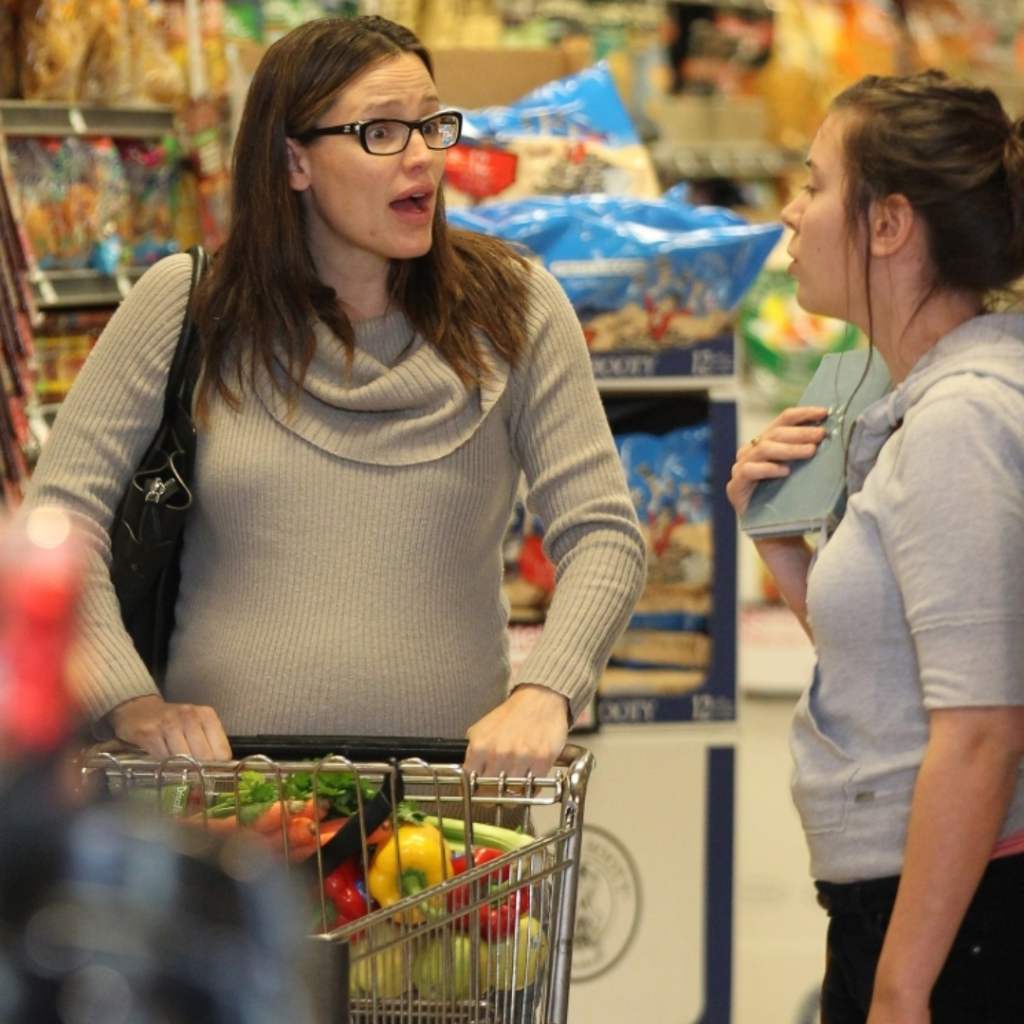 Although Jennifer hasn't appeared in a major role in movies or series since 2018, LA residents have spotted her at many places, including supermarkets. In 2021, she was seen with her son shopping for fresh groceries at a farmer's market in Brentwood.
Britney Spears
Britney Spears is often in the news for multiple reasons. Initially, she used to be one of the top music artists and released chart-topping songs like Toxic and Oops!… I Did It Again. However, things spiraled when she was under her dad's care.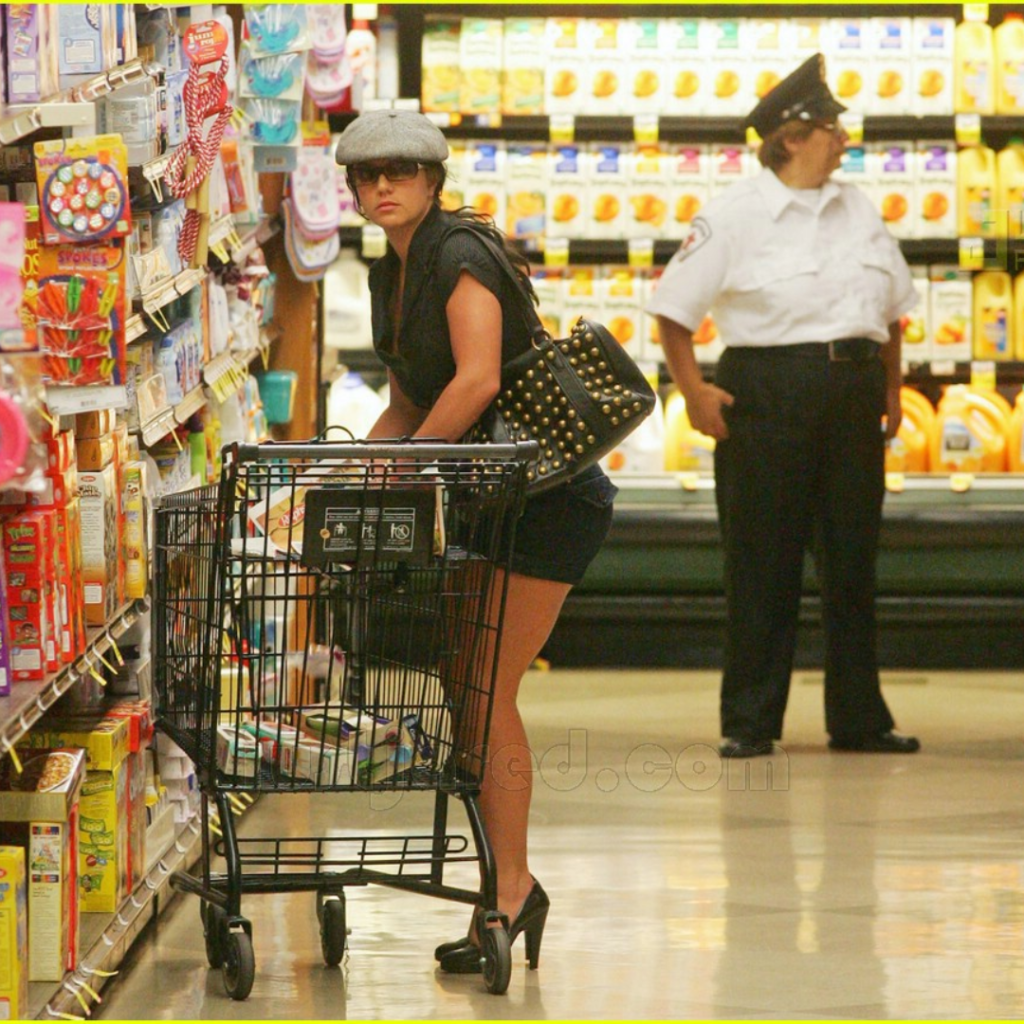 Despite the ups and downs in her life, Britney never stopped being fierce and did what she wanted to, including taking multiple trips to the grocery stores. One time, her grocery list went viral, and fans were intrigued to know more about her expenses!
Katie Holmes
Katie Holmes is an adorable American actress known for playing the famous role of "Joey Potter" on the TV series Dawson's Creek. Between 2006 and 2012, Katie was married to Tom Cruise. Hence, there were reports of them going on several grocery trips together!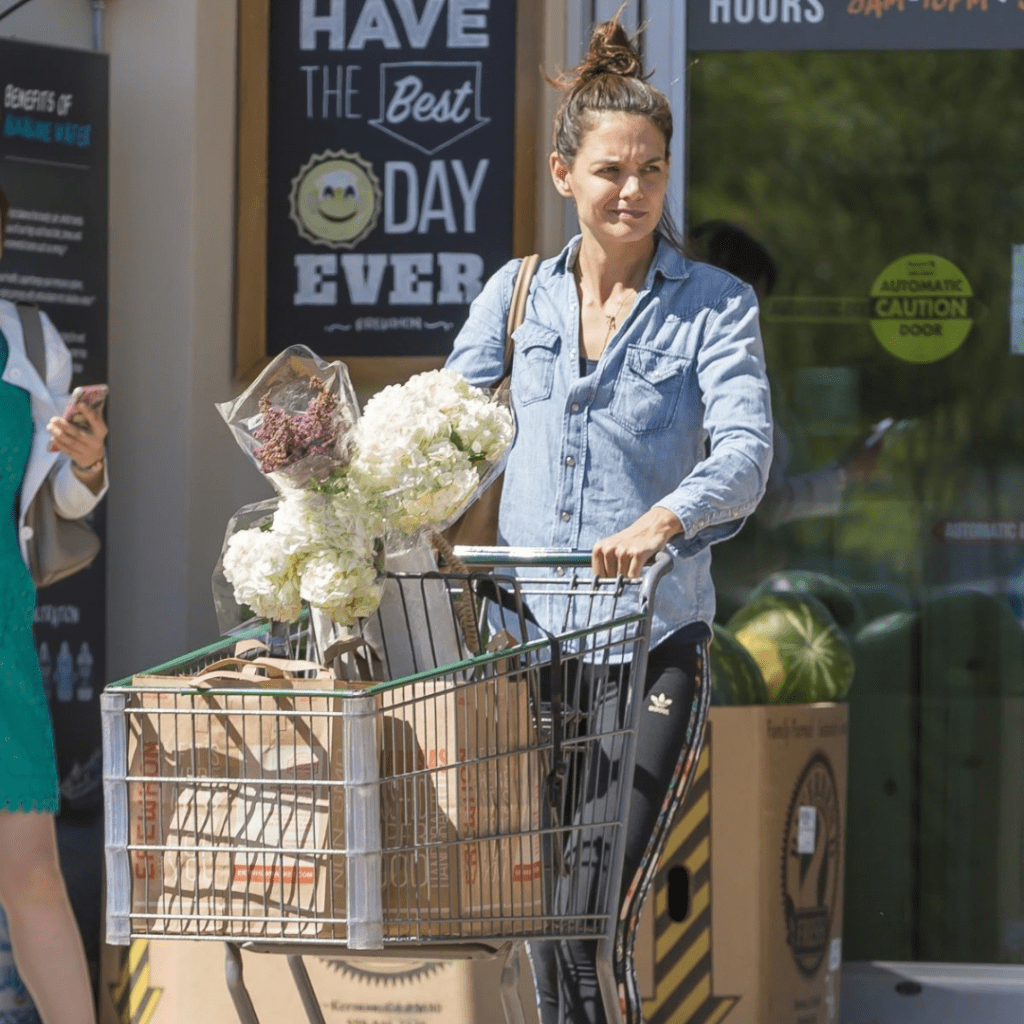 Even after her divorce, Katie continued making more supermarket visits. In 2020, she was spotted at a local supermarket in NYC, rocking a casual flannel shirt! Fans have also seen her shopping at an organic store in LA several times.
Sandra Bullock
Miss Congeniality was the go-to movie for chick flick lovers like us, and this movie is where we first fell for Sandra Bullock's charm and impressive acting. She only enchanted us more by being a part of phenomenal movies like Gravity, Ocean's 8, and Bird Box.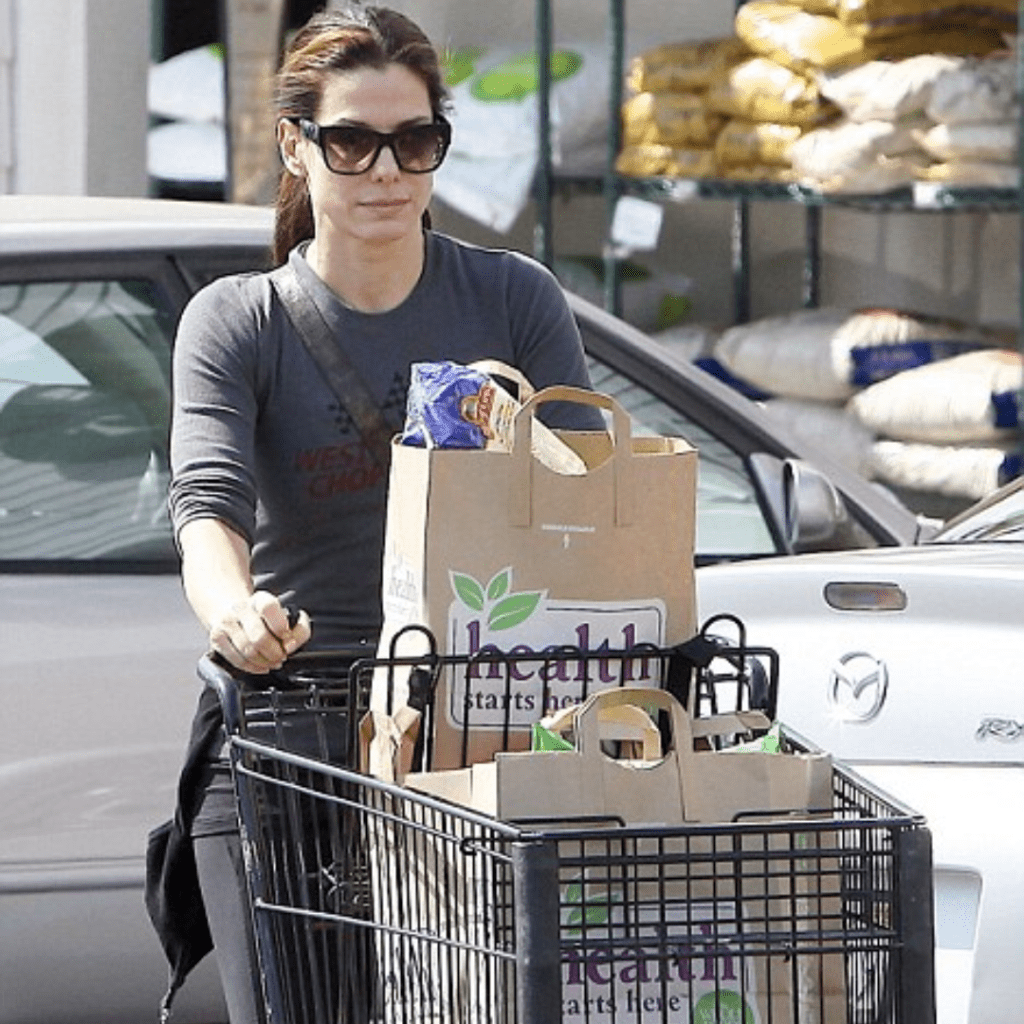 Instead of sporting designer bags, Sandra has also been seen carrying around grocery bags from many supermarkets like Whole Foods in California. The people of LA also once got to see her hugging her boyfriend, Bryan Randall, at a supermarket.
Amanda Seyfried
There was a time when practically everybody had a girl crush on Amanda Seyfried. It's hard not to when she has the cutest looks and an even better personality. This stunning actress truly got famous after starring in movies like Mamma Mia! and Mean Girls.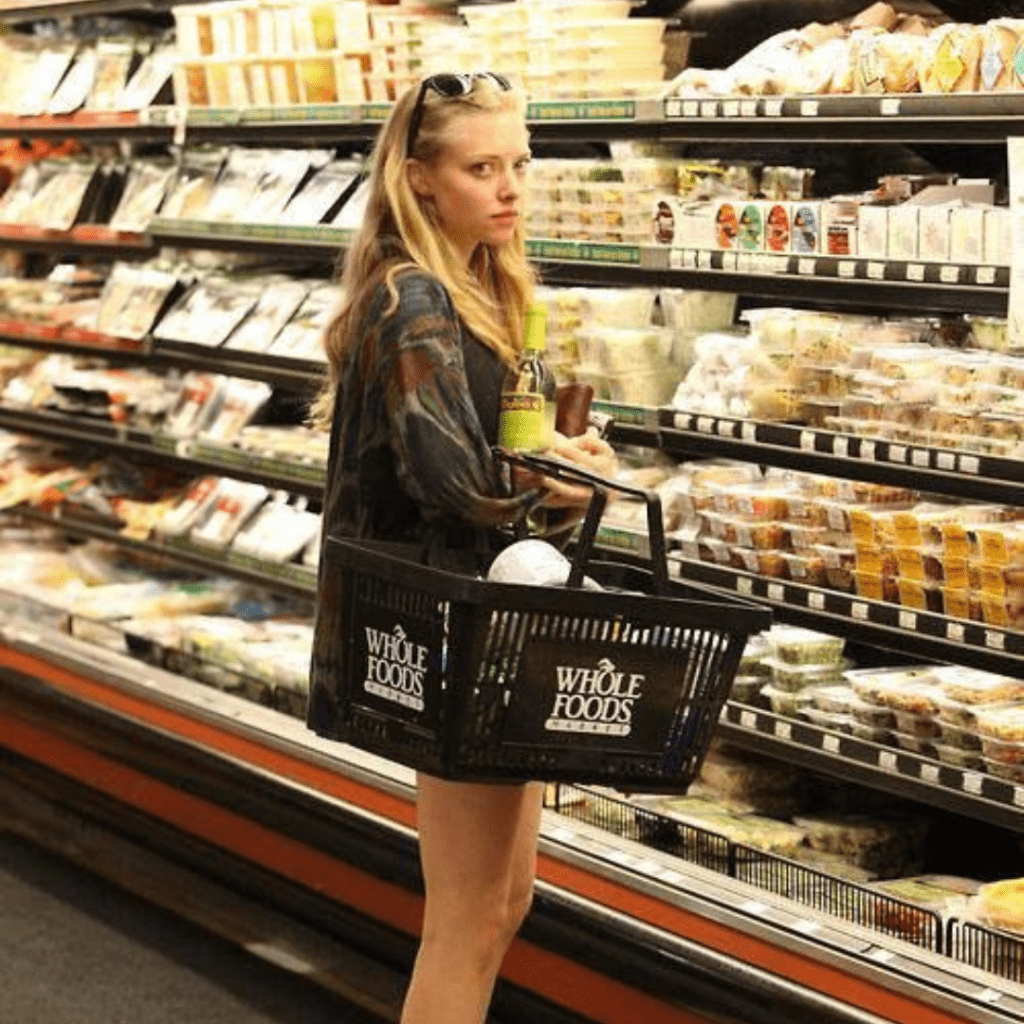 Amanda has often been spotted with her ex-beaus, Justin Long and Josh Hartnett, at supermarkets. Judging by this pic, we believe she has managed to keep her cute-girl image intact, as she looks super adorable in her grocery store fits!
Kaley Cuoco
Kaley Cuoco is one of the leading actresses in Hollywood, known for playing both supporting and main characters in huge productions. One of her most noteworthy performances is her portrayal of "Penny" in the popular sitcom The Big Bang Theory.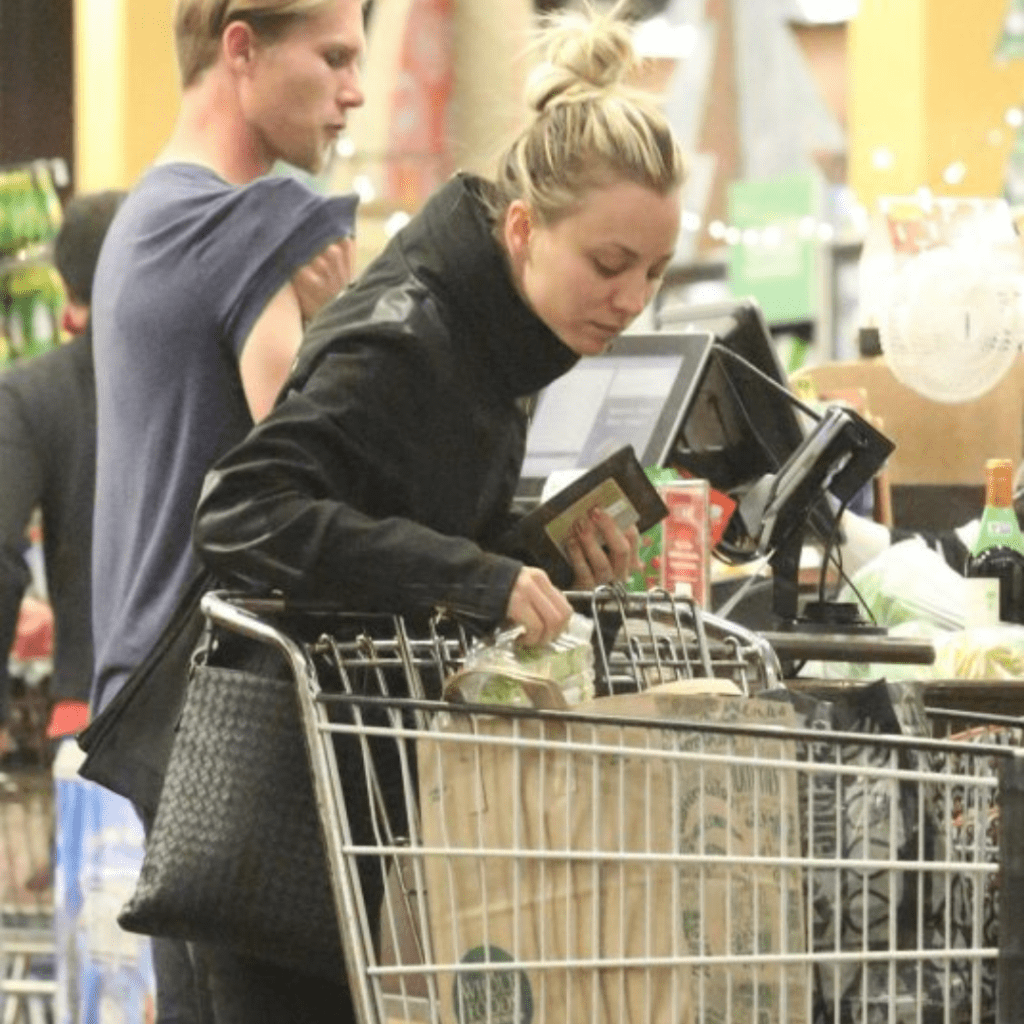 Just a few months ago, in 2022, many fans saw her going into a supermarket, wearing a stylish tie-dye T-shirt, and flaunting her baby bump. She was also not alone, as her partner, Tom Pelphrey, was accompanying her during the outing.
Lady Gaga
Lady Gaga is certainly one of our favorites due to her electrifying voice, personality, and aura. The American singer has released catchy songs like Born This Way and Bad Romance that left us wanting more. She has also starred in movies like A Star Is Born with Bradley Cooper.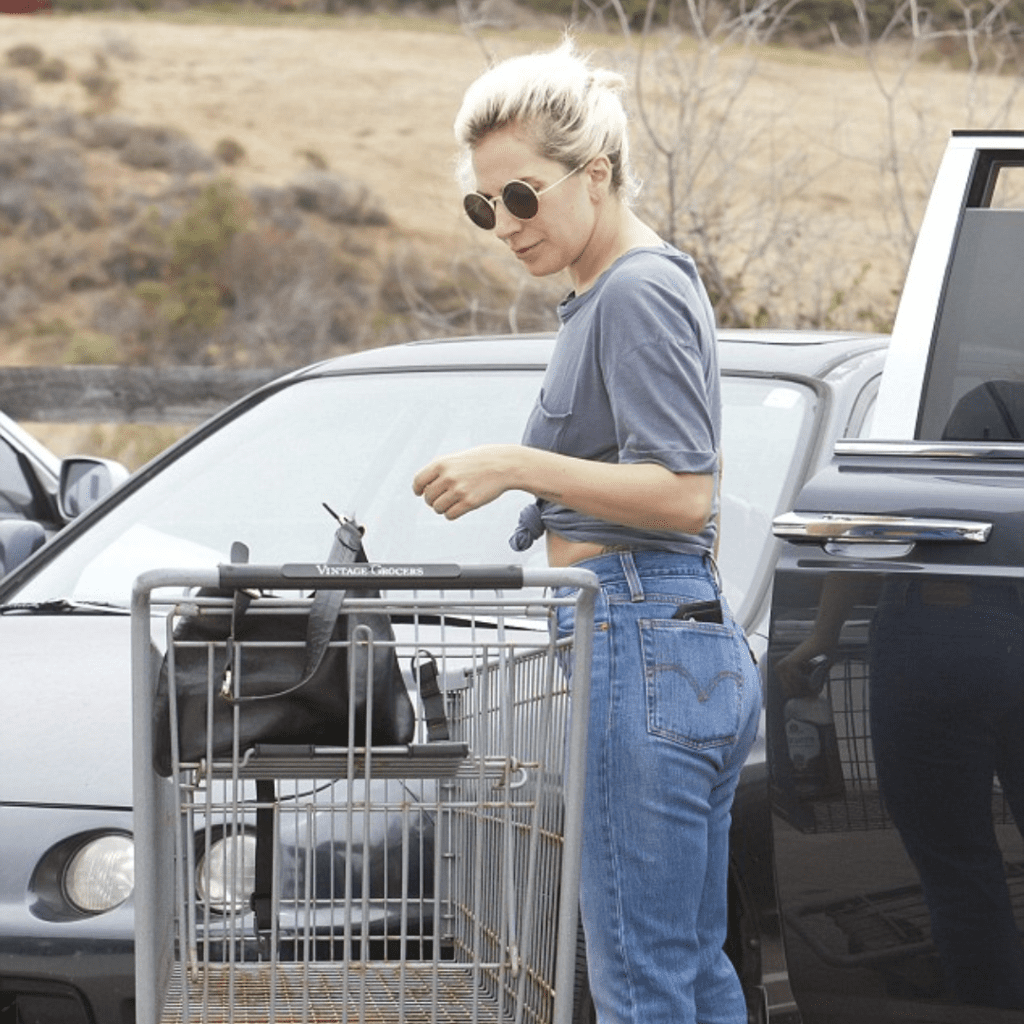 There have been many instances when Lady Gaga went grocery shopping all by herself. She has been spotted at a local supermarket in Malibu and even at Monterrey Market with her boyfriend, Michael Polansky. We'd be extremely starstruck if we saw her at a grocery store!
Nicolas Cage
If there's one celebrity who has been featured in a wide variety of movies over a period of around 40 years, then it has to be Nicolas Cage. This American actor has played a spectrum of roles in movies like Leaving Las Vegas and Adaptation.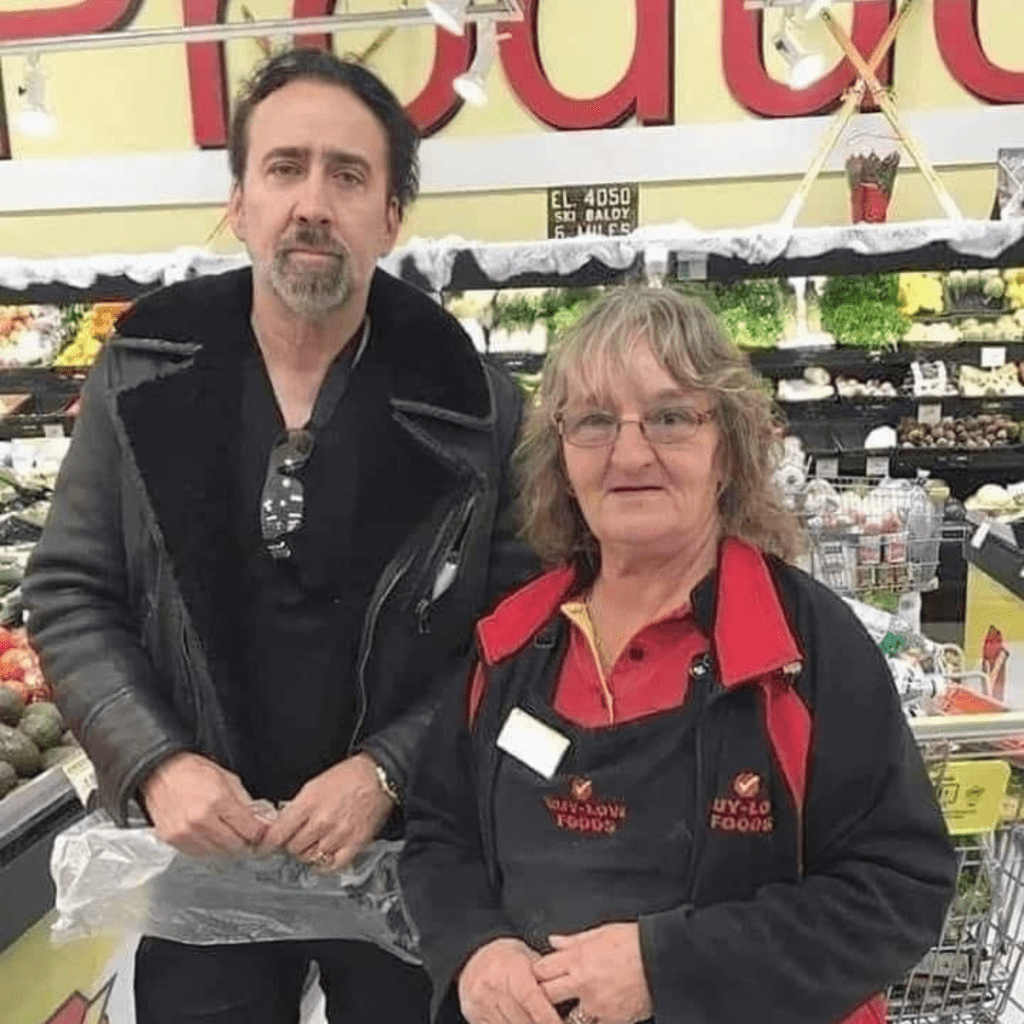 Like other celebrities on this list, Cage also surprised people working and buying groceries at the Osoyoos Buy-Low grocery store when he walked it. One of the store's employees, Denise Gray, posted a picture of herself beside the actor clearly having the calmest fangirling moment!
Celine Dion
Celine Dion's voice is forever etched in our hearts thanks to her world-famous song My Heart Will Go On from the movie Titanic. She has also produced and sung other beautiful songs like All By Myself, and I Surrender. BRB, we need to listen to these gems again!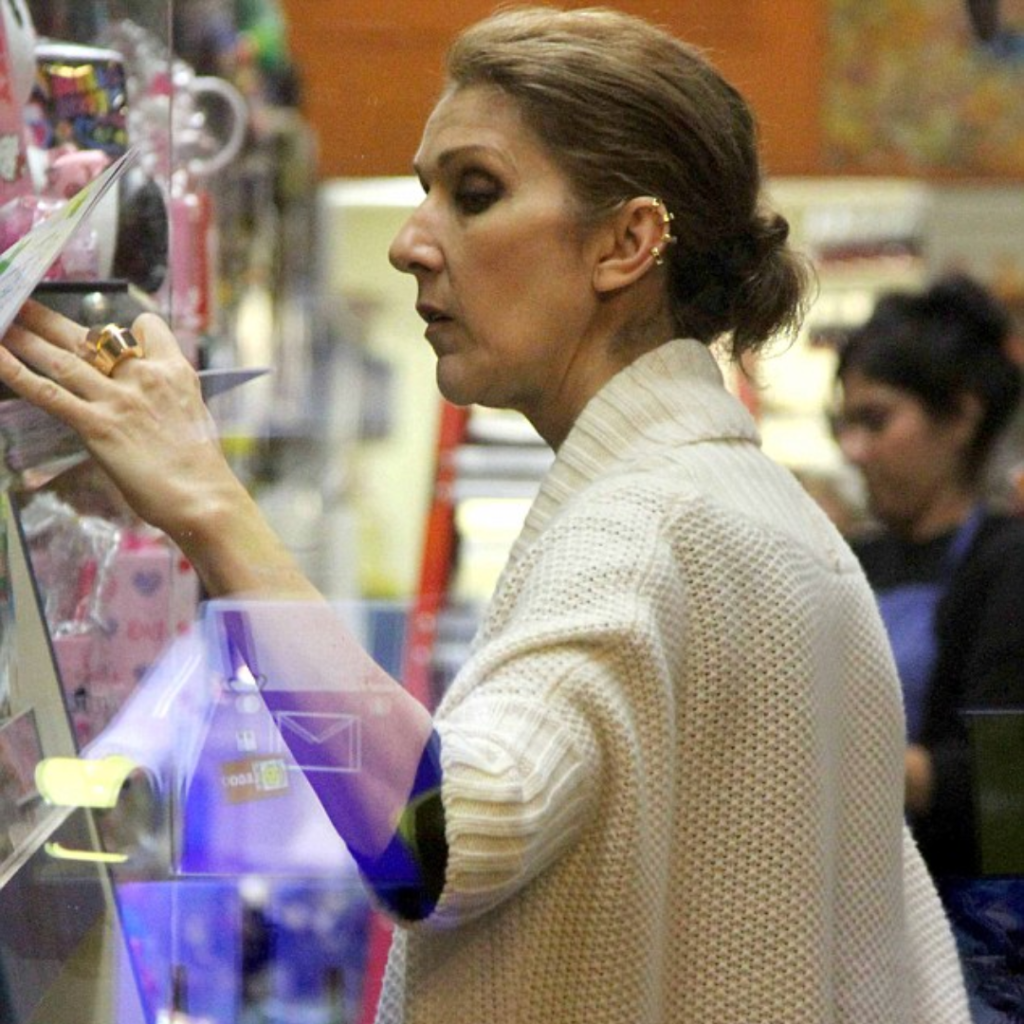 The famous Canadian singer also had her "regular life" moment when she stepped out to go to a store named Dylan's Candy Bar with her son. She was also papped at another store named Tom's Toys in Beverly Hills. It looks like Celine loves to spoil her kids with gifts!
Kim Kardashian and Paris Hilton
If Kylie, Kris, and Khloe are going to the supermarket by themselves, why would Kim take the backseat? After all, she is one of those people who thrive in the spotlight! Hence, Kim has also made headlines for visiting grocery stores like Ralph's.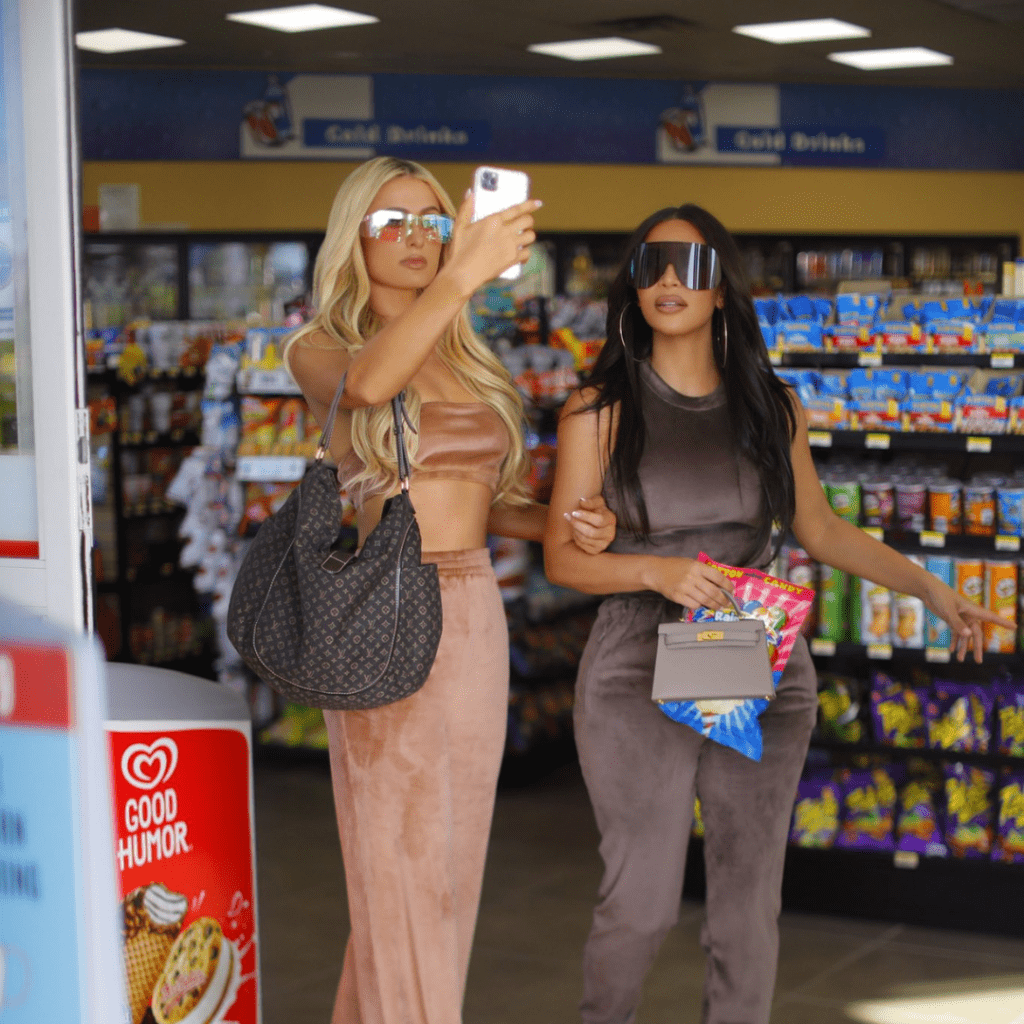 This particular time alone, she didn't go alone and instead enlisted the company of fellow socialite Paris Hilton. Those who know these two ladies well know that they were really close in the late 2000s. As expected, this particular outing received a lot of attention from fans.
Leonardo DiCaprio
Forget about musicians and LA socialites; huge Oscar-winning celebrities like Leonardo DiCaprio have also been snapped at supermarkets! Leo is known for playing the role of "Jack" in the movie Titanic. In 2016, he won an Oscar for best actor in The Revenant.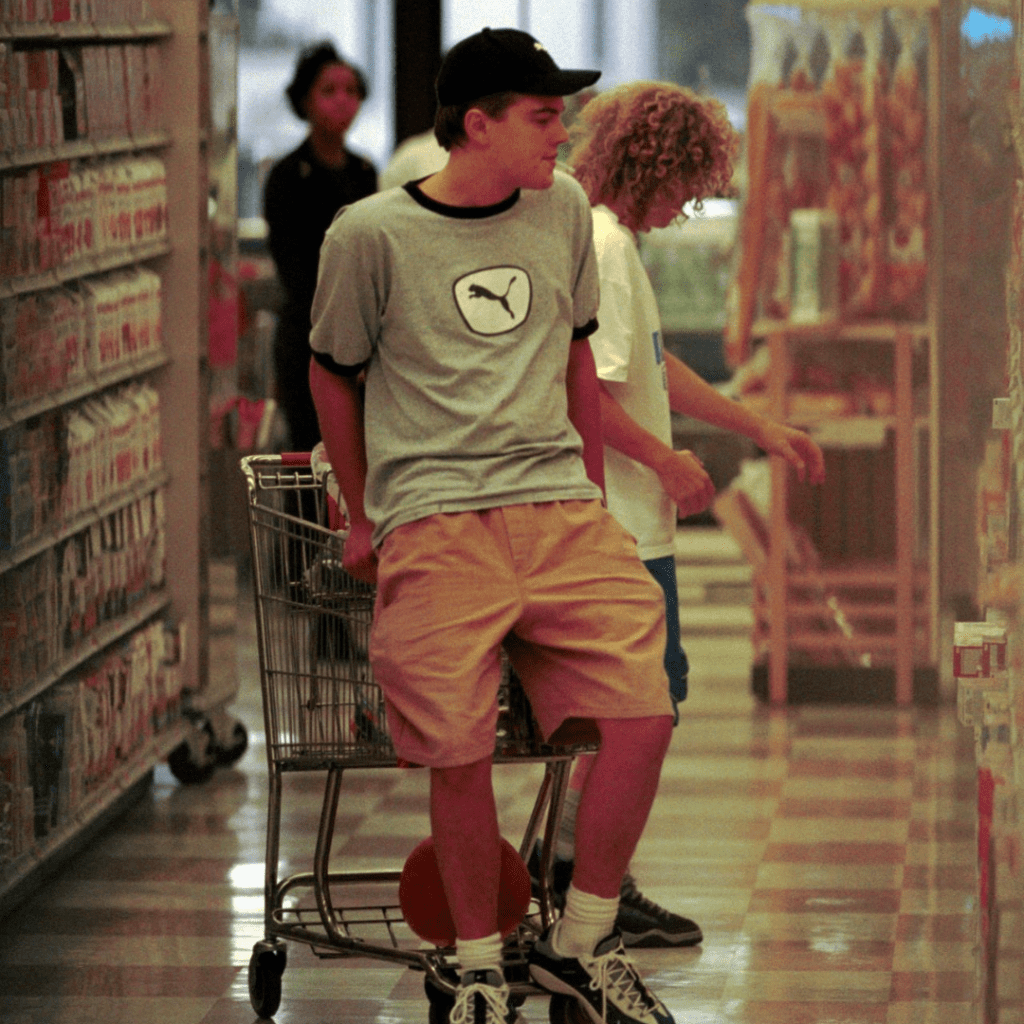 The actor simply loves his grocery shopping time and is often seen wearing cool and casual clothes. He has been previously snapped at various supermarkets, like a local Ralph's market or the trendy Erewhon Market, with his ex-girlfriend Camila Morrone.
Johnny Depp
Johnny Depp is the one actor we all remember from our childhood for his role as "Captain Jack Sparrow" in the Pirates Of The Caribbean franchise. He's also loved for his villain performance as "Gellert Grindelwald" in Fantastic Beasts: The Crimes of Grindelwald.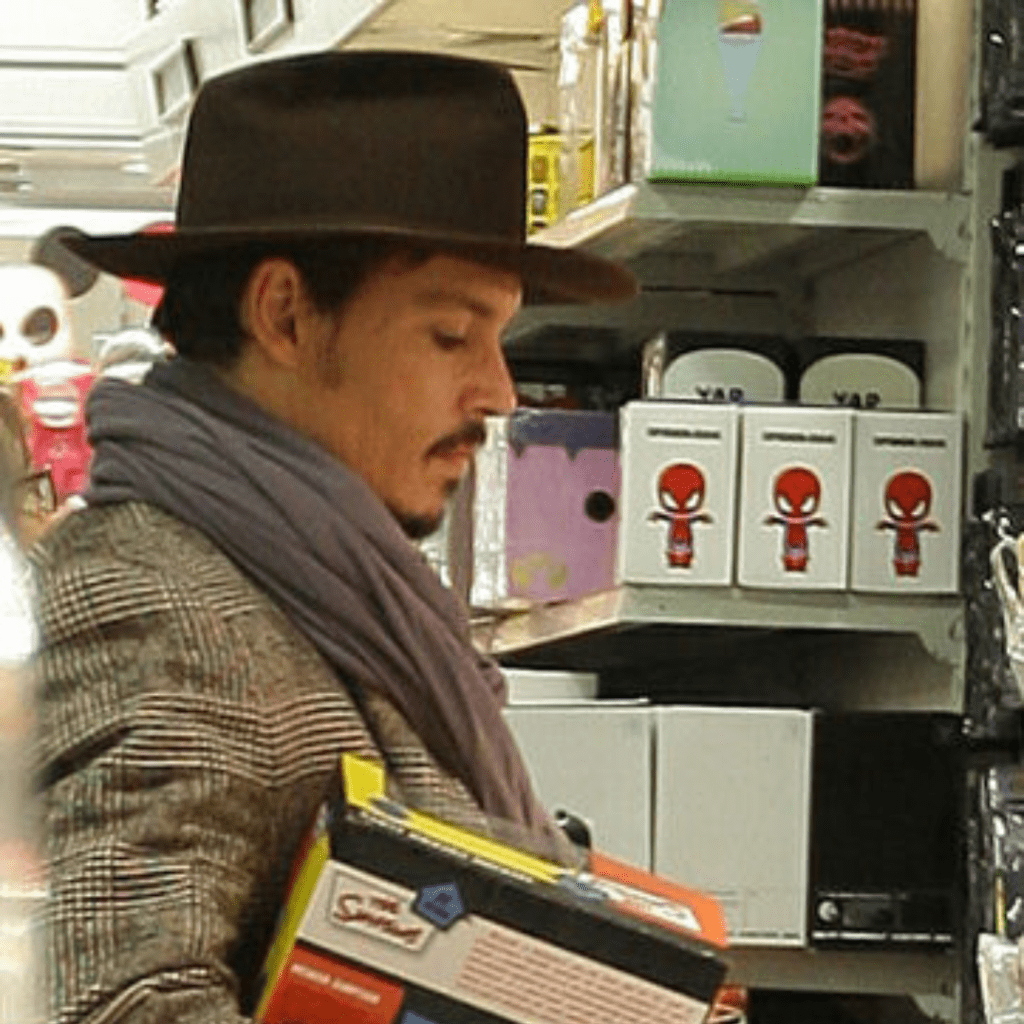 When Johnny is not out there working on blockbusters, he is spending his time doing routine things, like grocery shopping. Yes, Johnny Depp has been seen in supermarkets in LA, Seattle, and even UK. He even obliged his fans by taking pictures with them.
Keanu Reeves
Canadian actor, Keanu Reeves, is one of those stars that everybody looks up to for their work ethic and success. He became extremely popular after starring in the hit movie, The Matrix. In recent years, his role in the John Wick movie franchise has become critically acclaimed.
While most celebrities are seen grocery shopping once or twice, Keanu certainly enjoys it more! One of the supermarkets he has been papped at includes Bristol Farms in Los Angeles. You'll also find many Twitter posts about Keanu going grocery shopping in other locations.
Justin Bieber
Justin Bieber surely got that yummy-yum while spending his time at supermarkets! This young icon has a huge fanbase owing to his unforgettable songs like Sorry and Stay. He has also been in the headlines numerous times for his previous relationship with Selena Gomez.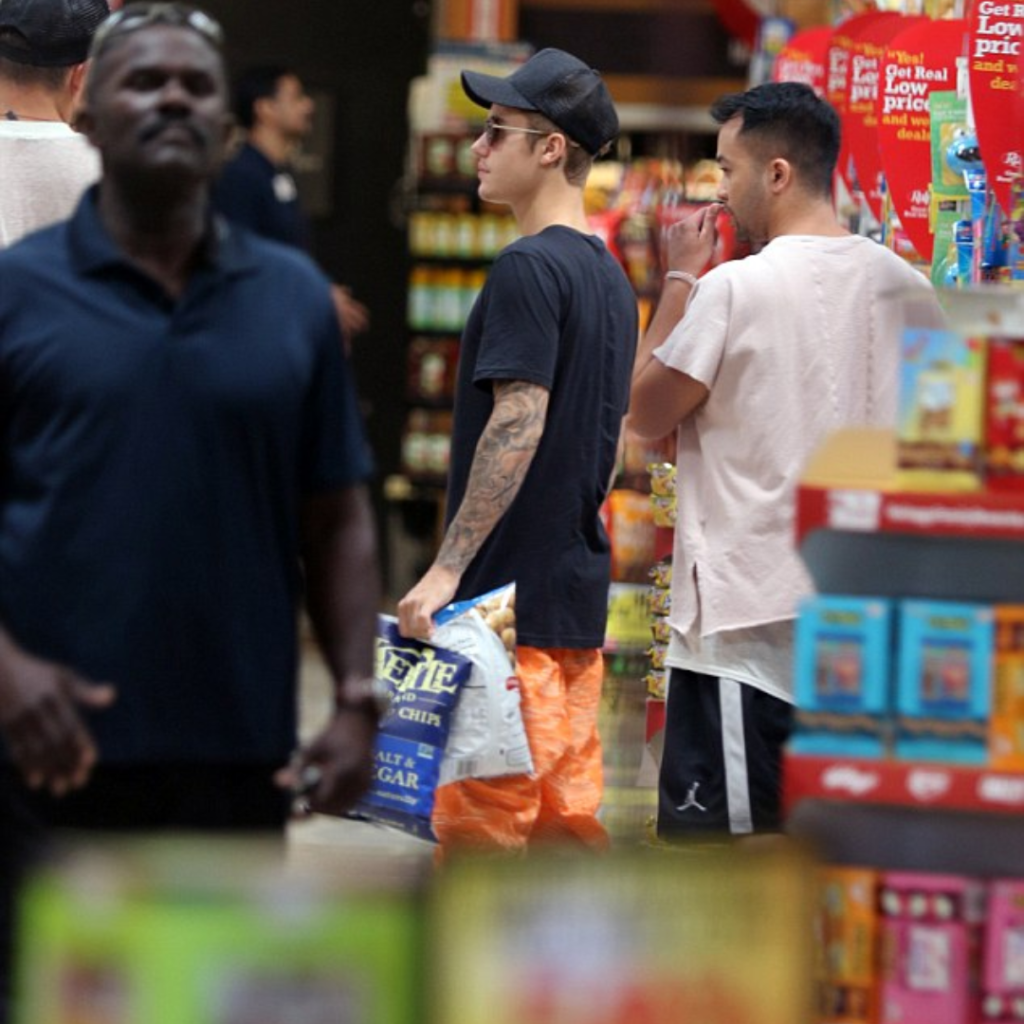 If you're a Belieber and are wondering where to find Justin Bieber, you might try out a few grocery stores! Previously, he was snapped at Whole Foods New York with his partner Hailey Bieber. He has also been seen at a local store in Encino to shop for groceries.
Margot Robbie
Margot Robbie can easily increase the temperature of any room with her overwhelming beauty and fantastic genes! She made us develop a massive crush on her after playing "Harley Quinn" in Suicide Squad. She's also all set to make waves as Barbie alongside Ryan Gosling!
During the lockdown period, fans saw her rocking a casual jumpsuit as she went grocery shopping in LA. On another visit, Margot also had a minor credit card crisis when her card wouldn't work at the store. Don't we all hate that?
Adam Sandler
Adam Sandler is the poster child for everything cool and funny! He has been enlisted to play witty and fun characters in many movies, such as Murder Mystery, Just Go With It, and Grown Ups, thanks to his comedian background.
Although there haven't been many instances of Adam going grocery shopping, the paps did see him once coming out of a family shop in Malibu. We hope to see his chill grocery store look a few more times in the future!
Britney Again
Seeing as she is still the Princess of Pop despite all she's been through, it's only right that Britney gets another mention on our list! Back before the whole conservatorship fiasco, Britney was just a young mum living her best life with her children.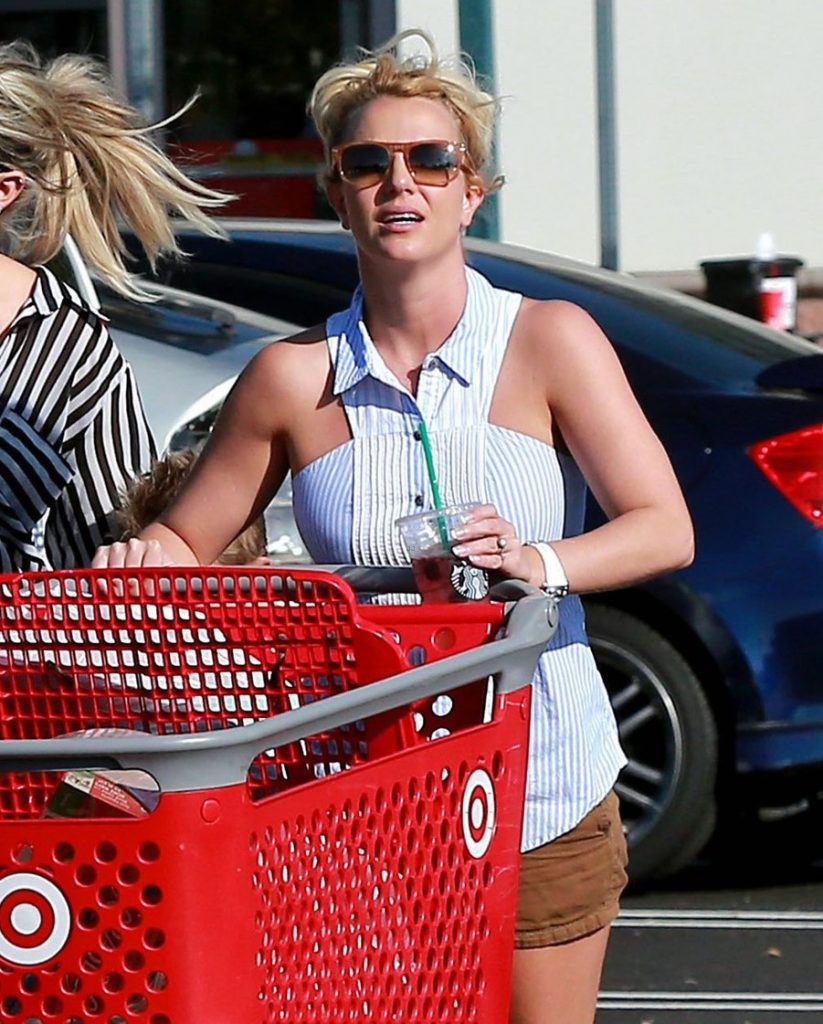 One thing she enjoyed doing with them was shopping, and this just so happens to be one of those instances. In this photo, she can be seen pushing a shopping cart outside Target, accompanied by her sister Jamie Lynn Spears. Her two sons tagged along for this outing too.